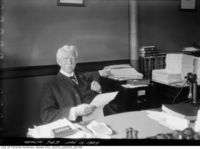 Source: Link
HASTINGS, CHARLES JOHN COLWELL ORR (he sometimes used Charles John Oliver), physician, health officer, educator, and public-health reformer; b. 23 Aug. 1858 in Markham Township, Upper Canada, son of John Hastings and Maria Louisa Orr; m. 23 Oct. 1889 Allie Hatch (d. 19 May 1934) in Toronto, and they had three sons and two daughters, of whom two sons and one daughter lived to adulthood; d. there 17 Jan. 1931.
Raised on the family farm in Markham Township and educated in local schools, Charles Hastings pursued his medical education in Toronto and received his md from Victoria University in 1885. His involvement in public health commenced that year when he served as an acting medical health officer and vaccinator during a smallpox outbreak. In 1886 he travelled to his ancestral land for postgraduate training in Dublin, where he became a licentiate of the King and Queen's College of Physicians in Ireland. After further studies in Edinburgh and London he returned to Toronto and began practice as an obstetrician. From the mansions in Rosedale to the working-class houses in Cabbagetown, Hastings saw patients from all walks of life as the city's population expanded dramatically from 86,000 in the early 1880s to 376,000 in 1911. By his count, he contributed to that growth by delivering approximately 5,000 babies without losing a single mother.
Tragedy clouded Hastings's life in 1902 when two of his children caught typhoid fever after drinking contaminated milk, and his young daughter died. This experience, and his medical work, prompted him to perform an increasing amount of public service. In 1904 he urged the Ontario Medical Association to support school medical inspections to improve children's health. Arguing that "we are gradually passing from 'how shall we treat' to 'how shall we prevent,'" Hastings sounded the message that would define the rest of his career: the need for health education and public action. A typical reformer of his day, he was active in the hygiene section of the Ontario Educational Association, president of the Progressive Club, a member of the Canadian Public Ownership League, and a founder, in 1910, of the Canadian Public Health Association (CPHA).
Hastings launched his best-known crusade while serving as chair of the Canadian Medical Association's milk committee, which he organized in 1908. This national body identified milkborne diseases as a cause of Canada's high rate of infant mortality and recommended the pasteurization (heat treatment) or certification (laboratory analysis for cleanliness) of quality milk, but no government – federal, provincial, or municipal – fully adopted its advice. After he was appointed Toronto's medical officer of health in October 1910, Hastings immediately began working to convince local dairies to pasteurize milk. Using the Ontario Milk Act of 1911, which enabled municipalities to pass by-laws requiring pasteurization, as the foundation of his campaign, he engaged in friendly persuasion, modern publicity methods (such as publishing lists of "first-class dairies" in the monthly Health Bulletin), and hard-nosed negotiating. His efforts ensured that by October 1915, as noted in that month's issue of the bulletin, the city's well-inspected and bacteriologically tested supply had become a model for other urban centres. The proof of the effectiveness of these changes was a sharp decline in outbreaks of milkborne disease and a drop of roughly one third in the number of infant deaths.
Like his predecessors William Canniff* and Charles Sheard*, Hastings understood the importance of gaining political support for his plans, which focused on eradicating unsanitary housing, expanding the size of his department, and shifting its focus to prevention through education. His 1911 report on slum conditions in Toronto drew widespread attention to the need for remediation. Limited action occurred at first, but with the backing of politicians such as James Simpson, Horatio Clarence Hocken, and Thomas Langton Church*, Hastings used his rapidly increasing staff of sanitary inspectors, public-health nurses, and municipal housekeepers to take the preventive message into citizens' homes. When ratepayers voted in 1917 to have the health department, rather than the Board of Education, undertake medical inspections in schools, he extended its district nursing and inspection services to include students. In recognition of Hastings's success, his peers elected him president of the CPHA in 1916 and of the American Public Health Association (APHA) two years later.
Hastings, who served as Toronto's food controller in addition to carrying out his professional duties during World War I, faced one of the most significant challenges of his career when the Spanish influenza pandemic struck in the spring of 1918. In October he travelled to Boston, New York City, and Washington, D.C., to see how the Americans were handling the crisis, and to bring a vaccine (which, unfortunately, failed to halt the epidemic) back to Toronto for testing and development by the Connaught Antitoxin Laboratories [see John Gerald FitzGerald]. In his presidential address to the APHA in December he stressed the importance of public health as a touchstone of democracy, and emphasized the role of the state in ensuring good health for all its citizens.
Hastings's methods, however, raised the ire of city councillors, who began to worry about the rising costs of his department as its staff grew and its workload increased. Some residents found home visits intrusive, and during a smallpox outbreak in 1919–20 there were protests that mandatory vaccination was an infringement of personal liberty and parental choice. Hastings, who believed that safeguarding the health of the people took precedence over such concerns, did not respond well to his critics. His ability to develop innovative and more modern programs was subsequently hindered by the economic depression of the early 1920s, the loss of reform momentum, and bouts of personal illness. Toronto nevertheless retained its international reputation as a progressive centre, and the Rockefeller Foundation sent trainees there from around the world to study public-health administration.
In the 1910s and 1920s Hastings identified new issues such as birth control, and gave speeches in support of health insurance and better mental-health services. Like many of his contemporaries, such as physicians Helen MacMurchy* and Peter Henderson Bryce, he was concerned by the extent of what was regarded as "feeble-mindedness" in the population. He tried in vain to create a Canadian eugenics society modelled on that of Great Britain, and by 1927 he was openly promoting birth-control measures, provided that they were directed by doctors and in conformity with legal and religious strictures.
Hastings retired owing to illness in 1929, by which time he had long been internationally recognized as a superb leader and administrator. When he died of heart failure two years later, Premier George Stewart Henry*, provincial chief justice Sir William Mulock*, Mayor William James Stewart, University of Toronto president Sir Robert Alexander Falconer*, businessman Albert Edward Gooderham, and former federal cabinet minister Newton Wesley Rowell* joined doctors John William Scott McCullough*, Gordon Anderson Bates, and Gordon Park Jackson as honorary pall-bearers. The eulogies emphasized his strength of character and lauded him for making the city one of the healthiest in the world. Charles Hastings was very much a product of his times, and his career illustrates the transition in his field from the gifted amateur, who used publicity and external pressure groups to achieve change, to the professional administrator, who believed that a detached approach, coupled with scientific methods and new technologies, would best protect the public's health.
Charles John Colwell Orr Hastings published various speeches and articles, many of which appeared in the Public Health Journal (Toronto) and Canadian Medical Assoc., Journal (Toronto), between 1910 and 1930. The following list is a selection of Hastings's publications (a more complete list is available in the files of the DCB): "Medical inspection of public schools," Canadian Journal of Medicine and Surgery (Toronto), 21 (January–June 1907): 73–76; Report of the Medical Health Officer dealing with the recent investigation of slum conditions in Toronto … (Toronto, 1911); Report of the Medical Officer of Health on the safeguarding of Toronto's milk supply with special reference to pasteurization (Toronto, 1915); "The modern conception of public health administration," Conservation of Life: Public Health, Housing and Town Planning (Ottawa), 3 (December 1916–October 1917): 49–54, 86–90; "Democracy and public health administration," American Journal of Public Health (New York), 9 (1919): 81–86, 172–79; "Nursing organization as developed in Toronto …," Nation's Health (Chicago), 5 (1923): 61–65.
City of Toronto Arch., Fonds 200, ser.365 (monthly reports of the Medical Officer of Health, the Dept. of Public Health, and the Local Board of Health, 1910–29). A. F. Denton, "Toronto leads the world in public health service …," Toronto Star Weekly, 27 Sept. 1924: 18. Evening Telegram (Toronto), 1919. Globe, 1910–31. Toronto Daily Star, 1910–31. World (Toronto), 1918–19. P. A. Bator, "The health reformers versus the common Canadian: the controversy over compulsory vaccination against smallpox in Toronto and Ontario, 1900–1920," Ontario History (Toronto), 75 (1983): 348–73; "'Saving lives on the wholesale plan': public health reform in the city of Toronto, 1900 to 1930" (phd thesis, Univ. of Toronto, 1979). P. A. Bator, with A. J. Rhodes, Within reach of everyone: a history of the University of Toronto School of Hygiene and the Connaught Laboratories (2v., Ottawa, 1990–95), 1. Bureau of Municipal Research, Administrative study of the Toronto department of public health as of March 31st, 1915 ([Toronto, 1915]). Canadian men and women of the time (Morgan; 1912). J. M. S. Careless, Toronto to 1918: an illustrated history (Toronto, 1984). Health Bull. (Toronto), 1911–15 and 1920–29. Heather MacDougall, Activists and advocates: Toronto's health department, 1883–1983 (Toronto, 1990); "Toronto's health department in action: influenza in 1918 and SARS in 2003," Journal of the Hist. of Medicine and Allied Sciences (Oxford, Eng.), 62 (2007): 56–89. Angus McLaren, Our own master race: eugenics in Canada, 1885–1945 (Toronto, 1990). Kevin Plummer, "Historicist: guarding a city's health": torontoist.com/2008/08/historicist_guarding_a_citys_health (consulted 29 June 2016). Marion Royce, Eunice Dyke: health care pioneer … (Toronto, 1983). Toronto City Council, Minutes of proc. (Toronto), 1910–29 (copies at the City of Toronto Arch., Research Hall library). K. M. Yorke, "Saving lives on wholesale plan: how Toronto has been made the healthiest of large cities," Maclean's, July 1915: 20–22, 93–96.
© 2018–2023 University of Toronto/Université Laval
Cite This Article
Heather MacDougall, "HASTINGS, CHARLES JOHN COLWELL ORR (Charles John Oliver)," in Dictionary of Canadian Biography, vol. 16, University of Toronto/Université Laval, 2003–, accessed June 7, 2023, http://www.biographi.ca/en/bio/hastings_charles_john_colwell_orr_16E.html.
The citation above shows the format for footnotes and endnotes according to the Chicago manual of style (16th edition). Information to be used in other citation formats:
| | |
| --- | --- |
| Permalink: | http://www.biographi.ca/en/bio/hastings_charles_john_colwell_orr_16E.html |
| Author of Article: | Heather MacDougall |
| Title of Article: | HASTINGS, CHARLES JOHN COLWELL ORR (Charles John Oliver) |
| Publication Name: | Dictionary of Canadian Biography, vol. 16 |
| Publisher: | University of Toronto/Université Laval |
| Year of publication: | 2018 |
| Year of revision: | 2018 |
| Access Date: | June 7, 2023 |