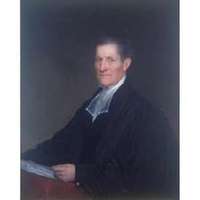 Source: Link
GRAY, BENJAMIN GERRISH, Church of England clergyman; b. 22 Nov. 1768 in Boston, eighth child of Joseph Gray and Mary Gerrish, daughter of Joseph Gerrish*; m. Mary Thomas, and they had one son; d. 18 Feb. 1854 in Saint John, N.B.
Benjamin Gerrish Gray inherited considerable property in Nova Scotia upon the death in 1772 of his great-uncle Benjamin Gerrish*. When Gray was eight, his family moved to Halifax where it had close ties to the inner circle of pre-revolutionary families. After being educated in England and in Nova Scotia at King's College, Windsor, he returned to Halifax and eventually married. At his ordination as deacon in the Church of England on 25 Sept. 1796, Lieutenant Governor Sir John Wentworth*, one of his wife's connections, acted as his sponsor. Wentworth subsequently appointed him king's chaplain to the 400–500 Jamaican maroons, descendants of escaped slaves who had been deported to Nova Scotia and settled near Preston. He had also to supervise their schoolmaster. Gray had some success among the maroons, many of whom were not Christians, but at least one observer was critical of his preaching and asserted that he was unable to communicate effectively. In 1797 he had been admitted to priest's orders and inducted as a missionary of the Society for the Propagation of the Gospel, remaining at Preston. From 1799 to 1800 he was also grand chaplain of the provincial grand lodge of the masonic order in nearby Halifax.
Following the departure of the maroons in 1801, Gray was employed as English master in the academy of King's College, where he was also a fellow of the college and its librarian. Five years later he became the SPG missionary at Sackville, near Halifax, and from there moved into Halifax itself. This move does not seem to have had official sanction and for a time Gray's status with the society was somewhat in question. It appears that in 1817, when the authorized missionary was unable to carry out his duties, Gray began to preach regularly in St George's Church. Founded by German-speaking Lutherans, the church had been served since the 1750s by Anglican clergymen, although the congregation had not yet entered into full conformity. Under Gray's ministry the distrust between the Church of England authorities and the congregation subsided, and in 1827, two years after his departure, St George's became a separate parish fully integrated into the church establishment.
On 16 Dec. 1824, by order of Michael Wallace*, the administrator of the province, Gray inducted Robert Willis* to succeed John Inglis* as rector of St Paul's Church, Halifax. The ceremony took place outside the locked doors of the church, because the churchwardens, on behalf of the parishioners, were challenging the right of the government to nominate their minister. Patronage in the church went to persons who stood in good stead with the authorities and Gray thus came down on the side of the bishop, Inglis, and the government in a quarrel that deeply divided the Anglican community. He was named rector of Trinity Church in Saint John, N.B., in June 1825. There, as at St Paul's, the parishioners had a claim to the right of nomination, but since their favoured candidate was Gray's son, John William Dering*, they did not object, especially when the younger Gray was brought to Saint John to be his father's assistant the following year. Both enthusiastic evangelical Christians, they appear to have worked well together, enjoying the support of the lieutenant governor, Sir Howard Douglas*, and the archdeacon of the province, George Best*.
Gray, a man of action, was, in his own words, "very inattentive" in his communications with the SPG. There are, however, a few breathless, vigorous letters covering his early years in Saint John. These indicate that he cultivated good relations with the congregation of a Methodist chapel and employed its minister in an Anglican school. He also told of building new churches at Portland (Saint John) and at the neighbouring communities of Loch Lomond and Musquash and described how he had taken over a large vacant building for services on Sunday evenings in order that "the poor, the poorer sort of the middling classes who cannot afford to pay Church rates, Servants, and many others who from various causes cannot avail themselves of the day services, may benefit from the ordinances of religion. As all the seats are free, the plan succeeds, even beyond our expectations." He continued as well to carry on full morning and evening services in both Trinity Church and St John's Church (commonly referred to as the Stone Church). The Grays were successful in keeping within the Church of England in Saint John sections of the community that in other parts of eastern North America tended to become Baptist or Methodist.
Within a decade of moving to Saint John, Gray Sr suffered two severe blows. The first was to his pride: in 1829 he was passed over for the office of archdeacon, which went to George Coster. The second, and more serious blow, came in November 1833, when his wife and a female servant died in a fire which destroyed the rectory. Gray's long-felt wish to retire in favour of his son was granted in 1840, the regulation against a son succeeding in his father's parish being set aside. Gray continued as chaplain to the forces, a position he had held since his arrival in Saint John.
It is impossible to delineate the separate roles of the two Grays in their shared ministry. The younger Gray appears to have been in the forefront in the interdenominational Saint John Religious Tract Society. Father and son worked together in founding the Temperance Society in 1831, with the elder Gray taking the chair at its early meetings. Gray Sr was also involved in the organization of the volunteer health association formed to combat cholera in 1832, and his name appears in connection with both the Portland Merciful Society and the Female House of Industry. He is known to have supported the establishment of a penitentiary and to have signed a petition against the prohibition of secret societies or Protestant associations, a move which suggests that he was in favour of the formation of Orange lodges. He also strongly attacked theatrical performances.
In order to make it possible for Gray's son to be brought to Saint John, Inglis had dismissed Frederick Coster, younger brother of George, from his position as assistant missionary. Coster moved across the harbour to Carleton, the newest, smallest, and poorest parish in the province. Over time he built up a strong Anglican church there. Inglis described him as "a very acute person, perhaps the most gifted in the Maritimes"; he, like Gray, showed great concern for the poor, but to Gray's theology of personal salvation and zeal for vital religion Coster opposed his own rigorous high church principles, with emphasis on Anglican exclusiveness in politics and education. Until 1829 evangelical piety was in the ascendant in the province, and on the death of Best that year Lieutenant Governor Douglas, almost certainly encouraged by Charles Simonds, took steps to ensure its continuance by having Gray made archdeacon. The bishop, however, was determined to keep the appointment out of the hands of the governor, and he arranged for the transfer to New Brunswick of George Coster, who had been archdeacon of Newfoundland since 1825. In the conflict between the Grays and the Costers there was personal animosity and some pettiness on both sides, but the basic cause of the dispute was their differing views of the nature and purposes of the church. At times there was great bitterness. It was made clear to George Coster that he was not welcome in Saint John, and on one occasion, in 1831, Gray publicly opposed the archdeacon in a sermon. Writing privately to the SPG, Coster expressed doubts about Gray's sanity and also about his orthodoxy; according to reports reaching him, Gray had developed scruples about baptism by sprinkling and was contending from the pulpit for immersion. In an unusual outburst of pique Coster referred to him as "this ordained Baptist." In 1837 a quarrel broke out between high and low churchmen over the newly organized Church Society of the Archdeaconry of New-Brunswick. Gray's parish refused to participate in it, and one of his opponents accused him of having a "vindictive unchristianlike and low persecuting spirit."
As a young man Gray had shown considerable talent in drawing and sketching. In 1803 he prepared an illustrated catalogue of the King's College library for Sir John Wentworth. According to Dr Fenwick William Vroom, a leading historian of the college, "this Catalogue, containing 840 entries, is itself a work of art, not only because it is a model of graceful penmanship, but because it is illustrated with heraldic designs in India-ink, and several water-colour sketches which show the College as it appeared at that date." In 1805 Wentworth sent one of Gray's sketches to Thomas Moore, the Irish poet. Another picture commissioned by Wentworth, a drawing of Fort Cumberland (near Sackville, N.B.), hangs in the library of King's College (now located in Halifax). King's College, Fredericton, awarded Gray a dd in 1830, the first advanced degree granted by that institution. In 1846 he attended the meeting at which the alumni association of King's College, Windsor, was founded.
A portrait of Gray reproduced in the History of Trinity Church shows him, in middle age, with a strong handsome face, but there is a restlessness about him which is quite at variance with the character depicted in a portrait of his son in the same volume. In his old age, when anti-Catholicism was rife, he was remembered as the "beloved parson Gray, founder of the Protestant faith in Saint John." His memorial tablet in Trinity Church reads, "Sound in Doctrine / In Labours abundant / a Father to the Poor."
PAC, MG 23, D8; MG 24, A3, 3–4. PANB, MC 58; RG 4, RS24, S43-P24, -P36; S45-P149; S53-P132; S57-P258; RG 7, RS71A, 1854, B. G. Gray. PRO, CO 188 (mfm. at PANB). Trinity Anglican Church (Saint John, N.B.), Minutes of the wardens and vestry (mfm. at PANB). USPG, C/CAN/NB, 4, nos.492, 496–97, 501; C/CAN/NS, 3, nos.284–87 (mfm. at PAC). Church of England, Diocesan Church Soc. of N.B., Report (Saint John), 1837–59. R. C. Dallas, History of the maroons, from their origin to the establishment of their chief tribe at Sierra Leone . . . (2v., London, 1803; repr. 1968), 2: 223–24. Ernest Hawkins, Annals of the diocese of Fredericton (London, 1847). Church Times (Halifax), 4 March 1854. City Gazette (Saint John), 22 April, 10 June 1829; 29 Jan. 1831. Loyalist and Protestant Vindicator (Fredericton; Saint John), 1845–50. Morning Chronicle (Halifax), 7 March 1854. New-Brunswick Courier, 17 March, 10 May, 14, 28 July, 11, 18 Aug. 1832; 11 Sept., 5 Oct. 1833; 26 July, 2, 9 Aug. 1834; 11 March 1837; 17 March 1838. Art Gallery of N.S., [Robert Field, 1769–1819]; an exhibition organized by the Art Gallery of Nova Scotia, Halifax, October 5 to November 27, 1978 (Halifax, 1978). A. W. H. Eaton, The Gerrish family (family of Capt. John Gerrish) ([Boston], 1913), 9. E. A. Jones, The loyalists of Massachusetts: their memorials, petitions and claims (London, 1930; repr. Baltimore, Md., 1969), 274–75. [T. B. Akins], History of Halifax City (Halifax, 1895; repr. Belleville, Ont., 1973), 234. Judith Fingard, The Anglican design in loyalist Nova Scotia, 1783–1816 (London, 1972). R. V. Harris, The Church of Saint Paul in Halifax, Nova Scotia: 1749–1949 (Toronto, 1949). H. Y. Hind, The University of King's College, Windsor, Nova Scotia, 1790–1890 (New York, 1890). History of Trinity Church, Saint John, New Brunswick, 1791–1891, comp. [F. H. J.] Brigstocke (Saint John, 1892). M. J. [Lawson] Katzmann, History of the townships of Dartmouth, Preston and Lawrencetown, Halifax County, N.S., ed. Harry Piers (Halifax, 1893; repr. Belleville, 1972), 165. G. H. Lee, An historical sketch of the first fifty years of the Church of England in the province of New Brunswick (1783–1833) (Saint John, 1880). MacNutt, New Brunswick. C. F. Pascoe, Two hundred years of the S.P.G. . . . (2v., London, 1901). J. E. Pinnington, "Anglican reactions to the challenge of a multiconfessional society, with special reference to British North America, 1760–1850" (2v., phd thesis, Univ. of Oxford, 1971). J. D. Purdy, "The Church of England in New Brunswick during the colonial era, 1783–1860" (ma thesis, Univ. of N.B., Fredericton, 1954). J. H. Stark, The loyalists of Massachusetts and the other side of the American revolution (Boston, 1910), 334–37. C. W. Vernon, Bicentenary sketches and early days of the church in Nova Scotia . . . (Halifax, 1910), 226–28. F. W. Vroom, King's College: a chronicle, 1789–1939; collections and recollections (Halifax, 1941). R. W. Winks, The blacks in Canada: a history (Montreal, 1971). [Francis] Partridge, "The early history of the parish of St. George, Halifax," N.S. Hist. Soc., Coll., 7 (1891): 73–87. H. G. Ryder, "Stone church," Canadian Antiques Collector (Toronto), 10 (1975), no.3: 63–65.
© 1985–2023 University of Toronto/Université Laval
Image Gallery

Cite This Article
D. Murray Young, "GRAY, BENJAMIN GERRISH," in Dictionary of Canadian Biography, vol. 8, University of Toronto/Université Laval, 2003–, accessed November 30, 2023, http://www.biographi.ca/en/bio/gray_benjamin_gerrish_8E.html.
The citation above shows the format for footnotes and endnotes according to the Chicago manual of style (16th edition). Information to be used in other citation formats:
| | |
| --- | --- |
| Permalink: | http://www.biographi.ca/en/bio/gray_benjamin_gerrish_8E.html |
| Author of Article: | D. Murray Young |
| Title of Article: | GRAY, BENJAMIN GERRISH |
| Publication Name: | Dictionary of Canadian Biography, vol. 8 |
| Publisher: | University of Toronto/Université Laval |
| Year of publication: | 1985 |
| Year of revision: | 1985 |
| Access Date: | November 30, 2023 |