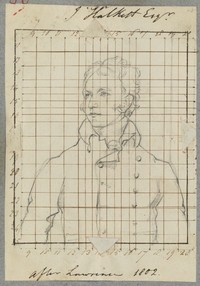 Source: Link
HALKETT (Wedderburn), JOHN, HBC director and author; b. 27 Feb. 1768 in Pitfirrane, Scotland, third son of John Wedderburn and his second wife, Mary Hamilton; m. first 1794 Anna Todd (d. 1805); m. secondly 1815 his cousin Lady Katherine Douglas, sister of Thomas Douglas*, Earl of Selkirk; d. 12 Nov. 1852, and was buried in Petersham (London).
John Wedderburn assumed the name of Halkett in 1779 when, upon the death of his cousin Sir Peter Halkett, he succeeded to the baronetcy of Pitfirrane. His son John apparently matriculated to the University of St Andrews (Scotland) in 1786, and was admitted to the Scottish bar in Edinburgh in August 1789. During the years 1797–1801 he was secretary of presentations to his cousin Alexander Wedderburn, 1st Baron Loughborough, who was then lord chancellor of England. In 1801 he was appointed governor-in-chief of the Bahamas and in 1803 captain-general and governor-in-chief of Tobago. On his return to London he was appointed first chief commissioner of West Indian accounts.
With two other cousins, Andrew Wedderburn, who in 1814 changed his name to Colvile, and Lord Selkirk, Halkett became interested in the Hudson's Bay Company. Selkirk began buying shares in the company in 1808, as did Halkett and Wedderburn the next year. Halkett was appointed a member of the HBC's London committee in November 1811, a few months after the company had granted a large tract of land around the Red River to Selkirk for the establishment of a colony. By training and temperament Halkett was eminently suited to become the main British defender of Selkirk's efforts in North America, and he spent most of the years 1815 to 1820 trying to counteract what he considered misleading and false statements circulated by the North West Company about Selkirk's character and his work. Given the indifference of the colonial secretary, Lord Bathurst, and the arrogance of the influential under-secretary, Henry Goulburn, it was a disheartening period. Bathurst regarded the violent acts of 1815–16 at Red River, which culminated in the ruin of the colony [see Cuthbert Grant], as simply quarrels between the two rival fur-trading companies, while Halkett sought unsuccessfully to impress upon him that justice was being denied British settlers. He wrote a number of pamphlets and long explanatory letters to Bathurst, based on judicious arguments and accompanied by affidavits and depositions, in efforts to prove that, despite their self-righteous attacks on Selkirk, the Nor'Westers had been the instigators in these events. His letters were dispassionate in tone, outlining point by point the inconsistencies in the various statements made by the NWC. He frequently had reason to be provoked by the curt replies he received from the under-secretary, but his calm judgement always prevailed.
In 1817 Halkett published, for private circulation, the unsigned Statement respecting the Earl of Selkirk's settlement, in which he blamed the destruction of the colony on the NWC and its agents. The NWC reply was not long in coming: later the same year a rebuttal entitled A narrative of occurrences in the Indian countries of North America was released. The book was unsigned but has been attributed to NWC employee Samuel Hull Wilcocke*. In 1818 Halkett reprinted his pamphlet and included a reply to the NWC publication. In the end, however, Halkett and Selkirk's few other supporters were outmanœuvered by the Nor'Westers. The NWC's Montreal agents Simon* and William* McGillivray cultivated leading judicial and political leaders in England and the Canadas, and they succeeded in bringing these officials more or less to their point of view. This favourable disposition, joined with legal technicalities and delays in the Canadian courts, enabled the NWC men to escape punishment for their violent acts. Halkett's statement to Bathurst in 1819, that Selkirk had been "treated with marked and signal injustice," appears in retrospect to be justified.
Selkirk died in 1820 and in the fall of 1821 Halkett travelled to Montreal as an executor of the estate. Two former NWC men, disgruntled by Halkett's treatment of them in print, enlivened his visit. On 18 October Alexander Greenfield Macdonell* met him outside his hotel and threatened him with a horsewhip. Halkett had him arrested and as a precaution armed himself with a pair of pistols. That evening Jasper Vandersluys attacked him and struck him twice with a whip before Halkett fired, wounding his assailant. Vandersluys charged him with "assault with intent to kill" but the charge was later withdrawn.
After a visit to Washington in connection with that part of the Selkirk grant in American territory, Halkett returned to Montreal in May 1822. He was determined to visit the Red River settlement and give it a fair trial. He set off by canoe, with John McLoughlin and the new governor of the colony Andrew H. Bulger, on 15 May, arriving in the settlement in late June. He found the settlers demoralized and some of them mutinous. Grasshoppers had destroyed the previous year's crops, bison were scarce, and the Sioux had murdered a number of people in the vicinity of Pembina (N.Dak.) to the south. Halkett assured the settlers that the promises made by Lord Selkirk would be upheld. These included a supply of farm animals and fixed prices for goods and grain. He also arranged for a reduction in interest payments and for concessions in rent. To promote the prosperity of the Red River settlement, he closed the administrative buildings and the HBC post at Pembina, and asked Bishop Joseph-Norbert Provencher to close the Roman Catholic mission there. Provencher described Halkett as haughty in his dealings with the Catholic missionaries and stated that his visit had done more harm than good. This criticism was unfair. The proposal to abandon the settlement at Pembina was responsible, since its inhabitants were outside the jurisdiction of British law and the Sioux had already killed ten people in the area. Father Sévère Dumoulin was recalled from Pembina, and the mission closed, in 1823.
Halkett made a short tour of the country to the west of the settlement and then embarked by canoe for York Factory (Man.) where he presided over a meeting of the HBC Northern Department council on 20 Aug. 1822. Resolutions were passed regarding education and the granting of land to mixed-blood fur-trade families at the Red River settlement. Halkett's liberal views and ardent support of the colony did much to ease the frustrations of the settlers and, indeed, without his interest and his influence within the HBC the colony would probably have lost most of its settlers to the Canadas and the United States, thus rendering Selkirk's project a failure.
As a director of the HBC Halkett retained his interest in British North America after his return to England in 1822. He had been favourably impressed by the kindness extended towards the colonists by the Saulteaux chief Peguis* and his band. He had a high regard for the Indian people but, with the events of 1815–16 in mind, he held the Métis in contempt, referring to them as "Banditti." He was critical of the HBC for its trade in spirits with the native people and recommended its prohibition. These views were given a favourable hearing by the London committee, dominated by men with strong humanitarian views, and it is to the committee's credit that the trade in spirits was gradually suppressed. In 1825 Halkett published Historical notes respecting the Indians of North America: with remarks on the attempts made to convert and civilize them. It is a sympathetic account based on the writings of Claude-Charles Le Roy* de La Potherie, dit Bacqueville de La Potherie, Pierre-François-Xavier de Charlevoix*, and others, with Halkett's suggestions for the "civil and religious advancement" of Indians. He recommended a more sympathetic approach to the native way of life and emphasized that changes should be made slowly and cautiously, attitudes which have only recently been adopted in relationships with Indians. His interest in North American native culture is also reflected in his collection of aboriginal artifacts.
In the spring of 1848 Halkett retired from the HBC's London committee. When he died four years later, leaving four sons from his second marriage, there were signs that the Red River settlement, which he had helped to nurture, was beginning to think of itself as the metropolis of western British North America.
John Halkett is the author of several works dealing with the controversy surrounding the events at Red River in 1815 and 1816. In 1817 he published his Statement respecting the Earl of Selkirk's settlement of Kildonan, upon the Red River, in North America; its destruction in the years 1815 and 1816; and the massacre of Governor Semple and his party in London. He subsequently published an expanded version of this work, Statement respecting the Earl of Selkirk's settlement upon the Red River . . . with observations upon a recent publication, entitled "A narrative of occurrences in the Indian countries, &c." (London, 1817; New York, 1818; repr. East Ardsley, Eng., and New York, 1968, and [Toronto, 1970]), which was translated into French as Précis touchant la colonie du lord Selkirk, sur la rivière Rouge, sa destruction en 1815 et 1816, et le massacre du gouverneur Semple et de son parti . . . (Montréal, 1818). He is also the author of Postscript to the statement respecting the Earl of Selkirk's settlement upon the Red River, in North America (Montreal, 1818). A series of his letters appeared in London, probably in 1819, as Correspondence in the years 1817, 1818, and 1819, between Earl Bathurst, and J. Halkett, Esq. on the subject of Lord Selkirk's settlement at the Red River, in North America. His reflections on the native peoples of North America are included in Historical notes respecting the Indians of North America: with remarks on the attempts made to convert and civilize them . . . (Edinburgh and London, 1825). In addition, there is a collection of his correspondence from the period when he was in the British West Indies: [Ten holograph letters and two enclosures from John Halkett, governor of the Bahamas, to Admiral, Sir J. T. Duckworth, commander-in-chief at Jamaica] (New Providence, Bahamas, 1802–4).
PAC, MG 19, E1, ser.2 (mfm. at PAM). PAM, HBCA, A.1/50: f.47; A.1/53: ff.25d–26; A.8/1: ff.14–14d, 19–19d; A.10/4: f.393; A.10/9: f.408; A.43/7: f.2; A.44/3: f.80; copies, letters Red River settlement, VII, 160a: 1030–33, 1051b-67, 1083, 1085–86, 1090, 1094–96. HBRS, 1 (Rich); 3 (Fleming). [S. H. Wilcocke], A narrative of occurrences in the Indian countries of North America . . . (London, 1817; repr. East Ardsley, Eng., and New York, 1968). Andrew Wedderburn, The Wedderburn book: a history of the Wedderburns . . . 1296–1896 (2v., n.p., 1898). J. M. Gray, Lord Selkirk of Red River (London, 1963). C. [B.] Martin, Lord Selkirk's work in Canada (Oxford, 1916). Rich, Hist. of HBC.
© 1985–2023 University of Toronto/Université Laval
Image Gallery

Cite This Article
Shirlee Anne Smith, "HALKETT, JOHN," in Dictionary of Canadian Biography, vol. 8, University of Toronto/Université Laval, 2003–, accessed October 4, 2023, http://www.biographi.ca/en/bio/halkett_john_8E.html.
The citation above shows the format for footnotes and endnotes according to the Chicago manual of style (16th edition). Information to be used in other citation formats:
| | |
| --- | --- |
| Permalink: | http://www.biographi.ca/en/bio/halkett_john_8E.html |
| Author of Article: | Shirlee Anne Smith |
| Title of Article: | HALKETT, JOHN |
| Publication Name: | Dictionary of Canadian Biography, vol. 8 |
| Publisher: | University of Toronto/Université Laval |
| Year of publication: | 1985 |
| Year of revision: | 1985 |
| Access Date: | October 4, 2023 |