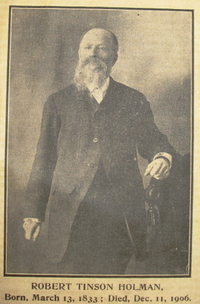 Source: Link
HOLMAN, ROBERT TINSON, businessman; b. 13 March 1833 in Saint John, N.B., fourth and youngest son of James Holman and Sarah Chadbourne; m. 27 July 1864 Ellen MacEwan of Summerside, P.E.I., and they had ten children; d. there 11 Dec. 1906.
Robert Tinson Holman's father had emigrated from his native Devon, England, to Saint John in 1819 and by the time of Robert's birth he was involved in shipping and had opened a store. Several relatives, including Robert's cousin James Henry Holman*, immigrated over the next few years and provided a large family network in Saint John. While Robert was still a youth, his father suffered business reversals and he left school at age 13. He clerked in a mercantile house in Saint John and for a few months in a law office, but in 1848, in pursuit of employment, he moved to Boston, where he stayed for about two years. Several other members of the family were already there and Robert's relationship with kin in the United States was to continue throughout his life.
The eldest of James Holman's sons, Samuel Chadbourne, who also worked in Boston, came to Prince Edward Island in 1851 and set up a store in Charlottetown. Robert joined him, but Samuel's accidental death a year later led to the closing of the business. Another brother, James Ludlow, and a brother-in-law, John Andrew, were by then in business in St Eleanors, some 40 miles west of Charlottetown, and Robert joined them. Andrew saw more promise in the nearby town of Summerside, and he and Robert became partners there in John Andrew and Company in 1855. The partnership was dissolved the following year with heavy debts. At the time Holman considered moving to Hamilton, Upper Canada; instead, he appears to have received some assistance from his brother James Ludlow, and took sole responsibility for the Summerside business.
The timing of Holman's decision was fortunate, for the town would prosper in the shipbuilding boom of the 1860s. By 1864 he had constructed a large brick warehouse and in 1867 he was able to purchase a wharf and a shipbuilding site from James Colledge Pope*. The main line of the Prince Edward Island Railway was run through the site in 1872 and Holman's wharf became an important transfer point for agricultural goods shipped abroad. By 1873 he had consolidated his landholdings on the waterfront and had acquired a number of water-lots from the government, making it difficult for competitors to operate anywhere in the vicinity. Holman's increased business required additional storage space and in 1875 he built a four-storey building, the biggest in the province at the time. In 1895, to accommodate both retail and wholesale operations, a large brick store was erected, which the Summerside Pioneer claimed to be the largest mercantile establishment in the Maritimes. Following the death of James L. Holman in 1877, Robert acquired much of his property, including the newly opened Island Park Hotel, one of the pioneer tourist resorts of the Atlantic region. The hotel business was not a success, however. A more important acquisition from the estate was an additional wharf on Summerside's waterfront.
R. T. Holman, in contrast to many other local merchants, was not involved in shipbuilding, but he acquired vessels. Of the nine he is listed as having owned between 1866 and 1896, most were relatively small; the larger ones, including the Kewadin and the Pawashik, were used in the transatlantic trade. Although the shipping side of his business per se was not a financial success, owning vessels allowed him to exploit other opportunities by giving him more control over his ability to participate in the markets for agricultural produce. Surviving records show that until the mid 1870s Holman's sales of merchandise and speculation in produce accepted in payment resulted in large profits. The value of merchandise sold annually increased from about $12,000 in 1860 to $196,000 in 1875. His net worth in 1876 was estimated by agents for R. G. Dun and Company to be between $50,000 and $100,000. Subsequently, in spite of steady profits on merchandise, Holman experienced several years of overall loss, the result of bad debts, reduced sales, and losses on the operation of vessels and on speculation in commodities. In 1883 he became one of the first merchants to export lobsters and for some time thereafter they show up as a profitable item in his statements.
Holman had become sufficiently secure in his business interests by 1866 to attempt a risky venture, the founding of the Summerside Progress and Prince County Register. It was edited by Thomas Kirwan, but it was well known that Holman was the owner and backer of the newspaper. With regard to the issue of the day, the union of the Maritimes and Canada, it opposed confederation and endorsed instead annexation to the United States. In July 1866 the Progress espoused a return to "the good old days of reciprocity," which, given the financial success that Holman had experienced under the Reciprocity Treaty, before its abrogation in March, is hardly surprising. Three years later Holman hired Henry Lawson as editor and the paper adopted a more moderate stance. Holman appears to have sold it in 1876.
Unlike many merchants of the period, Holman was not involved in fraternal organizations or associations, and he does not appear to have held office at any level of government. Although he would be identified by the press in 1903 as a "lifelong liberal," his activities were evidently not within the sphere of organized federal or provincial politics. His main concerns were mercantile and his few public activities appear to have been connected with business. One of the petitioners for the incorporation of the Summerside Bank in 1865, he served as a director from 1870 to 1880. In 1896 he was a shareholder in the newly incorporated Summerside Electric Company Limited. Following the founding of the Summerside Board of Trade in 1900, he served as one of its councillors. He was drawn into the major controversy of the day – the most appropriate wintertime route for steamer service between the Island and the mainland – and in an uncharacteristic step he publicly indicated his position. Summerside, one of two ports with regular and direct service, connected with Pointe-du-Chêne and Shediac, N.B. Holman, other board members, and the editors of local newspapers were involved over a three-year period in a press war against Charlottetown, which connected with Pictou, N.S.
R. T. Holman was a merchant who stood apart from the social life of his small community, who apparently neither sought nor gained political favours, and who possessed unorthodox religious beliefs. Though Holman had been born into a Baptist family, his father had left the church in 1835 following a doctrinal disagreement with a clergyman. It is not evident how Robert's views on religion developed, but the census of 1861 listed him as a "universalist" and by the 1870s he had abandoned organized religion in favour of free thought [see William Allen Pringle*]. Not content to object passively to the predominant religious sentiment of the community, he brought speakers to Summerside to preach humanism. One example of his antipathy was his response to the province's proclamation of Thanksgiving in 1899. He protested in a half-page advertisement in the Pioneer that the day should be "free from cant, free from hypocracy and free from policy" and that consequently his stores would remain open.
In a memorial booklet published by the family after Holman's death in 1906, following a short illness, mention is made of his interest in "modern thought," with no reference to Christianity. The booklet contains "The declaration of the free" by Robert Green Ingersoll, a leader in the American free-thought movement in the 19th century, and "Abou Ben Adhem" by English critic James Henry Leigh Hunt. The Charlottetown Guardian concluded in its obituary that Holman was not "in the ordinary acceptation of the word a religious man," but it applauded his philanthropic activities.
Just prior to Holman's death, his business was incorporated as R. T. Holman Company Limited, with shares distributed among his family. Two sons, James LeRoy and Harry T., succeeded him in the management of the firm, which would continue for more than 70 years. Holman was acknowledged in obituaries to be the province's leading businessman. Newspapers spoke of his mercantile talents, but his skills in wholesale and retail merchandising, shipping, and exporting produce, as well as in identifying such new industries as the lobster trade, were not unique. What appears to have made the difference in Holman's case was his ability to combine these activities so effectively. He was aided by Summerside's rapid economic expansion and, when business contracted in the 1880s, he diversified and was able to recover from reduced sales. That he succeeded as a merchant is a testament to his individualism; even allowing for journalistic flourish, one might conclude, as did the editor of the Guardian, that "he was in many respects a remarkable man."
[A portrait of Holman by James Henry Holman is preserved in the P.E.I. Museum.
Few business or personal records pertaining to Robert Tinson Holman have survived. A roll of accounts covering the period 1859–97 is held by the author; a memorial pamphlet which was published shortly after Holman's death in 1906 and contains extensive biographical information also remains in the Holman family's possession, as does a family bible. The Atlantic Canada Newspaper Survey database, available on-line through the Canadian Heritage Information Network of Communications Canada (Ottawa), was valuable in locating advertisements from Holman's businesses. h.t.h.]
Memorial Univ. of Nfld (St John's), Maritime Hist. Group, Atlantic Canada Shipping Project database, Shipping registries of Atlantic Canada, Prince Edward Island (microfiche; copy at PARO). PARO, RG 16, land registry records, conveyance reg., liber 87: ff.151, 231. P.E.I. Museum, Geneal. Div. files, "Genealogy of the Holman family of Saint John, New Brunswick and Summerside, Prince Edward Island (from 1772)," comp. H. L. Holman (1955). Charlottetown Guardian, 12–13 Dec. 1906. Daily Examiner (Charlottetown), 9 Feb. 1903. Examiner (Charlottetown), 8 Oct. 1855. Islander, 21 Nov. 1851; 15, 29 Oct. 1852. Island Farmer (Summerside), 16 Jan. 1901. P. E. Island Agriculturist (Summerside), 15 Dec. 1906. Pioneer (Summerside), 25 Nov. 1895, 19 Oct. 1899. Summerside Journal, 14 Dec. 1906. Summerside Progress, 16 July 1866, 8 May 1869. Almanac, Harvie's P.E.I., 1871–81. Mercantile agency reference book, September 1876. P.E.I., Acts, 1865, c.24; 1896, c.17. R. A. Rankin, Down at the shore: a history of Summerside, Prince Edward Island (1752–1945) (Charlottetown, 1980).
© 1994–2023 University of Toronto/Université Laval
Image Gallery

Cite This Article
H. T. Holman, "HOLMAN, ROBERT TINSON," in Dictionary of Canadian Biography, vol. 13, University of Toronto/Université Laval, 2003–, accessed June 6, 2023, http://www.biographi.ca/en/bio/holman_robert_tinson_13E.html.
The citation above shows the format for footnotes and endnotes according to the Chicago manual of style (16th edition). Information to be used in other citation formats:
| | |
| --- | --- |
| Permalink: | http://www.biographi.ca/en/bio/holman_robert_tinson_13E.html |
| Author of Article: | H. T. Holman |
| Title of Article: | HOLMAN, ROBERT TINSON |
| Publication Name: | Dictionary of Canadian Biography, vol. 13 |
| Publisher: | University of Toronto/Université Laval |
| Year of publication: | 1994 |
| Year of revision: | 1994 |
| Access Date: | June 6, 2023 |