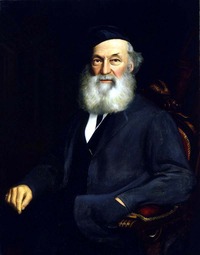 Source: Courtesy of Wikimedia Commons
HOWARD, JOHN GEORGE (originally named John Corby), architect, surveyor, civil engineer, and artist; b. 27 July 1803 in Bengeo, Hertfordshire, England; m. 7 May 1827 to Jemima Frances Meikle in London, England; d. 3 Feb. 1890 at Colborne Lodge, Toronto, Ont.
According to the parish registers of Bengeo, John Corby was the fourth of seven children of John and Sarah Corby. After attending a boarding-school in Hertford and spending two years at sea before the mast, John Corby became a carpenter and joiner. In 1824 he was articled for three years to a London architect, William Ford, who married his older sister in 1825. Except for a brief period as resident engineer on the Cromford Canal in Derbyshire, Corby remained with Ford until his departure for Canada, latterly transacting business for himself.
Despairing of success in his profession in England, Corby had resolved to emigrate and in September 1832 he and his wife arrived in York (Toronto). It was at this time that he changed his name to John George Howard. He himself gave two explanations; one conflicts with the evidence of the Bengeo parish registers, and the other is unsubstantiated and unlikely. On 11 Feb. 1834 when his change of name was revealed in a court case Howard wrote to Lieutenant Governor Sir John Colborne*'s secretary, explaining that he was illegitimate, that when he was about 18 he had adopted the name Corby after the man his mother had subsequently married, and that he had assumed "his proper name" when he left England. Later in life he claimed direct descent from Thomas Howard, the 4th Duke of Norfolk, through a 17th-century Howard who had adopted the name Corby from the ancestral estate Corby Castle, because of a family quarrel. All his life Howard was proud of this alleged connection with the great Howard family.
In March 1833 a selection of Howard's architectural drawings was brought to the attention of Colborne, and Howard was appointed to teach geometrical drawing at Upper Canada College with a salary of £100 a year. As well as teaching 12 hours a week, he did some professional work at the college so that the students could view the practical side. Appointed first drawing master in 1839, Howard remained at the college until about 1856. In 1833 he had also been commissioned by the Anglican bishop of Quebec, Charles James Stewart*, to prepare plans and specifications for small churches; these were lithographed and distributed throughout the diocese of Quebec, which then included Upper Canada. In the absence of suitable designs for such projects in architectural books of the period Howard's suggestions would have been extremely important. Unfortunately none of these plans have been identified.
With such signs of official favour, Howard soon began to receive commissions, especially in Toronto, and in the 1830s and 1840s he was one of the busiest architects in Upper Canada. Working in the wide range of styles characteristic of versatile architects of the late Georgian period, he designed a great many houses, shops, and offices, ranging from tiny labourers' cottages to the Chewett buildings (1833), Woodlawn, the home of William Hume Blake* (1840), and the Bank of British North America (1845). He also built about a dozen churches throughout the province, generally for the Church of England and in early Gothic Revival style, including St John's, York Mills, and Christ Church, Tyendinaga (both 1843). He won six competitions for public buildings throughout the province, including Queen's College at Kingston, but only one of these was actually built to his design. This was his major work, the Provincial Lunatic Asylum in Toronto, built 1845–49, which was an immense building in the local white brick that he had introduced into practice; it was demolished by the provincial government in 1976. He did, however, build a number of other public buildings, such as Toronto's third jail (1840), the Brockville court-house and jail (1841–43), and the Toronto House of Industry (1848). His prize-winning plans were probably not built because of their size and expense; for example, his design for the government house in Toronto (1834) was a huge domed and porticoed neoclassical building with an estimated cost of £50,000. It was this plan that he later exhibited as a charter associate of the Canadian Academy of Arts (later the Royal Canadian Academy of Arts) in its first exhibition in 1880.
Although Howard had been a surveyor in England, he was not licensed in Canada until 26 Jan. 1836, after he had served a six-month apprenticeship and passed the local examinations. Much of his surveying and engineering work was performed for the city of Toronto on sidewalks, streets, sewers, and bridges. He surveyed the harbour, laid out the Esplanade on the waterfront, and subdivided the peninsula (now Toronto Island). On 1 May 1843 he succeeded Thomas Young* as city surveyor, and held this part-time position, paid by commission, until he was replaced by William Kingsford* as a full-time salaried city engineer and surveyor in June 1855. Besides his work for the city, Howard was employed by other institutions and private developers. For example, in 1842 he laid out St James' Cemetery, an interesting and early example of picturesque planning. In the following years he subdivided some of the Toronto properties of Henry John Boulton*, Samuel Peters Jarvis*, and Thomas Gibbs Ridout* in a more straightforward gridiron fashion.
In 1834 Howard was on the committee of the short-lived Society of Artists and Amateurs of Toronto, and in 1847 was a founding member, vice-president, and treasurer of the Toronto Society of Arts. He painted a number of water-colours, mostly Toronto scenes or copies of European paintings; many of them as well as paintings by his wife are on exhibit in the Howards' home after 1837, Colborne Lodge.
By 1855 Howard was virtually retired. He spent his time working on the extensive grounds of Colborne Lodge, land bought in 1836 for a sheep farm. The house, now restored and open to the public as a museum, is an early North American example of the small suburban villa popularized in Britain at the beginning of the 19th century. In 1873, in return for a yearly pension of $1,200, Howard deeded 120 acres of this property to the city as a public park to be called High Park; the remaining 45 acres and Colborne Lodge became city property at his death (the city added 170 acres to the park in 1875 and a further 71 acres in 1930). Howard was appointed forest ranger by the city in 1878, with responsibility for improving the park. In 1885 Howard published Incidents in the life of John G. Howard, esq., based, with some discrepancies, on his journals. The Howards were childless, but Howard had three children by Mrs Mary Williams. At his death his estate was valued at $48,379, much of it real estate, in which he had speculated throughout his life in Canada.
Howard was one of the first professional architects in Upper Canada. His work represents the transitional period between the earlier and more provincial phase of Georgian style and the later exuberance and sophistication of Victorian work. From the evidence of more than 700 of his drawings that have survived, it is apparent that he favoured neoclassical designs and tended to rely heavily on London practice of the 1810s and 1820s, which was not always suited to Canadian conditions. Because he was cut off from metropolitan contacts and sources of inspiration, his work did not progress beyond its late Georgian roots. However, he did bring a new level of achievement and breadth of experience to the province before the arrival of other professionally trained architects around the mid century. He is now best remembered for the charm of his Regency cottages and villas, of which Colborne Lodge is the most significant example, and for the massive splendour and ingenious engineering of his lunatic asylum.
J. G. Howard was the author of Incidents in the life of John G. Howard, esq., of Colborne Lodge, High Park, near Toronto; chiefly adapted from his journals (Toronto, 1885).
Guildhall Library (London), MS 7498/36–7 (St Leonard Church, Shoreditch, London, Record of marriages, 7 May 1827). Hertfordshire County Record Office (Hertford, Eng.), D/P17 1/3 (St Leonard's Church, Bengeo, Register of baptisms, 11 Sept. 1803). MTL, John George Howard papers; Shirley McManus, "The life of John G. Howard." PAC, RG 5, A1, 138: 75372–77. Canadian Academy of Arts, Annual exhibition (Ottawa), 1880. Royal Canadian Academy of Arts, Report of council (Toronto), 1882–90. Soc. of Artists and Amateurs, Catalogue of the first exhibition . . . (Toronto, 1834). Toronto Soc. of Arts, First exhibition, 1847 ([Toronto?, 1847?]). Catalogue of paintings in the gallery at Colborne Lodge, High Park; a donation from John G. Howard, esq., J.P., to the corporation of the city of Toronto, May 7th, 1881 (Toronto, 1885). Landmarks of Canada: what art has done for Canadian history . . . (2v., Toronto, 1917–21; repr. in 1v., 1967). Eric Arthur, Toronto, no mean city ([Toronto], 1964), 120–21. Hist. of Toronto and county of York, II: 69–81. Marion MacRae and Anthony Adamson, The ancestral roof: domestic architecture of Upper Canada (Toronto and Vancouver, 1963); Hallowed walls: church architecture of Upper Canada (Toronto and Vancouver, 1975). George Baird and Robert Hill, "999 Queen, a collective failure of imagination," City Magazine (Toronto), 2 (1976–77), no.3–4: 34–59. Eric Hounsom, "An enormous building for its time," Royal Architectural Institute of Canada, Journal (Toronto), 42 (1965): 63–65. T. A. Reed, "Toronto's early architects: many fine buildings still standing," Royal Architectural Institute of Canada, Journal, 27 (1950): 46–51.
© 1982–2023 University of Toronto/Université Laval
Cite This Article
Edith G. Firth, "HOWARD, JOHN GEORGE," in Dictionary of Canadian Biography, vol. 11, University of Toronto/Université Laval, 2003–, accessed October 2, 2023, http://www.biographi.ca/en/bio/howard_john_george_11E.html.
The citation above shows the format for footnotes and endnotes according to the Chicago manual of style (16th edition). Information to be used in other citation formats:
| | |
| --- | --- |
| Permalink: | http://www.biographi.ca/en/bio/howard_john_george_11E.html |
| Author of Article: | Edith G. Firth |
| Title of Article: | HOWARD, JOHN GEORGE |
| Publication Name: | Dictionary of Canadian Biography, vol. 11 |
| Publisher: | University of Toronto/Université Laval |
| Year of publication: | 1982 |
| Year of revision: | 1982 |
| Access Date: | October 2, 2023 |