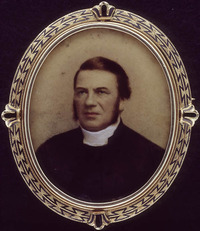 HUNTER, JAMES, Church of England clergyman and missionary, translator, and philologist; b. 25 April 1817 at Barnstaple, England; d. 12 Feb. 1882 in London, England.
James Hunter, after some experience as a schoolmaster, entered the Church Missionary Society College at Islington (now part of London), England, to train for the ministry. He also acquired some medical knowledge in London hospitals in anticipation of missionary work for the society. Ordained a priest in the Church of England in 1844, Hunter sailed with his wife Ann on 1 June in a Hudson's Bay Company ship. On 13 August they reached York Factory (Man.) and on 26 September, having travelled by York boat, they arrived at Cumberland Station, the new Indian mission at The Pas (Man.) on the Saskatchewan River. The missionaries spent an uncomfortable winter because a careless boatman had lost part of their stove en route.
By 1846 Hunter was raising cattle, horses, pigs, and sheep as well as crops of wheat, barley, and potatoes on the mission farm. After 1847 some of the Indians, following his example, built log houses, cleared land, and planted crops, and even adopted European clothes. In 1845–46 Hunter had engaged a carpenter for three years to erect a church, manse, and school, but construction progressed slowly as all lumber had to be hand sawn from local timber. In 1848, when members of the expedition led by Sir John Richardson* and John Rae* in search of Sir John Franklin* wintered at Cumberland House (Sask.), three carpenters donated three months' labour to building the mission manse at The Pas. The church, with a 70-foot spire, was consecrated by the bishop of Rupert's Land, David Anderson, in the summer of 1850.
Hunter was energetic in converting Indians to Christianity, and each year reported many baptisms. In 1845 he sent James Beardy, a young Christian Indian from The Pas, to Lac la Ronge (La Ronge, Sask.); the next year a native catechist, James Settee*, joined Beardy. In the summer of 1847 Hunter went by canoe to Lac la Ronge where he baptized 124 Indians, and in 1848 this mission was placed on a permanent basis with the arrival of the Reverend Robert Hunt and his wife. Two other stations were established as outposts of the Cumberland mission: in 1850 Hunter sent a catechist, John Humpherville, to Moose Lake (Sask.), and in 1853 the Reverend Henry Budd*, another Indian, who had preceded Hunter at The Pas, to Nepowewin (Nipawin, Sask.).
Even before he had acquired a proper knowledge of Cree, Hunter began translating religious literature. He advocated Roman characters rather than the syllabic script developed for the Crees in 1840 by the Reverend James Evans* at Rossville (Man.). Hunter's scholarly mind could not accept the imprecision of the syllabic system which he regarded as merely a kind of shorthand. Yet formal schooling was essential to master the Roman alphabet whereas the mnemonic features of the syllabic script could be learned by a nomadic people within a day. Hunter's competence in Cree grew after his marriage on 10 July 1848 to Jean (Jane) Ross, eldest daughter of Donald Ross, the HBC factor at Norway House (Man.); she had learned the language in infancy, and she now joined Hunter in his work. Impatient to see translations in print, Hunter proposed their printing in England as early as 1848. Bishop Anderson, however, advised further revision, as he found inconsistencies in Hunter's orthography, and as late as 1853 the bishop wrote that "his translation is still, I tell him, a little over spelt, rather too many letters. . . ." Copies of the Gospel of St Matthew, printed in England by the Church Missionary House, had arrived at York Factory on the supply ship of 1853. When the Hunters went to England on furlough in the autumn of 1854 they saw a large number of their translations through the press. Among their publications in 1855 were the Gospels of St Mark and St John, the Book of Common Prayer, Jean Hunter's translation of the first epistle general of St John, and a catechism. Most of these were reprinted in the late 1870s, and many are still in use. Some of the Hunters' translations were issued eventually in syllabic script. Jean Hunter also compiled hymns. In recognition of his work as a translator Hunter was granted an ma by the archbishop of Canterbury in 1854.
In September 1855, on their return from England, the Hunters travelled to the Red River Settlement again by York boat. Ten days out from York Factory the party stopped long enough for Jean to give birth to a child. Two weeks later her eldest child and sister narrowly escaped drowning and a young English woman was lost when the boat capsized in a wind storm on Lake Winnipeg. Jean Hunter was in delicate health for many months thereafter. The hardships of frequent childbirth for women in the wilderness are exemplified by the story of Hunter's two wives. His first wife had died on 20 Nov. 1847 following childbirth, and only the first of her three children lived. Jean also lost two children at birth; in her third confinement, at St Andrews parish on Red River in the winter of 1851–52, Dr John Bunn* gave her chloroform, probably one of the first uses of the anæsthetic in the west.
Hunter was stationed at St Andrews from 1855 to 1865. In 1854 Bishop Anderson had made him an archdeacon of Cumberland, with responsibility for secular and financial matters relating to the more distant missions. Further, as corresponding secretary to the Church Missionary Society, he was the liaison between the local clergy and the headquarters in England. He was indefatigable in these duties as he was in the spiritual leadership of his parish. One last missionary venture, in 1858–59, saw him travelling with the HBC brigade to Fort Simpson (N.W.T.) on the Mackenzie River to investigate the feasibility of missions there. On his recommendation the Reverend William Kirkby set off in 1859 for that distant country. In 1860 appeared an eight-page ordination sermon by Hunter, God's charge to Zion's watchmen, the first booklet printed in the Red River Settlement.
The winter of 1862–63 saw the trial of the Reverend Griffith Owen Corbett* on a charge of attempting to induce an abortion on a 16-year-old servant-girl in his house. There was great public excitement in the settlement. Corbett denied both the charge and the paternity of the child. A popular medical missionary, he was believed by many to have been framed by the civil authorities for his vigorous opposition to the HBC. The Church of England clergy remained aloof, which was interpreted by some as tacit support of the authorities and by others as an example of missionary rivalry since Corbett was sponsored by the Colonial and Continental Church Society. Archdeacon Hunter, acting as the bishop's examiner, interviewed the girl in late November, and satisfied himself that Corbett was guilty as charged. In mid January 1863, before Corbett's trial, a rumour spread suggesting that Hunter was guilty of moral turpitude, apparently in relation to the paternity of the child. Shocked that such a calumny should be circulated in his own parish, Hunter responded emotionally by offering his resignation to the bishop but withdrew it when the author of the rumour, John Tait, a miller and carpenter, admitted two weeks later that it was without substance. The incident adversely affected Hunter's chances of being named bishop of Rupert's Land in 1864. When Bishop Anderson resigned Hunter expected to be named on his record as administrator, missionary, and translator, but unease in England that he might not be acceptable to the laity in Red River caused him to be passed over in favour of Robert Machray*.
In the summer of 1865 the Hunters returned to England. He continued to work for the CMS until 1867 when he accepted the important charge of vicar of St Matthew's Church, Bayswater, London, which he retained until his death. So popular was he as a preacher that a new church had to be built to accommodate the worshippers. In 1875 his great study, A lecture on the grammatical construction of the Cree language, was published by the Society for the Propagation of Christian Knowledge. Much of the 265-page volume is given over to paradigms of the Cree verb. It remains a basic source in the study of the language. The archbishop of Canterbury awarded him a dd in 1876.
The tombstone of James and Jean Hunter in Highgate Cemetery, London, bears this tribute: "By their joint labours they gave the Bible and the Prayer Book in their native tongue to the Cree Indians of Northwest America."
James Hunter was the author of A lecture on the grammatical construction of the Cree language . . . (London, 1875). His other works, and those of his wife, Jean Ross, can be found in Peel, Biblio. of the Prairie prov. (1973), and J. C. Pilling, Bibliography of the Algonquian languages (Washington, 1891), 243–48.
CMS Arch., C, C. 1/I; C.1/L; C.1/M; and esp. C, C.1/O, Journals of James Hunter (mfm. at PAC and Univ. of Alberta, Edmonton). Church Missionary Intelligencer and Record (London), new ser., 7 (1882): 180–81. Mactavish, Letters of Letitia Hargrave (MacLeod). Church Missionary Soc., Register of missionaries (clerical, lay, & female), and native clergy, from 1804 to 1904 ([London?, 1905?]), 62. Crockford's clerical directory . . . (London), 1867–81. Boon, Anglican Church. [J. A.] Mackay, "James Hunter," Leaders of the Canadian church, ed. W. B. Heeney (2nd ser., Toronto, 1920), 79–85.
© 1982–2023 University of Toronto/Université Laval
Image Gallery

Cite This Article
Bruce Peel, "HUNTER, JAMES," in Dictionary of Canadian Biography, vol. 11, University of Toronto/Université Laval, 2003–, accessed October 1, 2023, http://www.biographi.ca/en/bio/hunter_james_11E.html.
The citation above shows the format for footnotes and endnotes according to the Chicago manual of style (16th edition). Information to be used in other citation formats:
| | |
| --- | --- |
| Permalink: | http://www.biographi.ca/en/bio/hunter_james_11E.html |
| Author of Article: | Bruce Peel |
| Title of Article: | HUNTER, JAMES |
| Publication Name: | Dictionary of Canadian Biography, vol. 11 |
| Publisher: | University of Toronto/Université Laval |
| Year of publication: | 1982 |
| Year of revision: | 1982 |
| Access Date: | October 1, 2023 |