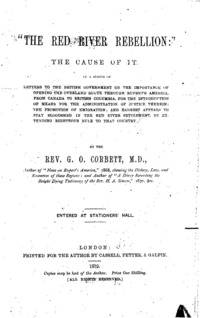 Source: Link
CORBETT, GRIFFITH OWEN, Church of England clergyman, physician, and author; b. probably 30 March 1823 in Littleworth, near Minchinhampton, England, and baptized 12 Oct. 1828 in Minchinhampton, son of Griffith Corbett, a weaver, and Maria Daniels; m. Abigail — in England, and they had at least two children; d. 30 March 1909 in Lingfield, England.
Almost nothing is known of Griffith Owen Corbett before his arrival in British North America. Although he was trained by the Church Missionary Society, it was the Colonial Church and School Society which sponsored his posting to Montreal in 1851. There, he served as a catechist and chaplain at the Montreal General Hospital, but was refused ordination by the bishop of Montreal, Francis Fulford*, for unspecified reasons.
The CCSS sent Corbett to Rupert's Land in 1852 at the request of Bishop David Anderson*. Following a winter at St Andrew's parish (Man.), Corbett founded a new mission, named Headingley, midway between the Red River settlement and Portage la Prairie. His zeal in establishing this mission won him Anderson's admiration and secured his ordination on Christmas Day 1853. In 1854 he constructed the first Holy Trinity Church at Headingley; however, his ministry to the settlers and natives was frustrated by the mission's poverty. The difficulty was compounded that year when the CCSS, unable to bear the mission's expenses any further, withdrew its support.
Corbett returned to England in 1855. He assumed a rural parish and studied medicine at King's College, London. In 1857 he appeared before the select committee of the House of Commons on the Hudson's Bay Company [see Alexander Kennedy Isbister*] to argue against renewal of the company's licence. Corbett contended that the HBC restricted missionary activity and sought to stifle the Red River settlement's economic and social growth. While his testimony largely reflected conditions in the colony, it was tarnished by his failure to substantiate charges of interference in his mission's establishment.
Having successfully petitioned the CCSS for reinstatement at Headingley, Corbett and his wife returned to Rupert's Land in 1857. He launched a campaign of political agitation, instigating a clergy sponsored petition against the HBC which received widespread support until quashed by Anderson. In 1858 he advocated the opening of a road between the Red River settlement and Lake of the Woods to secure direct communication with Upper Canada [see Simon James Dawson]. An extended crusade to obtain the status of crown colony for Red River then followed, during which he castigated the HBC for the settlement's economic stagnation and the deterioration of law and order. His establishment of the first printing-press in the colony enabled him to publish A few reasons for a crown colony, a broadside he circulated to counter the arguments of those who favoured annexation to Canada. In it he advocated the creation of an elected legislative body with control over the colony's resources, which he predicted would bring Rupert's Land unrivalled commercial power.
Corbett's views were ably contested by the Canadian faction at Red River. None the less, his imperialist rhetoric made headway among the settlement's English-speaking mixed-bloods, for whom the status of crown colony implied an extension of British rights and privileges, including the franchise, and an end to the ostracism widely practised by English pure-bloods. His vehement anti-Catholicism served to widen divisions within the settlement and earned him the sobriquet "corps bête" among the French-speaking inhabitants.
During his tenure at Red River, Corbett freely employed his knowledge of medicine in the service of his parishioners. In the autumn of 1862, however, allegations of an impropriety committed by him began to circulate in the colony. They led to his arrest in December on a charge of attempting to induce an abortion on his servant-girl, Maria Thomas. He was held at Upper Fort Garry (Winnipeg) until the appearance of a mob demanding his release persuaded authorities to arrange his bail.
When Corbett was brought to trial on 19 Feb. 1863, his defence hinged upon a signed disclaimer from Thomas denying his culpability. Once this document was demonstrated to have been obtained under duress, his case collapsed. Testimony revealed that on several occasions he had attempted to abort Thomas, with whom he had repeatedly committed adultery. He was convicted and sentenced to six months' imprisonment.
Throughout the trial and during Corbett's ensuing incarceration, his supporters charged that the case had been fabricated by the HBC in an effort to silence him. After popular agitation, including a petition to Governor Alexander Grant Dallas* signed by over 500 residents, failed to secure his release, Corbett was forcibly freed from jail on 20 April by a mob led by the schoolmaster of St James parish, James Stewart. Dallas's efforts to arrest those who had broken into the jail netted only Stewart, who, in turn, was liberated by a party of armed men which faced down the governor's special constables. Corbett was permitted to remain at liberty and resumed his post at Headingley despite episcopal interdict and dismissal by the missionary society.
Corbett's trial and release exacerbated underlying tensions in Red River society and undermined the authority of the settlement's dominant institutions. As a result of the jailbreaks, the Council of Assiniboia grew powerless to assert its authority in the years preceding the insurrection of 1869–70 [see Louis Riel*]. Opposition to the HBC aroused by malcontents such as Corbett weakened the company's hold on the loyalty of its servants. Most pointedly, the trial and its aftermath devastated the Anglican clergy, their attempts to distance themselves from Corbett serving only to intensify hostility among their followers. By 1867 the resignation of many of the prominent clergy, including Anderson, had reduced the Anglican church at Red River to a skeleton.
Corbett returned to England in 1864, permanently separating from his family, who remained in the settlement. He received his md in 1867 and then filed a suit against Dallas for false imprisonment which was either dropped or thrown out of court after a four-year delay. Corbett's interest in the politics of Red River remained undimmed, especially during the Métis resistance of 1869–70. In addition to publishing several pamphlets, he regularly petitioned the British government to redress the illegality of HBC control of the territory and of its transfer to the dominion.
Initially denied permission to act as a minister by the archbishop of London, Corbett eventually received a curate's licence and served in several rural parishes in England between 1877 and 1881. Rumours of a liaison with another woman (his wife died only in 1918) effectively ended his ministerial career. He later lapsed into protracted ill health and died in 1909.
One whose faults far outweighed his virtues, Corbett was by nature contentious, petty, devious, and opportunistic. That he became a focus of political dissent is indicative less of his own appeal than of the magnitude of the political and legal vacuum which enveloped the Red River settlement. By serving as a lightning-rod for political opinion within the settlement, Corbett earned the reputation accorded him by Bishop Anderson, that of a "most dangerous man."
Griffith Owen Corbett is the author of A few reasons for a crown colony (Headingley, [Man.], 1859); Notes on Rupert's America, its history and resources . . . (Dulwich, Eng., 1868); An appeal to the Right Hon. W. E. Gladstone, m.p., her majesty's prime minister, respecting the suppression of certain papers by the government, the "Red River rebellion," and the illegal transfer of the North-West Territories to the Canadian government (London, [1870?]); "The Red River rebellion": the cause of it . . . (London, 1870); and The vast resources and the great progress of Christianity and colonization in the southern parts of Rupert's America . . . ([London, 1883]).
Church of Jesus Christ of Latter-day Saints, Geneal. Soc. (Salt Lake City, Utah), International geneal. index. GRO-L, Death certificate, G. O. Corbett, 30 March 1909. Manitoba Culture, Heritage and Recreation, Hist. Resources Branch (Winnipeg), T. [G.] Boreskie, "The Reverend Griffith Owen Corbett" (typescript, 1984). NA, MG 17, B4 (mfm.). PAM, MG 2, B4-1; C36. Nor'Wester, 1860–64. Somerset News and Swan Lake Echo (Somerset, Man.), 10 Jan. 1918. G.B., Parl., House of Commons paper, 1857 (session ii), 15, nos.224, 260, Report from the select committee on the Hudson's Bay Company. Frits Pannekoek, "The Anglican Church and the disintegration of Red River society, 1818–1870," The west and the nation; essays in honour of W. L. Morton, ed. Carl Berger and Ramsay Cook (Toronto, 1976), 72–90; "Factions and feuds at Red River: the flock divided," Beaver, 70 (1990–91), no.6: 29–37.
© 1994–2023 University of Toronto/Université Laval
Image Gallery

Cite This Article
Thomas G. Boreskie, "CORBETT, GRIFFITH OWEN," in Dictionary of Canadian Biography, vol. 13, University of Toronto/Université Laval, 2003–, accessed September 27, 2023, http://www.biographi.ca/en/bio/corbett_griffith_owen_13E.html.
The citation above shows the format for footnotes and endnotes according to the Chicago manual of style (16th edition). Information to be used in other citation formats:
| | |
| --- | --- |
| Permalink: | http://www.biographi.ca/en/bio/corbett_griffith_owen_13E.html |
| Author of Article: | Thomas G. Boreskie |
| Title of Article: | CORBETT, GRIFFITH OWEN |
| Publication Name: | Dictionary of Canadian Biography, vol. 13 |
| Publisher: | University of Toronto/Université Laval |
| Year of publication: | 1994 |
| Year of revision: | 1994 |
| Access Date: | September 27, 2023 |