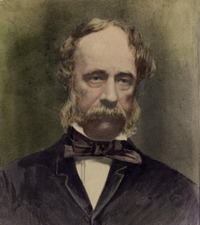 JARVIS, WILLIAM BOTSFORD, sheriff, politician, land speculator, and entrepreneur; b. 4 May 1799 at Fredericton, New Brunswick, third and youngest son of Stephen Jarvis and Amelia Glover; d. 26 July 1864 at Toronto, Canada West.
In 1809 Stephen Jarvis moved to York (Toronto) where his cousin William* was a prominent local official. William Botsford Jarvis attended the district school at York, under George Okill Stuart and later John Strachan. He became in 1818 clerk of the provincial secretary's office where a cousin, Samuel Peters Jarvis*, was acting head. Here he remained until 1827 when he was appointed sheriff of the Home District; he retired from that position only in 1856, in favour of his nephew, Deputy Sheriff Frederick William Jarvis.
Jarvis contested three provincial elections for the town of York. In 1830 he was narrowly defeated by moderate Robert Baldwin* in a by-election, but was successful later that year against the same opponent when a new election was called upon the death of King George IV. Jarvis pressed for York's incorporation as a city, while objecting to the change of name to Toronto, and though he was a Tory (he was president of the British Constitutional Society, the political arm of the Tories, during the 1836–38 period), he advocated voting by ballot in municipal elections because he felt his constituents wanted it. In 1834 he was defeated by a moderate, James Edward Small. Jarvis and William Lyon Mackenzie engaged in a bitter personal feud and when the rebellion came he ordered, as leader of the loyalists' picket, the single volley which disrupted the rebels' march on Toronto on 5 Dec. 1837. In 1841 Jarvis returned to politics as a Toronto alderman but resigned in early 1842 when the council failed to choose him as mayor.
Like other members of the official class, Jarvis engaged in land speculation in and around Toronto. Along with Joseph Bloor he subdivided land to create the village of Yorkville north of what is now Bloor Street. He also initiated a short-lived tramway service on Yonge Street to render this land more accessible and valuable. Although he was to clash with his cousin S. P. Jarvis over the allocation of family debts and a trust fund in later years, he was for a time associated with him in various financial dealings and land speculation.
In 1834 Jarvis was chairman of a committee to plan a railway from Toronto to Lake Simcoe and was one of the first directors when the project was revived in 1844. He was also one of the petitioners for the establishment of the first local insurance company, the British America Assurance Company, in 1832, and was an incorporator of the Toronto Dry-Dock Company (1847), the Toronto, Hamilton, Niagara, and St Catharines Electro-Magnetic Telegraph Company (1847), the Toronto Island Bridge Company (1857), and the Accident Assurance Company (1863).
Though a member of the social élite of the town, Jarvis, as sheriff, witnessed much of the brutal and degrading side of 19th century life and tried to improve the living conditions of Toronto's citizens. He was a vice-president of the Toronto Mechanics' Institute for many years, a member of the Board of Health during York's cholera epidemic of 1832, and a commissioner to superintend the construction of the Provincial Lunatic Asylum (1845). When the Board of Arts and Manufactures for Upper Canada was established in 1857, to award prizes to local scholars and artists, Jarvis was its first president.
Jarvis' social affiliations reveal a gregarious and outgoing personality. A mason, he joined the St Andrew's Lodge in 1841 and was a charter member of the Ionic Lodge in 1847. He was vice-president of the St George's Society and of the Toronto Turf Club, and member of the Toronto Club and the Toronto Boat Club (later the Royal Canadian Yacht Club). He was also associated with the Provincial Agricultural Association in the mid 1830s (as president), the district and local agricultural societies, the Toronto Horticultural Society, and the Toronto Athenaeum. In 1824 he had purchased from Small the home he called Rosedale, from which that region of Toronto obtained its name. In 1827 Jarvis married Mary Boyles Powell, granddaughter of Chief Justice William Dummer Powell*; they had two sons and three daughters.
Jarvis is usually thought of as the sheriff of the Family Compact, the man who resisted Mackenzie's forces and who presided at the executions of Samuel Lount* and Peter Mathews* in 1838. He was indeed a high Tory, "an ardent politician of the old and nearly extinct school," an obituary described him, but he was also the man who freed the debtors in York's jail to save them during the cholera epidemic of 1834. In a career only partially characterized by his official and political activities he showed a keen interest in the development of Toronto and in the welfare of its residents, and ended his life a respected patriarch of his adopted city.
MTCL, William Dummer Powell papers. PAC, MG 24, 147. PAO, Jarvis-Powell papers. York County Surrogate Court (Toronto), will of William Botsford Jarvis. Globe, 27 July 1864. Town of York, 1815–34 (Firth). Armstrong, Handbook of Upper Canadian chronology. Brown's Toronto city and Home District directory, 1846–7 (Toronto, 1846). Chadwick, Ontarian families. The city of Toronto and the Home District commercial directory and register with almanack and calendar for 1837 . . . , comp. George Walton (Toronto, [1837]). The Toronto almanac and royal calendar, of Upper Canada . . . (Toronto, 1839). A. G. Meredith, Mary's Rosedale and gossip of "Little York" (Ottawa, 1928). Middleton, Municipality of Toronto.
© 1976–2023 University of Toronto/Université Laval
Image Gallery

Cite This Article
Robert J. Burns, "JARVIS, WILLIAM BOTSFORD," in Dictionary of Canadian Biography, vol. 9, University of Toronto/Université Laval, 2003–, accessed December 4, 2023, http://www.biographi.ca/en/bio/jarvis_william_botsford_9E.html.
The citation above shows the format for footnotes and endnotes according to the Chicago manual of style (16th edition). Information to be used in other citation formats:
| | |
| --- | --- |
| Permalink: | http://www.biographi.ca/en/bio/jarvis_william_botsford_9E.html |
| Author of Article: | Robert J. Burns |
| Title of Article: | JARVIS, WILLIAM BOTSFORD |
| Publication Name: | Dictionary of Canadian Biography, vol. 9 |
| Publisher: | University of Toronto/Université Laval |
| Year of publication: | 1976 |
| Year of revision: | 1976 |
| Access Date: | December 4, 2023 |