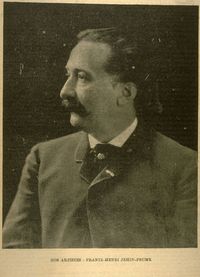 Source: Courtesy of Bibliothèque et Archives Nationales du Québec / 52327/2075966
JEHIN-PRUME, FRANTZ (named at birth François-Henri Jehin), musician and music teacher; b. 18 April 1839 in Spa, Belgium, son of Jules-Antoine Jehin, painter, and Marie-Joséphine-Pétronille Prume; d. 29 May 1899 in Montreal.
François-Henri Jehin's paternal grandfather was an organist at Spa, and his maternal grandfather filled the same function at Stavelot. After being taught music by his father at age three and the violin by a local musician from age four, young Frantz, as he was already known, gave his first violin recital at six. An uncle and distinguished violinist, composer, and music professor, François-Hubert Prume, then accepted him at the Conservatoire Royal de Musique in Liège, where he obtained high marks at the age of nine. His uncle died soon after, and Frantz added Prume to his surname. He continued his studies at the Conservatoire Royal in Brussels, mainly under Hubert Léonard, winning several prizes. The composers Gasparo Luigi Pacifico Spontini and Giacomo Meyerbeer, who both holidayed at Spa, are said to have encouraged the child prodigy. Later he may have had guidance from Henri Vieuxtemps and Henryk Wieniawski.
After playing in Spa, Liège, and Brussels, Jehin-Prume began his first recital tour in late 1855. From then until 1863 he toured widely through central, northern, and western Europe, establishing an enviable reputation for sensitivity and technical brilliance. By 1863 he had been named violinist to the Grand Duchess Catherine of Russia and to Leopold I, King of the Belgians. In late 1864 he toured in Mexico on an invitation from Emperor Maximilian, son-in-law of Leopold, and then left for Cuba (and possibly Brazil) before arriving in New York in May 1865.
Invited that month to vacation in Lower Canada by Jules Hone, a former fellow student then residing in Montreal, Jehin-Prume soon appeared in concerts and recitals in that city. Blessed with "an appearance captivating in the extreme and preceded by the lustre of an established reputation," wrote Louis Fréchette*, Jehin-Prume took Montreal by storm. In June and July he went on a tour of Quebec, Ottawa, Kingston, Toronto, Hamilton, London, and Detroit, and then, when it proved to be highly successful, on another that included Quebec, Rimouski, Halifax, and Saint John, N.B. At Quebec in September his host, Joseph-Édouard Cauchon*, induced the legislature to suspend its work and hear a recital by Jehin-Prume in the Legislative Assembly itself. In the winter of 1865–66 he gave concerts in the eastern United States, appearing in December with the New York Philharmonic Orchestra.
Jehin-Prume returned to Montreal in March 1866, and on 10 July he contracted, according to Fréchette, "a brilliant marriage with one of the most sought-after stars of Montreal society," 19-year-old Rosita (Rosa) Del Vecchio; the huge church of Notre-Dame was nearly filled for the event. Immediately after the marriage Jehin-Prume began a long American tour which included a performance before President Andrew Johnson in the White House in January 1867. Rosita, described by a contemporary as "half French and half Italian," had displayed exceptional talent in music from childhood, and after further training with her husband and a teacher in Brussels, in November 1868 she began performing in public as a mezzo-soprano with Jehin-Prume. After giving birth to their only child, Jules, in 1870, she continued her studies in Europe. Although Montreal became the focal point for Jehin-Prume's activities, he spent much time touring eastern North America, Cuba, and Europe, often with Rosita. In the province of Quebec he and his wife enthralled audiences not only in Montreal and Quebec but also in such places as Joliette, Trois-Rivières, Saint-Hyacinthe, Sherbrooke, Lachute, and Aylmer. His programs, like those of his contemporaries in general, were a mixture of virtuoso show-pieces and arrangements of familiar tunes from opera or more serious pieces by Bach, Beethoven, and Mendelssohn. He also offered many compositions of his own. From January to March 1871, in order to raise the level of music appreciation in Montreal, he organized six classical chamber concerts in which he played concertos, led a large chamber ensemble, and played in a string quartet. Fréchette describes a concert by Jehin-Prume at Quebec during this period, when he was at the height of his powers. "His violin by turns . . . sighed, laughed, sang, cried, [and] screamed deliriously amidst sobs of distraction. The audience [was] subjugated, stirred to the marrow by this overflowing lyricism formed of a tenderness and an ardour transporting to ecstasy, moving to tears." The writer Arthur Buies* asserted that Jehin-Prume had come to a land "in which there were pedestals everywhere, but he alone is worthy to mount them."

Jehin-Prume's ties to Canada were strengthened by his friendship with pianist Calixa Lavallée, especially after Lavallée's return in 1875 from studies in Paris. The two men appeared together, with Rosita, in numerous concerts, and for a while all three shared a teaching studio. The musician and critic Guillaume Couture* proclaimed the dawning of "a new era in music." In 1877 Jehin-Prume and Lavallée co-directed an immensely successful performance of Jeanne d'Arc, by Jules Barbier with music by Charles Gounod, in which Rosita played the leading role. From 1877 Jehin-Prume was occasionally concert-master in the orchestra of Couture's Montreal Philharmonic Society. In 1877–78 he served as president of the Académie de Musique de Québec.
Rosita, who as a singer was nearly as acclaimed as her husband, won strong reviews as an actress in two plays by Fréchette, Papineau and Le retour de l'exilé, which were produced in Montreal in June 1880. On 11 Feb. 1881, however, she died of pneumonia. Her death inspired a poem by Fréchette, "Laissez-moi dormir," part of which was set to music by Jehin-Prume (Op. 40). Le National (Montreal) noted in its obituary that her funeral "was the most important ever given to a woman in Canada" and that the police had to be called in to disperse a crowd of 10,000.
With Rosita, Couture's "new era" died prematurely. Lavallée went into permanent exile; Jehin-Prume carried on, but, according to Fréchette, who had become an intimate friend, he was a broken man. He lost musical ambition and inspiration. On 24 March 1882, then 42, he married in Montreal Hortense Leduc, a teen-aged performing singer and stepdaughter of the violinist Oscar Martel. However, after indulging in a number of affairs, Hortense left him for a businessman. Having toured from New Brunswick to Manitoba in 1881, Jehin-Prume performed in Europe from 1882 to 1885. He subsequently settled permanently in Montreal, continuing to play in public on occasion. As he had done previously, he taught, composed, and stimulated artistic activity in the city. He had already trained outstanding pupils in François Boucher and Alfred De Sève*, and now Emile Taranto and Béatrice La Palme* benefited from his teaching. He wrote nearly one-third of his works during this period. In addition, in 1891 or 1892 he founded a chamber ensemble, the Association Artistique de Montréal. This group gave 31 concerts until May 1896 when Jehin-Prume, after having suffered severe illness, offered his final public performance; with the close of his career, the association ended.
Jehin-Prume lived out his last years quietly in the comfortable residence of his brother Érasme, himself a violinist. Mired in melancholy according to Fréchette, Jehin-Prume nevertheless fought death to the end, which came on 29 May 1899. By then he was relatively forgotten, but, wrote Fréchette, news of his funeral brought out "an entire population . . . to take a last look and to wave a final goodbye to him whom they had so often applauded."
Frantz Jehin-Prume was the first musician of international fame to settle in Canada and, according to Henri Têtu, he was the best liked; in fact, Têtu added, "he became almost Canadian." His contribution to the elevation of musical life and artistic appreciation in general in the young country is immeasurable. Not only musicians such as Lavallée, Couture, Romain-Octave* and Frédéric Pelletier, Arthur Letondal, and Jean-Baptiste Dubois* benefited from his presence, but also artists in other fields, particularly poets, were inspired by his playing. No doubt Fréchette spoke for them too when he declared himself a brother of Jehin-Prume – "brother through art, brother in the soul."
Frantz Jehin-Prume is the author of at least 88 compositions, numbered in [Jules] Jehin-Prume, Une vie d'artiste, préface de Louis Fréchette (Montréal, [1900]); they include two violin concertos and an oratorio. A few of his works have been published. There are portraits of him in Une vie d'artiste, in the Encyclopedia of music in Canada (Kallmann et al.), and in Le Passe-Temps (Montréal), 10 juin 1899.
Arch. de l'État (Liège, Belgique), Spa, reg. des baptêmes, mariages et sépultures, 19 avril 1839. National Library of Canada, Music Division (Ottawa), mss coll., 1974–18, 1985–8. Dwight's Journal of Music (Boston), 23 Dec. 1865. Gazette (Montreal), 1 March 1871, 12 Feb. 1881. Globe, 15 July 1865. La Minerve, 15 févr. 1871, 22 mai 1877. Le Monde illustré, 9 mars 1901. Montreal Daily Star, 29 May 1899. Montreal Herald, 30 March 1871. L'Opinion publique, 18 nov. 1875. La Presse, 29 mai 1899. Alberto Bachmann, An encyclopedia of the violin, intro. Eugène Ysaye, trans. F. H. Martens, ed. A. E. Weir (New York, 1925; repr. 1966). Catalogue of Canadian composers, ed. Helmut Kallmann (2nd ed., Toronto, 1952; repr. St Clair Shores, Mich., 1972). Dictionnaire biographique des musiciens canadiens (2e éd., Lachine, Qué., 1935). The musical red book of Montreal, ed. B. K. Sandwell (Montreal, 1907). The new Grove dictionary of music and musicians, ed. Stanley Sadie (6th ed., 20v., London, 1980), 9. Riemann Musik Lexikon, ed. Wilibald Gurlitt (12th ed., 3v., Mainz, Federal Republic of Germany, 1959), 1. Helmut Kallmann, A history of music in Canada, 1534–1914 (Toronto and London, 1960). [J.]-E. Lapierre, Calixa Lavallée, musicien national du Canada (3e éd., Montréal, 1966). E. S. J. van der Straeten, The history of the violin (London, 1933). "M. F. Jehin Prume," Le Canada musical (Montréal), 2 (1875–76): 77; 3 (1876–77): 44–45. Frédéric Pelletier, "Les musiciens du passé: Frantz Jehin-Prume," Entre-nous (Montréal), 1 (avril 1930): [45]. "Premier concert Prume–Lavallée à Montréal," Le Canada musical, 2: 134–35. "Premier concert Prume et Lavallée à Québec," Le Canada musical, 3: 26. J.-B. Rongé, "Correspondance, Spa, le 16 septembre 1873," Rev. et gazette musicale de Paris, 40 (1873): 301. D.-H. Sénécal, "Quelques mots sur l'album de F. Jehin-Prume, violoniste de sa majesté le roi des Belges," and "M. F. Jehin-Prume," Rev. canadienne, 2 (1865): 547–54 and 616–22. Henri Têtu, "Impressions musicales," L'Action sociale (Québec), 22, 29 mars, 3 avril, 25 mai 1915. Léon Trépanier, "Oscar Martel, violoniste et professeur (1848–1924)," Qui? (Montréal), 4 (1952–53): 47–56.
© 1990–2023 University of Toronto/Université Laval
Cite This Article
Helmut Kallmann, "JEHIN-PRUME, FRANTZ (born François-Henri Jehin)," in Dictionary of Canadian Biography, vol. 12, University of Toronto/Université Laval, 2003–, accessed December 3, 2023, http://www.biographi.ca/en/bio/jehin_prume_frantz_12E.html.
The citation above shows the format for footnotes and endnotes according to the Chicago manual of style (16th edition). Information to be used in other citation formats:
| | |
| --- | --- |
| Permalink: | http://www.biographi.ca/en/bio/jehin_prume_frantz_12E.html |
| Author of Article: | Helmut Kallmann |
| Title of Article: | JEHIN-PRUME, FRANTZ (born François-Henri Jehin) |
| Publication Name: | Dictionary of Canadian Biography, vol. 12 |
| Publisher: | University of Toronto/Université Laval |
| Year of publication: | 1990 |
| Year of revision: | 2021 |
| Access Date: | December 3, 2023 |