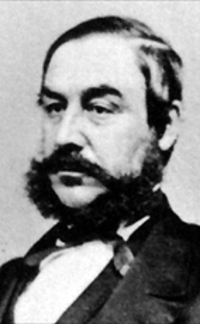 Source: Courtesy of Wikimedia Commons
JOHNSON, JOHN MERCER, lawyer, politician, and office-holder; b. October 1818 in Liverpool, England, son of John Mercer and Ellen Johnson; m. 9 Oct. 1845 Henrietta, daughter of Adam Dixon Shirreff, high sheriff of Northumberland County, N.B., and they had 12 children of whom six lived beyond infancy; d. 8 Nov. 1868 at Chatham, N.B.
John Mercer Johnson Sr was a Liverpool merchant who immigrated to Chatham in 1818 and became a commission merchant and auctioneer. Largely involved in community affairs, holding at different times the offices of magistrate, coroner, and high sheriff of Northumberland County, he headed several organizations at the time of his death in 1859. John Mercer Johnson Jr arrived in Chatham in 1821. Upon completion of his early education in the Northumberland County Grammar School, he studied law at the office of John Ambrose Street in Newcastle. He was admitted to the New Brunswick bar as attorney on 13 Oct. 1838 and as barrister in October 1840. The same year he entered a law partnership with C. A. Harding of Newcastle; each of them had an office in their respective home towns a few miles apart. In October 1847 he entered into a similar partnership with Peter Mitchell* of Newcastle, which lasted for five years. Later in life his law partner was William Wilkinson.
In 1837 Johnson served as secretary of the Young Men's Debating Society in Chatham. He was secretary in 1846 of its mechanics' institute, giving several lectures on phrenology. Perhaps out of a sense of public responsibility rather than inclination he gave land in 1851 for a temperance hall in Chatham. By 1866 he was also an officer in the Union Lodge of Good Templars. At various times he held the minor local posts of hog-reeve, tax collector, assessor, and firewarden in the parish of Chatham.
In the non-party political system of the time, Johnson was originally considered a conservative, but he was elected to the New Brunswick assembly in July 1850 as a liberal in favour of "Responsible Government to the full extent." He also supported municipal corporations, retrenchment in expenditures, and reciprocity with the United States. In the assembly he quickly established himself as "an excellent speaker" with colourful debating style. When William Johnstone Ritchie*, the leader of the opposition, resigned over Lieutenant Governor Sir Edmund Walker Head's appointment of executive councillors in 1851, Johnson emerged as one of the leaders in the weakened opposition.
The success of the reformers in the 1854 election led to the creation of the Charles Fisher* government. Johnson represented New Brunswick's north shore in the council, being appointed solicitor general, a position he held until Lieutenant Governor John Henry Thomas Manners-Sutton* dismissed the government in May 1856 over the Prohibition Act of 1855. Johnson was returned in the election of June 1856 and in a subsequent election in May 1857, following the disintegration of the government of John Hamilton Gray* and Robert Duncan Wilmot*. Again he was appointed to the council, this time to the portfolio of postmaster general, a position he held from June 1857 until November 1858, when he was forced to resign. Johnson was little interested in administrative detail and left clerks to do the work of the department. The result was chaos and a public scandal. His enemies branded him "a political charlatan, a cheat, an imposter, an empty vapourer, a spiritless swaggerer, who pocketed a salary he never earned."
Johnson remained on the council without portfolio until he was elected speaker on 11 Feb. 1859. He was quite at home amid the passionate and rough debates of the period. Even Lieutenant Governor Arthur Hamilton Gordon*, a young upper class Englishman, considered Johnson "one of the ablest men in the house, a good speaker and a ready debator, but very deficient in that judicial calmness & dignity which should characterize the occupant of the Speaker's chair." It was his failure to look after detail, however, that remained his main problem. "That incorrigible man Mr. Johnson is again the stumbling block" was the complaint of a secretary who needed his signature.
Samuel Leonard Tilley*, the new premier, had a much higher opinion of Johnson and, following the resignation of Attorney General Albert James Smith* in 1862, had Johnson appointed attorney general, a position he retained until 1865.
A consistent advocate of confederation, Johnson was a New Brunswick delegate to the Charlottetown and Quebec conferences in the fall of 1864 with Tilley, Edward Barron Chandler*, William Henry Steeves*, and J. H. Gray. He favoured a legislative as opposed to a federal union, but considered it impracticable. Consequently, he argued at Quebec for a strong central government. "Enumerate for Local Governments their powers," he declared, "and give all the rest to the General Government, but do not enumerate both." He was, at the same time, somewhat inconsistent, arguing against federal powers of reservation and disallowance. The judicial system had a special interest for him and he believed that the federal government should control all courts.
Johnson was defeated narrowly in the first confederation election in 1865 when the Smith anti-confederate government came to power. But he led the poll in the May 1866 vote that paved the way for the London conference, which he attended in December, and for confederation the following year. He resigned from the provincial assembly in June 1867 to run for the Canadian House of Commons, and on 4 Sept. 1867 he became the first federal representative for Northumberland County.
A contemporary described Johnson as being "of slender form, airy gait, and proud appearance; his complexion is dark, with a very sharp and piercing eye." A keen sense of humour and a ready wit served him well in the legislature, especially as speaker.
Unwell for more than a year, Johnson was seriously ill for two months prior to his death in 1868. He died of "Dropsy of the Stomach" due in part to "social excesses." He was, according to Gordon, "a habitual drunkard and gambler," which may explain some of his difficulties. Despite his shortcomings, Johnson was popular with his constituents and his colleagues. Tilley wrote of him: "A more intimate acquaintance with him will not diminish your respect for his talents and Gentlemanly bearings."
James A. Fraser and C. M. Wallace
Old Manse Library (Newcastle, N.B.), John Brown papers, J. M. Johnson, correspondence and legal papers. PAC, MG 27, 1, D15; RG 31, 1851 and 1861 censuses, Chatham parish, Northumberland County, N.B. PANB, J. C. and H. B. Graves, "New Brunswick political biography," I: Northumberland County marriage records, 2. PRO, CO 188/143, Gordon to Cardwell, 8 May 1865. St Paul's Anglican Church (Bushville, N.B.), baptismal records (mfm. at PANB). UNBL, MG H12a, Gordon to Newcastle, 31 Dec. 1862; 1864. Documents on the confederation of British North America . . . , ed. G. P. Browne (Toronto and Montreal, 1969). The union of the British provinces: a brief account of the several conferences held in the Maritime provinces and in Canada, in September and October, 1864, on the proposed confederation of the provinces . . . , comp. Edward Whelan (Charlottetown, 1865; repr. Summerside, P.E.I., 1949). Daily Sun (Saint John, N.B.), 21 Aug. 1902. Gleaner (Chatham, N.B.), 1845–68. Head Quarters, 28 July 1858. Morning Freeman (Saint John, N.B.), 4 Nov. 1858. Morning News (Saint John, N.B.), 5 Aug. 1850, 1 Dec. 1854. New Brunswick Courier, 6 Nov. 1858. Union Advocate (Newcastle, N.B.), 12 Nov. 1868. Canadian directory of parl. (Johnson).
© 1976–2023 University of Toronto/Université Laval
Image Gallery

Cite This Article
James A. Fraser and C. M. Wallace, "JOHNSON, JOHN MERCER," in Dictionary of Canadian Biography, vol. 9, University of Toronto/Université Laval, 2003–, accessed December 3, 2023, http://www.biographi.ca/en/bio/johnson_john_mercer_9E.html.
The citation above shows the format for footnotes and endnotes according to the Chicago manual of style (16th edition). Information to be used in other citation formats:
| | |
| --- | --- |
| Permalink: | http://www.biographi.ca/en/bio/johnson_john_mercer_9E.html |
| Author of Article: | James A. Fraser and C. M. Wallace |
| Title of Article: | JOHNSON, JOHN MERCER |
| Publication Name: | Dictionary of Canadian Biography, vol. 9 |
| Publisher: | University of Toronto/Université Laval |
| Year of publication: | 1976 |
| Year of revision: | 1976 |
| Access Date: | December 3, 2023 |