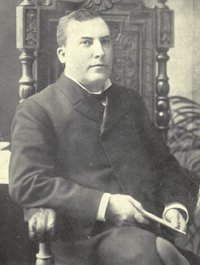 Source: Courtesy of Wikimedia Commons
TWEEDIE, LEMUEL JOHN, lawyer, politician, and office holder; b. 30 Nov. 1849 in Chatham, N.B., son of Joseph Tweedie and Catherine McGary; m. there 6 Dec. 1876 Agnes Loudoun (d. 1929), and they had four sons and two daughters who survived him; d. there 15 July 1917.
Of Irish and Scots descent, Lemuel J. Tweedie was educated in Chatham, at the grammar school and the Presbyterian Academy. He studied law with John Mercer Johnson* and William Wilkinson and was admitted to the bar in 1871. He soon became involved in provincial politics, successfully contesting the 1874 election in Northumberland as a supporter of the Common Schools Act of 1871. Candidates favouring non-sectarian, publicly funded schools swept the province. Once elected, however, Tweedie did not support the government of George Edwin King* on a number of issues, particularly one of critical importance to Northumberland, higher stumpage rates (the fees paid by lumbermen for cutting timber on crown lands). Accused of "ratting" on the government, he was defeated in the 1878 election. He did not stand in 1882, having in the meantime developed a lucrative law practice.
In 1886 Tweedie was again returned for Northumberland and he continued to defend its timber interests. With three other independents on an opposition ticket, he was re-elected in 1890. Following the election the premier, Andrew George Blair*, found that he would be in a precarious position in the House of Assembly and he turned to the independent Northumberland members for support. Tweedie, who on nomination day had declared himself ready to back any administration that would reduce stumpage and provide Northumberland with cabinet representation, joined the government as surveyor general, responsible for crown lands. Stumpage fees were to be reduced by 20 per cent, an agreement that attracted the support of a second Northumberland member, lumber baron John Percival Burchill*. It has been suggested that Blair gained the support of the two others by settling their debts. In fury, the opposition grouping, which had hoped to form a government, attacked Tweedie, designating Blair's successful recruitment as "the Northumberland deal." The Newcastle Union Advocate, for example, carried the headline "Northumberland disgraced." As the journalist William Cochrane Milner later observed, however, the deal "differed from most pieces of jobbery, inasmuch as there was nothing secret about it; the constituency of Northumberland was fully advised of it, became a party to it, endorsed it, and the Province overlooked it." Tweedie was re-elected in 1895 and 1899.
Although federal party lines had been slow to develop in New Brunswick, the broad coalition that Blair had first drawn together in 1883 had gradually acquired a Liberal complexion. After Blair moved on to federal politics in 1896 and his successor, James Mitchell*, resigned the next year, such was Tweedie's standing that many considered him for the premiership; however, doubts about his Liberal leanings – a federal Conservative before joining the Blair cabinet, he had been regarded by some a provincial one as well – led to the choice of Henry Robert Emmerson. Tweedie served as provincial secretary in both the Mitchell and the Emmerson administrations. When Emmerson resigned in 1900 to seek a federal nomination, Tweedie was chosen to replace him. Tweedie himself was not overly concerned about party divisions in the provincial context. Criticized in 1900 by Conservative leader John Douglas Hazen* for having changed his affiliation in order to become premier, he responded: "There is no difference in general policy between the Liberal and Conservative parties; it is now a mere question of ins and outs. I have not changed my policy, I simply now am what I always was, a province man."
Tweedie won an overwhelming victory in the election of 1903, but the Liberal coalition that had ruled New Brunswick for two decades was gradually deteriorating and was beset by attacks from Hazen's strengthening Conservative party. There were, nevertheless, significant legislative initiatives, including provision for the admission of women to the practice of law in the province in 1906 (though the premier had opposed extending the franchise to women as a member of the Blair government); support for electric power development at Grand Falls; establishment of a teachers' superannuation fund; and creation of a workers' compensation board. In relations with Ottawa, the government had success in securing increased subsidies and in obtaining, after 25 years, payment for a part of the Eastern Extension Railway that had been incorporated into the Intercolonial, but it failed to establish its claim to a portion of the Halifax fisheries award of 1877 [see Sir Albert James Smith*].
In 1907 Tweedie resigned to succeed Jabez Bunting Snowball* as lieutenant governor. The following year the Conservatives under Hazen came to power and began an investigation into the accounts of the Crown Land Department. They found that between 1893 and 1906 Tweedie had carried a "suspense account" amounting to an overdraft of $13,686 and composed in part of charges against lumbermen for stumpage and in part of overdue notes or unpaid drafts. It was suspected by some that the debts were on paper only and that the money had been diverted to political purposes. Tweedie had paid the account out of his own pocket on becoming lieutenant governor, fearing, he said, that since the debts had been carried for so long the public might consider him personally liable. He denied legal responsibility, however, and refused to pay interest. The Conservative newspapers were critical of his position but no legal consequences resulted.
Tweedie was the subject of another inquiry in 1908, this time into the affairs of the New Brunswick Coal and Railway Company, of which he and his attorney general, William Pugsley*, had become ex officio directors in 1901, and the company's financially troubled Central Railway, which had been taken over by the government in 1905. The inquiry found, among other improprieties, that $134,035 had been "misappropriated, and diverted from its proper and legitimate channel." Tweedie emerged from the hearing somewhat insulated from events personally, having earlier objected several times in writing to the way the affairs of the railway were conducted; nevertheless, the inquiry's report of 1909 found his conduct "open to the gravest censure." The province's Conservative newspapers demanded his retirement and the dismissal of Pugsley, then minister of public works in Ottawa, but both continued in office.
Tweedie was a shrewd, opportunistic, and pragmatic political leader whose personal warmth and entertaining oratory served him well. W. C. Milner said the most amusing pages of the assembly's Synoptic report ("that most dismal of publications") were contributed by him. "Without ever professing to be learned or profound, he was a master of the art of raillery. Seen in his seat, he possessed a short, thickset frame, tipped by a large, dark-featured face, quite expressionless, but once on his feet and 'in action,' his features changed to the highest animation, and he would overwhelm an opponent with ridicule, sometimes caustic, often good-natured, to the general amusement." Following the expiration of his term as lieutenant governor in 1912 he successfully practised law again in Chatham, and despite failing health he was planning a political comeback in 1917 when he suddenly died.
PANB, MC 1156. Daily Times (Moncton, N.B.), 1886, 1900, 1917. Union Advocate (Newcastle, N.B.), 1871–86, 1900, 1917. Canadian annual rev. (Hopkins), 1901–10. W. C. Milner, Our lieutenant governors ([Sackville, N.B. 1928?]). N.B., House of Assembly, Synoptic report of the proc., 1874–78, 1886–92, continued by the unicameral Legislative Assembly, 1893–1910. Newspaper reference book.
© 1998–2023 University of Toronto/Université Laval
Image Gallery

Cite This Article
Wendell E. Fulton, "TWEEDIE, LEMUEL JOHN," in Dictionary of Canadian Biography, vol. 14, University of Toronto/Université Laval, 2003–, accessed September 27, 2023, http://www.biographi.ca/en/bio/tweedie_lemuel_john_14E.html.
The citation above shows the format for footnotes and endnotes according to the Chicago manual of style (16th edition). Information to be used in other citation formats:
| | |
| --- | --- |
| Permalink: | http://www.biographi.ca/en/bio/tweedie_lemuel_john_14E.html |
| Author of Article: | Wendell E. Fulton |
| Title of Article: | TWEEDIE, LEMUEL JOHN |
| Publication Name: | Dictionary of Canadian Biography, vol. 14 |
| Publisher: | University of Toronto/Université Laval |
| Year of publication: | 1998 |
| Year of revision: | 1998 |
| Access Date: | September 27, 2023 |