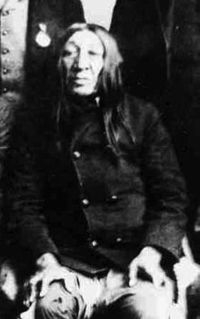 Source: Courtesy of Wikimedia Commons
KĀ-KĪWISTĀHĀW (Kahkewistahaw, meaning "he who flies around"), Plains Cree chief; b. c. 1810, probably near the site of Fort Ellice, Man., son of Le Sonnant; d. 1906 on the Kahkewistahaw Reserve, Sask.
Kā-kīwistāhāw was from a distinguished family of the Rabbit Skin people, a Plains Cree group who in the early years of the 19th century were situated between the forks of the Red and the Assiniboine rivers and the present-day Manitoba-Saskatchewan border. Le Sonnant, a warrior and medicine man who signed the Selkirk treaty in 1817 [see Peguis*], was regarded as chief of the Downstream people, the easternmost groups of Plains Cree. Mahkesīs (Mahkaysis, Fox), a son of Le Sonnant and younger brother of Kā-kīwistāhāw, was a renowned hunter, peacemaker, and linguist who was head chief of the eastern Cree by mid century. Okanese and Paskwāw*, sons of Mahkesīs, signed Treaty No.4, made at Fort Qu'Appelle (Sask.) in 1874, as did their uncle Kā-kīwistāhāw.
Although of the various Plains Cree groups the Rabbit Skins generally were the most involved in the fur trade, Kā-kīwistāhāw's band were principally buffalo hunters and were remote from commerce with the Hudson's Bay Company. In the early 1870s they hunted on the Missouri Coteau to the west of Old Wives Lake (Sask.). The band, which numbered 63 families in 1876, was mostly Cree but for a time included several Saulteaux. Among the latter was Sakimay, who subsequently settled on a separate reserve at Crooked Lake.
The Kahkewistahaw Reserve, surveyed in 1881, was on the south side of the Qu'Appelle valley between Round and Crooked lakes, a traditional wintering place of Plains Indians. It contained good farm and hay land and, as it bordered the Canadian Pacific Railway to the south, was coveted by neighbouring white settlers. Members of the band did not express an interest in farming at the time of the 1874 treaty and continued to hunt buffalo as far west as the Cypress Hills. Once settled, however, many including the chief took up farming and cattle-raising. Kā-kīwistāhāw was among the Treaty No.4 chiefs who called for increased agricultural assistance in the 1880s. Although the drought of this decade meant many set-backs to agriculture in the district, the reserves that made up the Crooked Lakes agency were soon among the most advanced in farming of any in Treaty No.4. Kā-kīwistāhāw's band also sold hay and firewood, senega root and wild berries.
Like most other Plains Indians leaders, such as Crowfoot [Isapo-muxika*] and Kiwisānce*, during the resistance of 1885 Kā-kīwistāhāw made it clear that he would uphold his treaty obligations. Indian agent Allan Macdonald recorded his words that year: "Agent, you remember the time I promised I would go to my reserve. I also said that I and my young men's fighting days were over. I stick to those words no matter what may be done up north, we will remain on our reserves and attend to our work." The chief also informed Macdonald that if his family was not safe at Indian Head he should send them to the reserve where they would be carefully guarded. In 1886 Kā-kīwistāhāw was one of the "loyal" chiefs chosen to tour Ontario and attend the unveiling of the memorial to Joseph Brant [Thayendanegea*] at Brantford. With his aristocratic features and bearing, and his imposing stature – he was over six feet and "still straight as an arrow" – the chief closely resembled the romantic image of the Plains Indian that Canadians entertained at the time.
Beginning in 1886 the non-native residents of Broadview (Sask.) and district began a campaign to have reserve land that bordered the railway surrendered. Despite considerable pressure, which was renewed every few years, the people of the Kahkewistahaw Reserve remained strongly opposed. In 1902 Indian commissioner David Laird*, who had been present at the signing of the 1874 treaty, approached them on the issue. Chief Kā-kīwistāhāw, over 90 years old, remembered Laird well. "When we made treaty at Qu'Appelle you told me to choose out land for myself and now you come to speak to me here. We were told to take this land and we are going to keep it. Did I not tell you a long time ago that you would come some time, that you would come and ask me to sell you this land back again, but I told you at that time. No." Laird did not push the matter further then, noting that the surrender of the southern portion of the reserve would mean the loss of the best land. Only one year after Chief Kā-kīwistāhāw's death in 1906, however, the surrender of 33,281 acres – more than 70 per cent of the reserve – was secured.
[The author wishes to thank professors H. C. Wolfart and David Pentland for their help in establishing a correct Cree spelling of the subject's name. s.a.c.]
Canadian Plains Research Centre, Univ. of Regina, David Mandelbaum field-notes. GA, M4379. NA, RG 10, 3612, file 4012; 3642, file 7581; 3710, file 19550, pt.3; 3732, file 26623. George Bryce, Holiday rambles between Winnipeg and Victoria (Winnipeg, 1888). Can., Parl., Sessional papers, annual reports of the Dept. of Indian Affairs, 1883, 1906–7. S. [A.] Carter, Lost harvests: prairie Indian reserve farmers and government policy (Montreal and Kingston, Ont., 1990). E. T. Denig, Five Indian tribes of the upper Missouri: Sioux, Arickaras, Assiniboines, Crees, Crows (Norman, Okla, 1961). Karl Bodmer's America, intro. W. H. Goetzmann, ed. D. C. Hunt and M. V. Gallagher (Lincoln, Nebr., 1984). Morris, Treaties of Canada with the Indians. A. B. Stonechild, "The Indian view of the 1885 uprising," 1885 and after: native society in transition, ed. F. L. Barron and J. B. Waldram (Regina, 1986), 155–70.
© 1994–2023 University of Toronto/Université Laval
Image Gallery

Cite This Article
Sarah A. Carter, "KĀ-KĪWISTĀHĀW," in Dictionary of Canadian Biography, vol. 13, University of Toronto/Université Laval, 2003–, accessed June 2, 2023, http://www.biographi.ca/en/bio/ka_kiwistahaw_13E.html.
The citation above shows the format for footnotes and endnotes according to the Chicago manual of style (16th edition). Information to be used in other citation formats:
| | |
| --- | --- |
| Permalink: | http://www.biographi.ca/en/bio/ka_kiwistahaw_13E.html |
| Author of Article: | Sarah A. Carter |
| Title of Article: | KĀ-KĪWISTĀHĀW |
| Publication Name: | Dictionary of Canadian Biography, vol. 13 |
| Publisher: | University of Toronto/Université Laval |
| Year of publication: | 1994 |
| Year of revision: | 1994 |
| Access Date: | June 2, 2023 |