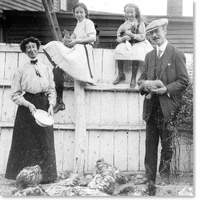 Source: Link
KNOWLING, FANNIE (Fanny) (McNeil), suffragist and artist; b. 14 March 1869 in St John's, one of the ten children of George Knowling and Elizabeth Upham; m. there 5 July 1899 Hector McNeil, and they had one son, who died in infancy, and two daughters; d. there 23 Feb. 1928.
Fannie Knowling grew up in an affluent and enlightened family. Her father, a native of Devon, was a prosperous St John's merchant and a member of the Legislative Council from 1897 to 1923. Both he and his wife, also from Devon, were early supporters of women's suffrage. Some of Fannie's school years were spent in England, where she may have received formal art instruction. Her "gifted brush" and interest in art were constants. In 1925 she and fellow artist Albert Edward Harris would begin organizing exhibitions of local and foreign art, ventures that grew into the formation of the Newfoundland Society of Art, of which she was the first president.
Following her marriage in 1899 to Hector McNeil, a native of Scotland and paymaster of the Newfoundland Railway, she steadily became an activist in social causes such as child welfare and health services, and in intellectual interests such as the Ladies' Reading Room and Current Events Club. This association (later renamed the Old Colony Club) was founded in 1909 by a group of middle-class St John's women, among them Harriette Armine Gosling [Nutting*] (wife of William Gilbert Gosling), and was devoted "solely to the mental refreshment of women, in the shape of a reading-room, containing a well-selected assortment of leading magazines and papers." On Saturday afternoons the reading-room became the Current Events Club, to which "Prominent Citizens" were invited to lecture. From the outset women's suffrage was a topic of debate. A member later recalled: "One day Mrs. McNeil was arranging the magazines and asked what we were discussing. We told her and from that time onwards she became our leader and the greatest worker for the cause." In 1920 suffragists of the club, energized by victories won elsewhere, formed the Women's Franchise League (sometimes known as the Women's Suffrage League and the Committee for the Enfranchisement of Women) and launched a campaign to secure the vote for women, a revival of an earlier attempt in the 1890s.
As secretary of the League, Fannie was supported by her husband, Hector. When threatened with dismissal by the anti-suffrage government of Sir Richard Anderson Squires*, this quiet man was reported as saying, "I told him he could jolly well go to the devil." By this time the McNeil home had become the headquarters of a vigorous campaign which saw systematic lobbying of politicians, a blitz of letters to publicize the cause, debates and rallies, and the collection of 20,000 signatures on an island-wide petition. Recalled a contemporary: "Mrs. McNeil was a great favourite. She never lost her head. Was utterly natural and sincere. The crowd loved her."
The League's chief antagonist was Squires. All through 1920 and 1921 he equivocated, his government defeating the necessary legislation for the vote in 1920 but promising to reconsider it in six months' time, when it was allowed to die in committee. The League's leadership pressed on, however, and achieved victory on 9 March 1925 when a new prime minister, Walter Stanley Monroe*, piloted through the House of Assembly legislation giving Newfoundland women of 25 years or older the right to vote for, and stand as, candidates in general elections (the voting age for men was 21, an inequality that remained until 1946). The Women's Franchise League held a victory banquet and disbanded in triumph. The first opportunity for women to stand for election came in the St John's municipal contest of December 1925. Three women put themselves forward – Fannie McNeil and May Kennedy, who ran for the newly formed Women's Party, and Julia Salter* Earle, a labour candidate – but all three were defeated. The first general election in which women could vote would take place in 1928.
Fannie McNeil died of cancer on 23 Feb. 1928 and was buried in the General Protestant Cemetery in St John's. An obituary tribute said, "To her in supreme measure was due the placing of the Woman Franchise Act on the Statute Book, resulting from a campaign conducted in a manner unexcelled in any land."
Centre for Newfoundland Studies, Memorial Univ. of Nfld (St John's), Arch., mf-157 (Sir Richard Squires papers). Daily News (St John's), 24-25 Feb. 1928. [Agnes Ayre], "Current Events Club - woman suffrage - Newfoundland Society of Art," in The book of Newfoundland, ed. J. R. Smallwood et al. (6v., St John's, 1937-75; vols.1-2 repr. [1968] and 1979), 1: 199-201. T. [L.] Bishop, "Newfoundland's struggle for the women's franchise" (course paper, Memorial Univ. of Nfld, 1982). Distaff (St John's), 1916: 18. DNLB (Cuff et al.). M. I. Duley, "'The radius of her influence for good': the rise and triumph of the women's suffrage movement in Newfoundland, 1909-1925," in Pursuing equality: historical perspectives on women in Newfoundland and Labrador, ed. Linda Kealey (St John's, 1993), 14-65; Where once our mothers stood we stand: women's suffrage in Newfoundland, 1890-1925 (Charlottetown, 1993). Nfld, Acts, 1925: c.7. Janice O'Brien, "Woman's suffrage in Newfoundland: a determined goal" (course paper, Memorial Univ. of Nfld, 1982). Gaynor Rowe, "The woman suffrage movement in Newfoundland" (course paper, Memorial Univ. of Nfld, 1973).
© 2005–2023 University of Toronto/Université Laval
Image Gallery

Cite This Article
Anne Hart, "KNOWLING, FANNIE (McNeil)," in Dictionary of Canadian Biography, vol. 15, University of Toronto/Université Laval, 2003–, accessed March 30, 2023, http://www.biographi.ca/en/bio/knowling_fannie_15E.html.
The citation above shows the format for footnotes and endnotes according to the Chicago manual of style (16th edition). Information to be used in other citation formats:
| | |
| --- | --- |
| Permalink: | http://www.biographi.ca/en/bio/knowling_fannie_15E.html |
| Author of Article: | Anne Hart |
| Title of Article: | KNOWLING, FANNIE (McNeil) |
| Publication Name: | Dictionary of Canadian Biography, vol. 15 |
| Publisher: | University of Toronto/Université Laval |
| Year of publication: | 2005 |
| Year of revision: | 2005 |
| Access Date: | March 30, 2023 |