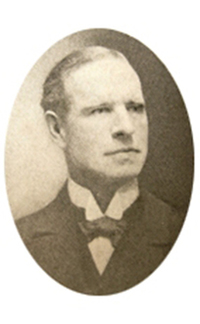 Source: Link
CRONYN, HUME BLAKE, soldier, lawyer, businessman, and politician; b. 28 Aug. 1864 in London, Upper Canada, son of Verschoyle Cronyn and Sophia Eliza Blake; m. there 4 Sept. 1892 Frances Amelia Labatt, and they had three sons and two daughters; d. there 19 June 1933.
Hume Cronyn was born into one of three prominent and closely related London families. The Cronyns, Humes, and Blakes had come to the area from Ireland on the brig Anne of Halifax in the summer of 1832, and Cronyn's name was typical of those given to children of intermarriages within these families. His relatives were a veritable who's who of Upper Canadian society. His paternal grandfather, Benjamin Cronyn*, was the first Anglican bishop of the diocese of Huron and a founder of Huron College. His father, Verschoyle, was a noted lawyer who would become a kc (1902), a founder of the Huron and Erie Loan and Savings Company (better known as the Huron and Erie Savings and Loan Society), and a chancellor of the diocese. His mother, Sophia, was a daughter of William Hume Blake*, the first chancellor of Upper Canada, and a sister of Edward Blake*, a prominent lawyer who would serve as premier of Ontario, minister of justice in the cabinet of Alexander Mackenzie*, and leader of the federal Liberal Party. When Cronyn was six years old, his recently widowed maternal grandmother, Catherine Honoria Hume Blake*, came to live with his parents. A woman of strong views and many accomplishments, Catherine was the matriarch of the three families. Her strict discipline and fervent evangelical Christianity undoubtedly had an influence on her young grandson.
Cronyn was first educated at William Tassie*'s highly respected Galt Grammar School and the London Collegiate Institute. He then attended the University of Toronto and joined the Queen's Own Rifles militia unit, which was sent in the spring of 1885 to help put down the North-West rebellion led by Louis Riel*. On 2 May Corporal Cronyn's regiment, under the command of Lieutenant-Colonel William Dillon Otter*, fought native marksmen who were followers of Poundmaker [Pītikwahanapiwīyin*] at Cut Knife Hill. Otter's men were eventually forced to retreat, but for his role in the battle Cronyn was awarded the North West Canada Medal and clasp, which he wore proudly.
Once the rebellion had been quashed, Cronyn returned to his studies in Toronto and graduated with a ba in 1886. The university was then in the process of establishing a faculty of law that would grant the llb degree, and two of his uncles, Edward and Samuel Hume Blake*, were among the lecturers. Cronyn became one of the handful of students (another was Lyman Poore Duff*, a future chief justice) who enrolled in this short-lived program. In 1889 he completed his degree and was called to the bar, but he did not formally receive his llb until the following year. He commenced practice in London with Cronyn and Betts, which had been formed by his father and his uncle Frederick Pimlott Betts, who was married to one of Hume's paternal aunts. The firm operated out of the Huron and Erie Buildings and provided legal assistance to the primary occupant, the Huron and Erie Loan and Savings Company, as well as its later subsidiary, the Canada Trust Company, and to the Anglican synod of Huron, all of which had family connections to their legal advisers.
On 4 Sept. 1892 Cronyn married Frances Amelia Labatt, the second daughter of another prominent London citizen, John Labatt*. It was an advantageous match. Labatt owned and operated a substantial brewery whose India pale ale was very popular, and as a result the family that Cronyn married into was at least as wealthy and influential as his own. He practised with the family firm for 18 years without much distinction; during this period he joined the 7th Battalion of Fusiliers and rose to the rank of major. He left law in 1907 to become chief operating officer of the Huron and Erie Loan and Savings Company (renamed the Huron and Erie Mortgage Corporation in 1915) and soon proved to be a better financial administrator than he had been a lawyer. He would also become general manager of Canada Trust as well as a director, and eventually president (in 1920), of the Mutual Life Assurance Company of Canada.
Given his family's long support of the Liberals, it is not surprising that Cronyn became active in that party. In 1898 he was considered as its candidate for the provincial riding of London, but he declined the nomination and instead gave a humorous and effective speech in support of Colonel Francis Baxter Leys, who was elected. A decade later Cronyn worked behind the scenes to help Prime Minister Sir Wilfrid Laurier* raise capital in France. When Cronyn finally sought public office, however, he ran against his own party. In 1917 he was one of a number of Ontario Liberals (others were Frank Broadstreet Carvell*, Newton Wesley Rowell*, and Arthur Lewis Watkins Sifton*) who accepted the invitation of Conservative prime minister Sir Robert Laird Borden to form a coalition government for the purpose of carrying out the policy of conscription that World War I seemed to require. Major Cronyn, as he was invariably called, became the Unionist candidate for the riding of London. George Sutton Gibbons, a local politician and son of Sir George Christie Gibbons*, opposed him as a Laurier Liberal. It was a hotly contested campaign, but on 17 Dec. 1917 Cronyn was elected with over 62 per cent of the votes cast.
During his three-and-a-half-year term Cronyn was an active member of the House of Commons. He was responsible for an amendment to the Criminal Code regarding fraudulent tenants, and he chaired three special parliamentary committees, two on pensions (including pensions for returned soldiers) and one on scientific research [see Archibald Byron Macallum]. His role on the second pension committee brought him much attention because it involved public meetings at which he had to deal deftly with questions from disabled veterans and their families. He also used his skill as an orator to advocate for the mortgage-loan industry, urging that companies such as Huron and Erie be granted more power to take deposits from the public.
When Arthur Meighen* replaced Borden as prime minister in July 1920, there was speculation that Cronyn would be made a cabinet minister, but either he was not asked or he refused Meighen's offer. He declined to run in the general election of 6 Dec. 1921. Publicly, he said that another term in office would interfere with his business interests. In truth, he had few options: Cronyn did not want to run for Meighen's National Liberal and Conservative Party, even though he was a close friend of the prime minister, and the Liberals, now led by William Lyon Mackenzie King*, were unwilling to support someone who had abandoned the party during the conscription crisis.
After Cronyn left politics his business interests did not prevent him from accepting several time-consuming public appointments. In 1922 he was named to the board of the Honorary Advisory Council for Scientific and Industrial Research (the forerunner of the National Research Council). From 1921 to 1923 he chaired a blue-ribbon board of arbitrators (the other members were Sir Adam Beck* and Sir William Thomas White*) charged with determining the compensation owed to the Toronto Railway Company for the expropriation of its lines and equipment by the new, municipally owned Toronto Transportation Commission. Cronyn wrote, and read out, the majority report that awarded the railway company about $12 million, an amount that was appealed by the city but upheld in court. This experience made him a vocal opponent of the right of governments to expropriate private property on their own terms.
In 1925 Cronyn played a key role in a royal commission chaired by Sir Andrew Rae Duncan that studied the problems of the Nova Scotia coal industry [see James Bryson McLachlan]. Noting that the province had been cajoled into confederation by promises that had gone unfulfilled and warning that the tie of sentiment binding it to the dominion had worn thin, Cronyn encouraged Canadian businesses to buy Nova Scotia coal, even if it was more expensive, in order to keep the country prosperous and united. Meanwhile, he continued to manage Huron and Erie and Canada Trust and to fulfil his duties as president of Mutual Life. All of these companies flourished under his leadership: Huron and Erie, for example, had assets of almost $40 million by 1927 and its annual growth was 20 per cent. Cronyn's success was recognized when he was made an honorary president and a member of the executive of the Dominion Mortgage and Investments Association, the professional society of the industry.
Cronyn's later years are most notable for a temporary falling-out with Hume Blake Cronyn* Jr, his third son. An aspiring actor who had inherited his father's ability to captivate an audience, young Hume showed no interest in law or finance (unlike his brother Verschoyle Philip, who headed an insurance agency and sat on the board of Huron and Erie, Canada Trust, and John Labatt Limited). In defiance of his parents, Hume would follow his dream and take to the stage, making his Broadway debut as a janitor in the 1934 play Hipper's holiday. His father did not live to see it. Hume Sr, who suffered from a debilitating seizure-inducing illness in his final years, resigned from his various offices in February 1933 and died on 19 June. His name, and his deep interest in science, is commemorated today by the Hume Cronyn Memorial Observatory, which was built with funds his wife donated to the University of Western Ontario in 1940. His successes in business and politics, however, have been overshadowed by his son's brilliant stage and film career to such an extent that Hume Blake Cronyn Sr is now known almost exclusively as the father of Hume Cronyn, the actor.
Hume Blake Cronyn is the author of "Canadian loan and savings companies," Scottish Bankers Magazine (Edinburgh and London), 6 (April 1914–January 1915): 97–107. His speech to the Empire Club of Canada, "The weak spot in our Canadian constitution," appears in Empire Club of Can., Addresses (Toronto), 1926: 295–309. AO, F 2 (Edward Blake family fonds). LAC, R10811-0-X; R11163-0-1. Law Soc. of Upper Can. Arch. (Toronto), 1-5-1-2 (Convocation fonds, common, barristers' and benchers rolls). Globe, 2 Feb. 1898; 30 Nov. 1917; 14 May, 21 Sept. 1918; 6 Jan., 29 March, 26 April 1919; 21 Jan., 10 Feb., 16 March, 2 Sept., 3, 29 Oct., 24 Nov. 1921; 24 March, 15 June 1922; 30 May 1924; 29 Oct. 1925; 15 May, 22 Sept. 1926; 19 Jan. 1928; 14 Feb., 24 Oct. 1929; 3 Feb., 21 June 1933. Toronto Daily Star, 10 July 1920; 29 June 1921; 15 March 1922; 31 Jan. 1923; 30 Oct. 1924; 11, 27 Jan. 1926; 1 Feb., 2 March 1927; 29 Jan. 1930; 15 Feb. 1932; 9 Feb., 21 June 1933. F. H. Armstrong, The Forest City: an illustrated history of London, Canada ([Northridge, Calif.], 1986). Can., House of Commons, Special committee on pensions, insurance and re-establishment of returned soldiers, Proc. (Ottawa, 1921); Special committee on scientific research, Proc. (Ottawa, 1919). Canadian directory of parl. (Johnson). The Canadian law list (Toronto), 1890, 1895, 1900, 1905. Canadian men and women of the time (Morgan; 1912). H. [B.] Cronyn, A terrible liar: a memoir (New York, 1991). Cyclopædia of Canadian biog. (Rose and Charlesworth), vol.3. Register of the University of Toronto for the year 1920 (Toronto, [1920]). Standard dict. of Canadian biog. (Roberts and Tunnell), vol.2.
© 2020–2023 University of Toronto/Université Laval
Image Gallery

Cite This Article
C. Ian Kyer, "CRONYN, HUME BLAKE (1864-1933)," in Dictionary of Canadian Biography, vol. 16, University of Toronto/Université Laval, 2003–, accessed December 4, 2023, http://www.biographi.ca/en/bio/cronyn_hume_blake_16E.html.
The citation above shows the format for footnotes and endnotes according to the Chicago manual of style (16th edition). Information to be used in other citation formats:
| | |
| --- | --- |
| Permalink: | http://www.biographi.ca/en/bio/cronyn_hume_blake_16E.html |
| Author of Article: | C. Ian Kyer |
| Title of Article: | CRONYN, HUME BLAKE (1864-1933) |
| Publication Name: | Dictionary of Canadian Biography, vol. 16 |
| Publisher: | University of Toronto/Université Laval |
| Year of publication: | 2020 |
| Year of revision: | 2020 |
| Access Date: | December 4, 2023 |