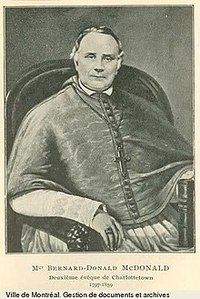 Source: Link
MACDONALD, BERNARD DONALD, Roman Catholic priest, bishop, and school administrator; b. 25 Dec. 1797 at Allisary, St John's (Prince Edward) Island, one of ten children of Angus MacDonald and Penelope MacDonald; d. 30 Dec. 1859 at St Dunstan's College, near Charlottetown.
Through his paternal grandfather, one of the settlers brought to St John's Island in 1772 by John MacDonald* of Glenaladale, Bernard Donald Macdonald claimed kinship with the leading Scots Catholic families on the Island. In 1812 he and Ronald Macdonald were selected by Father Angus Bernard MacEachern*, at the behest of Quebec's Bishop Joseph-Octave Plessis*, to study for the priesthood at the Grand Séminaire de Québec. His expenses defrayed by subscription among Island Catholics, Bernard passed ten years there, and on his ordination in June 1822 became the first native Island priest.
For the next 13 years Macdonald laboured in the priest-poor missions of Prince Edward Island: first, among the largely Acadian Catholics in the west, and from 1829, following the ordination on 28 July 1828 of Sylvain-Éphrem Perrey*, in Charlottetown and its attendant missions. For much of this period, only three, sometimes four, priests served the Island's Catholic community, which consistently numbered slightly less than half the total population. In the course of Macdonald's ministry, on 11 Aug. 1829, the episcopal see of Charlottetown was created, with MacEachern as its first bishop. Macdonald became his lieutenant and chosen successor, not only for his indispensable fluency in French, English, and Gaelic, but because, as MacEachern wrote on 21 March 1835 to Bishop Joseph Signay* of Quebec, "his uniform regularity of comportment and disengagement from everything but his own duty renders him dear and respected to this community." When MacEachern died on 22 April 1835, Macdonald, who had been appointed vicar general on 6 April, assumed temporary control of the diocese, and on 21 Feb. 1836 he was named diocesan administrator by the Holy See. Exactly one year later, despite his known timidity and Signay's concern that he might lack firmness, he was named bishop of Charlottetown and consecrated by Signay at Quebec on 15 Oct. 1837.
Macdonald's see initially encompassed New Brunswick, Prince Edward Island, and the Îles de la Madeleine. Much of it remained in a frontier state, primitive and poor, its want of clergy underscored by a sharply increasing population. When New Brunswick was detached in 1842 to form a separate diocese, Macdonald declined the opportunity to take it, preferring his original appointment; the new post then went to William Dollard.
Events during the first decade of his episcopacy proved an acid test of Macdonald's will. In September 1843 he recalled his cousin, Father John McDonald*, from the missions of eastern Kings County, where his effectiveness as pastor was being blunted by a worsening dispute with parishioners over his conservative views on the land question. When McDonald balked at his instructions to move by 1 November, the bishop temporized by not enforcing the deadline. Macdonald's equivocation made possible an angry confrontation between the priest and the dissident parishioners, led by John MacKintosh*, who were determined to remove him. His attempts at persuasion unavailing, the bishop was forced to suspend McDonald's priestly faculties to pry him loose from his parish in November 1844. Before taking permanent leave of the diocese in 1845, Father John accused the bishop of conspiring against him. For Macdonald, the whole episode was acutely embarrassing.
Conflict between the two spilled over into educational matters. In 1831 Bishop MacEachern had established St Andrew's College at his residence in St Andrews at the head of the Hillsborough River, chiefly to provide pre-seminarial training for would-be clerics. Macdonald was vice-president of its first board of trustees in 1833, and then, as bishop, its president. Equally anxious to secure a succession of clergy, but convinced of the existing school's inadequacy, he purchased land in 1841 in Charlottetown Royalty, a more central location, intending to build a larger, better-equipped college. Meanwhile, financial and disciplinary problems multiplied at St Andrew's College. Moreover, by late 1843 the bishop faced strong opposition from two trustees – Father John and his brother, Donald McDonald – who accused him of overstepping his authority as president, and his college staff of wilful mismanagement and conspiracy with Island escheators [see William Cooper*].
The cross-current of criticism likely hastened Macdonald's decision to close St Andrew's in July 1844, when construction had hardly begun on its successor. For the next decade the bishop bent his efforts towards its completion. Financed mainly by alms solicited from the Society for the Propagation of the Faith, a lay missionary society based in France, St Dunstan's College was built piecemeal, finally opening on 17 Jan. 1855. Even afterwards, its precarious fortunes continued to preoccupy the bishop and its first rector, Angus McDonald*.
Religious controversy shadowed the last years of Macdonald's episcopate. A misinterpretation of the liberal government's education policy prompted him to write in private to the Board of Education on 7 Nov. 1856 protesting what he mistakenly supposed was a decision to introduce compulsory Bible reading into the Island's public school system and its Normal School. In a religiously mixed education system, he warned, "godless" schools were a necessary evil. Government leader George Coles* quickly reassured him, but when Macdonald's letter was made public, militant Protestant reaction, cynically manipulated by Edward Palmer* and other tory politicians to gain office, helped precipitate a generation of political and religious discord over educational policy which split Island society along denominational lines.
Macdonald took little part in the escalation of animosities. Beginning in 1856 "chronic bronchitis," compounded by neglect and continued missionary duties, steadily undermined his constitution. He became progressively less capable of administrating, and made a request to the bishop of Quebec for assistance in fulfilling his mission to the Acadians; George-Antoine Bellecourt*, formerly a missionary in the northwest, accepted the call. Macdonald, conscious of impending death, moved in October 1859 to St Dunstan's College, where he died two months later. Peter MacIntyre* was appointed the following May to succeed him.
Bernard Donald Macdonald was a reluctant prelate. By nature shy and mild-mannered, he was genuinely distressed by his episcopal appointment, and at first tried to decline. Even as bishop he preferred to live in the rural Acadian parish of Rustico, rather than the rightful episcopal seat at Charlottetown, the colonial capital. Despite his marked diffidence, he successfully brought the diocese of Charlottetown through adolescence. Catholic population, economic status, and the number of churches and clergy all increased during his tenure. Various Catholic institutions were established: total abstinence societies were organized under his direction in 1841; a mutual insurance society for diocesan clergy was established in 1846; and in late 1857 four sisters from the Congregation of Notre-Dame were brought from Montreal to Charlottetown to open a ladies' school. Thus, under his rule, a mature diocese took shape.
Last of the Island's missionary bishops, Macdonald seemed more at home tending souls than exercising episcopal authority. He was not politically minded. Nor, as a private person become a public figure, was he an assertive spokesman for Catholic interests, though his inoffensive personality tended to disarm potential opponents among the Protestant majority. Given his personality and the currents stirring in Island society by the late 1850s it is doubtful, even had he lived, that Macdonald could have forestalled the religious factionalism that marred much of the following two decades.
Bernard Donald Macdonald has left behind no printed works, with the exception of a few pastoral letters located in the Arch. of the Diocese of Charlottetown, Pastoral letters, 1802–51, and in his papers there. Some of these were printed for circulation around the diocese. The Macdonald papers, a miscellany of uncatalogued file boxes, also contain correspondence and documents relating to his term as bishop, including a letter-book kept by Macdonald and his successor, Peter MacIntyre. One authentic portrait of Macdonald exists. Perhaps painted from a photograph, it is slightly damaged and is kept at the bishop's residence, Charlottetown.
AAQ, 310 CN, I–II, especially I: 38, 81, 85, 95, 113, 132, 134, 140 (mfm. at Charlottetown Public Library). Arch. de la Propagation de la Foi (Paris), F 172 (mfm. at PAC). Arch. of Scots College (Pontifical) (Rome), Vicars Apostolic, corr. of A. B. MacEachern and William Fraser to Paul MacPherson and Angus MacDonald (transcripts at Arch. of the Diocese of Charlottetown). Arch. of the Diocese of Charlottetown, John McDonald, [Apologia], 5–58 (incomplete copy of book published probably in 1845 by McDonald, reprinting documents, with commentary, concerning his conflicts with John MacKintosh, B. D. Macdonald, and his fellow priests); St Andrew's College (St Andrews, P.E.I.), board of trustees, minutes, 1833–62. Archivio della Propaganda Fide (Rome), Scritture riferite nei Congressi, America Settentrionale, 2 (1792–1830)–7 (1857–61), especially 3 (1831–36), Joseph Signay to Cardinal Fransoni, 3 June 1836; 6 (1849–57), B. D. Macdonald to Cardinal Barnabo, 15 Jan. 1857 (photocopies in the possession of Allan MacDonald, Univ. of P.E.I., Charlottetown). Diocese of Charlottetown Chancery Office, St Dunstan's Univ. Arch., St Dunstan's Univ. (Charlottetown), abstracts of property deeds, college reg., and ledger, 1855–69. PAPEI, Acc. 2353/349, 30 Dec. 1859. Supreme Court of P.E.I. (Charlottetown), Estates Division, liber 6: f.50 (will of B. D. Macdonald, 10 Sept. 1859). Univ. of P.E.I. Library (Charlottetown), P.E.I. Coll., R. B. MacDonald, "MacDonalds in P.E.I." (typescript, c. 1892–94). P.E.I., House of Assembly, Journal, 1832, app. C; 1841, app.; 1856, app.D; 1861, app.A. Examiner (Charlottetown), 22 Jan. 1855; 23 Feb., 2, 30 March, 12 Oct. 1857; 16 Jan. 1860. Islander, 13 Jan. 1860. Protestant and Evangelical Witness (Charlottetown), 21 Jan. 1860. Royal Gazette (Charlottetown), 18 May 1830; 20 Dec. 1831; 28 April 1835; 18 July, 19 Dec. 1837; 23 Feb., 6 April 1841. Caron, "Inv. de la corr. de Mgr Plessis," ANQ Rapport, 1932–33: 149–50, 175, 182, 187. The Catholic Church in Prince Edward Island, 1720–1979, ed. M. F. Hennessey (Charlottetown, 1979). J. C. Macmillan, The early history of the Catholic Church in Prince Edward Island (Quebec, 1905); The history of the Catholic Church in Prince Edward Island from 1835 till 1891 (Quebec, 1913). I. R. Robertson, "Religion, politics, and education in Prince Edward Island from 1856 to 1877" (ma thesis, McGill Univ., Montreal, 1968). Léon Thériault, "The Acadianization of the Catholic Church in Acadia," The Acadians of the Maritimes: thematic studies, ed. Jean Daigle (Moncton, N.B., 1982), 271–339. I R. Robertson, "The Bible question in Prince Edward Island from 1856 to 1860," Acadiensis (Fredericton), 5 (1975–76), no.2: 3–25.
© 1985–2023 University of Toronto/Université Laval
Image Gallery

Cite This Article
G. Edward MacDonald, "MACDONALD, BERNARD DONALD," in Dictionary of Canadian Biography, vol. 8, University of Toronto/Université Laval, 2003–, accessed October 1, 2023, http://www.biographi.ca/en/bio/macdonald_bernard_donald_8E.html.
The citation above shows the format for footnotes and endnotes according to the Chicago manual of style (16th edition). Information to be used in other citation formats:
| | |
| --- | --- |
| Permalink: | http://www.biographi.ca/en/bio/macdonald_bernard_donald_8E.html |
| Author of Article: | G. Edward MacDonald |
| Title of Article: | MACDONALD, BERNARD DONALD |
| Publication Name: | Dictionary of Canadian Biography, vol. 8 |
| Publisher: | University of Toronto/Université Laval |
| Year of publication: | 1985 |
| Year of revision: | 1985 |
| Access Date: | October 1, 2023 |