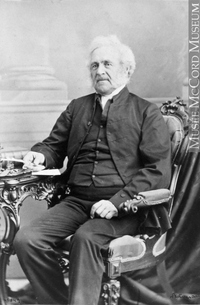 Source: Link
MATHIESON, ALEXANDER, Presbyterian minister; b. 1 Oct. 1795 at Renton, Dunbartonshire, Scotland, son of George Mathieson, a soldier, and Janet Ewing; d. 14 Feb. 1870 at Montreal.
Alexander Mathieson was educated at local schools in Dumbarton and Stirling and graduated in 1814 from Glasgow University. He continued as a part-time student in theology, tutoring to support himself. In 1823 he was licensed to preach by the Church of Scotland and in 1826 the Reverend John Burns, minister of St Andrew's Presbyterian Church in Montreal, chose Mathieson as his successor.
The Presbyterians of St Andrew's (now St Andrew and St Paul), were among those who stood for a continued connection with the Scottish Kirk, also a cardinal conviction of Mathieson's. This wealthy congregation included many of the Montreal Scots merchant community, and his initial stipend was £250 yearly. By 1832 the church had a yearly revenue of £450 and a congregation of 1,500. In 1835, led by such merchants as William Ritchie*, it adopted a constitution. That year Mathieson was active in founding the Montreal St Andrew's Society of which he became the first chaplain, an office he had held 25 times by 1869. In 1837, while on leave of absence in Great Britain and on the Continent, he resigned from St Andrew's, evidently hoping to find a parish in Scotland. He was unsuccessful but Glasgow University gave him a dd in 1837 and in the fall of 1838 he resumed his Montreal charge.
During these early years he strengthened Presbyterianism by helping found the Synod of the Presbyterian Church of Canada in Connection with the Church of Scotland (1831). He was elected its second moderator in 1832. The association about which he felt so strongly was thus maintained. With the Upper Canadian politician William Morris* he contended that the Presbyterian Church, as an established church of the empire, had a "right" to part of the clergy reserve revenues; in 1840 they triumphed and the Kirk obtained a share equal to half that of the Church of England. In the same year union with the Presbyterians of the United Synod of Upper Canada was effected. Mathieson first opposed this union, but accepted it when reference to connection with the Church of Scotland was retained in the title of the new body. At this time, too, he helped establish Queen's College at Kingston which would train Presbyterian clergy and educate students according to the ways of the Church of Scotland. Named a founder in the royal charter of 1841, he was a trustee from 1842 to 1868.
Mathieson was active in the 1840s in founding a committee to establish a mission to the French Canadians and in missionary work with the Highland Scots of the Eastern Townships. He was instrumental also in establishing in 1847 the Ministers' Widows and Orphans Fund and was on its board of managers until his death. In 1856 he was a founder of St Andrew's Home, established by the St Andrew's Society of Montreal for immigrants and homeless Scots.
The disruption in the Church of Scotland in 1843–44 quickly aroused controversy in the Canadas [see Robert Burns]. Mathieson, naturally, stood uncompromisingly with those who remained faithful to the Church of Scotland. Although he lost some of his congregation to the Free Presbyterians, he gained many prominent members from rival St Gabriel's. St Andrew's thus became even richer and more influential. In 1847 the congregation purchased land on Beaver Hall Hill and in 1851 built a magnificent $64,000 church, copied after Salisbury Cathedral, which became known as the "Scotch Cathedral." Meanwhile, as was appropriate to a businessmen's church, St Andrew's had been incorporated in 1849. When it revised its constitution in 1850–51, one of the new trustees was Mathieson's friend William Edmonstone, with whom he toured the Maritime provinces in 1855 as a delegate for the synod, to strengthen contacts with fellow Presbyterians. As senior minister of the Church of Scotland in Canada, he was elected moderator for the second time in 1860. He opposed the move to unify the various Presbyterian synods which began about that time and resulted in the 1875 union.
In the last decade of Mathieson's life St Andrew's continued to prosper; he had a regular assistant and could spend his summers at his farm in the Eastern Townships. In 1869, his annual stipend was $3,600. Prosperous parishioners continued to join the congregation, including Andrew Wilson, co-proprietor of the Montreal Herald, and Sir Joseph Hickson*, general manager of the Grand Trunk Railway. When St Andrew's burned on 23 Oct. 1869 it was "amply insured," and additional funds were promptly raised to rebuild it.
Mathieson married in 1840 Catherine Elizabeth (1822–56), daughter of John Mackenzie, a prominent merchant of Montreal, which connected him with the leading commercial families of Esdaile, Fisher, and Torrance. They had two sons and four daughters. A portly man of venerable aspect, Mathieson died only three weeks after preaching his last sermon. He might have been more influential had he been less outspoken, especially on matters of church organization, and more willing to conciliate his opponents. He was almost always militant, frequently triumphant, and all too often intransigent, as were many of the clergy in 19th century Canada; yet, like John Strachan and Egerton Ryerson*, he accomplished much for his denomination, particularly in practical matters.
Alexander Mathieson, The moral and religious influences of autumn, a sermon in three parts, preached in Saint Andrew's Church, Montreal . . . (Montreal, 1850); A sermon, occasioned by the death of the late Mr. Robert Watson, preached in St. Andrew's Church, Montreal, April 8th, 1827 (Montreal, 1827); A sermon preached in St. Andrew's Church, Quebec, on the 29th May, 1861, at the opening of the Synod of the Presbyterian Church of Canada in Connection with the Church of Scotland (Montreal, 1861). Can., Prov. of, Statutes, 1849, c.154. Morgan, Bibliotheca Canadensis, 252. Notman and Taylor, Portraits of British Americans, I, 89–91. D. D. Calvin, Queen's University at Kingston: the first century of a Scottish-Canadian foundation, 1841–1941 (Kingston, Ont., 1941). Campbell, History of Scotch Presbyterian Church, 746ff. James Croil, Life of the Rev. Alex. Mathieson, D.D., minister of St. Andrew's Church, Montreal, with a funeral sermon, by the Rev. John Jenkins . . . (Montreal, 1870). W. J. Rattray, The Scot in British North America (4v., Toronto, 1880–84), III, 851–54.
© 1976–2023 University of Toronto/Université Laval
Cite This Article
Frederick H. Armstrong, "MATHIESON, ALEXANDER," in Dictionary of Canadian Biography, vol. 9, University of Toronto/Université Laval, 2003–, accessed May 29, 2023, http://www.biographi.ca/en/bio/mathieson_alexander_9E.html.
The citation above shows the format for footnotes and endnotes according to the Chicago manual of style (16th edition). Information to be used in other citation formats:
| | |
| --- | --- |
| Permalink: | http://www.biographi.ca/en/bio/mathieson_alexander_9E.html |
| Author of Article: | Frederick H. Armstrong |
| Title of Article: | MATHIESON, ALEXANDER |
| Publication Name: | Dictionary of Canadian Biography, vol. 9 |
| Publisher: | University of Toronto/Université Laval |
| Year of publication: | 1976 |
| Year of revision: | 1976 |
| Access Date: | May 29, 2023 |