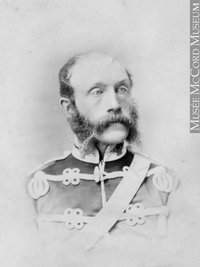 Source: Link
MAUNSELL, GEORGE JOSEPH, army and militia officer; b. 25 Aug. 1836 near Rathkeale (Republic of Ireland), second of the three sons of George Meares Maunsell and Mary Josepha Anne Stopford; m. 9 Aug. 1862 Anna Jane Moony (Mooney), and they had seven children; d. 15 Jan. 1906 in Torquay, England.
George Joseph Maunsell was educated at the Royal Military College in England and in May 1855 was appointed an ensign in the 15th Foot. His regiment was sent to New Brunswick in 1862 but Maunsell, then a captain, remained in Britain. Two years later he rejoined the 15th, and in the spring of 1865 he accompanied the Union army, to which he had been seconded, until the occupation of Richmond, Va. After returning to New Brunswick, on 29 June 1865 he was named adjutant general of the provincial militia, and in November he was appointed lieutenant-colonel.
Maunsell was well qualified for his new position. Having served in the British army and taken courses in military engineering and musketry, he was better trained than most militia officers in British North America. He had also assisted in the reform of the militia, a task he continued as adjutant general. During the spring of 1866 the province braced for a Fenian invasion, and Maunsell helped organize the defences. When the New Brunswick militia came under federal control after confederation, he remained as adjutant general. By January 1869 the new national militia system [see Patrick Robertson-Ross*] was in place and Maunsell was named deputy adjutant general of Military District No.8, which consisted of New Brunswick. Although the appointment was resented in some circles, it was popular with the militia.
Maunsell's new responsibilities were considerable. He not only commanded the militia but also was in charge of its administration and training. He brought to the post a flair for good organization, sound management, and innovative thinking. The integration of the provincial militia into the national structure was a difficult task; there was little enthusiasm for and even resistance to the increase in its size that the federal system demanded. Maunsell also sought to build the battalions into well-trained and efficient units by setting up annual brigade training camps, organizing sham fights and military displays, and encouraging the formation of rifle and regimental associations. In 1875 militia units assisted local authorities to deal with threats of sectarian violence in several centres, the first time in the province's history that they had provided aid to the civil power. Two years later members of the 62nd (Saint John) Battalion helped their city in the aftermath of the great fire [see Sylvester Zobieski Earle*]. The creditable performance of the militia on these occasions was a tribute to Maunsell. So too were his efforts to maintain enthusiasm among militia units during the financially stringent late 1870s.
Maunsell became commander of Military District No.4 in Ottawa in 1881. By then he had become respected for his frank and often critical views on militia policy. In 1883 the government decided to form instructional schools as the basis for a permanent military force. Maunsell was recommended for an appointment in the Infantry School Corps by Sir Samuel Leonard Tilley*, and the following year he returned to Fredericton to take command of the company of the ISC established there and to resume his duties as deputy adjutant general of Military District No.8. He quickly gained a reputation for insisting on efficiency and proper training in the company. During the North-West rebellion of 1885 [see Louis Riel*] he commanded a contingent of militia held ready for service, the only major disruption to his routine but productive years of training.
By 1893 the ISC had been renamed the Royal Regiment of Canadian Infantry, and in September 1896 Maunsell was appointed its first commanding officer; he had previously become inspector of infantry for eastern Canada. He took command of companies at Fredericton, Saint-Jean (Saint-Jean-sur-Richelieu), Que., London, Ont., and Toronto, and with these scattered units had to create a regimental system, a common administration, and uniform practices of drill and instruction. The task was a monumental one and the work was at times frustrating, since there was no trained staff or prior experience on which to draw. Within two years, however, Maunsell had achieved a measure of success by establishing the foundations of command on which his successors could build with confidence. On 27 July 1898, near the age for mandatory retirement, he relinquished his post as commander of Military District No.8 to Beaufort Henry Viral. A year later he gave a highly personal paper to the New Brunswick Historical Society on the history of the provincial militia since confederation, one which revealed the deep sense of satisfaction he had derived from his service. Generously and in typical fashion he acknowledged the contributions of many others to his success.
George Joseph Maunsell has rightly been called the father of the New Brunswick militia, for more than anyone else he was responsible for its development after confederation. A popular and respected officer, he was praised for his tact and leadership. He died in England, where he had gone after retirement.
George Joseph Maunsell published a history of "The New Brunswick militia" in the New Brunswick Magazine (Saint John), 2 (January–June 1899): 121–32, 186–95, 239–49, 296–305; a photographic portrait appears opposite p.121.
Colonial Farmer (Fredericton), 27 Nov. 1867. Morning Freeman (Saint John), 4, 11 Feb. 1875; 13 July 1876. Saint John Globe, 20 Jan. 1906. Ken Bell and C. P. Stacey, 100 years: the Royal Canadian Regiment, 1883–1983 (Don Mills [Toronto], 1983). Biog. rev. of N.B. (Jack). Can., Dept. of Militia and Defence, Militia list (Ottawa), 1898; Regulations and orders for the active militia, the schools of military instruction, and the reserve militia . . . of the Dominion of Canada (Ottawa, 1870); Parl, Sessional papers, 1869–72, 1876, 1871, 1881, 1894 (reports of the Dept. of Militia and Defence). Canadian men and women of the time (Morgan; 1898). D. R. Facey-Crowther, "Fredericton's military garrison, 1784–1869" (typescript, Fredericton, 1985; copy at UNBL); "The New Brunswick militia: 1784–1871" (ma thesis, Univ. of N.B., Fredericton, 1965). R. C. Fetherstonhaugh and G. R. Stevens, The Royal Canadian Regiment . . . (2v., Montreal and London, Ont., 1936–67; vol.1 repr. Fredericton, 1981), 1. The Fredericton census of 1871, ed. R. F. Fellows (Fredericton, 1974). H. G. Hart, The new annual army list . . . (London), 1865–67. The New Brunswick militia commissioned officers' list, 1787–1867, comp. D. R. Facey-Crowther (Fredericton, 1984).
© 1994–2023 University of Toronto/Université Laval
Cite This Article
David R. Facey-Crowther, "MAUNSELL, GEORGE JOSEPH," in Dictionary of Canadian Biography, vol. 13, University of Toronto/Université Laval, 2003–, accessed December 2, 2023, http://www.biographi.ca/en/bio/maunsell_george_joseph_13E.html.
The citation above shows the format for footnotes and endnotes according to the Chicago manual of style (16th edition). Information to be used in other citation formats:
| | |
| --- | --- |
| Permalink: | http://www.biographi.ca/en/bio/maunsell_george_joseph_13E.html |
| Author of Article: | David R. Facey-Crowther |
| Title of Article: | MAUNSELL, GEORGE JOSEPH |
| Publication Name: | Dictionary of Canadian Biography, vol. 13 |
| Publisher: | University of Toronto/Université Laval |
| Year of publication: | 1994 |
| Year of revision: | 1994 |
| Access Date: | December 2, 2023 |