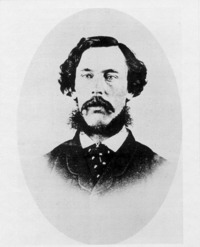 Source: Link
McCLURE, LEONARD, printer, journalist, and politician; b. 25 Dec. 1835 at Lisburn, near Belfast (Northern Ireland), son of Adam McClure and his second wife Margaret Wilson; d. 14 June 1867 at San Francisco, Calif., survived by a wife to whom he had been married "but a short time."
Leonard McClure was brought up to the printing trade, serving his apprenticeship on the Northern Whig of Belfast. At an early age he left Ireland and is said to have been a parliamentary reporter in London before emigrating to Australia, where he "engaged in his profession," probably in the gold colony of Victoria between 1855 and 1858. In November 1858 he began to publish the Morning Star in Sacramento, Calif.
By September 1859 McClure was in Victoria, Vancouver Island, printing the Government Gazette for the Colonies of Vancouver Island and British Columbia and the New Westminster Times (printed in Victoria despite its name) in association with Edward Hammond King. After the first Victoria Gazette ceased publication in November 1859, the name was appropriated by King and McClure for a new paper. In March 1860 McClure separated from King, taking over the New Westminster Times and moving its printing to the mainland capital.
In New Westminster McClure soon became prominent in a group that was demanding an end to the rule from Victoria of Governor James Douglas* over the mainland of British Columbia and the establishment of representative institutions for the mainland colony. The municipal council of New Westminster, elected after the incorporation of the town in July 1860, became their base and in August McClure was chosen the council's first president. In December 1860 he initiated a petition for a "British Columbia Convention," but the election for delegates saw a split over tactics. McClure's "government" slate, which saw the convention as an unofficial legislature to advise the governor, was defeated by a "reform" slate which wanted a separate governor and representative institutions. It was probably backers of the reform slate who bought out McClure's printing plant and installed John Robson* as editor of a new paper, the British Columbian.
By February 1861 McClure had bought the plant of the defunct Victoria Gazette, in which he had earlier been associated with King. He resigned from the municipal council and moved the New Westminster Times back to Victoria. In March it became the Victoria Press, which he published tri-weekly and then daily until October 1862 when he sold the plant to David William Higgins* and James Eliphalet McMillan. That same month the New Westminster reformers were preparing to send a visiting Canadian politician, Malcolm Cameron*, to England as their delegate to press again for a separate governor and representative institutions. McClure, who it appears was already going to England to promote a mining speculation, succeeded in getting an endorsement from a Victoria public meeting as a co-"delegate" from Vancouver Island, but he failed to get recognition from the Victoria municipal council, let alone from the assembly or the colonial government. Cameron seems to have had little influence on the termination in 1864 of Douglas' governorship of British Columbia and the inauguration there of a legislative council. The Colonial Office also declined to recommend McClure's proposed changes in the Legislative Council and the House of Assembly of Vancouver Island or his suggested wholesale removal of officials.
Returning to Victoria in February 1864, McClure in March became editor of the reform paper, the British Colonist, whose operation had passed in 1863 from founder-editor Amor De Cosmos* to a group of his employees. Under McClure's "exclusive control," the Colonist in 1864 reflected changes in reform opinion about the new governor of Vancouver Island, Arthur Edward Kennedy*, whose position on the civil list and control of land revenues soon dampened hopes that he would be more liberal than his predecessor.
By late 1864, as Vancouver Island revenues dropped with the petering out of the gold-rushes on the mainland, the question of future relations with British Columbia dominated politics. McClure's advocacy of a legislative union and a tariff for revenue won him a seat in the assembly in February 1865. Although the assembly had already passed a resolution in January agreeing to "such constitution as Her Majesty's government may be pleased to grant," the Colonial Office delayed action, knowing that many British Columbians opposed union. As finances worsened, the assembly led by De Cosmos and McClure fought the governor over rival plans for retrenchment. An attempt in 1866 by the assembly to cut the number of officials and increase spending on public works was turned back by the Legislative Council, and the resulting deadlock ended only with the expiry on 2 Sept. 1866 of the legislature's term. In the 1866 session McClure delivered what has remained the longest speech in the annals of the legislature in Victoria. To prevent extension of the time for redemption of tax-sale lands by people he considered speculators, McClure spoke continuously for 16 hours from 2 p.m. 23 April 1866 to 6 a.m. the next morning.
In August 1866 it became clear that the impending union would continue the nominated legislative council system of British Columbia, and McClure headed an unsuccessful last-ditch attempt to save representative institutions. The refusal of colonial self-government led McClure increasingly to favour annexation to the United States. By October he was posing the alternatives of "good and cheap government, under British rule, if possible, under the American Republic if it cannot be otherwise obtained." Annexation had, however, only minority support even in Victoria. McClure had lost his editorship of the Colonist and much of his political influence when the Colonist amalgamated with the rival Chronicle in June 1866. In July McClure and a partner, W. Mitchell, started the Evening Telegraph, but the failure of McClure's campaign in favour of annexation is reflected in the failure in December of the Telegraph. At the end of December 1866 McClure left the colony for San Francisco, where he was editor of the Times until his final illness.
Contemporaries agreed that Leonard McClure was a writer and speaker of talent, but charged him with a lack of political principle. Where his own views can be distinguished, McClure appears as a somewhat radical democrat. Inconsistencies in his position can best be attributed to a very competitive newspaper field in which he, unlike his fellow journalists De Cosmos and Higgins, was not able to establish a secure base. For a short time, however, he was a public figure equal in importance to either of them. His espousal of annexation and his early death have unfairly affected his stature.
PABC, Colonial correspondence, Attorney general's correspondence (B.C.), August–December 1862, Leonard McClure to H. P. P. Crease, 29 Oct. 1862, encl. in Crease to colonial secretary, 29 Oct. 1862. PRO, CO 305/21, pp.336–40; 305/25, pp.205–6 (mfm. at PABC). G. B., Parl., Command paper, 1866, XLIX, [3667], pp.119–64, Papers relative to the proposed union of British Columbia and Vancouver Island; 1867, XLVIII, [3852], pp.282–332, Further papers relative to the union of British Columbia and Vancouver Island . . . . Alta (San Francisco), 15 June 1867. British Columbian (New Westminster, B.C.), 13 Feb. 1862, 13 May 1863, 21 May 1864. Daily British Colonist (Victoria), 15, 16, 27 Jan., 7, 27 Feb. 1861; 20–30 Oct., 5 Nov. 1862; 4 March, 6 Oct. 1863; 1864, especially 22 Feb., 21 March, 9 July, 10, 20, 23, 29 Aug., 5, 27 Oct.; 1865–66, especially January–February 1865, 25 April 1866. Daily British Colonist and Victoria Chronicle, 25 June, 3 July, 29 Aug., 2, 3 Oct., 19, 24, 27 Dec. 1866; 25, 26 July 1867. Daily Chronicle (Victoria), 6 Nov. 1862, 18 March 1864, 25 April 1866. Evening Post (Victoria), 24 April 1866. Evening Telegraph (Victoria), July–December 1866, especially 5 July, 20, 21, 29 Aug., 12, 25, 29, 30 Sept., 1–5 Oct. New Westminster Times (New Westminster, B.C.), 24 Sept.–24 Dec. 1859; 3 March 1860; 2, 13 Feb. 1861. Press (Victoria), 1861–62, especially 9 March, 6 April, 27 Aug., 15 Oct. 1861. Times (San Francisco), 15 June 1867. E. C. Kemble, A history of California newspapers, 1846–1858, ed. H. H. Bretnor (Los Gatos, Calif., 1962), 165. Barry Mather and M. [L.] McDonald, New Westminster: the royal city ([Don Mills, Ont.], 1958), 35–36. P. F. Palmer, "A fiscal history of British Columbia in the colonial period" (unpublished phd thesis, Stanford University, Calif., 1932). R. L. Smith, "Governor Kennedy of Vancouver Island and the politics of union, 1864–1866" (unpublished ma thesis, University of Victoria, 1973). L. A. Wrinch, "Land policy of the colony of Vancouver Island, 1849–1866" (unpublished ma thesis, University of British Columbia, Vancouver, 1932), 123–68.
© 1976–2023 University of Toronto/Université Laval
Image Gallery

Cite This Article
H. Keith Ralston, "McCLURE, LEONARD," in Dictionary of Canadian Biography, vol. 9, University of Toronto/Université Laval, 2003–, accessed December 3, 2023, http://www.biographi.ca/en/bio/mcclure_leonard_9E.html.
The citation above shows the format for footnotes and endnotes according to the Chicago manual of style (16th edition). Information to be used in other citation formats:
| | |
| --- | --- |
| Permalink: | http://www.biographi.ca/en/bio/mcclure_leonard_9E.html |
| Author of Article: | H. Keith Ralston |
| Title of Article: | McCLURE, LEONARD |
| Publication Name: | Dictionary of Canadian Biography, vol. 9 |
| Publisher: | University of Toronto/Université Laval |
| Year of publication: | 1976 |
| Year of revision: | 1976 |
| Access Date: | December 3, 2023 |