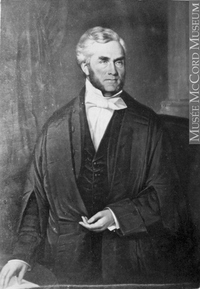 Source: Link
MORRIS, JAMES, politician, merchant, and banker; b. 1 Nov. 1798 at Paisley, Renfrewshire, Scotland, third son of Alexander Morris and Janet Lang; m. Emily Rosamond Murney, daughter of Henry Murney of Kingston, and they had nine children; d. 23 Sept. 1865 at Brockville, Canada West.
James Morris' family immigrated to Upper Canada in 1801 and settled briefly in Elizabeth-town (Brockville). They returned to Scotland in November 1802, but later re-established themselves at Brockville, James arriving in 1808. He was educated partly at the academy of William Nelson, father of Wolfred Nelson, at William Henry (Sorel), Lower Canada. There is evidence that as early as 1820 James Morris was cooperating in business with his older brothers, Alexander and William*. By 1836 James was cashier of the Commercial Bank of the Midland District at Brockville and his various enterprises prospered. He was a surety in the amount of a £5,000 bond when his brother William was appointed receiver general in the William Henry Draper* administration in September 1844. By 1860 he held 358 shares in the Commercial Bank, 80 in the Bank of Montreal, 18 in the Bank of Upper Canada, and 44 in the Niagara District Bank. He was engaged in mercantile and banking activity based at Brockville throughout his life and was one of the spokesmen for bankers in the assembly. Morris was associated at various times with W. H. Merritt, and had a close understanding with Isaac Buchanan*, both liberals and businessmen of stature. Morris' daughter Janet married W. H. Merritt Jr.
Morris had entered public life in 1825 when he was first appointed a justice of the peace in the Johnstown District. In 1835 he was commissioned a coroner for the Bathurst District and he served on the Brockville Board of Police after 1832. He was involved in public meetings held at Brockville in that year which urged the government to press on with the building of canals to improve navigation on the St Lawrence River. On 20 Sept. 1838 he was appointed a commissioner to administer funds raised by debenture for building canals on the river, and he continued in this appointment throughout the period of canal building. The name given to Morrisburg honoured his work for the canals.
Morris was present on 11 Dec. 1839 at a public meeting in Toronto which proposed the establishment of a Presbyterian college at Kingston. Between 1840 and 1844 he was one of four trustees of Queen's College who dealt with finances and selected a site. In these same years he acted as a spokesman in the legislature for Presbyterian congregations in Montreal, Smiths Falls, and Brockville, aiding his brother William, who was leading the Presbyterian challenge to the clergy reserve legislation of Governor General Sydenham [Thomson*]. By the end of the decade, however, James Morris had joined the Church of England.
First elected to the legislature for Leeds at a by-election in July 1837, Morris retained the seat until his appointment to the Legislative Council in November 1844. He had presented himself in 1837 as an independent, a "conservative," who supported the British connection but who was opposed to "establishing any church as dominant." He voted in favour of the union of the two Canadas, explaining that it was not a time for "faction." He was, however, a reformer, a liberal by temperament and insight. Adam Fergusson considered him in 1840 one of three true liberals of the older Reform tradition which antedated the Clear Grits. John Ross* feared in 1842 that he was more radical than A. N. Buell* and the allies of Robert Baldwin* in the eastern part of Canada West. Buell in November 1842 recommended Morris to Baldwin for appointment to the Legislative Council, describing him as a friend of liberals, who had used his status and position as a justice of the peace to protect them in the time of bigotry following the 1837 rebellion. In the tensions arising from the Rebellion Losses Bill and the Annexation Manifesto of 1849 Morris despondently wondered whether "as colonists we shall ever have peace." He considered the government's use of armed police to control the disturbances in 1849 and the unrest among railway workers in 1856 "wholly unnecessary and dangerous to the peace and liberties of the people."
It is clear that throughout the Baldwin era Morris was not of the inner circle, but a respected associate and supporter. On 22 Feb. 1851 he was appointed the first Canadian postmaster general in the Baldwin–La Fontaine ministry, when the responsibility for that service passed from the British to the Canadian government [see Thomas Allen Stayner]. As public administrator he showed energy and considerable ability. Two days after his appointment he arranged that Sandford Fleming* design and engrave the first Canadian postage stamps, including the 3d. "Beaver," 6d. "Prince Albert," and 12d. "Queen Victoria." Also within days of his appointment he was in Washington negotiating the terms for a new postal treaty with the United States. It was Morris who reduced and standardized the postal rate for letters at 5¢, and who launched a policy of establishing post offices as widely as possible.
A member of the Board of Railway Commissioners from 1851 to 1853, Morris was also a government director of the Grand Trunk Railway from 1852 until 1854. On 16 Aug. 1853 he was appointed speaker of the Legislative Council, holding that office till the fall of the Francis Hincks* and A.-N. Morin ministry in September 1854. His association with Hincks appears to have been intimate until about 1854, but after Hincks' defeat there were public recriminations, Hincks accusing Morris of communicating with his "malignant enemy," William McDougall*, the editor of the Clear Grit North American. However, Morris wrote in 1855 that the A. N. MacNab–Morin coalition which succeeded Hincks was a "political monstrosity" unequalled in any country. He was again speaker in the George Brown*–A.-A. Dorion* "Short Administration" in August 1858. Morris concluded his public career as receiver general in the ministry led by John Sandfield Macdonald* and L.-V. Sicotte*, serving from May 1862 till he was incapacitated by a stroke in November 1863.
Throughout his career Morris held a series of commissions in the militia, being appointed lieutenant in the 2nd battalion of Carleton militia in the Johnstown District on 20 Aug. 1821, lieutenant-colonel of the 3rd Leeds Light Infantry in June 1828, and lieutenant-colonel of the 1st battalion of Leeds militia on 5 Nov. 1846.
When Morris died the Toronto Globe spoke of the loss of one who had been a steady member of the Reform party through trials and triumphs, a man of great shrewdness, tact, and knowledge of affairs. J. C. Dent* was more restrained in referring to him as thoroughly upright and well intentioned but without any remarkable vigour or understanding.
MTCL, Robert Baldwin papers; James Morris papers. PAC, MG 24, D16, 48, pp.39052–131; RG 8, I(C series), 275, pp.28–39; RG 68, 1, General index, 1651–1841. PAO, Morris (Alexander) papers. QUA, William Morris papers; Queen's records, A3; B, 1840–44; D1, 1840–44. Brockville Recorder (Brockville, [Ont.]), 13 Dec. 1824–12 Oct. 1843. Globe, 30 Sept. 1865. Cornell, Alignment of political groups. Dent, Last forty years.
© 1976–2023 University of Toronto/Université Laval
Image Gallery

Cite This Article
P. G. Cornell, "MORRIS, JAMES," in Dictionary of Canadian Biography, vol. 9, University of Toronto/Université Laval, 2003–, accessed October 2, 2023, http://www.biographi.ca/en/bio/morris_james_9E.html.
The citation above shows the format for footnotes and endnotes according to the Chicago manual of style (16th edition). Information to be used in other citation formats:
| | |
| --- | --- |
| Permalink: | http://www.biographi.ca/en/bio/morris_james_9E.html |
| Author of Article: | P. G. Cornell |
| Title of Article: | MORRIS, JAMES |
| Publication Name: | Dictionary of Canadian Biography, vol. 9 |
| Publisher: | University of Toronto/Université Laval |
| Year of publication: | 1976 |
| Year of revision: | 1976 |
| Access Date: | October 2, 2023 |