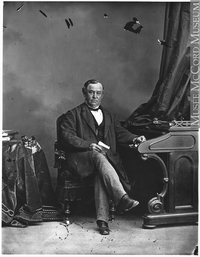 Source: Link
ROSS, JOHN, lawyer, politician, and businessman; b. in County Antrim, Ireland, 10 March 1818; d. 31 Jan. 1871, at Toronto, Ont.
John Ross was brought to Canada as an infant and was educated in Johnstown District (Leeds and Grenville counties) and Brockville. At 16 he was articled to Andrew Norton Buell and later to George Sherwood. He was called to the bar of Upper Canada in 1839 and set up practice at Belleville. The roots of both his business and his political career lay in Belleville and the surrounding Hastings County, but acquaintance with the families of Levius Peters Sherwood* and George Crawford* and with William* Jr and A. N. Buell in Brockville introduced Ross to a circle of political, legal, and financial connections that he constantly enlarged. Alexander Tilloch Galt*'s brother Thomas was for a time a partner of Ross. Godparents of his sons included Robert Baldwin*, David Lewis Macpherson*, Philip VanKoughnet, and A. T. Galt. In September 1855 he wrote of Francis Hincks*: "He and I have been like brothers for so many years that I find it hard to part from him." Because of his work for the Grand Trunk Railway Company his associations also extended to the financial interests of London, England.
Business affairs had prospered sufficiently by early 1847 to allow Ross to marry Margaret, the daughter of George Crawford. She died before the year was out, and on 4 Feb. 1851 he married Robert Baldwin's daughter, Augusta Elizabeth, at St James' Cathedral in Toronto; they had three sons. They resided in Belleville for several years; by 1857 they were established in Yorkville near Toronto. Here Ross practised law in partnership with Abram William Lauder* and Thomas Charles Patteson, but he continued his practice in Belleville with John Bell and later Thomas Holden.
In a letter of 1867 to John A. Macdonald*, Ross wrote: "my politics can best be described according to the facts. Up to the year 1854 I was follower first of Mr. Baldwin and then of Mr. Hincks. I then joined the coalition government with you, and have supported you and your policy ever since." When just 23 Ross had campaigned vigorously for Baldwin's election to the Legislative Assembly in 1841 and had persuaded him to stand for Hastings. A special confidence grew up between the two men, based in part on an identity of political views but reinforced by mutual sympathy in widowerhood and later in the relationship of father and son-in-law. From 1841 to 1848 John Ross was Baldwin's loyal aid and adviser in the area from Hastings to Grenville counties. He was rewarded on 1 Dec. 1848 with a seat on the Legislative Council. Ross did not treat the appointment as a sinecure, but continued to lead an active political and official career from the "Upper House."
John Ross' service in public office extends from late 1851 to early 1862. He was appointed solicitor general for Canada West without a seat in the cabinet on 12 Nov. 1851. Hincks brought him into the cabinet as attorney general for Canada West on 22 June 1853. When Hincks was defeated and withdrew from politics in the late summer of 1854, his mantle fell upon Ross who entered the Allan Napier MacNab* – Augustin-Norbert Morin* government as leader of the moderate Reformers. His presence in the cabinet as speaker of the Legislative Council was viewed as a pledge that a number of measures advocated by the Hincks-Morin government would be carried into law by the new coalition government. In the next years the political tensions apparent in the Legislative Assembly were echoed within the cabinet. John Ross repressed the full measure of his frustration in the meetings of the executive, but wrote of them privately. He distrusted Lewis Thomas Drummond*, and lacked sympathy for Joseph-Édouard Cauchon* and François-Xavier Lemieux*. He felt that MacNab was not effective and seemed always to be dealing with a mob of hangers-on. By 18 April 1856 the moderate Reformers had lost confidence in MacNab and were drifting into opposition. Ross resigned his speakership in the Legislative Council and strove to rally the moderate Reformers to support John A. Macdonald who was emerging as the new leader of the government. Macdonald brought Ross back into the government on 2 Feb. 1858 as receiver-general and member of the Board of Railroad Commissioners. Following the brief interlude of the George Brown – Antoine-Aimé Dorion* administration of 2–4 August, George-Étienne Cartier appointed Ross president of the Executive Council and minister of agriculture on 7 Aug. 1858. He continued in these offices until his resignation from government 26 March 1862.
Ross was an effective administrator as well as an astute politician. His official correspondence reveals a clear concise mind, and the long continuity of his service in office confirms that he was reliable. Much of his correspondence to Baldwin and Macdonald is filled with well-founded speculation about contemporary political affairs. He was a trusted lieutenant of Hincks, serving at times as his special "trouble shooter" in Washington and London in the 1850s, and there making use of his political as well as administrative and financial talents. His role is one of the antecedents of the office of high commissioner in London. Cartier took Ross along as well as Galt when he went to London in October 1858 to press for British North American federation. On 5 November Ross had an audience with Queen Victoria and spoke of the possibility of a royal visit to Canada. A part of Ross' usefulness to the mission of 1858 was that he was well regarded in some influential British financial circles.
Hincks appointed Ross one of the six government directors of the newly projected Grand Trunk Railway on 11 Nov. 1852, and dispatched him immediately to London. There, in the next months, Ross was at the centre of the intricate negotiations that brought together financial resources and experienced contractors and resulted in the Grand Trunk Railway prospectus of 12 April 1853. At the request of the British financial interests Ross was then appointed president of the railway. His effectiveness as president was in maintaining the legal and administrative machinery of the company and in coordinating in one policy the disparate pressures of various financial interests, the contractors, and the Canadian government. At the same time he fended off threats from competing railroads and the opposition in the Canadian parliament. On 20 Feb. 1857 he was the first witness to give evidence before the select committee of the House of Commons enquiring into the future of the Hudson's Bay Company. He appeared as a former Canadian minister and an expert witness concerning the development of railroads to the west. He remained president of the Grand Trunk until 1862 when the company was reorganized and Sir Edward W. Watkin succeeded to the office.
After 1862 John Ross receded from public attention into private business, but his attendance in the Legislative Council was regular. In 1867 he was appointed to the Senate. He was a director of the Northern Railway Company of Canada, a charter member of the Dominion Bank in 1869, and from 1862 to 1869 lieutenant colonel in the 2nd Battalion of Toronto militia. He died in Toronto in 1871 "after a long painful illness."
MTCL, Baldwin papers. PAC, MG 24, B11 (Baldwin papers), ser.2, 5; B40 (George Brown papers), ser.1, 2; D16 (Buchanan papers), 53; MG 26, A (Macdonald papers), 260. St James' Cathedral (Toronto), baptismal and marriage registers. G.B., Parl., House of Commons paper, 1857 (Session ii), XV, 224, 260 (whole volume), Report from the select committee on the Hudson's Bay Company . . . , "Minutes of evidence . . . ," 1–357. Robert Ross, friend of friends; letters to Robert Ross, art critic and writer, together with extracts from his published articles, ed. Margery Ross (London, [1952]). Canada, an encyclopædia, I. The Canada directory . . . 1851, ed. R. W. S. Mackay (Montreal, 1851). Can. directory of parliament (Johnson), 508–9. Encyclopædia of Canada, V. Mitchell & Co.'s Canada classified directory for 1865–66 (Toronto, n.d.). Mitchell's Toronto directory for 1864–5 (Toronto, 1864). Morgan, Sketches of celebrated Canadians, 612–14. Careless, Brown, I; Union of the Canadas. Creighton, Macdonald, young politician. R. S. Longley, Sir Francis Hincks; a study of Canadian politics, railways, and finance in the nineteenth century (Toronto, 1943). Sissons, Ryerson, II. O. D. Skelton, The life and times of Sir Alexander Tilloch Galt (Toronto, 1920). G. R. Stevens, Canadian National Railways (2v., Toronto, 1960), I. D. W. Swainson, "Business and politics: the career of John Willoughby Crawford," Ont. Hist., LXI (1969), 225–36.
© 1972–2023 University of Toronto/Université Laval
Image Gallery

Cite This Article
Paul Cornell, "ROSS, JOHN (1818-71)," in Dictionary of Canadian Biography, vol. 10, University of Toronto/Université Laval, 2003–, accessed December 3, 2023, http://www.biographi.ca/en/bio/ross_john_1818_71_10E.html.
The citation above shows the format for footnotes and endnotes according to the Chicago manual of style (16th edition). Information to be used in other citation formats:
| | |
| --- | --- |
| Permalink: | http://www.biographi.ca/en/bio/ross_john_1818_71_10E.html |
| Author of Article: | Paul Cornell |
| Title of Article: | ROSS, JOHN (1818-71) |
| Publication Name: | Dictionary of Canadian Biography, vol. 10 |
| Publisher: | University of Toronto/Université Laval |
| Year of publication: | 1972 |
| Year of revision: | 1972 |
| Access Date: | December 3, 2023 |