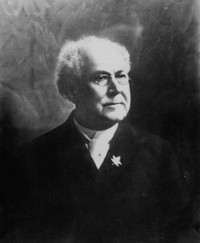 MUIR, ALEXANDER, schoolteacher, office holder, poet, songwriter, and militiaman; b. 5 April 1830 in Lesmahagow, Scotland, son of John Muir, a schoolmaster, and Catherine McDiarmid, a widow; m. first Agnes Thomson (d. 1864), and they had two sons and a daughter; m. secondly 21 Nov. 1865 Mary Alice Johnston, and they had one son and one daughter; d. 26 June 1906 in Toronto.
Alexander Muir was brought to Canada in 1833 and received his early education from his father, who taught in a log-cabin school in Scarborough Township, just east of Toronto. The family was associated with the local Presbyterian church where Alexander, who possessed a strong baritone voice, served as precentor; he had little musical training beyond choral activities in the church. Like many Scottish immigrants, the Muirs placed a high priority on education; in 1851 Alexander graduated from Queen's College, Kingston, with a ba. Throughout his life he sustained an enthusiasm for outdoor sports and competitive games, participating in track and field, lacrosse, curling, rowing, and quoits; in his later years he assumed executive responsibilities with a number of athletic organizations. From time to time he briefly pursued an interest in journalism, and from April 1875 to January 1876 he was village clerk of Newmarket.
After graduating, Muir began a career as schoolteacher and principal in Scarborough, in Leslieville and Yorkville (both now part of Toronto), in Newmarket and Beaverton, and in Parkdale (also now absorbed into the capital), before moving to the city in 1880. Eight years later he became the first principal of Toronto's Gladstone Avenue School, and he remained in this post until he died. Reputedly, Muir was progressive in his teaching methods and, unlike some of his contemporaries, did not rely on the harsh discipline of the birch cane. Through poetry, music, and athletics he tried to instil in his students a deep respect for Canada and its history.
Proud of his British background, Muir showed an intense loyalty to the flag and to the empire. These sentiments can be seen in a wide variety of institutional affiliations: from 1861 to 1867 he was a private in the 2nd Battalion of Rifles (Queen's Own Rifles of Toronto) [see William Smith Durie*] and was present at the skirmish in Ridgeway during the Fenian raids of 1866 [see Alfred Booker*; John O'Neill*]; he was president of the Army and Navy Veterans' Association (1892) and served as bard for the Militia Veterans of '66 (1894); moreover, he was a staunch Presbyterian, a member of the Toronto Orange lodge, and a supporter of politician D'Alton McCarthy*. But Muir is best known as the author of "The maple leaf for ever," written in October 1867 while he was living in Leslieville. George Leslie, a friend who operated a nursery business in the community named after him, is said to have suggested to Muir while walking with him outside Muir's home that a maple leaf might form the basis for a last-minute entry in a patriotic song competition sponsored by Montreal's Caledonian Society. Whether this or other accounts of the song's origins are correct, Muir completed the lyrics within hours and sent them that day. The song won second prize (James David Edgar*'s entry placed first) and, at the urging of friends, Muir decided to publish it. When a search for a suitable melody failed, he wrote his own tune. He spent thirty dollars to print 1,000 copies of the song but realized proceeds of only four dollars. Because he had not secured copyright, he received no royalties from the lucrative edition published by the company of Abraham* and Samuel Nordheimer in 1871. Of his other patriotic songs – in all, four were published between 1890 and 1900 – none enjoyed the widespread acceptance of "The maple leaf for ever." Indeed, it became so popular within the country's English-speaking population that it was often referred to as Canada's national song. Its use, however, had diminished dramatically long before 1980, when "Ô Canada," by Calixa Lavallée* and Adolphe-Basile Routhier*, was approved as the official national anthem. Muir's song had been doomed as a potential national anthem, of course, by its pro-British sentiment. Lyrics celebrating Canada as a place where "the Thistle, Shamrock, Rose entwine / The Maple Leaf for ever" exclude the fleur-de-lis, and the description of Major-General James Wolfe* as "the dauntless hero" inevitably alienated Canadians of French origin.
Muir's last school was renamed in his honour shortly after his death. Money raised over the years by public subscription to build a memorial to him was used in 1933 to create a public park. The maple tree outside his Leslieville home was "pampered" by the Toronto parks department because of its association with his song, until 2013 when it was knocked down during a storm.
[Two versions of the text of "The maple leaf for ever" appear in J. R. Robertson, "Alexander Muir's life," Robertson's landmarks of Toronto, 6: 496–586, which also includes a number of his other poems as well as photographs of the subject at various stages in his life. A statement in Alexander Muir, patriot and poet (reprinted from the Toronto Sentinel [Toronto?, 1958?]), a pamphlet published by the Orange order, to the effect that "he carried to his grave a stiff left arm as the result of a wound he received in the Northwest Rebellion" has eluded confirmation. j.p.g.]
Toronto Board of Education, Records, Arch. and Museum, Alexander Muir/Gladstone Junior and Senior Public School, vert. file. Globe, 27–28 June 1906; 20 July 1923: 4. Globe and Mail, 25 Jan. 1968. Toronto Daily Star, 27 June 1906: 12. Toronto Star, 23 April 1977: F6. E. S. Caswell, Canadian singers and their songs; a collection of portraits, autograph poems and brief biographies ([3rd ed.], Toronto, 1925). Encyclopedia of music in Canada (Kallmann et al.), 593, 613, 653, 729–30. J. A. Morrison, "The author of 'The maple leaf,'" Dalhousie Rev., 26 (1946–47): 85–92. Selections from Scottish Canadian poets; being a collection of the best poetry written by Scotsmen and their descendants in the Dominion of Canada [ed. Daniel Clark et al.] (Toronto, 1900), 294–95. [Ethel Willson Trewhella et al.], History of the town of Newmarket (n.p., [1968?]), 193.
Revisions based on:
Globe and Mail, 22 July 2013.

© 1994–2023 University of Toronto/Université Laval
Cite This Article
J. Paul Green, "MUIR, ALEXANDER," in Dictionary of Canadian Biography, vol. 13, University of Toronto/Université Laval, 2003–, accessed October 2, 2023, http://www.biographi.ca/en/bio/muir_alexander_13E.html.
The citation above shows the format for footnotes and endnotes according to the Chicago manual of style (16th edition). Information to be used in other citation formats:
| | |
| --- | --- |
| Permalink: | http://www.biographi.ca/en/bio/muir_alexander_13E.html |
| Author of Article: | J. Paul Green |
| Title of Article: | MUIR, ALEXANDER |
| Publication Name: | Dictionary of Canadian Biography, vol. 13 |
| Publisher: | University of Toronto/Université Laval |
| Year of publication: | 1994 |
| Year of revision: | 2021 |
| Access Date: | October 2, 2023 |