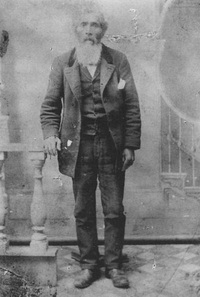 Source: Courtesy of Wikimedia Commons
NAUKANA (Nanton, Manton, Nowkin), WILLIAM, also known as Likameen, Lakamine, or Lackaman, HBC employee and settler; b. 1813 in the Sandwich (Hawaiian) Islands; d. December 1909 and was buried at Fulford Harbour, B.C.
Family tradition has it that William Naukana was related to the Hawaiian royal family, possibly to Naukane, a sometime royal retainer who first travelled to the northwest coast of North America in 1811 under the name of John Coxe. His native islands were favoured wintering and stopover points for European merchant vessels in the 19th century. Local men, called Owhyhees or more often Kanakas, which was a Polynesian term for persons of aboriginal blood, might be taken on as crew members. Some soon returned home or continued as seamen, but others went ashore at ships' destinations. Those who did so on the northwest Pacific coast often ended up working in the fur trade alongside Orkney Islanders and French Canadians as boatmen, blacksmiths, farm help, mill-hands, and general labourers. From the mid 1820s the Hudson's Bay Company, which had inherited some Kanaka labourers from the companies that preceded it in the Pacific northwest, recruited Kanakas on contract for its posts. Altogether three or four hundred were employed in the fur trade there during the 19th century, and some of them stayed on in British Columbia to make an important contribution to pioneer life.
The comparatively menial positions that Kanakas occupied in the fur trade and the ease with which names were altered to facilitate pronunciation or for other reasons make it difficult to trace individual lives. Only from time to time does William Naukana emerge from the shadows of the past. He may have arrived in the Pacific northwest as early as 1835, although the first point at which he can be specifically identified as an HBC servant is in 1845–46, when he was at Fort Vancouver (Vancouver, Wash.). He was employed on contract in the New Caledonia district (B.C.) in 1846–18 and at Fort Langley (near Langley) in 1848–49, Thompson's River Post (Kamloops) in 1850–51, and Fort Victoria (Victoria) in 1853–56. In old age Naukana recalled long HBC hunting expeditions through unsurveyed territory and spoke affectionately of a personal relationship with chief factor and governor James Douglas*, for whom he sometimes served as interpreter. Naukana disappears from the company records after 1856, and it is likely he was part of a group of Kanakas who later went to work on the San Juan Islands. He is known to have been there in the 1860s. According to one story, he had first returned to the Sandwich Islands but, learning that the family land had been made part of a sugar-cane plantation, he had come back to the Pacific northwest.
In 1859 the San Juan Islands had become the object of a dispute between Britain and the United States, and in 1872 they were awarded to the Americans through international arbitration. Many of the Kanakas who had settled on them decided to move to British soil, where they enjoyed greater civil liberties, including rights to own land, become citizens, and vote. Naukana and his good friend John Palua (Palan) took up property on tiny Portland Island, just south of Salt Spring Island where numerous other Kanakas farmed and fished. He spent his remaining years on Portland and at nearby Isabella Point on Salt Spring. In 1889 he was naturalized as a British subject.
The Kanakas on Salt Spring and the neighbouring smaller islands long maintained a sense of community through geographical proximity, membership in St Paul's Catholic Church, which they helped build, traditional feasts extending for weeks on end, and intermarriage from the second generation on. Most early Kanakas established personal relationships with native women, and Naukana was no exception. During the 1850s and 1870s he fathered a son who died young and six daughters. Two of the daughters married fellow Kanakas and the others European or part-European settlers. The position of leadership in the community which has been attributed to him appears to derive at least in part from his longevity. He died at the age of 96 and is buried alongside several of his pioneer contemporaries at St Paul's Church.
[Stories concerning William Naukana's life passed down through the family were related to the author by his great-granddaughter Rosemary Tahouney Unger of Victoria in an interview of 27 June 1990. Naukana's certificate of naturalization, dated 5 Dec. 1889, was also passed down through the family and is currently in Rosemary Unger's possession. j.b.]
BCARS, D-19, Portland Island file; Tape 3807.1 (oral hist. interview conducted by Amber Hindle with Jack and Paul Roland, 22 June 1977). NA, RG 31, C1, 1881, Salt Spring Island, household 162; 1891, Salt Spring Island, household 43. PAM, HBCA, William Naukana file. Daily Colonist (Victoria), 23 Dec. 1909. J. K. Duncan, "Minority without a champion: the Kanaka contribution to the western United States, 1750–1900" (ma thesis, Portland State Univ., Portland, Oreg., 1972) [a 25-page summary version of this dissertation has been published by the Oreg. Hist. Soc. as J. K. Duncan, Minority without a champion: Kanakas on the Pacific coast, 1788–1850 (Portland, 1972)]. Bea Hamilton, Salt Spring Island (Vancouver, 1969). Susan Kardas, '"The people bought this and the Clatsop became rich': a view of nineteenth century fur trade relationships on the lower Columbia between Chinookan speakers, whites, and Kanakas" (phd thesis, Bryn Mawr College, Bryn Mawr, Pa, 1971). E. M. Naughton, "Hawaiians in the fur trade: cultural influence on the northwest coast, 1811–1875" (ma thesis, Western Wash. Univ., Bellingham, 1983). T. K. Ovanin, Island heritage buildings: a selection of heritage buildings in the Islands Trust area (Victoria, 1984; repr. 1987).
© 1994–2023 University of Toronto/Université Laval
Image Gallery

Cite This Article
Jean Barman, "NAUKANA, WILLIAM, Likameen, Lakamine, Lackaman," in Dictionary of Canadian Biography, vol. 13, University of Toronto/Université Laval, 2003–, accessed September 24, 2023, http://www.biographi.ca/en/bio/naukana_william_13E.html.
The citation above shows the format for footnotes and endnotes according to the Chicago manual of style (16th edition). Information to be used in other citation formats:
| | |
| --- | --- |
| Permalink: | http://www.biographi.ca/en/bio/naukana_william_13E.html |
| Author of Article: | Jean Barman |
| Title of Article: | NAUKANA, WILLIAM, Likameen, Lakamine, Lackaman |
| Publication Name: | Dictionary of Canadian Biography, vol. 13 |
| Publisher: | University of Toronto/Université Laval |
| Year of publication: | 1994 |
| Year of revision: | 1994 |
| Access Date: | September 24, 2023 |