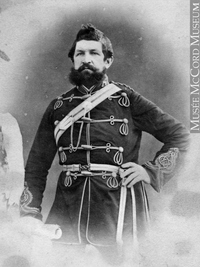 Source: Link
OGILVIE, ALEXANDER WALKER, miller, militia officer, jp, politician, and businessman; b. 7 May 1829 in Côte-Saint-Michel (Montreal), son of Alexander Ogilvie, a farmer and miller, and Helen Watson; m. 13 Sept. 1854 Sarah Leney in Montreal, and they had one son and four daughters; d. there 31 March 1902 and was cremated at Mount Royal Cemetery.
Alexander Walker Ogilvie was the eldest son in a family of 11 children. Alexander Sr operated a flourmill, which was probably located in the faubourg Des Récollets, in partnership with his brother-in-law William Watson*. Until 1854 he also owned a farm in Côte-Saint-Michel on the outskirts of Montreal, where the family lived in a spacious home surrounded by trees, with three fireplaces and large dormer windows. In 1837 he moved his millstones to premises with a capacity of 100 barrels a day, which he had built near the Lachine Canal beside the Saint-Gabriel lock, and he put another brother-in-law, James Goudie, in charge of it. Young Alexander helped with the chores on the farm and went to the local school; subsequently he attended the Howden and Taggart academy in Montreal. He intended to become a farmer like his father, but the high price of farms resulting from land speculation, and an offer from his uncle James Goudie, caused him to revise his plans. On 23 March 1852 he went into partnership with him to operate the mill on the Lachine Canal under the corporate name of Goudie and Ogilvie.
Ogilvie moved to Montreal and had a residence built for himself on Rue Saint-Joseph (Rue Saint-Sulpice) at a time when the economic climate was right for the growth of the milling industry. New markets were developing as a result of the Crimean War, the Reciprocity Treaty, and the urbanization of Europe and North America. Westward expansion in the United States was enlarging the wheat-growing region, while the construction of railways and the improvement of canals facilitated transportation. A series of important innovations that in the long run would transform milling was made: Cyrus Hall McCormick's harvester in 1834, grain elevators in 1836, which made it possible to store grain by variety, the Hungarian process of grinding by millstones and cylinders in 1839, and the introduction of red Galician wheat into Upper Canada by David Fife* in 1842. This combination of circumstances made the Ogilvie family's success possible.
Along with Goudie, Ogilvie built an addition to the operation on the Lachine Canal, which was known as the Glenora Mills, equipping it with steam power and a machine to husk barley. In 1855 Goudie left the business and sold his interests to him, as did Ogilvie's father, apparently. Ogilvie went into partnership on 4 April with his younger brother John, letting him have a third of the shares in the firm. They formed A. W. Ogilvie and Company, a milling operation with an estimated value of £5,000. Their brother William Watson Ogilvie* would join the partnership in 1860. William eventually concentrated mainly on running affairs in Montreal; John was responsible for obtaining supplies of wheat and for expanding the company in Ontario; Alexander kept for himself the management of financial matters. All three relied on the most up-to-date technology and western expansion to establish the firm on a solid footing.
William's arrival freed Alexander from administrative details, enabling him to play a more important role in public life. He and his brothers had enrolled in the 1st Volunteer Troop of Militia Cavalry in 1856 and in 1860 he had been made a lieutenant-colonel. According to his son-in-law John Alexander Gemmill, who wrote The Ogilvies of Montreal, he commanded one of the regiments called out on 24 Feb. 1860 to quell the riot that broke out on the second day of the mayoralty election, in which Benjamin Holmes* was running against Charles-Séraphin Rodier*. On 28 June he was appointed a justice of the peace for the District of Montreal. He also served on the committee organizing a reception to honour the Prince of Wales. Ogilvie was very well off financially and made a point of diversifying his holdings and flaunting them. He was one of the first shareholders of the Sun Insurance Company of Montreal (Sun Life) in 1865 and purchased a large residence called Cherry Hill, on what is now Boulevard René-Lévesque, that year for $18,000. From 1865 to 1868 he represented the West Ward on the municipal council and he served on the lighting and finance committees.
At that time the future of the British North American colonies, to which the destiny of A. W. Ogilvie and Company was linked, was of the utmost concern to Ogilvie. He was an ardent supporter of Canadian confederation and of a tariff system favourable to industrialization. He was active in the Liberal-Conservative party and in 1866 belonged to the Tariff Reform and Industrial Association. In 1867 he campaigned for Thomas D'Arcy McGee*, who was a federal candidate in Montreal West, and he himself won the provincial seat for the riding by acclamation. Bilingual and tolerant, he remained on good terms with the French-speaking members. In the Legislative Assembly he defended the principles of sound administration of public affairs, the right of Protestants to have their own school system, and the interests of businessmen and of the Montreal region. He decided not to seek re-election and from September 1870 to May 1871, according to Gemmill, he travelled in Scotland, England, and several continental European countries, including Hungary, where he studied a technique for grinding flour that he later adapted for his own company.
Ogilvie increasingly divided his time among his company, the world of finance, philanthropic works, and sporting activities. His interests kept him away from the administration of the mill and on 21 Oct. 1874 he withdrew from A. W. Ogilvie and Company. He ran for election again in 1875, this time in Montreal Centre, where he defeated Charles Alexander. This return to political life coincided with his move to one of the most luxurious residences in Montreal, Airlie, which he had had built on Edgehill Avenue. Two years later he distinguished himself as a magistrate. The death of the young Orangeman Thomas Lett Hackett in Montreal on 12 July, during the Orange order's annual celebration, threatened to lead to a confrontation between Irish Catholics and Protestants. On the 16th, the day of the funeral, ignoring the view of Montreal mayor Jean-Louis Beaudry* that the police could keep control, Ogilvie called out the militia. Assuming the role of principal magistrate, he accompanied the militia lieutenant-colonels through the troubled streets, thereby averting a brawl. He did not run in the general election of 1878 and returned to private life.
His retirement was brief. On 24 Dec. 1881 Ogilvie was appointed senator for the division of Alma, an office he held until January 1901. He played an active role in standing committees of the Senate and often chaired the committee of the whole. Senator Donald McMillan said he was a "man of quick perception – readily grasping the purport and essentials of a parliamentary measure . . . and he was particularly clear, lucid and expressive in his addresses in the House and in the committees." He remained involved in the world of business, both as president of the National Insurance Company, which he had founded in 1875 with a few shareholders including Matthew Henry Cochrane and Alphonse Desjardins*, and as a director of the Montreal Loan and Mortgage Company and the Montreal Turnpike Trust. In 1883, with Louis-Adélard Senécal*, Joseph Barsalou*, Charles-Polycarpe Hébert, and some other businessmen, he helped found the Citizens Gas Company of Montreal. He was also active in philanthropic organizations such as the Montreal Workingmen's Mutual Benefit and Widows and Orphans Provident Society, of which he was a director, and for more than 20 years he served as a director of the Mount Royal Cemetery Company on behalf of the Presbyterian Church. But Sun Life made considerable demands on his time and money, as did the Exchange Bank of Canada and the Montreal Loan and Mortgage Company, which were enterprises of the Gault family, with whom he was closely linked until his death. In the spring of 1883, in a vain attempt to save the Exchange Bank from failure [see Mathew Hamilton Gault*], the federal government made a loan of $300,000, of which $100,000 was guaranteed personally by Ogilvie. The loan did not prevent bankruptcy, and it led to a suit being brought against Ogilvie in 1898 by a Liberal government eager to have the money repaid. In March 1889 he had given up his dream of becoming president of Sun Life and contented himself with the vice-presidency; since he was convinced that the company's president must henceforth be its chief executive officer, he probably did not want to bear the burden of that office.
Ogilvie died on 31 March 1902 following an attack of pneumonia. He is said to have been the first person to be cremated in the facilities of the Mount Royal Cemetery. Stockily built and just above average height, he created an impression by the strength of his character and by the mental and physical power he radiated. A man of vision and action, he was a natural leader who helped found and build some of the greatest Canadian companies.
AC, Montréal, Cour supérieure, déclarations de sociétés, 1, nos.383 (1852), 731 (1855), 1673 (1860); 6, no.344 (1875); État civil, Presbytériens, St Andrew's Church (Montreal), 2 April 1902. ANQ-M, CE1-125, 13 juin 1829, 13 sept. 1854. Baker Library, R. G. Dun & Co. credit ledger, Canada, 5: 292. Gazette (Montreal), 9 July 1867, 13 July 1877. Globe, 30 Oct. 1866. La Minerve, 25 févr. 1860, 17 juill. 1877. Monetary Times, 4 Dec. 1883, 4 Feb. 1887. Montreal Daily Star, 13–14 July 1877, 2 April 1902. Borthwick, Hist. and biog. gazetteer. Can., House of Commons, Debates, 1882; Senate, Debates, 1882–84, 1889–90, 1895. Can., Prov. of, Statutes, 1865, c.43. Canadian biog. dict. Canadian men and women of the time (Morgan; 1898). J. I. Cooper, Montreal; a brief history (Montreal, 1969). CPG, 1883. Cyclopædia of Canadian biog. (Rose and Charlesworth), vol.2. Directory, Montreal, 1842–43, 1850–1902. J. C. Fleming, Orangeism and the 12th of July riots in Montreal (Montreal, 1877). [J. A. Gemmill], The Ogilvies of Montreal, with a genealogical account of the descendants of their grandfather, Archibald Ogilvie (Montreal, 1904). G. H. Harris, The president's book; the story of the Sun Life Assurance Company of Canada (Montreal, 1928). Industrial Canada (Toronto), 48 (1947–48): 154. Naylor, Hist. of Canadian business. Qué., Assemblée Législative, Débats, 1867–70, 1875–78; Statuts, 1875, c.84. W. J. Rattray, The Scot in British North America (4v., Toronto, 1880–84), 3. Rumilly, Hist. de Montréal, vols.2–3. Joseph Schull, The century of the Sun; the first hundred years of Sun Life Assurance Company of Canada (Toronto, 1971). SCR, vol.29. G. R. Stevens, Ogilvie in Canada; pioneer millers, 1801–1951 ([Toronto, 1951]). The storied province of Quebec; past and present, ed. William Wood et al. (5v., Toronto, 1931–32), 3: 193–94. Robert Sweeny, A guide to the history and records of selected Montreal businesses before 1947 (Montreal, [1978]). Terrill, Chronology of Montreal. G. J. J. Tulchinsky, The river barons: Montreal businessmen and the growth of industry, and transportation, 1837–53 (Toronto and Buffalo, N.Y., 1977). B. J. Young, Promoters and politicians: the north-shore railways in the history of Quebec, 1854–85 (Toronto, 1978).
© 1994–2023 University of Toronto/Université Laval
Cite This Article
Michèle Brassard and Jean Hamelin, "OGILVIE, ALEXANDER WALKER," in Dictionary of Canadian Biography, vol. 13, University of Toronto/Université Laval, 2003–, accessed June 5, 2023, http://www.biographi.ca/en/bio/ogilvie_alexander_walker_13E.html.
The citation above shows the format for footnotes and endnotes according to the Chicago manual of style (16th edition). Information to be used in other citation formats:
| | |
| --- | --- |
| Permalink: | http://www.biographi.ca/en/bio/ogilvie_alexander_walker_13E.html |
| Author of Article: | Michèle Brassard and Jean Hamelin |
| Title of Article: | OGILVIE, ALEXANDER WALKER |
| Publication Name: | Dictionary of Canadian Biography, vol. 13 |
| Publisher: | University of Toronto/Université Laval |
| Year of publication: | 1994 |
| Year of revision: | 1994 |
| Access Date: | June 5, 2023 |