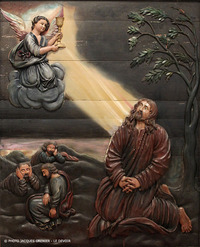 Source: Link
QUÉVILLON, LOUIS (occasionally Couvillon or Cuvillon, but he always signed Louis Quévillon), woodworker, wood-carver, and contractor; b. 14 Oct. 1749 at Saint-Vincent-de-Paul (Laval, Que.), fourth of the eight children of Jean-Baptiste Quévillon and Marie-Anne Cadieux; d. there unmarried 9 March 1823.
Louis Quévillon's father, a habitant and militia captain of Saint-Vincent-de-Paul, died on 10 Dec. 1754. On 24 May 1756 his mother married François Chabot, a habitant from the same village. In her marriage contract she bound her second husband to look after the children of her first marriage. Louis was then six. He must have learned to read and write at an early age. Undoubtedly he did his apprenticeship in woodworking with a master carpenter during the 1760s. In this he was following in the footsteps of his older brother, Jean-Baptiste, himself a master joiner.
Quévillon began his career in woodworking at Saint-Vincent-de-Paul in the early 1770s. Around 1787 he was residing in Saint-Eustache. In 1790 he was back at Saint-Vincent-de-Paul, and six years later he was living at Belœil. Subsequently he settled down permanently at Saint-Vincent-de-Paul. Little is known about his activity before 1790. He shingled roofs and made window frames, doors, and chests of drawers. According to a newspaper of the period he learned wood-carving on his own, with the support and encouragement of some parish priests.
Early in the 1790s Quévillon began decoration of churches in the area around Saint-Vincent-de-Paul, at Sault-au-Récollet (Montreal North), and at Rivière-des-Prairies (Montreal). In the period between 1792 and 1800 he did work on the south shore of the St Lawrence, at Belœil, Saint-Ours, Saint-Marc, Saint-Mathias, and Varennes, carving tabernacles, the bases of altars, pulpits, and candlesticks. At Varennes he produced a retable (the structure housing the altar), his first large-scale creation. In 1798–99 he did various small pieces for the parishes in the north part of Montreal Island, at Saint-Laurent, Rivière-des-Prairies, and Sault-au-Récollet.
Between 1800 and 1805 Quévillon contracted to do large decorative works in the parishes of Nicolet, Verchères, Boucherville, Lanoraie, Vaudreuil, and Saint-Denis on the Richelieu. He also attempted at that time to break into the market in the Quebec region; he undertook projects at Saint-Henri-de-Lauzon (Saint-Henri), Saint-Michel, Rivière-Ouelle, and Sainte-Anne-de-la-Pocatière (La Pocatière). The volume of his production suggests that he collaborated with another wood-carver. It is probable that Joseph Pépin* was his apprentice; they had known each other at least since 1791, when they were both living in Saint-Vincent-de-Paul, and in 1803 Pépin was doing wood-carving with Quévillon at Boucherville. No partnership agreement between the two wood-carvers for that period has been found, however.
From 1805 to 1810 Quévillon did wood-carving gilding, silvering, and painting for the churches at Sainte-Thérèse-de-Blainville (Sainte-Thérèse), Rigaud, Lachenaie, Saint-Hyacinthe, Belœil, Saint-Eustache, Sainte-Anne-des-Plaines, Saint-Laurent on Île d'Orléans, L'Assomption, Cap-Santé, Saint-Jean-Baptiste-de-Rouville, Soulanges (Les Cèdres), and the parish of Notre-Dame in Montreal. Later his collaboration with Pépin became more evident; they worked together at Belœil and Soulanges. Amable Charron* worked with Quévillon between 1808 and 1812, as did Urbain Desrochers* at Saint-Michel in 1809.
Between 1810 and 1815 Quévillon undertook wood-carvings to decorate the parish churches of Sainte-Rose (Laval), Longueuil, Saint-Cuthbert, and Terrebonne. René Beauvais*, dit Saint-James, apparently began to collaborate with Quévillon at that time. Charron and others also joined him for the woodcarvings at Saint-Michel and Saint-Martin (Laval). In 1812 Paul Rollin* and Quévillon were working as partners.
On 3 Feb. 1815 Quévillon formed a partnership with Pépin, Beauvais, dit Saint-James, and Rollin. They contracted for the wood-carving at Pointe-Claire, which was taken in hand by André Achim after the dissolution of their association. Pieces contracted for prior to their partnership were carried out independently. Accordingly Quévillon did carvings in the parishes where he had made previous agreements, and among other things he did the relievo for the Stations of the Cross at the mission of Lac-des-Deux-Montagnes (Oka). The four worked together on the carvings for the church in Varennes. Their association was dissolved in January 1817 and Quévillon then joined with Beauvais, dit Saint-James. Subsequently he worked in the churches at Repentigny, Chambly, Verchères, Saint-Martin, and on Île Dupas. With Beauvais, dit Saint-James, he did carving, gilding, and painting in the churches of Saint-Eustache and Sainte-Geneviève.
Throughout his career Quévillon had many apprentices, undertaking to teach them the woodworker's and wood-carver's craft and to provide them with board and lodging. Around 1815, for example, the workshop was employing some 15 people, whose tasks were undoubtedly well defined. The number of parishes in which Quévillon did carving is impressive, about 40. His works and those from his shop were numerous, but many have been lost in fires. His retable in the church of Verchères can still be viewed, as can a few pieces of church furniture in the Musée du Québec, the museum of the Collège Saint-Laurent, the Montreal Museum of Fine Arts, and the National Gallery.
Louis Quévillon standardized the different elements in his wood-carvings. He created a process of mass production. His gift lay in making maximum use of the apprentices and journeymen in his shop and thus in successfully utilizing specialized but inexpensive labour. Quévillon displayed no great originality in his production. Over and over again he used motifs and forms that had been created by Philippe Liébert*. But unlike Liébert he emphasized quantity of output and in the space of 20 years flooded the market in the Montreal region. In his workshop he established the standards for 19th-century religious wood-carving.
ANQ-M, CE1-4, 14 oct. 1749; CE1-22, 14 févr. 1803; CE1-59, 10 déc. 1754, 24 mai 1756, 15 juill. 1791, 30 oct. 1808, 11 mars 1823; CN1-16, 19 sept. 1812; CN1-47, 4 mars 1790; CN1-68, 12 févr. 1817; CN1-96, 19 juin 1808; 19 févr., 13 juill. 1812; 2 sept. 1816; 25 janv., 17 avril, 10 oct. 1817; 15 févr. 1820; 14 oct. 1822; CN1-98, 25 juill. 1744; 19 mai, 10 juin 1756; CN1-108, 17 mars 1745; CN1-121, 14 mai 1810; CN1-136, 30 avril 1809; CN1-158, 28 juin 1774; CN1-167, 25 mai 1801; CN1-273, 5 mai 1810, 1er févr. 1811; CN1-295, 14 juill. 1796; CN1-317, 5 mars 1820; CN1-334, 3 févr. 1815; CN1-383, 14 juill. 1816; CN1-391, 6 sept. 1819, 11 oct. 1820; CN3-2, 11 juill. 1818, 12 févr. 1820; CN3-7, 29 déc. 1770; CN3-11, 16 févr. 1787, 28 déc. 1806. ANQ-MBF, CN1-6, 12 oct. 1800; CN1-31, 9 févr. 1803; CN1-79, 26 avril 1816. ANQ-Q, CN3-17, 4 août 1805, 4 août 1806. MAC-CD, Fonds Morisset, 2, dossier Louis Quévillon. F.-M. Bibaud, Le Panthéon canadien (A. et V. Bibaud; 1891). [L.-A. Huguet-Latour], Annuaire de Ville-Marie, origine, utilité et progrès des institutions catholiques de Montréal . . . (2v., Montréal, 1863–82). Émile Vaillancourt, Une maîtrise d'art en Canada (1800–1823) (Montréal, 1920). Gérard Morisset, "Louis Quévillon, fondateur de l'école des Ecorres, 1749–1823," La Patrie (Montréal), 2 oct. 1949: 112. Émile Vaillancourt, "La maîtrise des Ecorres: l'œuvre de Louis Quévillon," La Presse, 24 déc. 1926: 19.
© 1987–2023 University of Toronto/Université Laval
Cite This Article
Nicole Cloutier, "QUÉVILLON, LOUIS," in Dictionary of Canadian Biography, vol. 6, University of Toronto/Université Laval, 2003–, accessed December 6, 2023, http://www.biographi.ca/en/bio/quevillon_louis_6E.html.
The citation above shows the format for footnotes and endnotes according to the Chicago manual of style (16th edition). Information to be used in other citation formats:
| | |
| --- | --- |
| Permalink: | http://www.biographi.ca/en/bio/quevillon_louis_6E.html |
| Author of Article: | Nicole Cloutier |
| Title of Article: | QUÉVILLON, LOUIS |
| Publication Name: | Dictionary of Canadian Biography, vol. 6 |
| Publisher: | University of Toronto/Université Laval |
| Year of publication: | 1987 |
| Year of revision: | 1987 |
| Access Date: | December 6, 2023 |