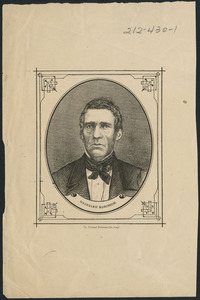 ROBINSON, HEZEKIAH, businessman, justice of the peace, and office holder; b. 12 June 1791 in Newfane, Vt, son of Jonathan Robinson and Sarah Taylor; d. 7 Feb. 1851 in Waterloo, Lower Canada.
Hezekiah Robinson came from an American family of Congregational persuasion, and received his education at the college in Newfane. At the age of 18 he was working as a carder and manufacturer of "ready mades" in summer and as a schoolteacher in winter. On 30 June 1817 he married Selucia Knowlton, the elder daughter of Luke Knowlton, acting judge of Windham County, Vt, and they were to have nine children. In May 1821 he immigrated to Stukely Township in Lower Canada, following the path of his father-in-law, who had settled there with his family when the Eastern Townships were opened to the loyalists.
On arriving in Stukely, Robinson, who was now a merchant by trade, bought properties and opened a carding-mill. But in October 1821, realizing that the adjoining township of Shefford, which was supplied with water by the Rivière Yamaska and Lac Waterloo, would be a more advantageous location for his business, he bought from Lazard Létourneau lot 21 of the 4th concession, on which stood a frame-house, grist-mill, and sawmill. He built a carding-mill on the lot and repaired the other mills, which were operating again by 1 June 1823.
In succeeding years Robinson extended his business activity and became prosperous. He opened the Old Stone Store in 1829, where he did a flourishing trade in general merchandise. A year later he put up a house and a sawmill next to his store. However, Robinson did not have the money to carry out the further repairs he wished to make on his mills. In 1832 he went into partnership with Peasley and Copp, businessmen of Georgeville, who provided him with the capital to make the desired improvements. The old grist-mill was repaired and met the needs of the local inhabitants until 1835, when a new mill was erected. At this period Robinson also built a pearl-ash works.
Robinson's unswerving honesty won him the respect and confidence of the inhabitants of Shefford County, and as a result on several occasions he was given important positions. Thus in 1830 Sir James Kempt, the administrator of Lower Canada, appointed him justice of the peace for the district of Montreal; his commission was renewed in 1837 and 1838. In 1836 one of Kempt's successors, Lord Gosford [Acheson*], selected him as the first postmaster of Shefford County. During the rebellion of 1837–38 Robinson demonstrated his unquestioned loyalty to the government.
In 1841 Peasley, Copp, and Robinson was dissolved. The following year Robinson went into partnership with his son Jonathan and his son-in-law Roswell Albert Ellis to establish Robinson, Ellis and Company, transferring to his partners one-half of his productive assets, which were then valued at £902 15s. 0d. In 1847 he made over a third of his remaining assets in order to give each of his partners a share equal to his own. Three years later, just before his death, another son, Hezekiah Luke, bought Ellis's share, so that the Robinsons could form Robinson and Sons.
During the 1840s Robinson also engaged in land speculation. He bought properties in Shefford Township, on one of which the main part of Waterloo was later built. He sold several lots at high prices to rentiers, artisans, or people who had been farmers and wanted to settle in the new village. In addition he sold the land he owned in Stukely Township. These transactions seem to have made Robinson wealthy, as witness the 35 or so contracts he concluded between 1843 and 1850. However, his interests were not confined to speculation. For charity or the common good he gave 17 acres to the Church of England, which he had joined soon after coming to Lower Canada. It was on this ground that the Anglican church in Waterloo was erected in 1843, and Robinson was its largest regular contributor.
Hezekiah Robinson died on 7 Feb. 1851 at Waterloo. He was then a justice of the peace and the chief local magistrate. He was mourned by his wife and nine children. His sons Jonathan and Hezekiah Luke took over the firm and continued to do business in and about Shefford County. Robinson had become wealthy through speculation in land and at the same time had made an important contribution to the development of the southwestern part of the Eastern Townships.
ANQ-E, CE2-42, 12 févr. 1851. BE, Shefford (Waterloo), reg. B, 1, -8, -10. Brome County Hist. Soc. Arch. (Knowlton, Que.), 1, Samuel Willard papers, corr.; 8, Miscellaneous family papers. PAC, RG 68, General index, 1651–1841: 369. Vt., Public Records Division (Montpelier), Newfane Congregational Church, reg. of marriages, 30 June 1817. Vt. Hist. Soc. (Montpelier), Newfane Congregational Church, reg. of baptisms, 12 juin 1791. British Colonist and St. Francis Gazette (Stanstead, [Que.]), 1821–31. Le Canadien, novembre–décembre 1834. La Gazette de Quebec, 1764–1823; novembre–décembre 1834. La Minerve, novembre–décembre 1834. Missiskoui Standard (Frelighsburh, [Que.]), 1835–39. Montreal Gazette, 1823; December 1831–March 1833; November–December 1834; 1851. Quebec Mercury, November–December 1834. St. Francis Telegraph (Sherbrooke, Que.), 12 Nov. 1851. Sherbrooke Gazette and Eastern Townships Advertiser, 1832–51. Stanstead Journal (Rock Island, Que.), 1851–52. J. P. Noyes, Sketches of some early Shefford pioneers ([Montreal], 1905), 113–15, 125. Centennial proceedings and other historical facts and incidents relating to Newfane, the county seat of Windham County, Vermont (Brattleboro, Vt., 1877), 74, 77–79. Robserre Monnier, Naissance et évolution architecturale et urbaine de Waterloo de 1650 à 1900 dans son contexte: l'Estrie (Québec, 1979). Cyrus Thomas, Histoire de Shefford, Ovila Fournier, trad. (Île-Perrot, Qué., 1973), 31–35; The history of Shefford, civil, ecclesiastical, biographical and statistical (Montreal, 1877), 43–50. Fernand Bélanger, "'Old Stone Store': la bâtisse incendiée de Waterloo aurait eu 150 ans," La Voix de l'Est (Granby, Qué.), 5 mai 1978: 1, 5; "Un autre incendie majeur frappe la ville de Waterloo," 29 avril 1978: 1. Richard Danis, "Waterloo voudra-t-elle préserver l'historique Old Stone Store?" La Voix de l'Est, 7 août 1978: 2.
© 1985–2023 University of Toronto/Université Laval
Image Gallery

Cite This Article
Andrée Désilets, "ROBINSON, HEZEKIAH," in Dictionary of Canadian Biography, vol. 8, University of Toronto/Université Laval, 2003–, accessed December 2, 2023, http://www.biographi.ca/en/bio/robinson_hezekiah_8E.html.
The citation above shows the format for footnotes and endnotes according to the Chicago manual of style (16th edition). Information to be used in other citation formats:
| | |
| --- | --- |
| Permalink: | http://www.biographi.ca/en/bio/robinson_hezekiah_8E.html |
| Author of Article: | Andrée Désilets |
| Title of Article: | ROBINSON, HEZEKIAH |
| Publication Name: | Dictionary of Canadian Biography, vol. 8 |
| Publisher: | University of Toronto/Université Laval |
| Year of publication: | 1985 |
| Year of revision: | 1985 |
| Access Date: | December 2, 2023 |