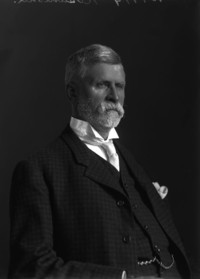 ROSAMOND, BENNETT, manufacturer and politician; b. 10 May 1833 in Carleton Place, Upper Canada, eldest son of James Rosamond and Margaret Wilson; m. 24 July 1852 Adair Mary Roy in Smiths Falls, Upper Canada, and they had two sons and a daughter; d. 18 May 1910 in London, England, and was buried in Almonte, Ont.
Bennett Rosamond was educated at the grammar school in Carleton Place. In 1857 his father moved the family and his woollen factory to nearby Almonte, on the Mississippi River, where he hoped to exploit superior water-power. Two years later, 26-year-old Bennett entered his father's business. In 1862 he and his brother William took over the Victoria Woolen Mills from the elder Rosamond and began an ambitious program of expansion under the name of B. and W. Rosamond and Company. Within two years they had doubled the capacity of the mills and in 1866 they brought into the business George Stephen*, who provided an important link to Montreal financial interests. His contacts would lead to the Rosamonds' involvement in the Canada Cotton Manufacturing Company at Cornwall, formed in 1872, and in the Cobourg Woollen Company, incorporated in 1885.
The 1860s witnessed rapid improvement in the technology of woollen production, which offered important advantages to progressive firms. In 1866 the Rosamonds built a large new factory on Coleman's Island in Almonte; it manufactured chiefly fine-wool fabrics, for which there was increasing demand but which necessitated the importation of most of the Rosamonds' wool. In addition, the firm erected a smaller mill to manufacture blankets. Five years later a joint-stock company, the Rosamond Woollen Company, was set up, with a capitalization of $300,000. Although Stephen was a partner, control of the company rested firmly in the hands of Bennett Rosamond, who was president and managing director until his death.
In 1882 Rosamond expanded once again, this time founding the Almonte Knitting Company with the help of a number of Montreal businessmen, including Donald Alexander Smith* and James Alexander Cantlie. The firm, which manufactured undershirts and drawers, was capitalized at $100,000. Initially managing director, Rosamond became vice-president in 1892 and president in 1898. By then the company had increased the number of its outlets and in 1899 it was employing selling agents in Montreal and Toronto. This mill, like the other Rosamond mills, owed its success in part to Rosamond's practice of bringing over specialists from Britain and continually upgrading his machinery. In 1892 the Toronto Globe could refer to it as "the finest in the Dominion, and it is doubtful whether for completeness and perfection of its mechanical appliances it can be surpassed on the continent." The prominence of Rosamond's operations was evident too in his growing role within the Canadian Manufacturers' Association. First a member of the executive committee, he served as president in 1890.
Within Almonte Rosamond behaved in the traditional manner of local patriarchs. He was active in municipal affairs, as a township councillor and reeve and in the 1880s as mayor of Almonte; in addition, he was chairman of the Board of Education. He donated to the town a hospital, named after himself, supported St Paul's Church (Anglican), and was involved in a plan to conserve the upper waters of the Mississippi. Toward his factory workers he could be benign, treating them to Christmas parties, sponsoring a choir, and providing them with a "spacious croquet lawn." In return, he expected and generally received their support for his ventures into politics.
Rosamond ran for the Legislative Assembly in 1864 as a dark-horse Conservative candidate in Lanark North, but lost decisively to William McDougall. In the federal election of 1872, the Perth Courier reported, his "factory hands were present en masse" at the nomination meeting; as a result of a schism among the Conservatives, Rosamond was again defeated. Only weeks later and against the advice of friends, he ran in the provincial by-election in Lanark North, but narrowly lost to William Clyde Caldwell. Caldwell beat him once more in 1883. Rosamond nevertheless remained an active Conservative, and his ties to the federal government of Sir John A. Macdonald* were cemented by the National Policy, which placed no duty on imported wool but protected producers of woollen clothing. In 1891 Rosamond won the federal by-election in Lanark North; he sat in the House of Commons until 1904. He devoted most of his time and energy there to defending the protective tariff and the woollen industry, especially after 1897, when the Liberal government's revision of the tariff effectively allowed British woollens in at greatly reduced rates.
For nearly 50 years Rosamond provided the strength and leadership in the family's business enterprises, as well as acted as a voice for the Canadian woollen industry. The fortunes of his companies, peaking in the 1890s and declining in the early 20th century, reflected the fate of that industry. In his personal life he did not fare as well. His early marriage caused him great unhappiness and led to separation within a decade. The son whom he had groomed to take over his business, John M., predeceased him, as did his other children. These events may help explain the harsh, practical image of Bennett Rosamond. He died in England in 1910, en route home from southern France, where he had spent the winter. His estate, valued at more than $296,000, went to his grandson, George Stuart Rosamond, a rancher at Innisfail, Alta. The management of the woollen business was taken over by his nephew, Alexander George Rosamond.
AO, RG 22, ser.168, no.2506. Almonte Express (Almonte, [Ont.]), 1861–62. Almonte Gazette, 1872; 20 May–3 June 1910. Globe, 24 Sept. 1892. Ottawa Valley Journal (Ottawa), 29 May 1910. Perth Courier (Perth, Ont.), 28 Oct.–11 Nov. 1864; 2, 16, 30 Aug. 1872. Toronto Daily Mail, 26 March 1887. Canadian directory of parl. (Johnson). Canadian Manufacturer (Toronto), 1 June 1888. Canadian men and women of the time (Morgan; 1898). Canadian textile directory . . . (Montreal), 1885: 23; 1888/89: 313. [J. J.] B. Forster, "Finding the right size: markets and competition in mid- and late nineteenth-century Ontario," Patterns of the past: interpreting Ontario's history . . . , ed. Roger Hall et al. (Toronto and Oxford, 1988), 150–73. Index to incorporated bodies and to private and local law under dominion, and Manitoba, Ontario and Quebec statutes, proclamations and letters patent . . . , comp. P.-[H.] Baudouin (Montreal, [1897]). Ont. marriage notices (Wilson). Prominent men of Canada (Adam). R. [M.] Reid, "The Rosamond Woolen Company of Almonte: industrial development in a rural setting," OH, 75 (1983): 266–89.
© 1994–2023 University of Toronto/Université Laval
Cite This Article
Richard M. Reid, "ROSAMOND, BENNETT," in Dictionary of Canadian Biography, vol. 13, University of Toronto/Université Laval, 2003–, accessed October 2, 2023, http://www.biographi.ca/en/bio/rosamond_bennett_13E.html.
The citation above shows the format for footnotes and endnotes according to the Chicago manual of style (16th edition). Information to be used in other citation formats:
| | |
| --- | --- |
| Permalink: | http://www.biographi.ca/en/bio/rosamond_bennett_13E.html |
| Author of Article: | Richard M. Reid |
| Title of Article: | ROSAMOND, BENNETT |
| Publication Name: | Dictionary of Canadian Biography, vol. 13 |
| Publisher: | University of Toronto/Université Laval |
| Year of publication: | 1994 |
| Year of revision: | 1994 |
| Access Date: | October 2, 2023 |