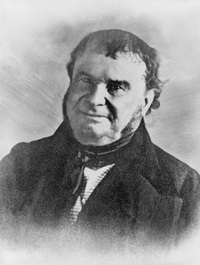 Source: Link
ROWAND, JOHN, fur trader; b. c. 1787 in Montreal, son of Dr John Rowand; d. 30 May 1854 at Fort Pitt (Sask.).
John Rowand's boyhood was spent in Montreal. Although his father was a surgeon there, John had acquired only a rudimentary education when he became an apprentice clerk for McTavish, Frobisher and Company, partners in the North West Company, at age 16. His first posting in 1803 was to Fort Augustus (Edmonton, Alta) on the banks of the North Saskatchewan River and for the next decade he was to serve either at the fort or at one of the nearby outposts. Probably some time around 1810 Rowand broke his leg in a fall from his horse while out buffalo hunting. He was rescued by a mixed-blood woman named Lisette (Louise) Humphraville (Ompherville), probably the daughter of Edward Umfreville*, who became his wife à la façon du pays. Besides her knowledge of Indian custom, Lisette brought to the marriage a valuable herd of horses which added to her husband's prestige among the native people.
In the summer of 1815, as the conflict at the Red River colony (Man.) escalated because of Governor Miles Macdonell*'s ban on the export of pemmican, Rowand rode overland to the settlement to help defend his company's interests. He witnessed the first dispersal of the colony and the next summer was prepared to take on "those H Bay Scamps" but arrived too late, several days after the battle at Seven Oaks (Winnipeg) [see Cuthbert Grant]. By 1820 Rowand's energetic and able service in the Saskatchewan department had earned him a partnership in the NWC. The next year, as a result of the coalition of the Hudson's Bay Company and NWC, he became a chief trader in the HBC. In 1822, in an attempt to counteract the American threat to the company's trade with the Plains tribes, he was appointed to assist Chief Factor Donald McKenzie in the command of the Bow River expedition. A base camp was established for the season up the South Saskatchewan River, but exploring parties along the Red Deer and the Bow rivers found the fur resources of this southern region so poor that the idea of establishing a permanent post was abandoned.
The following year Rowand succeeded to the command of the HBC's Saskatchewan district with headquarters at Fort Edmonton. He was to manage the many responsibilities of the difficult charge successfully for the next 30 years. In addition to its fur returns, Fort Edmonton was also an important centre for provisions. There native hunters traded buffalo meat, which provided hundreds of packs of pemmican each year, and Rowand developed a substantial farm, producing wheat, barley, hay, and potatoes. Fort Edmonton also became a vital link in the HBC's transcontinental transport system; it supplied not only York boats for the navigation of the Saskatchewan River, but also pack-horses for the trans-shipment of cargoes from the Columbia and Peace rivers to Fort Assiniboine (Alta) on the Athabasca River. Every summer Rowand supervised the passage of the large Saskatchewan brigade out to Norway House and York Factory (Man.). Regular in his attendance at the annual meetings of the Council of the Northern Department, where Governor George Simpson much valued his support and advice, Rowand was promoted chief factor in 1826 and was named a councillor of Rupert's Land in 1839.
At the time of the coalition of 1821, the Saskatchewan district was losing money, but within a few years, because of Rowand's superior management, it had become one of the most profitable in the Indian country. Much of his success lay in his ability to deal with the Plains Indians who frequented his post, no easy task since the prairies were constantly in a state of unrest due to the warfare between the Blackfoot confederacy and the Crees and the Assiniboins. The Indians, who referred to him as "Iron Shirt" or "Big Mountain," were impressed with his bravery. A little man and quite lame, Rowand was none the less powerful. He was described in Simpson's "Character book" as being "as bold as a Lion" and, in his relations with the Indians, "so daring that he beards their Chiefs in the open camp while surrounded by their Warriors." Wrongdoers, especially Stoney horse thieves, were severely punished, but fairness was the hallmark of Rowand's trade relations: "No one will say that I ever spoilt Indians. . . . I give them due but they must do their duty."
Although a stern disciplinarian, Rowand was, in fact, a warm-hearted man, and many contemporaries remarked on his friendliness, integrity, and sense of humour. Father Pierre-Jean De Smet*, in summing up his positive traits, remarked that Rowand "unites to all the amiable and polite qualities of a perfect gentleman, those of a sincere and hospitable friend; his goodness and paternal tenderness render him a true patriarch amidst his charming and numerous family." Between 1812 and 1832 Rowand and his wife had three boys and four girls. The father was proud of his two surviving sons, John Jr and Alexander, who became an officer in the HBC and a doctor at Quebec respectively. After his youngest son died at school in Red River in 1835, Rowand became increasingly protective of his daughters. He was afraid to send them away to be educated, providing them with a comfortable home in the Big House, an impressive three-storey structure built at Fort Edmonton after 1829. Only one daughter, Nancy, was married during her father's lifetime, to Chief Trader John Edward Harriott*, who was stationed in the district. Rowand was heart-broken when she died in 1850, a year after his wife, his "old friend" of 40 years.
In 1841 Rowand accompanied his close friend Governor Simpson on part of his trip around the world. At Rowand's instigation, they pioneered a shorter, more southerly route across the Rockies via the Bow River. Rowand then went north with Simpson as far as Fort Stikine (Alaska) in the steamship Beaver, sailed south to California, and ultimately spent several weeks in Hawaii.
Upon his return to the Saskatchewan district, Rowand became increasingly frustrated with the creeping changes and the general decline in the fur trade. Although a nominal Roman Catholic, he had little enthusiasm for the arrival of missionaries such as the Methodist Robert Terrill Rundle* in 1840 and the Roman Catholic Jean-Baptiste Thibault* in 1842, complaining that "the fort is not a place to keep ministers who are never pleased except when the Fort is full of Indians, doing nothing for the Company or themselves except learning to sing salms." The increased demand for supplies meant that the system of transport became overburdened while, at the same time, the quality of the boatmen declined. Rowand came to be regarded as a tyrant by the men, who were subject to his frequent volleys of verbal abuse. "When they misbehave," he wrote to Simpson, "I will tell them of it without fearing to hurt their feelings – they must do their duty as I was made to do mine." To add to his problems, the late 1840s were lean years; the prairie fires that ravaged the plains and the poor buffalo hunts resulted in little pemmican and starving Indians. Rowand also denounced the free traders who were making serious inroads into the company's monopoly.
In 1847–48 Rowand went on furlough to Montreal, the first time he had been east since 1803. By then he was anxious to retire but could not make up his mind where. It was not until the spring of 1854, knowing he was to be replaced, that he decided to go to Montreal. En route he died suddenly at Fort Pitt in May, apparently of a stroke, while trying to break up a fight among the voyageurs. The chief factor died a wealthy man. He left £7,500 to each of his three daughters, whom he had finally sent to a convent at St Boniface (Man.) in 1853, and £3,000 to each of his sons. One of these daughters, Marguerite, later married James McKay*, an HBC employee who became a prominent Manitoba politician, and another, Sophia, married Chief Factor John H. McTavish. Simpson went to considerable trouble to carry out his friend's request to be buried in Montreal beside his father. Rowand's body was disinterred at Fort Pitt in 1856, was taken to Red River, and then, because Simpson feared that the superstitious voyageurs would throw it overboard, was shipped via York Factory and London to Montreal. An impressive tombstone marks his grave in the Mount Royal Cemetery.
At the time of his death John Rowand was the last of the HBC officers who had been commissioned by the deed poll of 1821. For well over 30 years he had been the most influential white man in the Saskatchewan district and, according to Simpson, "was not surpassed by any officer for unswerving devotion to the public interests."
ANQ-M, CN1-29, 20 avril 1803. PAC, MG 19, A21, ser.1, 16; E1, ser.1, 22 (copies). PAM, HBCA, D.4/18: f.11d; D.4/74: ff.409–10; D.4/75: ff.671a–72; D.5/6: ff.13–16; D.5/10: ff.43–44; D.5/22: ff.371–72. PRO, PROB 11/2199: 777. Catholic Church records of Pacific northwest (Munnick). P.-J. De Smet, Life, letters and travels of Father Pierre-Jean De Smet, S.J., 1801–1873 . . . , ed. H. M. Chittenden and A. T. Richardson (4v., New York, 1905). William Gladstone, "William Gladstone's diary," ed. Freda Graham, Lethbridge Herald (Lethbridge, Alta.), 15 April–5 Nov. 1958. [J.] H. Lefroy, "Sir Henry Lefroy's journey to the north-west in 1843–4," ed. W. S. Wallace, RSC Trans., 3rd ser., 32 (1938), sect.ii: 67–96. Simpson, "Character book," HBRS, 30 (Williams), 151–236. J. G. MacGregor, John Rowand, czar of the Prairies (Saskatoon, Sask., 1978). Ross Mitchell, "John Rowand, chief factor," Beaver, outfit 266 (June 1935): 37–40. H. E. Rawlinson, "Chief Factor John Rowand," Alberta Hist. Rev. (Edmonton), 5 (1957), no.2: 9–14; "The portrait of Chief Factor John Rowand," Beaver, outfit 293 (summer 1962): 36–37.
© 1985–2023 University of Toronto/Université Laval
Cite This Article
Sylvia Van Kirk, "ROWAND, JOHN," in Dictionary of Canadian Biography, vol. 8, University of Toronto/Université Laval, 2003–, accessed December 10, 2023, http://www.biographi.ca/en/bio/rowand_john_8E.html.
The citation above shows the format for footnotes and endnotes according to the Chicago manual of style (16th edition). Information to be used in other citation formats:
| | |
| --- | --- |
| Permalink: | http://www.biographi.ca/en/bio/rowand_john_8E.html |
| Author of Article: | Sylvia Van Kirk |
| Title of Article: | ROWAND, JOHN |
| Publication Name: | Dictionary of Canadian Biography, vol. 8 |
| Publisher: | University of Toronto/Université Laval |
| Year of publication: | 1985 |
| Year of revision: | 1985 |
| Access Date: | December 10, 2023 |