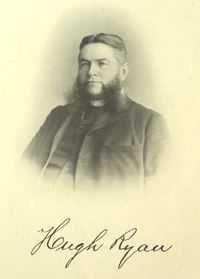 Source: Link
RYAN, HUGH, businessman and philanthropist; b. July 1832 in County Limerick (Republic of Ireland), eldest son of Martin Ryan and Margaret Conway; m. 20 March 1858 Margaret Walsh in Perth, Upper Canada, and they had four sons and four daughters; d. 13 Feb. 1899 in Toronto.
In 1841 Hugh Ryan immigrated with his family to a farm near Montreal. At age 18 he took a construction job on the St Lawrence and Atlantic Rail-road, an experience that would lead him to make public works, especially railways, his life's work. Many of the family moved to Perth in the 1850s, where Hugh and his brother John formed H. and J. Ryan and obtained contracts to build two sections of the Brockville and Ottawa Railway. In the early to mid 1860s Hugh undertook contracts on railways in Michigan, Kentucky, and Illinois. No doubt some of this work was available because of the shortage of contractors for civilian projects during the Civil War. In 1865 Ryan, James C. Foster, and Alphonse Brooks of Brockville (Brooks, Foster and Company) became subcontractors on the Pictou branch of the Nova Scotia Railway. Ryan and Brooks then built a sizeable portion of the western extension of the European and North American Railway, in New Brunswick and Maine. During the period 1870–75 the two and another man, a New Brunswick contractor (James or George Brown), formed Brown, Brooks, and Ryan to build, under the supervision of chief engineer Sandford Fleming*, the heaviest and most costly section of the Intercolonial: the two bridges over the Miramichi River at Newcastle and six miles of approaches.
Upon completion of this contract, Ryan and Patrick Purcell of Cornwall, Ont., formed the firm of Purcell and Ryan, which, beginning in 1876, did most of the work on the Pacific railway for 112 miles west of Fort William (Thunder Bay). In 1879 Purcell and Ryan joined two of their competitors to create Purcell and Company and this firm obtained the contract for the next 118 miles. Completed in 1883, these contracts established a good reputation for the principals with both Conservative and Liberal governments (Ryan himself was a Liberal) and with the new Canadian Pacific Railway Company. After 1881, however, Ryan played only a small role in the work of Purcell and Company in the west. He moved back to Perth and lived in Toronto for much of 1883–84, during which period he was superintendent of construction for the Toronto–Ottawa line of the Ontario and Quebec Railway Company, which was leased by the CPR. His last large railway contract came in 1887 or 1888 for the controversial Red River Valley Railway (later the Northern Pacific and Manitoba Railway) [see John Norquay*]. In 1887 Ryan settled permanently in Toronto.
In November of the following year a new firm, Hugh Ryan and Company, secured the contract to build a canal at Sault Ste Marie, Ont., as part of the Conservative government's plan for an east-west transportation network. In the firm Ryan was joined once more by his brother John, a railway contractor, and by Michael John Haney, a contractor with whom Hugh had worked on the Manitoba railway. The firm also constructed one of the approaches to the canal and later installed most of the machinery. The specifications for the canal were changed twice during construction. These adjustments necessitated renegotiation of the contract price, a process that involved Toussaint Trudeau, deputy minister of railways and canals. On one of these occasions Ryan was partly responsible for the change. Through his business connections in the Toronto Board of Trade and his government contacts, he had urged a deepening of the canal to the level of the competing American lock. When the United States initiated tolls in 1892 on Canadian vessels using the American canal, because of the Canadian policy of giving rebates to shipping going through to Montreal, Ryan was promised a bonus to complete his contract early, in 1894. The workers, when they learned of this promise, proceeded slowly by day in order to get better-paying night-work and some of them went on strike for higher wages. Ryan grudgingly paid and he brought in steam equipment to speed up operations. He finished on time and on budget. The work done was judged excellent by government-appointed assessors, and Ryan, and others, considered the canal to be his greatest accomplishment.
In 1896 Ryan's friends, particularly in the Roman Catholic Church, pressured the federal government, without success, to put his name forward as one of the Canadians to be honoured during Queen Victoria's upcoming jubilee year. The grounds for this recommendation included Ryan's position as the pre-eminent contractor in Canada, his long career in building public works, and his ability to complete projects to everyone's satisfaction. Yet although the last claim is generally true, it over-simplifies. Ryan had experienced all the normal problems of contracting, which were exaggerated perhaps because his contracts were with governments.
In his contracts he had to deal with workers who demanded more money after a contract had been signed. He also dealt with government engineers who felt they knew better what should be done and with politicians who were suspicious of both his interpretation of contracts and some of the expenses claimed by his firms when contracts were reopened as a result of government changes in design. It took some time for Ryan to get money from Ottawa for his work on the Pacific railway and payment for the Sault canal was still before judicial arbitration when he died.
As Ryan had become better known and more successful in the 1880s and 1890s, he had established business connections outside contracting. Indeed, he had usually been more involved in the business than in the technical end of construction. He was a founder of the Dominion Cable Company and a director of various concerns, among them the Freehold Loan and Savings Company, the Toronto General Trusts Company (later the Trust Corporation of Ontario), the Imperial Bank of Canada, the Toronto Electric Light Company, the Canadian General Electric Company, and the Canadian Locomotive and Engine Company in Kingston. He was as well a Canadian trustee of the Equitable Life Insurance Company, an associate of the Canadian Society of Civil Engineers, and a member of the Toronto Club.
Hugh Ryan gave freely of his business advice to the Catholic Church and was always a generous supporter of charities, with Catholic organizations receiving the greatest share. His most notable contribution was a new wing to St Michael's Hospital, begun in 1895, and the equipment for it, the latter provided after his death by his widow. He served both as a vice-president of St Michael's and as a trustee of the Toronto General Hospital.
A well-read man, Ryan was particularly interested in events in his native Ireland. He gave generously to help the Irish representatives in the British parliament. When Archbishop John Walsh of Toronto and Edward Blake* had the idea in 1895 of an Irish national convention in Dublin, Ryan not only supported it but also served the following year as a delegate.
In October 1898 Ryan contracted Bright's disease, and he declined rapidly. He died four months later, one of the richest men in Toronto; his estate was valued at almost $829,000. He was also one of the most respected men in the city. Though in his will he bequeathed the bulk of his estate to his family and to his siblings' families, he left a substantial amount to a large variety of charities. The major recipients included St Michael's Hospital, the House of Providence, Sunnyside Orphanage, and the Society of St Vincent de Paul. From humble beginnings, he had reached the top through hard work and an excellent business sense, but he never forgot those who had not risen in life.
AO, MU 1109, package 15; RG 55, partnership records, Algoma District, firm index, no.97. Baker Library, R. G. Dun & Co. credit ledger, Canada, 17: 217 (mfm. at NA). NA, MG 28, III 20, Van Horne letter-books, 2–6, 8; MG 29, B6; RG 12, A1, 1969, file 3556-25, pt.i; 1970, file 3556-26, pts.i–vi; RG 43, DII, 1, 2533, nos.5007, 5533, 5717, 5817, 6031; 2538, no.13402. PANS, RG 28, 19, 24–25. St John the Baptist Roman Catholic Church (Perth, Ont.), Reg. of marriages, 20 March 1858 (mfm. at NA). York County Surrogate Court (Toronto), no.13219 (mfm. at AO). Brockville and Ottawa Railway Company, Annual report (Montreal), 1865 (copy at AO). Can., Commissioners of the Intercolonial Railway, Annual report, with returns of cost of survey and management; and correspondence, &c., respecting bridge over Miramichi River (Ottawa), 1872 (copy at AO); Annual report, 1873 (copy at AO); Parl., Public accounts committee, Report with reference to the Sault Ste Marie Canal together with evidence adduced before said committee and exhibits in connection therewith (Ottawa, 1895); Senate, Select committee appointed to inquire into all matters relating to the Canadian Pacific Railway and telegraph west of Lake Superior, Minutes of evidence (Ottawa, 1879). Sandford Fleming, The Intercolonial: a historical sketch of the inception, location, construction and completion of the line of railway uniting the inland and Atlantic provinces of the dominion (Montreal and London, 1876). Catholic Register (Toronto), 16–23 Feb. 1899. Evening News (Toronto), 13, 15 Feb. 1899. Toronto World, 14 Feb. 1899. Canadian men and women of the time (Morgan; 1898). Commemorative biog. record, county York. Mercantile agency reference book, 1869–98. Toronto directory, 1880–90. John King, "Canadian Pacific Railway construction in 1875 at Fort William," Thunder Bay Hist. Soc., Annual report ([Fort William (Thunder Bay), Ont.]), 1926–27: 44–49.
© 1990–2023 University of Toronto/Université Laval
Image Gallery

Cite This Article
Ronald J. Stagg, "RYAN, HUGH," in Dictionary of Canadian Biography, vol. 12, University of Toronto/Université Laval, 2003–, accessed October 4, 2023, http://www.biographi.ca/en/bio/ryan_hugh_12E.html.
The citation above shows the format for footnotes and endnotes according to the Chicago manual of style (16th edition). Information to be used in other citation formats:
| | |
| --- | --- |
| Permalink: | http://www.biographi.ca/en/bio/ryan_hugh_12E.html |
| Author of Article: | Ronald J. Stagg |
| Title of Article: | RYAN, HUGH |
| Publication Name: | Dictionary of Canadian Biography, vol. 12 |
| Publisher: | University of Toronto/Université Laval |
| Year of publication: | 1990 |
| Year of revision: | 1990 |
| Access Date: | October 4, 2023 |