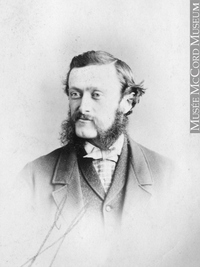 Source: Link
SANDHAM, ALFRED, telegraph operator, social reformer, author, editor, magazine owner, and collector; b. 19 Nov. 1838 in Griffintown (Montreal), son of John Sandham and Elizabeth Tate; m. 1 Aug. 1857 Christina Houston in Mountain Street Methodist Church, Montreal, and they had at least five children; d. 25 Dec. 1910 in Toronto.
Alfred Sandham's father was a painting contractor of modest means from Yorkshire, England, who had settled in Lower Canada with his wife around 1834. Alfred grew up in Griffintown, a largely immigrant neighbourhood where many Irish lived. He attended elementary school but soon gave up studying for work. While still in his teens, he went to New York, where he was employed for two years. Around 1856 he was back in Montreal working as an operator for the Montreal Telegraph Company, which was soon absorbed by the Grand Trunk Railway. He was then sent to the Richmond station, in the Eastern Townships. For a time he lived at Covey Hill, in Hemmingford Township, where his first son, John, was born.
The year 1863 marked a turning-point in Sandham's life. He returned to Montreal and worked with his father and his brother Frederick. He went through a period of profound religious contemplation and, possibly through the influence of his mother, joined the Wesleyan Methodists; on 8 Feb. 1863 he and his brother Henry were baptized in the Mountain Street church. A year later he became secretary of the Young Men's Christian Association of Montreal. Founded in 1844 in London, England, by George Williams, the YMCA sought to foster the social and moral development of young men in urban centres. Having met with some success in a few industrial cities in England, it branched out to North America, where in 1851 the first YMCA was established at Montreal. Then only a modest philanthropic organization, it was overshadowed by the Montreal Mechanics' Institute. For 11 years Sandham assisted the president, T. James Claxton, in giving the association a permanent structure and a sound financial base. In 1867 there were 600 delegates at the North American YMCA convention in the city; its success was largely due to Sandham's organizational skills. During the following years the Montreal YMCA was revitalized and attained considerable importance. Its activities were numerous and varied, and many prominent citizens were members. When he gave up the position of secretary in 1875, Sandham left an association that was growing and on the the move.
Along with his professional endeavours Sandham developed a liking for history and research that would become a veritable passion. In the mid 1860s he joined a group of collectors who made up the Numismatic Society of Montreal. He devoted a great deal of time and money to building up an interesting private collection of medals and coins. He also gathered a miscellany of letters, engravings, drawings, portraits, and autographs relating to the history of Canada and of Montreal in particular. It was at this time that he began to publish the results of his research. He brought out several booklets and monographs; the most important of these is Ville-Marie, or sketches of Montreal, past and present (1870), still in demand as a source of iconographic information about the history of Montreal.
In November 1869 Sandham signed a petition asking the Quebec Legislative Assembly to incorporate the Numismatic and Antiquarian Society of Montreal; the act came into effect on 1 Feb. 1870. As the first editor of the Canadian Antiquarian and Numismatic Journal (Montreal) from 1872 to 1875, he devoted considerable attention to the quality of this publication which, with a few interruptions, would appear until 1933. Through his cultural activities Sandham came into contact with other associations. He contributed to the American Journal of Numismatics (New York) and became a member of several learned societies in Canada and the United States.
In 1876 the Toronto YMCA invited Sandham to come and carry on the work he had undertaken as secretary of the Montreal branch, but he declined. The invitation was repeated in 1880. This time he accepted and left Montreal for good, moving to Toronto with his family. In addition to his work as secretary, Sandham was involved in journalism and the publication of religious material. As publisher of the weekly Faithful Witness, he kept it operating in the black. Later he bought a number of periodicals and magazines brought out and distributed by the Toronto Willard Tract Depository, an evangelical publishing house founded in 1877 by William Holmes Howland*. The financial success of Sandham's enterprises made him sufficiently well-to-do that after a few years he was able to concentrate wholly on his research. He was to be seen working in the Toronto Public Library, classifying collections of manuscripts and correspondence and cataloguing its rich store of Canadian works. He also continued to build up his collection of coins and medals; he kept stamps, seashells, and minerals as well.
Sandham's cultural, religious, philanthropic, and social activities made him a prominent person in Toronto. On 30 Dec. 1884 the YMCA honoured him with a great banquet at which the president, Samuel Hume Blake*, emphasized his important contribution to the life of the association. In 1907, on the occasion of his golden wedding anniversary, Sandham again received many tributes from his fellow citizens. Three years later he died at his home on Baldwin Street on Christmas Day, at the age of 72; he was buried on 28 Dec. 1910. His death came six months after that of his brother Henry, in London, England. He had remained close to Henry, whose artistic career had taken him to various parts of the world, and he had collected many newspaper articles and favourable items about him.
Alfred Sandham is an interesting 19th-century figure. Although from a modest and relatively uneducated background, through his own efforts he became a man of culture and rose to the top in both material and social terms. His life was shaped by his religious convictions and by his involvement in a task to which he always brought fervour, and indeed passion.
[Alfred Sandham's archive consists primarily of newspaper clippings, illustrations, letters, autographs, and various manuscript and printed materials. It is preserved in three public institutions: the MTRL in Toronto (described in Guide to the manuscript collection in the Toronto Public Libraries (Toronto, 1954), 77–78); the Dept. of Rare Books and Special Coll. of McGill Univ. Libraries in Montreal (detailed in Guide to archival resources at McGill University, ed. Marcel Caya et al. (3v., Montreal, 1985), 3: 266); and the NA's library in Ottawa.
All of the works that Sandham published in pamphlet, offprint, or monograph form have been reproduced on microfiche by the CIHM and are listed in its Reg.
An unidentified and undated newspaper clipping in the Sandham collection at McGill states that Mr. C. N. Williamson came to Montreal to exhibit Sandham's extensive collection of graphic and other materials related to the history of the city. This collection comprised 20 volumes of engraved plans, maps, drawings, coats of arms, photographs, manuscript letters, portraits, and illustrated architectural reconstructions. The exhibition, held at the Windsor Hotel around 1900, was to precede the sale of the collection, for which Sandham was asking $1,500. Before his death he did sell several archival and numismatic collections, books, and paintings to organizations and private collectors. g.g.]
ANQ-M, CE1-105, 1er août 1857, 8 févr. 1863. Daily Mail and Empire, 27 Dec. 1910. Evening Telegram (Toronto), 27 Dec. 1910. Canadian men and women of the time (Morgan; 1898). H. C. Cross, One hundred years of service with youth: the story of the Montreal YMCA (Montreal, 1951). Standard dict. of Canadian biog. (Roberts and Tunnell), 1: 456–58.
© 1994–2023 University of Toronto/Université Laval
Cite This Article
Gilles Gallichan, "SANDHAM, ALFRED," in Dictionary of Canadian Biography, vol. 13, University of Toronto/Université Laval, 2003–, accessed June 10, 2023, http://www.biographi.ca/en/bio/sandham_alfred_13E.html.
The citation above shows the format for footnotes and endnotes according to the Chicago manual of style (16th edition). Information to be used in other citation formats:
| | |
| --- | --- |
| Permalink: | http://www.biographi.ca/en/bio/sandham_alfred_13E.html |
| Author of Article: | Gilles Gallichan |
| Title of Article: | SANDHAM, ALFRED |
| Publication Name: | Dictionary of Canadian Biography, vol. 13 |
| Publisher: | University of Toronto/Université Laval |
| Year of publication: | 1994 |
| Year of revision: | 1994 |
| Access Date: | June 10, 2023 |