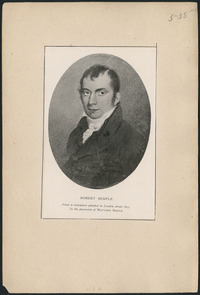 SEMPLE, ROBERT, HBC territorial governor; b. 26 Feb. 1777 in Boston, Mass., son of Robert Semple and Anne Greenlaw; d. 19 June 1816 at the Red River settlement (Winnipeg, Man.).
Robert Semple's parents espoused the loyalist cause and during or after the American revolution the family returned to England. Robert became a merchant and travelled extensively in Europe, Africa, the Near East, and South America. At the time of the Napoleonic Wars his American birth gave him access to European countries from which British subjects were excluded. Out of these journeys came a number of travel books published between 1803 and 1814. It was probably through his mercantile connections that he came to the attention of Lord Selkirk [Douglas], but it has never been clear what qualifications led the earl to arrange his appointment as governor of the Hudson's Bay Company's territories. Semple was named to the post on 12 April 1815 at a salary of £1,500 per annum.
At this point the Red River settlement had already been established for several years. The first of Selkirk's Scottish settlers, led by Miles Macdonell*, had reached the site in the summer of 1812, and other groups had followed. Semple arrived at York Factory (Man.) in August 1815 with a further party of settlers, mostly from Sutherland. There he learned that the colony had been destroyed by the North West Company [see Duncan Cameron* (d. 1848)], which believed itself seriously endangered by the presence of an HBC settlement on its supply lines. By the time Semple arrived at Red River in November, Colin Robertson*, an HBC man on his way from Montreal to the Athabasca country, had begun re-establishment of the community. In mid December Semple went to Fort Daer (Pembina, N.Dak.), where the settlers had been sent for the winter because of the food shortage, and early in 1816 he set out on a tour of company posts on the upper Assiniboine and Qu'Appelle rivers. He returned to Red River at the end of March. Earlier that month Robertson had seized the Nor'Westers' Fort Gibraltar at the forks of the Red and Assiniboine. Semple approved of the seizure. It was a measure, he said, on which he had "fully determined" and which he believed was justified and necessary.
The relationship between Semple and Robertson was an abrasive one. According to Alexander McDonell*, Semple's successor, they were never on "terms of intimacy," and the differences between them mounted in the face of Métis and NWC hostility. Historians have characterized Semple as a vain, indecisive man, who failed to appreciate the lengths to which Nor'Westers would go to destroy the Red River settlement. Robertson judged him "a proud Englishman, rather too conscious of his own abilities." At first Semple respected Robertson's superior knowledge of the country, but he eventually decided to assert his own leadership. Both men hoped to win over the Métis from the Nor'Westers, and Robertson blamed the failure of this policy on Semple's contempt for the Métis. Robertson hoped to blockade the rivers and prevent the Métis from supplying pemmican to the NWC brigades travelling west. Semple was more concerned with provisions for the settlement than with the blockade. He was aware of intended attacks by the Métis, whom the NWC had encouraged to think of themselves as a nation with rights to the land, but he vacillated between taking aggressive steps and attempting a reconciliation with them. Disgusted, Robertson left the settlement on 11 June 1816. He was prepared to return, but Semple said there was no need for him.
On 19 June 1816 a party of some 60 or 70 Métis under Cuthbert Grant*, bringing pemmican from the plains for the NWC brigade, reached the settlement. Although Semple knew of their approach and might have expected an attack, he made no defensive plans. With some 25 settlers and HBC men, but apparently without any aggressive intent, he met the Métis along the Red River at an area known as Seven Oaks (Winnipeg). Too late he realized the danger and sent back to the settlement for cannon. A verbal altercation between Semple and one of the Métis led to a skirmish in which the governor and about 20 of his party were killed. Fort Douglas, the settlement headquarters, surrendered the next day and the settlers again dispersed. Selkirk later found evidence that some of those participating in the massacre had been rewarded by the NWC. Two of Grant's party were tried in York (Toronto) for murder and six Nor'Westers for being accessories. All were acquitted. In the battle at Seven Oaks the violence that had marked the contest for the fur trade of the northwest reached a climax and became a determining factor in the amalgamation of the two fur companies in 1821.
Robert Semple is the author of several travel books, including Walks and sketches at the Cape of Good Hope; to which is subjoined a journey from Cape Town to Blettenberg's Bay (London, 1803); Observations on a journey through Spain and Italy to Naples; and thence to Smyrna and Constantinople: comprising a description of the principal places in that route, and remarks on the present natural and political state of those countries (2v., London, 1807); A second journey in Spain, in the spring of 1809; from Lisbon, through the western skirts of the Sierra Morena, to Sevilla, Cordoba, Granada, Malaga, and Gibraltar; and thence to Tetuan and Tangiers (London, 1809); Sketch of the present state of Caracas; including a journey from Caracas through La Victoria and Valencia to Puerto Cabello (London, 1812); and Observations made on a tour from Hamburg, through Berlin, Gorlitz, and Breslau, to Silberberg; and thence to Gottenburg (London, 1814). He also wrote Charles Ellis, or the friends; a novel (2v., London, 1806).
PAC, MG 19, E1, ser.1, 4: 1442–52, 1652–53; 5: 1711–22; 6: 2180, 2403–4; 7: 2711–17, 2735–52 (transcripts). Edinburgh Rev. (Edinburgh and London), 11 (1807–8): 88–100; 15 (1809–10): 384–96. Report of trials in the courts of Canada, relative to the destruction of the Earl of Selkirk's settlement on the Red River; with observations, ed. Andrew Amos (London, 1820), viii. DNB. Encyclopedia Canadiana. J. M. Gray, Lord Selkirk of Red River (Toronto, 1963), 131, 138–48. M. A. MacLeod and W. L. Morton, Cuthbert Grant of Grantown, warden of the plains of Red River (Toronto, 1963), 33–52. C. [B.] Martin, Lord Selkirk's work in Canada (Toronto, 1916), 96–98, 107–13. Morton, Hist. of Canadian west (1973), 573–77.
© 1983–2023 University of Toronto/Université Laval
Cite This Article
Hartwell Bowsfield, "SEMPLE, ROBERT," in Dictionary of Canadian Biography, vol. 5, University of Toronto/Université Laval, 2003–, accessed November 30, 2023, http://www.biographi.ca/en/bio/semple_robert_5E.html.
The citation above shows the format for footnotes and endnotes according to the Chicago manual of style (16th edition). Information to be used in other citation formats:
| | |
| --- | --- |
| Permalink: | http://www.biographi.ca/en/bio/semple_robert_5E.html |
| Author of Article: | Hartwell Bowsfield |
| Title of Article: | SEMPLE, ROBERT |
| Publication Name: | Dictionary of Canadian Biography, vol. 5 |
| Publisher: | University of Toronto/Université Laval |
| Year of publication: | 1983 |
| Year of revision: | 1983 |
| Access Date: | November 30, 2023 |