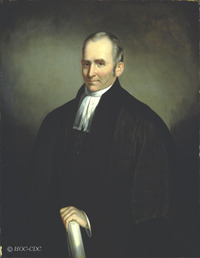 Source: Link
SHERWOOD, LEVIUS PETERS, lawyer, office holder, militia officer, politician, and judge; b. 12 Dec. 1777 in St Johns (Saint-Jean-sur-Richelieu), Que., second son of Justus Sherwood, a loyalist, and Sarah Bottum; m. 1804 Charlotte Jones, daughter of Ephraim Jones*, and they had four sons and three daughters; d. 19 May 1850 in Toronto.
Levius Peters Sherwood was educated in the law and called to the bar of Upper Canada in 1803. The following year he was appointed registrar for the counties of Grenville, Leeds, and Carleton and collector of customs, as well as inspector of flour, potash, and pearl ashes. On 16 March 1812 he was appointed surrogate treasurer of the Johnstown District. The coming of the War of 1812 served to increase his influence, both in the Johnstown District and beyond it. In March 1814 he was involved in the naming of magistrates for the district. On 24 May 1816, with the rank of lieutenant-colonel in the militia, he was appointed to examine applications for military pensions in the district.
Sherwood's public prominence continued to develop in post-war Upper Canada. In July 1818 he took part in the general conservative attack against Robert Gourlay*, who was gathering information about the province's condition. In October Sherwood was in York (Toronto) where he successfully defended two of Cuthbert Grant*'s party of Métis, Paul Brown and François-Firmin Boucher, against charges in connection with the murder of Robert Semple* during the troubles at Red River in 1816. Sherwood argued persuasively that the settlement there was little more than a camp of traders, by definition a rather wild group. His legal career continued to advance and in November 1820 William Dummer Powell* recommended successfully that he become a judge in the Johnstown District Court.
As his importance rose provincially, Sherwood maintained a strong influence in the district and in Brockville, where he had settled. In July 1822 he applied for membership on the district land board. He was active on the local board of education, and in April 1825 he was one of three churchwardens entrusted with land for the construction of St Peter's (Anglican) Church.
Sherwood entered provincial politics in the general election of 1812 when he defeated Peter Howard in the riding of Leeds. Sherwood took the riding again in 1820, leading the poll with 515 votes. By September 1821 he was serving as speaker of the House of Assembly, and the demands on his time were considerable, especially after the house was plunged into an extended controversy about Barnabas Bidwell*'s right to hold a seat. On at least two occasions Sherwood was compelled to ask for leaves of absence from his judicial duties in order to fulfill his political responsibilities.
The apogee of Sherwood's judicial career was his appointment to the Court of King's Bench in 1825. His priorities now shifted away from politics. In the years which followed, he found himself dealing with such varied cases as those of Dennis Russell, found guilty of rape in 1828, and Francis Collins*, a newspaper editor convicted of libel in the same year. A squabble with a fellow judge, John Walpole Willis*, in 1828 led to a strong defence of Sherwood by John Strachan*, who described him as "a most upright and religious man anxious to perform his duty."
Sherwood became increasingly unpopular in reform circles. In 1835 a rumour developed that he would shortly be retiring. Reluctant to see him on the civil list, the Canadian Alliance Society, a reform group, passed a series of resolutions condemning the suggestion that he should be pensioned off when he was clearly young enough to serve another 20 years. Nothing came of the rumour and Sherwood remained on the bench. Indeed his stature as a pillar of the establishment grew sufficiently that, on 17 Feb. 1838, a Kingston newspaper, the British Whig, specifically labelled him as a member of the "family compact."
In the immediate aftermath of the rebellion of 1837, Sherwood was prominent in the trials for treason which began at Toronto in March 1838. Late that year Lieutenant Governor Sir George Arthur* asked him what should be done with the prisoners taken during the failed invasion at Prescott in November [see Nils von Schoultz]. Sherwood recommended that only the ringleaders should be hanged and that the others be committed to a penal colony for life. Execution, he argued, often excited pity in those who witnessed it, and thus undermined the lesson it was intended to teach.
Sherwood always kept an eye open for opportunities to deal in land. In 1820, in cooperation with Captain John Le Breton, he had obtained a valuable lot near the Chaudière Falls on the Ottawa River; he later acquired more land there. By 1832 he was living in York near the foot of Yonge Street and had bought a lot adjacent to his residence which he was prepared to sell, at a high price. In 1840 he sought a lease for part of an island in the Ottawa River in order to erect a mill at the nearby falls.
Sherwood retired from the bench in 1840 although he continued to be vocal in conservative circles. In November 1842 he was a founding member of the Toronto Constitutional Society which had been formed in reaction to the policies of Governor Sir Charles Bagot. In October 1843 Sherwood made it known that he supported a resolution William Henry Draper* had introduced in the assembly opposing the transfer of the seat of government from Kingston to Lower Canada. During this same period, he was appointed to the Legislative Council on 19 Aug. 1842 and the Executive Council on 1 Nov. 1843
During the final years of his life he remained active both in his profession and in the religious and educational life of the community. In 1842 he had served as treasurer of the Law Society of Upper Canada. Two years later he expressed his willingness to return to the bench by sitting on the Court of Appeal. His devotion to the Church of England moved him in May 1842 to volunteer his services as a vice-president of the Church Society. Four years later, he was appointed, along with John Beverley Robinson*, to be treasurer of the Society for the Propagation of the Gospel. His contribution to education was as a member of the council of King's College in Toronto to which he was named on 27 Dec. 1841. For nearly half a century before his death in 1850 Levius Peters Sherwood, a man of devout conservative conscience, had served his community in many capacities.
AO, MS 4, commission appointing J. B. Robinson and L. P. Sherwood as treasurers of the Soc. for the Propagation of the Gospel in Foreign Parts in Canada, 16 June 1846; MS 35, letter-book, 1827–39, Strachan to James Stephen, 11 April 1829; MS 51, George Bruce to Mackenzie, 30 Sept. 1830; Charles Waters to Mackenzie, 28 July 1835; MU 2106, 1832, no. 14 (Robert Thompson to Peter Freeland, 15 Feb. 1832). PAC, RG 1, E3, 42: 233–39; 81: 9–10; L1, 39: 341–42; RG 5, A1: 7995–96, 9023–24, 24568–70, 26874–75, 29335–37, 30359–61, 30591–93, 32967–69, 33486–87, 49486–88, 49920–23, 52904–10; B5, 4: 265–66; 4a, Sherwood to J. M. Higginson, 11 July 1844; B7, 3; C2, 1: 391. "Parish register of Brockville and vicinity, 1814–1830," ed. H. R. Morgan, OH, 38 (1946): 77–108. British Whig, 23 Feb. 1835; 17 Feb., 23 March 1838. Chronicle & Gazette, 7 Feb. 1835; 17, 21 March 1838; 7 May, 30 July, 27 Aug., 12 Nov. 1842; 24 Oct. 1843. Kingston Chronicle, 21 July 1820. Kingston Gazette, 6 July 1816, 7 July 1818. Marriage bonds of Ont. (T. B. Wilson). D. B. Read, The lives of the judges of Upper Canada and Ontario, from 1791 to the present time (Toronto, 1888). Reid, Loyalists in Ont. Mary Beacock Fryer, Buckskin pimpernel: the exploits of Justus Sherwood, loyalist spy (Toronto and Charlottetown, 1981). H. M. Jackson, Justus Sherwood: soldier, loyalist and negotiator (n.p., 1958).
© 1988–2023 University of Toronto/Université Laval
Image Gallery

Cite This Article
Ian Pemberton, "SHERWOOD, LEVIUS PETERS," in Dictionary of Canadian Biography, vol. 7, University of Toronto/Université Laval, 2003–, accessed December 11, 2023, http://www.biographi.ca/en/bio/sherwood_levius_peters_7E.html.
The citation above shows the format for footnotes and endnotes according to the Chicago manual of style (16th edition). Information to be used in other citation formats:
| | |
| --- | --- |
| Permalink: | http://www.biographi.ca/en/bio/sherwood_levius_peters_7E.html |
| Author of Article: | Ian Pemberton |
| Title of Article: | SHERWOOD, LEVIUS PETERS |
| Publication Name: | Dictionary of Canadian Biography, vol. 7 |
| Publisher: | University of Toronto/Université Laval |
| Year of publication: | 1988 |
| Year of revision: | 1988 |
| Access Date: | December 11, 2023 |