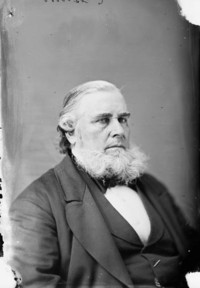 SKEAD, JAMES, contractor, lumberman, and politician; b. 31 Dec. 1817 at Calder Hall, Moresby (Cumbria), England, eldest son of William Skead and Mary Selkirk; m. in 1842 Rosena MacKey and they had six children; d. 5 July 1884 in Ottawa, Ont.
James Skead was educated at Moresby and came to Canada in 1832 with his widowed father and two brothers. The family first settled on a farm at Île Jésus, Lower Canada, at the mouth of the Ottawa River. Several years later the Skeads moved up-river to Bytown (Ottawa), Upper Canada, which was rapidly developing as the commercial centre of the Ottawa valley, where the bulk of British North America's new staple export, square timber, was produced. James Skead soon began lumbering operations and in 1842 invested in various improvements along the Madawaska River, including a depot farm. At first his production was small and in 1843 he took out only one raft containing 33,500 cubic feet of red pine from crown lands along the Madawaska. His business grew rapidly, however, and two years later he produced 88,000 cubic feet and an additional 200,000 cubic feet in partnership with William Rogerson.
To reduce operating expenses and expand production Skead and the major Bytown area lumberers formed in 1844 the Madawaska River Improvement Company, a cooperative venture to build dams, slides, booms, and other works on the turbulent river. Through this involvement and his relationship with a brother-in-law, William MacKey, who had built a timber slide at the Chaudière Falls in 1835, Skead became expert in the construction of river works. In 1845 he was persuaded by the provincial Board of Works (the Department of Public Works after 1846) to build the Victoria slide at Bytown. His innovative design for the slide combined inclines with deceleration flats, a vast improvement over the older and dangerous single-pitch slides. Skead was again retained by the government in 1846 to construct slides and other works at various points on the Madawaska River.
In the 1840s Skead continued to expand his timber business, especially on the Madawaska and Mississippi rivers in Canada West. By 1851 he employed about 100 men in his woods operations and had opened a supply store in Bytown. In 1861 his work force had increased to 150 men, and the firm's annual average production was 600,000 cubic feet of pine and 16,000 sawlogs; he also received occasional contracts from the Department of Public Works for the construction of river improvements.
About 1851 Skead appears to have built a sawmill on the Ottawa River several miles above Bytown. He probably hoped to ship sawn lumber to the developing market in the northeastern United States but the mill was destroyed by fire after only a few years. In 1871 he again attempted to diversify his operations by building a large steam sawmill which incorporated the latest equipment near the site of his first mill. It was valued at $42,500 and was capable of manufacturing 7 million board feet of lumber, 500,000 shingles, and 500,000 laths each year. The mill became the centre of the small community of Skead's Mills (later Britannia and now part of Ottawa). In 1876 Skead became a major promoter and first president of the Ottawa Iron and Steel Manufacturing Company, which made mill machinery and other iron products. He was convinced that secondary manufacturing industries provided the only means to develop the Canadian economy more fully. Unfortunately the international trade depression of 1873–78 severely affected Skead's business ventures. By 1878 he was $10,000 in arrears with the federal government for slidage fees alone and in the same year he was taken to court by the Union Bank of Lower Canada under the Insolvency Act. Skead's financial embarrassment, however, did not harm his status with the élite of the capital, though it did destroy his business empire.
Throughout his career Skead promoted improvements, both public and private, to encourage the forest industry, bring agricultural settlement to the Ottawa valley, and develop the Ottawa River as the chief commercial route from the upper Great Lakes to the ports of Montreal, Quebec City, and New York. During the 1860s and 1870s he advocated the canalization of the Mattawa–French River system and he became a director of the Caughnawaga Ship Canal Company and the Georgian Bay Ship Canal Company. As well, with William Goodhue Perley and Henry Franklin Bronson, he promoted the Upper Ottawa Steamboat Company, of which he became president, in an effort to provide dependable inexpensive shipment of supplies to forest operations up-river from Ottawa. Skead was also convinced after 1860 of the advantages of rail transportation for the timber trade. He was vice-president of the Canada Central Railway and the Montreal and City of Ottawa Junction Railway, and invested in the Ottawa and Prescott Railway and the Ottawa, Waddington and New York Railway and Bridge Company. These efforts were combined with another to organize the timber operators in Ottawa into an association to lobby government agencies and to facilitate the exchange of information between firms. Skead became a charter director of the Ottawa Association of Lumber Manufacturers, formed in 1862, and remained on its board until it dissolved in 1868. Meanwhile he became president of the Ottawa Board of Trade in 1865 and served every year as an officer of this organization until 1883. In 1871–72 and 1876 he was a member of the executive committee of the Dominion Board of Trade and its president in 1879–80 and 1884.
After 1860, as one of Ottawa's prominent citizens, he also promoted such diverse ventures as the Bytown Consumers Gas Company (which became the Ottawa Gas Company in 1865), the Ottawa Immigrant Aid Society, the Carleton County and the City of Ottawa agricultural societies, the Rideau Club, the Ottawa St George's Society, and the Ottawa Rifle Association. He took an interest in farming and raised prize Ayrshire and Durham cattle. He was also president of the Ottawa Agricultural Insurance Company, the Agricultural and Arts Association of Ontario, and the Ontario Fruit Growers' Association.
Skead was elected to Ottawa City Council in 1861 and, in the following year, was returned by acclamation as the Conservative member for the Rideau division in the Legislative Council. He remained in the Legislative Council until confederation, when he was called to the Senate. In 1867 he contested the Carleton County provincial seat for the Conservatives but was defeated by Robert Lyon. On account of his financial difficulties Skead resigned from the Senate in January 1881 but was reappointed by the government of Sir John A. Macdonald* in the same year.
The variety of Skead's interests betrays a restless and dynamic personality. His business failure in the late 1870s, however, deeply affected him. Then in 1882 his lungs were seriously injured when he was thrown from a moving carriage. He was forced to retire, and died from his lung ailment in July 1884.
PAC, MG 26, A; RG 11, ser.ii, 18, file 5405; 21, file 220; 23, file 6403; 27, file 8143; 28, file 8438; 88, files 55048, 78533; 177; RG 31, A1, 1851, Ottawa, East Ward, p.169; 1861, Ottawa, Victoria Ward, p.215; 1871, Nepean Township, 3rd division, schedule 6. Can., Prov. of, Legislative Assembly, App. to the journals, 1844–45, I, app.P.; 1846, III, app.C.C.; 1852–53, app.M.M.M.M.; Parl., Sessional papers, 1861, II, no.4, app.F. Bytown Gazette ([Ottawa]), 28 Sept. 1848. Free Press, 5 July 1884. Boyd's combined business directory for 1875–6 . . . of Montreal, Toronto, Hamilton, Ottawa, London & Kingston . . . (Montreal, n.d.). Canadian biog. dict., I. Canadian directory of parl. (J. K. Johnson). CPC, 1862–63. Cyclopædia of Canadian biog. (Rose, 1886). Ottawa directory, 1863–84. Westboro, Ottawa's Westmount, comp. Bower Lyon (Ottawa, 1913). [Charlotte Whitton], A hundred years a fellin' . . . 1842–1942 (Ottawa, n.d.), 54.
© 1982–2023 University of Toronto/Université Laval
Cite This Article
Sandra Gillis and Robert Peter Gillis, "SKEAD, JAMES," in Dictionary of Canadian Biography, vol. 11, University of Toronto/Université Laval, 2003–, accessed June 4, 2023, http://www.biographi.ca/en/bio/skead_james_11E.html.
The citation above shows the format for footnotes and endnotes according to the Chicago manual of style (16th edition). Information to be used in other citation formats:
| | |
| --- | --- |
| Permalink: | http://www.biographi.ca/en/bio/skead_james_11E.html |
| Author of Article: | Sandra Gillis and Robert Peter Gillis |
| Title of Article: | SKEAD, JAMES |
| Publication Name: | Dictionary of Canadian Biography, vol. 11 |
| Publisher: | University of Toronto/Université Laval |
| Year of publication: | 1982 |
| Year of revision: | 1982 |
| Access Date: | June 4, 2023 |