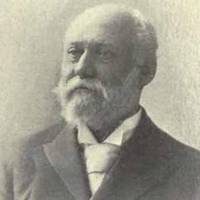 Source: Courtesy of Wikimedia Commons
SNOWBALL, JABEZ BUNTING, businessman, politician, and office holder; b. 24 Sept. 1837 in Lunenburg, N.S., son of John Snowball, a Methodist minister, and Sarah Ann Wells; m. first 27 July 1858 Margaret MacDougall (d. 1871) in Chatham, N.B., and they had two sons and one daughter who survived childhood; m. secondly 18 Feb. 1873 Margaret Ellen Archibald (d. 1924) in Airdrie, Scotland, and they had four daughters and one son who reached adulthood; d. 24 Feb. 1907 in Fredericton and was buried in Chatham.
By 1851 Jabez Bunting Snowball was enrolled at the Wesleyan Academy in Sackville, N.B. He had likely received his early education in Newfoundland, for his father was stationed there from 1837 to 1852, when he took up a position as minister of St Luke's Church in Chatham. On leaving the academy, Snowball intended going to California, but was persuaded by his family to remain in Chatham. In 1858 he entered the dry-goods business of John MacDougall, whose daughter he married. Snowball became owner of the business in 1866, after MacDougall died, and soon expanded it.
In 1872 he built at Chatham the largest steam sawmill in the province, able to cut 170,000 feet a day, and over the years he obtained timber leases for more than 600 square miles of crown land. He owned other sawmills in Tracadie, Bay du Vin, and Red Bank, where he also had a grist-mill. His mill at Chatham cut 26 million feet of deals in 1876, while that in Tracadie cut 9 million. Ships were said to have been lined up 11 deep at times to load lumber at his Chatham wharf. Many local families had several generations employed in his stores and mills.
Snowball, who claimed that "work was always a pleasure" for him, and expected his employees to feel the same way, was a tough master with no sympathy for newly formed associations or unions. In 1875 he faced two major strikes at Chatham, the first for higher wages and the second to oblige him to hire only members of the Chatham Workingmen's Association. He refused to give in to either demand. In each case, the men shortly went back to work. After the second strike, however, Snowball declined to rehire 30 men who had been replaced. Later disputes saw the workmen obtain increased wages, but Snowball continued to resist any attempt to restrict his hiring practices. In 1884, for example, the association tried to stop him using sailors to help load boats at his mill; within a few days the men were obliged to abandon their protest.
As one of the founders of the Miramichi Steam Navigation Company in 1871, Snowball had been involved in the construction of six small steamers. For his own business he acquired several others, which plied the Miramichi from the 1870s to the 1890s. By the late 1870s he had become involved in the fisheries as well, having established canneries on Shippagan and Miscou islands; in 1879 he exported more than 200,000 pounds of lobster to the United Kingdom. He sold his smaller mills in the 1880s, but expanded his operations at Tracadie and Chatham. The following decade he continued to ship yearly over 30 million feet of deals, and was second only to Alexander Gibson* as the largest timber exporter in the province. He had at that time some 1,000 men employed in his lumber operations. In 1900 the J. B. Snowball Company Limited was incorporated, with various family members taking over the running of different branches of the firm. The canneries were sold in 1906, as was the dry-goods store in Chatham, and by the time of Snowball's death in 1907 only the mills remained.
In 1880 Snowball had installed the first telephone service in Chatham, linking his office, home, and mill to the railway station. Seven years later he helped organize the Miramichi Telephone Exchange, which was amalgamated in 1888 with the Chatham Electric Light Company, of which he was also a promoter. The first charter gave the amalgamated company the right to operate telephone exchanges in Northumberland County, but new letters patent in 1892 extended its territory to include Kent, Gloucester, and Restigouche counties. In 1905 the company was sold to the Central Telephone Company Limited.
Snowball had been involved as a minor stockholder in the construction of the Chatham Branch Railway, completed in 1876. This line ran into financial difficulty, and Snowball not only advanced money but also built the station at Chatham and purchased an engine and cars. When the mortgages he held on the company matured in 1880, he advertised it for sale and ultimately emerged as the purchaser and sole owner. He later joined Alexander Gibson in constructing a railway from Chatham to Gibson. Under Gibson's presidency the Northern and Western Railway Company of New Brunswick completed the line in 1886. Four years later Snowball sold the Chatham Branch Railway to the Northern and Western, which became the Canada Eastern Railway Company, with Gibson as president. In 1893 Snowball replaced Gibson and shortly thereafter the two men quarrelled over who was really in control. Snowball sold out to Gibson that year and ceased to be involved in railway construction.
A Liberal, Snowball had entered federal politics in 1874 when he made an unsuccessful attempt to oust Peter Mitchell* in Northumberland. In 1878 he ran again, as an independent Liberal. In a hard-fought contest he defeated Mitchell, but Mitchell regained the seat by acclamation in 1882 after Snowball decided not to seek re-election. In 1891 Snowball, by then a Liberal Conservative, was appointed to the Senate; there he remained until January 1902, when he resigned to become lieutenant governor of New Brunswick.
Interested as well in local politics, Snowball had been active in 1876 in a committee which tried unsuccessfully to have Chatham incorporated as a town. When incorporation finally came in 1896, he was a candidate for mayor. As the chief employer in the town, he expected to be unopposed, but many people were displeased with him because of his opposition to Peter Mitchell and they persuaded Joseph B. Benson, a popular physician, to run. To Snowball's annoyance, he lost the election by two votes, and he never ventured into local politics again.
A successful businessman, Snowball dominated the economic and social life of Chatham for many years. His home, Wellington Villa, became a showplace where his wife, referred to by the locals as Lady Snowball, presided over elaborate tea parties behind wrought-iron fences imported from England. His political career was not notable, however. He and his wife enjoyed the prestige that went with the office of lieutenant governor, but his term was uneventful.
UNBL, MG H82, T. H. Fleiger to James Brown, 28 Aug. 1878. North Shore Leader (Newcastle, N.B.), 1 March 1907. St. John Daily Telegraph and Morning Journal, 8 Aug., 7 Oct. 1872. "Catalogue of students for the year 1853," Mount Allison Academic Gazette (Sackville, N.B.), no.1 (December 1853): 11. J. A. Fraser, By favourable winds: a history of Chatham, New Brunswick ([Chatham], 1975), 73, 76–81, 90–92, 101–3, 264, 294–96. W. R. Godfrey, History of Chatham (Chatham, [1962]), 32–36. E. H. Greaves, "Peter Mitchell; a father of confederation" (ma thesis, Univ. of N.B., Fredericton, 1958), 74–75. Historic homes of Chatham (1v. to date, [Chatham, 1980]– ). C. A. Kee, "The Chatham telephone exchange," Maritime Advocate and Busy East (Sackville), 38 (1947–48), no.1: 15–17. Lois Martin, Historical sketches of the Miramichi ([Newcastle], 1985), 9–14. Standard dict. of Canadian biog. (Roberts and Tunnel]), vol.2. Wesleyan Academy, Catalogue of . . . the Wesleyan Academy, Mount Allison, Sackville, N.B. . . . (Halifax), [1849]–51, 1852. The wood industries of New Brunswick in 1897 ([Fredericton], 1969) [republishes the N.B. section of The wood industries of Canada (London, 1897), with a new introduction].
© 1994–2023 University of Toronto/Université Laval
Image Gallery

Cite This Article
W. A. Spray, "SNOWBALL, JABEZ BUNTING," in Dictionary of Canadian Biography, vol. 13, University of Toronto/Université Laval, 2003–, accessed September 30, 2023, http://www.biographi.ca/en/bio/snowball_jabez_bunting_13E.html.
The citation above shows the format for footnotes and endnotes according to the Chicago manual of style (16th edition). Information to be used in other citation formats:
| | |
| --- | --- |
| Permalink: | http://www.biographi.ca/en/bio/snowball_jabez_bunting_13E.html |
| Author of Article: | W. A. Spray |
| Title of Article: | SNOWBALL, JABEZ BUNTING |
| Publication Name: | Dictionary of Canadian Biography, vol. 13 |
| Publisher: | University of Toronto/Université Laval |
| Year of publication: | 1994 |
| Year of revision: | 1994 |
| Access Date: | September 30, 2023 |