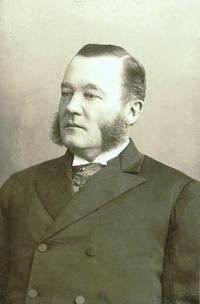 Source: Courtesy of Wikimedia Commons
VILLENEUVE, JOSEPH-OCTAVE, businessman and politician; b. 4 March 1836, probably in Terrebonne county, Lower Canada, son of Octave Villeneuve, a farmer, and Anathalie (Nathalie) Truchon, dit Léveillé; m. 7 Feb. 1861 Susan Annie Walker in Sorel, Lower Canada, and four of their children survived him; d. 27 June 1901 in Montreal and was buried 1 July in Notre-Dame-des-Neiges cemetery.
Joseph-Octave Villeneuve is believed to have come with his family to live in Montreal when he was four years old, and later to have taken the business course given there by the Brothers of the Christian Schools. Benjamin Brothers, a firm that specialized in wholesale dry-goods, hired him as a clerk in 1853. A diligent, thrifty, and studious young man, he soon developed his innate business sense. In 1860 he set up Mile End Omnibuses to serve Mile End (Montreal), Terrebonne, Sault-au-Récollet (Montreal North), and New Glasgow. He married in 1861 and the following year opened a grocery and butcher store in the village of Saint-Jean-Baptiste (Montreal), at the corner of Rue Saint-Laurent and the future Avenue du Mont-Royal. By about 1867 he had turned the operation into a wholesale wine, spirits, and provisions business.
Villeneuve had established his enterprise in the heart of a village to which, in the aftermath of the great Montreal fire of 1852, workmen, craftsmen, and speculators had flocked, looking for cheap lots and lodgings. With its wooden houses and lack of the most elementary public services, the village was a shabby place, its air polluted by dust from the lanes, by open sewers, and by smoke from limekilns. But Villeneuve foresaw that it would have a great future, even though the absence of a river or railway scarcely augured well for its industrial development. In 1869 he sold his transport company for $400 to businessmen eager to extend rail lines northward, and the following year he established a company called Terrebonne and Back River Omnibuses. He reinvested part of the profits from his provisions business in landed property and manufacturing. In 1875, probably in partnership with Richard Tuck, a soap maker, he opened a soap and candle factory on Square Papineau. On 1 May of that year he joined with his cousin Léonidas Villeneuve to form a dealership in wood and grain, Léonidas Villeneuve et Compagnie. The firm had an office and a large yard with a sawmill on Rue Saint-Laurent and it sold tar, gravel, and various building materials. The expansion of the villages of Saint-Jean-Baptiste and Mile End ensured the growth of the enterprise, which moved to the corner of Bellechasse and Saint-Laurent in 1907, the terminal date of the contract between the two cousins.
Villeneuve's business success hinged as much on his career in civic affairs as on his energy and common sense. He was mayor of Saint-Jean-Baptiste from 1866 to 1886 and warden of Hochelaga county from 1866 to 1880. Heading a village council composed of craftsmen, merchants, and entrepreneurs, he ran a prudent administration marked chiefly by a low rate of taxation. The market he had built in 1870, a vast rectangular building in red brick that housed the municipal offices and a concert hall, brought in revenue enabling the village to balance its budget. Tax exemptions for manufacturers and certain public services, and the creation in 1875 of the parish of Saint-Jean-Baptiste, which was carved from that of Saint-Enfant-Jésus to serve five or six thousand people, were the other elements in a strategy centred more on population growth than on development. Inadequate public services – volunteer firemen, minimal policing, and slowness in paving the streets – and tolerance of businesses that caused pollution were the penalty paid for this economizing. A water system which was connected to Montreal's in 1878 was serving only five streets seven years later. As a result of two major fires in 1879, muddy roads, and an insalubrious atmosphere, taxpayers were grumbling, and the question of annexation to Montreal, a step they had blithely rejected in 1872, was squarely posed. Mayor Villeneuve started negotiations in 1882. The annexation of Hochelaga [see Raymond Préfontaine] served as a model. On 10 June 1884 a private bill gave Saint-Jean-Baptiste the status of town, with provisions anticipating certain terms for annexation, and on 15 Jan. 1886 the property owners, by a vote of 288 to 51, chose to be annexed. Along with John Lee, a ship liner and fitter, and Vital Grenier, a tinsmith, Villeneuve would represent Saint-Jean-Baptiste ward on the Montreal city council.
Through the annexation of Saint-Jean-Baptiste, Villeneuve gained entry to the middle bourgeoisie, the intermediate social class that controlled regional institutions as much through investments in finance, transportation, insurance, and landed property as through participation in politics. In May 1885 he was among the shareholders who secured the incorporation of the Montreal Park and Island Railway Company, an enterprise capitalized at $500,000 that offered streetcar service to the villages on the outskirts of the city. With Andrew Frederick Gault, Charles Ross Whitehead*, and others, he got the Montmorency Cotton Manufacturing Company incorporated in 1889. He was a director of the Banque Jacques-Cartier from 1885 to 1891, and served in 1896 on the board of the Banque Nationale at Quebec, in which he held shares worth $4,500. From 1888 to 1891 and from 1893 to 1896 he was a harbour commissioner for Montreal. With his son Eugène-William and Léonidas Villeneuve et Compagnie, he established the Blackstone Cigar Factory, Villeneuve and Company on 10 July 1893.
At city hall Villeneuve kept his distance from the Liberal triumvirate that dominated the council [see Préfontaine]. A long-standing Conservative close to ultramontane circles, he represented Hochelaga in the Legislative Assembly from 14 Oct. 1886 to 31 Oct. 18.87, when his election was annulled. Defeated in the by-election of 28 April 1888, he was returned in 1890 and 1892. As a member of the assembly he remained unobtrusive and was satisfied to watch out for the interests of Montrealers. In 1893 he supported a petition from the Chambre de Commerce du District de Montréal to replace the various taxes on business with a land tax, and then he took up the cudgels for the Montreal council, which some mlas wanted to put under administrative supervision, although he did acknowledge that it was "controlled by a gang of adventurers." Thus it was quite natural for him to run for the mayoralty against James McShane*, a friend of Préfontaine's who had been a minister in Honoré Mercier*'s cabinet. Through the backing of the business community, reformers, and the French-speaking wards, he won with a majority of 176 on 10 Feb. 1894. The first mayor to be elected for two years, Villeneuve made economy the keynote of his term of office. He indeed had no choice: these were hard times. In 1894 the Legislative Assembly set a ceiling of $25 million on the municipal debt of Montreal, which in 1895 was at its highest per capita level for the decade. Despite everything, work went ahead on the port, as well as on the railway station and the Hôtel Viger [see Bruce Price].
On 2 Jan. 1896, a few days before the end of his term, Villeneuve was named senator for Salaberry division, replacing Joseph Tassé*. His primary concern would be banking legislation. He was a man already on his way out. On 15 Nov. 1896 he retired from the Blackstone Cigar Factory, Villeneuve and Company, and the following year he handed his wholesale business over to his son Eugène-William. But he remained a partner in Léonidas Villeneuve et Compagnie, an enterprise that his will, drawn up on 16 Oct. 1900, stipulated might be kept in operation for two years after his death.
Villeneuve was diabetic, and after a lengthy illness he died on 27 June 1901. "Rather tall [and] somewhat stout," according to Francis-Joseph Audet*, he had "a clear and penetrating gaze"; an unaffected man with "winning manners" who was neither well-educated nor eloquent, he was, in the eyes of his admirers, "a citizen of the greatest integrity" who had known how to manage his personal affairs "with extraordinary intelligence." Villeneuve left a sizeable fortune, consisting primarily of real estate. His will provided annuities for his wife and for some of his children, donations to charitable works, and $25,000 for the Université Laval in Montreal to develop instruction in civil engineering, a bequest that would permit construction of a building for the École Polytechnique de Montréal [see Urgel-Eugène Archambeault]. The greater part of his estate was, however, to be divided among his grandchildren 20 years after his death. His children contested the will, and the affair, which entailed no fewer than 12 private bills in the legislature, was only settled between 1944 and 1953.
AC, Montréal, Cour supérieure, déclarations de sociétés, 6, no.647 (1875); 17, no.229 (1893); 19, no.658 (1896); 22, no.749 (1901); État civil, Catholiques, Cimetière Notre-Dame-des-Neiges (Montréal), ler juill. 1901. ANQ-M, CE3-7, 7 févr. 1861; CN1–235, 16 oct. 1900. AVM, D026.23. NA, MG 30, D1, 30: 441–44. Le Devoir, 30 mai 1925. La Patrie, 7 mars 1902, ler oct. 1950. La Presse, 24 févr. 1894, 10 févr. 1896, 28 juin 1901. La Semaine illustrée (Montréal), janvier 1933. Atherton, Montreal, 3: 162–64. É.-J [-A.] Auclair, Saint-Jean-Baptiste de Montréal; monographie paroissiale, 1874–1924 (Québec, 1924). Can., Senate, Debates, 1896–99. Directory, Montreal, 1850–98. Michel Gauvin, "The municipal reform movement in Montreal, 1886–1914" (ma thesis, Univ. of Ottawa, 1972). Anne Germain, "Mouvements sociaux de réforme urbaine à Montréal, de 1880 à 1920" (thèse de phd, univ. de Montréal, 1980). J.-L. Lalonde, "Le village de Saint-Jean-Baptiste: la formation d'un faubourg montréalais, 1861–1886" (thèse de ma, univ. du Québec à Montréal, 1985). Lamothe, Hist. de Montréal. É.-Z. Massicotte, "Billet d'omnibus," BRH, 35 (1929): 351–52. Poulin, "Déclin portuaire et industrialisation," 109. Qué., Assemblée Législative, Débats, 1890–97; Statuts, 1884, c.89; 1885, c.74; 1902, c.115; 1907, c.136; 1915, c.160; 1919, c.159; 1920, c.157; 1921, c.166; 1922, c.133; 1927, c.141; 1931, c.184; 1933, c.170; 1938, c.139; 1943, c.75. Quebec Official Gazette, 1889: 1188. RPQ. Rumilly, Hist. de Montréal, vol.3. [Télesphore Saint-Pierre], Histoire du commerce canadien-français de Montréal, 1535–1893 (Montréal, 1894). Léon Trépanier, "Les attributs de la mairie de Montréal," Cahiers des Dix, 31 (1966): 209, 212.
© 1994–2023 University of Toronto/Université Laval
Cite This Article
Michèle Brassard and Jean Hamelin, "VILLENEUVE, JOSEPH-OCTAVE," in Dictionary of Canadian Biography, vol. 13, University of Toronto/Université Laval, 2003–, accessed December 4, 2023, http://www.biographi.ca/en/bio/villeneuve_joseph_octave_13E.html.
The citation above shows the format for footnotes and endnotes according to the Chicago manual of style (16th edition). Information to be used in other citation formats:
| | |
| --- | --- |
| Permalink: | http://www.biographi.ca/en/bio/villeneuve_joseph_octave_13E.html |
| Author of Article: | Michèle Brassard and Jean Hamelin |
| Title of Article: | VILLENEUVE, JOSEPH-OCTAVE |
| Publication Name: | Dictionary of Canadian Biography, vol. 13 |
| Publisher: | University of Toronto/Université Laval |
| Year of publication: | 1994 |
| Year of revision: | 1994 |
| Access Date: | December 4, 2023 |