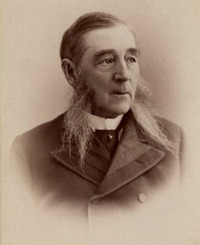 Source: Link
WOOD, THOMAS, businessman, farmer, jp, politician, and office holder; b. 7 March 1815 in Dunham, Lower Canada, eldest son of Thomas Wood and Anna (Mary) Skeels, both originally from the United States; d. 13 Nov. 1898 in Dunham.
Thomas Wood spent his youth on his parents' farm near Dunham, the village where he received some education. He worked in Montreal for John Baker, the owner of the Commercial House, before moving to Boston to learn more about the business world. In 1836, at the age of 21, he was back in his native village. On 30 Sept. 1839 he married Ann Jane Stevens, but two years later he found himself widowed, with a son. On 19 Feb. 1845 he married Elisabeth Seeley; they were to have two sons and a daughter.
By the time of his second marriage, Wood was well established as a general merchant. Following the example of other storekeepers, he accepted payment in kind from the neighbouring farmers. Some time before 1858, taking advantage of the extensive land clearing still being undertaken in the region, he set up a potashery. His many connections in Montreal helped his business, and his store sold items both retail and wholesale. Wood was also interested in property and had bought one lot of crown land in 1849; he later purchased and developed others. In 1867 he won several prizes at the annual fair held by the Agricultural Society of the County of Missisquoi.
At 46, Wood was a prosperous merchant and owned a two-storey brick house and a farm. He had been a justice of the peace since 1852 and was an influential freemason in Prevost Lodge. He now succumbed to the temptation to go into politics. In 1861 he ran as a Conservative in Missisquoi but was defeated. He was more fortunate on the local scene, serving as mayor of the municipality of Dunham Township from 1864 to 1866, and as mayor of Dunham from 1867 to 1875 and 1882 to 1885. However, he had reached the pinnacle of his political career on 2 Nov. 1867, when he was appointed to the Legislative Council.
In addition to fulfilling all these functions, Wood was a commissioner for the summary trial of small causes in 1867 and warden of Missisquoi County from 1868 to 1872. In June 1868, when there was a threat of Fenian invasion, he chaired a meeting to organize the local militia for the protection of the community. At a formal ceremony on Queen Victoria's birthday in 1871, he presented colours to the 60th (Missisquoi) Battalion of Infantry. He was also at one time president of the District of Bedford Rifle Association.
A shrewd businessman, Wood supported the rising clamour in his region to have railways built. In 1869 he presented a petition to the Legislative Assembly seeking a charter for the Missisquoi Junction Railway Company, of which he became president, and he backed a host of other requests. He worked hard on several important committees of the Legislative Council, including one on contingent accounts, another on standing orders and private bills, and a third on the classes of acts for the incorporation of private companies. He was named as well to the committee on railways at its inception in 1884.
Around 1875 Wood seems to have given up business and devoted himself instead to his political duties and to agriculture, which he promoted in various capacities, in particular as president of the agricultural and horticultural societies of Missisquoi. He showed his interest in education as chairman of the trustees of Dunham Academy. On 14 Jan. 1898 he left his seat on the Legislative Council, of which he was then the longest-serving member, for the last time. He died at his home on 13 November of that year, and was buried three days later in the Anglican cemetery at Dunham, a large crowd attending his funeral.
Thomas Wood lived a full life, even in his last years, and remained loyal to his native village. In All Saints' Church at Dunham there is a stained glass window to his memory, depicting the Good Samaritan. Like his father and his son Thomas Frank, he was devoted to his parish, and for 27 years he was its delegate to the Anglican synod of the diocese of Montreal. Wood steadfastly upheld the principles and values that men of his time appreciated in their leaders; he does not seem to have betrayed the confidence that was always placed in him.
AC, Bedford (Cowansville, Qué.), État civil, 16 nov. 1898. ANQ-E, CE2–38, 30 sept. 1839; CE2–77, 19 févr. 1845; CN2–26, 28 avril 1840. Brome County Hist. Soc. Arch. (Knowlton, Que.), Biog. file, H. G. Shufelt; Geneal. Family file, Wood family. Missisquoi Hist. Soc. Arch. (Stanbridge East, Que.), Dunham village; Margaret Ellis file; Episcopal Church, Dunham, records (mfm.); Fenian raids doc.; Masonic order; 60th Battalion of Missisquoi; Wood file. NA, RG 31, C1, 1825, Dunham (Bedford, Que.); 1831, 1842, 1851, 1861, 1871, 1881, 1891, Dunham (Missisquoi, Que.). Joseph Bouchette, Carte topographique de la province du Bas-Canada . . . (n.p., 1815; repr. Montréal, 1980). Débats de l'Assemblée législative (M. Hamelin), 1 (1869): 37, 72, 167, 174, 179, 229, 233, 253. Map of the counties of Shefford, Iberville, Brome, Missisquoi, and Rouville, Canada East, from special surveys under the direction of O. W. Gray, topographical engr., ed. H. F. Walling (n.p., 1864). Que., Legislative Council, Journals, 1868–98; Statutes, 1867–68. District of Bedford Times and General Advertiser (Sweetsburg [Cowansville]), 1866–69, esp. 27 Sept., 8 Nov. 1867. Gazette (Montreal), 4 Nov. 1867, 14 Nov. 1898. Sherbrooke Daily Record (Sherbrooke, Que.), 15, 18 Nov. 1898. Le Soleil, 27 nov. 1897. Waterloo Advertiser and Eastern Townships Advocate (Waterloo, Que.), 1 Aug., 3, 10 Oct., 7 Nov. 1867. Hélène Bergevin, Églises protestantes (Montréal, 1981). Canada directory, 1851: 76; 1857–58; 1871: 79. County of Missisquoi and town of St. Johns directory . . . (Montreal), 1879–81. Eastern Townships directory, 1867, 1875–76, 1888–89. Illustrated atlas of the Dominion of Canada . . . Eastern Townships and southwestern Quebec (Toronto, 1881; repub., ed. Ross Cumming, Port Elgin, Ont., 1972). Langelier, Liste des terrains concédés. Répertoire du personnel politique québécois, 1867–1982, Pierre Drouilly, compil. (Québec, 1983). P.-G. Roy, La législature de Québec: galerie des membres du Conseil législatif et des députés à l'Assemblée législative (Lévis, Qué., 1897), 55. RPQ. Turcotte, Le Conseil législatif. Derek Booth, Railways of southern Quebec (2v., Toronto, 1982–85), 1. C. M. Day, History of the Eastern Townships, province of Quebec, Dominion of Canada, civil and descriptive . . . (Montreal, 1869). J. H. Graham, Outlines of the history of freemasonry in the province of Quebec (Montreal; 1892). M. Hamelin, Premières années du parlementarisme québécois. Histoire de Dunham, ed. M. J. Ellis (Dunham, 1968). A. J. B. Milborne, Freemasonry in the province of Quebec, 1759–1959 ([Quebec], 1960). T. R. Millman, A short history of the parish of Dunham, Quebec (Granby, Que., 1946). Cyrus Thomas, Contributions to the history of the Eastern Townships . . . (Montreal, 1866). "Honorable Thomas Wood," Missisquoi County Hist. Soc., Report (Saint-Jean-sur-Richelieu, Que.), 2 (1907): 52–53.
© 1990–2023 University of Toronto/Université Laval
Image Gallery

Cite This Article
Marie-Paule R. Labrèque, "WOOD, THOMAS (1815-98)," in Dictionary of Canadian Biography, vol. 12, University of Toronto/Université Laval, 2003–, accessed June 8, 2023, http://www.biographi.ca/en/bio/wood_thomas_1815_98_12E.html.
The citation above shows the format for footnotes and endnotes according to the Chicago manual of style (16th edition). Information to be used in other citation formats:
| | |
| --- | --- |
| Permalink: | http://www.biographi.ca/en/bio/wood_thomas_1815_98_12E.html |
| Author of Article: | Marie-Paule R. Labrèque |
| Title of Article: | WOOD, THOMAS (1815-98) |
| Publication Name: | Dictionary of Canadian Biography, vol. 12 |
| Publisher: | University of Toronto/Université Laval |
| Year of publication: | 1990 |
| Year of revision: | 1990 |
| Access Date: | June 8, 2023 |