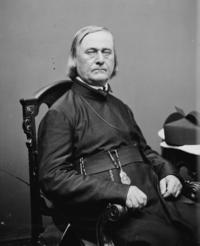 Source: Courtesy of Wikimedia Commons
DE SMET, PIERRE-JEAN, priest, Jesuit, missionary; b. 30 Jan. 1801 at Dendermonde, diocese of Ghent, Belgium, fifth child and second son of Josse De Smet and his second wife, Marie-Jeanne Buydens; d. 23 May 1873 in St Louis, Missouri.
Pierre-Jean De Smet's father, primarily a chandler, was a merchant of considerable means. De Smet's early education was at home and in various colleges; in his 19th year he entered the Petit Séminaire at Mechlin. In August 1821 he sailed for the United States to begin his noviciate at White Marsh, a Jesuit estate near Baltimore. Eighteen months later he was transferred to Florissant, just north of St Louis, Missouri, where he was ordained on 23 Sept. 1827. As a prefect in St Regis Seminary, a school for Indian boys, 1824–30, he learned something of Indian customs and ways before he was sent to St Louis as treasurer of the college in that city (now St Louis University).
Father De Smet was for some years plagued with an irritating skin infection, and he was advised by local physicians to visit his native country for a period. Accordingly, he left the United States for Belgium in September 1833 and did not return to St Louis until November 1837. While abroad he found his true métier – as a recruiter of men, supplies, and money for the Missouri mission. Soon after his return to America he was sent as a missionary to the Potawatomi Indians at Council Bluffs (Iowa); he also visited the Yankton and Santee Sioux with a view to negotiating peace between these tribes.
De Smet returned to St Louis from Council Bluffs in February 1840, and between 30 April and 31 December of that year made his first journey to the Rocky Mountains to spy out the land, that is to ascertain the prospects for missions among the Indians in those parts, especially among the Flatheads. His plan, a chimerical one, was to establish a reduction such as the Jesuit fathers of the 17th century had established in Paraguay, a mission wherein a white man would never set foot. In 1841, with two fathers and three brothers, he reached the Bitterroot Valley where he founded the mission of Sainte-Marie (Stevensville, Mont.) 35 miles south of present-day Missoula. In the following spring he visited the missionaries at Fort Vancouver (in present-day Vancouver, Wash.), François-Norbert Blanchet and Modeste Demers, to concert plans for the propagation of the faith in the Oregon country. Between them it was decided that, since assistance in personnel and material was necessary for the success of the mission, Father De Smet should return to the central states and seek permission to visit Europe to obtain these ends. Accordingly, before the close of that year he again crossed the Atlantic, and he returned to the Pacific northwest via Cape Horn, reaching the Columbia River on 31 July 1844 with five additional Jesuits and a group of sisters of Notre-Dame de Namur. The following 12 months were spent in founding new missions and in visiting Sainte-Marie. But, convinced that the very existence of these new missions depended upon a permanent peace with the Blackfeet, the traditional enemies of the Flatheads, he determined to visit the country of the former.
In August 1845 he began a momentous journey which was to take him into Hudson's Bay Company territory. From the north end of Pend d'Oreille Lake he cut across country to the valley of the Kootenay River, followed along it to la haute traverse, whence he crossed over to the sources of the Columbia River. Moving down this valley he entered Sinclair Pass, recrossed the Kootenay and by White Man's Pass reached the Bow River valley near the site of present-day Canmore, Alberta. Thence he travelled northward to Rocky Mountain House which he reached on 4 October. He was there until the end of the month. Here it was that he met bands of Crees, Chippewas, and Blackfeet. He then set out to visit other Blackfoot bands, wandered aimlessly for days – apparently to the east of the area he had just passed through – and was fortunate to get back to Rocky Mountain House, whence he was conducted to Fort Edmonton, where he spent the winter of 1845–46 as a guest of the HBC. This long trek in the wilderness constitutes De Smet's significant connection with Canadian history. He had, however, not succeeded in his purpose inasmuch as he had met only one small band of Blackfeet.
In the spring he set out with a party over the company trail via the upper North Saskatchewan River to Jasper House, where they spent Easter Sunday, 12 April 1846. From there by way of the Wood River they reached the Columbia after terrible sufferings. Three weeks later, on 29 May, they were at Fort Colvile (near present-day Kettle Falls, Wash.) and before the end of June arrived at Fort Vancouver. After a quick visit to the religious houses on the Willamette River, De Smet set out for the upper country with supplies for the missions there; he was back at his first foundation, Sainte-Marie on the Bitterroot, on or about 8 August. He then returned to St Louis. These long journeys of 1845–46 had been made at about the same time and over much of the same territory as the travels of the artist Paul Kane in search of Indians of the west. De Smet did some sketching himself as he journeyed.
De Smet's days as a missionary to the Rocky Mountains were over. During the years that were left to him, he made numerous trips to Europe (in all he crossed the Atlantic Ocean 19 times) and, though he was not actually serving on missions, he was deeply involved with them. Between 1851 and 1870 he also journeyed to the upper Missouri River many times in the interest of the American government. Perhaps his finest hour was in 1868 when, accompanied only by a white who was married to a native as interpreter and a few friendly chiefs and braves, he entered the camp of Sitting Bull* and persuaded him to accept the subsequent treaty of Fort Rice, "the most complete and wisest thus far concluded with the Indians of this country." De Smet visited the Sioux for the last time in 1870. He died three years later and was buried at Florissant where he had completed his noviciate 50 years before.
[The following depositories hold De Smet's papers: General Archives of the Society of Jesus in Rome. ASJ, Province belge du nord (Bruxelles), papiers De Smet; Missouri Province (St Louis University), Pius XII Library, Desmetiana section. Holland Library (Washington State University, Pullman), De Smet family papers.
Although there is no complete bibliography of Father De Smet's published works in one place, two are useful: Augustin et Alois de Backer, Bibliothèque de la Compagnie de Jésus; première partie: bibliographie, par les Pères Augustin et Aloys de Backer; seconde partie: histoire, par le Père Auguste Carayon, ed. Carlos Sommervogel (11v., Bruxelles, Paris, 1890–1932), VII, 1307–10; and Bibliographie nationale: dictionnaire des écrivains belges et catalogue de leurs publications, 1830–1880 (4v., Bruxelles, 1886–1910), I, 536–37. To date, only two biographies of De Smet have been published and neither of these is adequate: Eugène Laveille, Le P. De Smet (1801–1873) (1re éd., Liège, Belgique, et Arras, France, 1912; 2e éd., Liège et Lille, France, 1913); [P.-J. De Smet], Life, letters, and travels of Father Pierre-Jean De Smet, S.J., 1801–1873 . . . , ed. H. M. Chittenden and A. T. Richardson (4v., New York, 1905). In the latter, facing p.150, is a youthful portrait of Father De Smet; another, done after he was made a chevalier of the Order of Leopold on 18 June 1865, faces p.839. He himself prepared the most exact map of his travels in Alberta and British Columbia, and it is reproduced in his Missions de l'Orégon et voyages aux montagnes Rocheuses aux sources de la Colombie, de l'Athabasca et du Sascatshawin en 1845–1846 (Gand, [1848]). w.l.d.]
© 1972–2023 University of Toronto/Université Laval
Notes
This biography was first published with terms that were regarded as appropriate at the time and are now considered offensive. These terms have been amended.
Image Gallery

Cite This Article
Wm. L. Davis, "DE SMET, PIERRE-JEAN," in Dictionary of Canadian Biography, vol. 10, University of Toronto/Université Laval, 2003–, accessed September 30, 2023, http://www.biographi.ca/en/bio/de_smet_pierre_jean_10E.html.
The citation above shows the format for footnotes and endnotes according to the Chicago manual of style (16th edition). Information to be used in other citation formats:
| | |
| --- | --- |
| Permalink: | http://www.biographi.ca/en/bio/de_smet_pierre_jean_10E.html |
| Author of Article: | Wm. L. Davis |
| Title of Article: | DE SMET, PIERRE-JEAN |
| Publication Name: | Dictionary of Canadian Biography, vol. 10 |
| Publisher: | University of Toronto/Université Laval |
| Year of publication: | 1972 |
| Year of revision: | 2013 |
| Access Date: | September 30, 2023 |