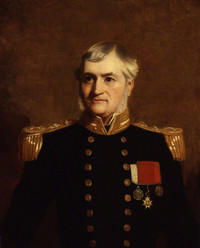 Source: Courtesy of Wikimedia Commons
KELLETT, Sir HENRY, officer in the Royal Navy, oceanographer, Arctic explorer; b. 2 Nov. 1806 at Clonabody, Tipperary, Ireland, son of John Dalton Kellett; d. 1 March 1875 at Clonabody.
Henry Kellett joined the navy in 1822. He served for five years in the West Indies before being appointed to survey vessels commanded by William Fitzwilliam Owen* and Edward Belcher on the west coast of Africa and in the East Indies. Shortly after distinguishing himself in the Opium War with China (1840–41), Kellett attained the rank of post captain. In 1845 he was appointed to command the frigate Herald for survey work on the Pacific coast of Central America. In the summers of 1848, 1849, and 1850 he and his ship were detached from this service to cooperate with Commander T. E. L. Moore of the Plover, then based in Kotzebue Sound, Alaska, in the search for the lost ships of Sir John Franklin*. In pursuance of this duty, Kellett in 1849 discovered and landed on Herald Island in the Russian Arctic and obtained a distant view of Wrangel Island. The following year on 31 July, in the neighbourhood of Cape Lisburne (near the northern exit of Bering Strait), he met Commander Robert McClure, of the Franklin rescue ship, Investigator, who had become separated from his commanding officer, Captain Richard Collinson* of Enterprise. Kellett remonstrated against McClure's intention of going directly into the ice without waiting for his consort, but did not use his superior rank to forbid the action.
In 1851 Herald returned to England and the crew was paid off. Despite his strenuous cruise of six years, Kellett immediately accepted a posting to the command of hms Resolute, and in the spring of 1852 sailed as second in command in the expedition led by Sir Edward Belcher, whose orders were to prosecute the search for Franklin by way of Lancaster Sound. Belcher stationed North Star as depot ship at Beechey Island, and took his ship Assistance and the Pioneer up Wellington Channel. He sent Resolute and its tender Intrepid, captained by the famous Arctic traveller Commander Francis Leopold McClintock*, to search for Franklin in the Melville Island area, and, if necessary, to give aid to Investigator, unreported for many months, but believed to be in that region.
Kellett berthed his ships for the coming winter at Dealy Island off the south shore of Melville Island. An autumn travelling party under Lieutenant Frederick Mecham* visited Winter Harbour, 50 miles to the west, and there discovered a record planted by McClure from which it was learned that Investigator had discovered a northwest passage and that it had later become icebound in the Bay of Mercy on the north shore of Banks Island. The Arctic winter was too far advanced for help to be sent until the following spring. In the bitter cold of March 1853, Lieutenant Bedford Pim* made the 160-mile journey by dog-sledge across Viscount Melville Sound to bring McClure word of the rescue ships. Investigator was abandoned on Kellett's order and her starving and scurvey-ridden crew trekked over the ice to Dealy Island.
In the meantime, under Kellett's direction, M'Clintock and Mecham, on sledge journeys of great length, found no trace of Franklin, but added Eglinton and Prince Patrick islands to the map of the Arctic.
On the voyage home Kellett's ships were frozen in at the west end of Barrow Strait and passed the winter of 1853–54 near Cape Cockburn. In April, Belcher, who was still in Wellington Channel, sent orders to Kellett to abandon his ice-bound ships and take their crews, with the men of Investigator, on foot to the depot at Beechey Island. Kellett protested that his ships were not in enough danger to warrant this desertion but he had no choice but to obey. Belcher deserted his two ships as well; all crews were taken home on North Star and two summer supply ships. Belcher's written orders requiring Kellett to abandon his ships procured the latter a prompt acquittal by court-martial for their loss; Kellett also received a handsome compliment from the president of the court on the services he had rendered. Kellett's judgement was vindicated in the autumn of 1855 when James Buddington, an American whaling skipper, found Resolute drifting in Baffin Bay and sailed her, still seaworthy and manageable, to New London, Conn. The United States Congress purchased the derelict and gave her, refitted, to Queen Victoria. A table from her oaken beams stands today in the White House to commemorate this act of generosity.
The British parliament voted £10,000 to McClure and his crew for the discovery of the northwest passage. (It was not positively known in 1855 that Franklin's lost crews had anticipated McClure by the discovery of an alternate passage by way of Victoria Strait.) Kellett's crews, but for whom the men of Investigator must inevitably have perished, expected a share of this bounty. McClure, however, secured the entire grant for himself and his crew by his blandly unscrupulous testimony before a parliamentary committee that he could have brought his men out alive without Kellett's aid. This ungrateful attitude was not endorsed by the petty officers and men of Investigator. At a meeting in honour of Dr Alexander Armstrong*, Investigator's surgeon, they took the opportunity of voicing their thanks to Lieutenant Pim – and by implication to Kellett – but for whom "many of us would never have seen old England again." Kellett was hurt at the manner in which his services were neglected, especially for the sake of his men who had suffered much hardship during the last winter through sharing sleeping quarters and bedding with 60 additional hands from the Investigator.
Kellett subsequently held commands in the West Indies and on the China Station, and then retired to his native Clonabody, where he died in 1875.
In addition to the rescue of McClure and the survey work done by M'Clintock and Mecham under his command, Kellett is credited by Soviet writers with doing the first hydrographic work in the eastern Russian Arctic. The Canadian explorer, Captain Joseph-Elzéar Bernier*, paid a fine tribute to his professional character. There are numerous witnesses to his kindness and to the pains he took to keep up morale and good humour under trying conditions. The stormy "Jacky" Fisher, who served under Kellett in China, was at first repelled by him: "He hasn't a spark of religion about him, never goes to Church, and this, together with his being an Irishman, makes me distrust him," but soon yielded to his charm: "he is so full of kindness to me."
Baker Library, Dartmouth College, Stefansson coll., Grinnell Scrap-Book, undated newspaper clipping, c. October 1854. A. A. Armstrong, A personal narrative of the discovery of the north-west passage; with numerous incidents of travel and adventure during nearly five years' continuous service in the Arctic regions while in search of the expedition under Sir John Franklin (London, 1857). Edward Belcher, The last of the Arctic voyages; being a narrative of the expedition in H.M.S. Assistance, under the command of Captain Sir Edward Belcher, C.B., in search of Sir John Franklin, during the years 1852–53–54 (2v., London, 1855). J. A. Fisher, Fear God and dread nought: the correspondence of Admiral of the Fleet Lord Fisher of Kilverstone, ed. A. J. Marder (3v., London, 1952–59), I. [McClure], Discovery of the north-west passage (Osborn). G. F. M'Dougall, The eventful voyage of H.M. discovery ship "Resolute" to the Arctic regions in search of Sir John Franklin and the missing crews of H.M. discovery ships "Erebus" and "Terror", 1852, 1853, 1854 . . . (London, 1857). J. A. Miertsching, Frozen ships; the Arctic diary of Johann Miertsching, 1850–1854, trans. with intro. L. H. Neatby (Toronto, 1967). B. C. Seemann, Narrative of the voyage of H.M.S. "Herald" during the years 1845–51, under the command of Captain Henry Kellett . . . being a circumnavigation of the globe and three cruizes to the Arctic regions in search of Sir John Franklin (2v., London, 1853). DNB. J.-E. Bernier, Report on the dominion of Canada government expedition to the Arctic Islands and Hudson Strait on board the D.G.S. 'Arctic' [1908–1909] (Ottawa, 1910). C. R. Markham, Life of Admiral Sir Leopold McClintock (London, 1909). L. H. Neatby, In quest of the north-west passage (Toronto, 1958). V. IU. Vize (Wiese), Morīā Sovetskoi Arktiki (Leningrad [St Petersburg, Russia], 1939). Noel Wright, Quest for Franklin (London, 1959). F. H. Burns, "H.M.S. 'Herald' in search of Franklin," Beaver, outfit 294 (autumn 1963), 3–13. L. H. Neatby, "McClure and the passage," Beaver, outfit 291 (winter 1960), 33–41.
© 1972–2023 University of Toronto/Université Laval
Image Gallery

Cite This Article
Leslie H. Neatby, "KELLETT, Sir HENRY," in Dictionary of Canadian Biography, vol. 10, University of Toronto/Université Laval, 2003–, accessed December 5, 2023, http://www.biographi.ca/en/bio/kellett_henry_10E.html.
The citation above shows the format for footnotes and endnotes according to the Chicago manual of style (16th edition). Information to be used in other citation formats:
| | |
| --- | --- |
| Permalink: | http://www.biographi.ca/en/bio/kellett_henry_10E.html |
| Author of Article: | Leslie H. Neatby |
| Title of Article: | KELLETT, Sir HENRY |
| Publication Name: | Dictionary of Canadian Biography, vol. 10 |
| Publisher: | University of Toronto/Université Laval |
| Year of publication: | 1972 |
| Year of revision: | 2021 |
| Access Date: | December 5, 2023 |