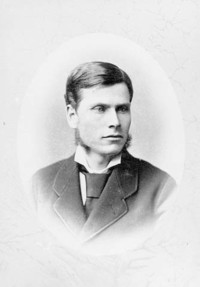 CALDWELL, WILLIAM CLYDE (originally William Caldwell), businessman and politician; b. 14 May 1843 in Lanark, Upper Canada, son of Alexander Caldwell and Mary Ann Maxwell; m. first 1868 Ida Virginia Cauldwell, his second cousin (d. 1869); m. secondly 1871 Katherine Smith Falconer, and they had three sons and four daughters; d. 7 Jan. 1905 in Lanark.
In 1821 William Caldwell's grandparents emigrated from Renfrewshire, Scotland, to the Lanark settlement in eastern Upper Canada. From their teens, William's father and uncle, Boyd Alexander Conyngham Caldwell, were engaged in the square-timber trade in the Ottawa valley; after they severed their partnership in the 1850s, each gradually brought his eldest son into business. William helped managed his father's lumber operations and became a partner in A. Caldwell and Son, which had timber limits on the Clyde River in Lanark County and in Pontiac County, Lower Canada. Unlike his father, who had been trained solely on the river and in the bush, he also received a university education, graduating from Queen's College, Kingston, in 1866 with a ba.
By 1872 William had inherited the firm and with it grist-mills and sawmills in Lanark village. About this time he took a middle name to distinguish himself from other William Caldwells, a number of them relatives. He also began to expand his business interests. Between 1870 and 1877 he joined Horace Brown in a grist-mill operation known as Brown and Caldwell at Carleton Place. A. Caldwell and Son added another sawmill, at Almonte, and in 1882 Caldwell was developing a sawmill and shingle-mill at Clyde Forks in Lavant Township, near the path of the developing Kingston and Pembroke Railway. Soon after the mill opened, Clyde Forks was swept by fire and he sold his Clyde limits to Calvin and Son of Kingston [see Dileno Dexter Calvin*].
Caldwell moved to Kingston in 1883 and reduced his business commitments to the operation of the Clyde Roller Mills (flour and oatmeal) and the Aberdeen Woollen Mills in Lanark village. He nevertheless developed an interest in prospecting and speculated in iron-ore properties in the Lanark-Renfrew area, on Gunflint Bay in the international border region of northwestern Ontario, and north of Temagami. He contributed several mineral samples to Ontario's exhibit at the Columbian exposition in Chicago in 1893.
Caldwell could never give his undivided attention to business because of a lifelong involvement in politics. He had been a township councillor and school trustee and was reeve of Lanark when he was nominated in 1872 to stand as a Reformer in the provincial by-election in Lanark North, where he defeated Bennett Rosamond. He spent 23 of the next 33 years as the member for that riding (1872–75, 1879–86, 1888–94, 1898–1905). Despite this long service to the Liberal party, most of it under Premier Oliver Mowat, he never held a cabinet position though he sat on several committees, including railways, and was a chairman of the house in committee. He was described by Perth and Lanark newspapers as courteous and obliging in his political life but perhaps too independent in thought and straightforward in manner to be trusted with higher office. He declined to vote on four successive passages of the Rivers and Streams Bill (it was disallowed three times by the federal government) owing to a conflict of interest with his own lumbering operations and because the legal dispute that had prompted the bill, McLaren v. Caldwell, involved B. Caldwell and Company, owned by his uncle and cousin [see John Godfrey Spragge*].
Although Caldwell had moved to Kingston and spent much time in Toronto as an mpp, he maintained an estate and farm in Lanark, where he was active in the village's horticultural society and was a member of St Andrew's Church (Presbyterian). A freemason, he was a member of the local branches of the Sons of Scotland, the Order of United Workmen, and the Independent Order of Foresters. In 1899, as an mpp, he oversaw the passage of the bill to incorporate the North Lanark Railway Company. In Kingston he served from 1883 to 1904 as a trustee of Queen's College and the development of a school of mining there in 1891–93 may have owed something to his mining activities and his influence in the Ontario legislature. It was his interest in prospecting that led to a consuming passion for recreational canoeing. He took his sons to Mazinaw Lake in 1895, by way of the Mississippi River, which ran through Lanark County, and to James Bay in 1901, and he combined business with pleasure in trips to the Temagami lakes in 1902 and 1903. On the latter outing, for which he kept a diary, he was, the Perth Courier noted, "one of the jolliest and most interesting of entertainers." Diaries also survive for his travels in Britain and Europe in 1874 and in Manitoba in 1878.
W. C. Caldwell died in Lanark in 1905. An educated, upper-class individual who pursued business, politics, and recreation as separate but linked spheres, he represented a new generation of Canadian-born lumbermen, with skills in both the city and the bush. He was adept at combining the extraction of resources with secondary manufacturing, and when he was burned out in one area he had sustaining investments in others. As a politician, he developed a strong regional base, but perhaps because of his independent disposition or the limited importance of Lanark, Caldwell failed to achieve cabinet rank.
[The author is grateful to Ewan Caldwell of Ottawa for supplying genealogical details from family records in his custody.
There is a photograph of William Clyde Caldwell in NA, Documentary Art and Photography Div., PA-28659, and a miniature portrait painted on ivory in the possession of Mr Caldwell. The latter is reproduced on page 239 of H. M. Brown, Lanark legacy (cited below). l.t.]
AO, RG 22, ser.164, no.319 (Alexander Caldwell, 1874). NA, MG 29, C60 (typescript; mimeograph copy at AO, F 730). QUA, Queen's Univ., Registrar's Office, reg. of ba graduates, 1863–66. St Andrew's Church (Lanark, Ont.), RBMB; tombstone inscriptions. Era (Lanark), 1895–1902, 11 Jan. 1905. Herald (Carleton Place, Ont.), 10 Jan. 1905. Perth Courier (Perth, Ont.), 26 Jan., 16–30 Aug. 1872; 23 Oct. 1891; 17 March 1899; 14, 28 Aug. 1903; 13 Jan. 1905; 9 Feb. 1906. Perth Expositor, 10, 24 May 1883. H. M. Brown, Carleton Place: founded upon a rock (2nd ed., Renfrew, Ont., 1984), 41, 44; Lanark legacy: nineteenth century glimpses of an Ontario county (Perth, 1983), 148. Jack Brown, The sawmills of Lanark and Renfrew (Mallorytown, Ont., 1976). Canadian biog. dict. [subject's name is given incorrectly as Henry C. Caldwell at the head of the entry, but is correct in the text]. Charles Clarke, Sixty years in Upper Canada, with autobiographical recollections (Toronto, 1908), 190–91. [Joshua Fraser], Shanty, forest and river life in the backwoods of Canada (Montreal, 1883), 18–23, 316–28. Hilda Geddes, The Canadian Mississippi River (n.p., 1988), 214. E. L. Jamieson, Caldwells of Lanark and other stories ([Lanark], 1973); The story of Lanark and district . . . ([Lanark], 1962), 127. Legislators and legislatures of Ont. (Forman), vol.2. Ont., Legislature, Journals, 1871–1904; Royal commission on the mineral resources of Ontario and measures for their development, Report (Toronto, 1890), 140, 233, 393, 427. "Ontario's iron ores at the World's Fair," comp. David Boyle, Ont., Bureau of Mines, Report (Toronto), 1892: 78–82.
© 1994–2023 University of Toronto/Université Laval
Image Gallery

Cite This Article
Larry Turner, "CALDWELL, WILLIAM CLYDE," in Dictionary of Canadian Biography, vol. 13, University of Toronto/Université Laval, 2003–, accessed September 24, 2023, http://www.biographi.ca/en/bio/caldwell_william_clyde_13E.html.
The citation above shows the format for footnotes and endnotes according to the Chicago manual of style (16th edition). Information to be used in other citation formats:
| | |
| --- | --- |
| Permalink: | http://www.biographi.ca/en/bio/caldwell_william_clyde_13E.html |
| Author of Article: | Larry Turner |
| Title of Article: | CALDWELL, WILLIAM CLYDE |
| Publication Name: | Dictionary of Canadian Biography, vol. 13 |
| Publisher: | University of Toronto/Université Laval |
| Year of publication: | 1994 |
| Year of revision: | 1994 |
| Access Date: | September 24, 2023 |