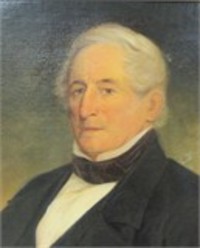 Source: Link
ANDERSON, THOMAS GUMMERSALL, Indian agent; b. at Sorel, Province of Quebec, 12 Nov. 1779, sixth son of Captain Samuel Anderson, loyalist, and Deliverance Butts; d. at Port Hope, Ont., 10 Feb. 1875.
Thomas Gummersall Anderson was taken to New Johnstown (Cornwall) when the Anderson family settled there in 1783. In 1795 he was apprenticed for five years to Thomas Markland*, a Kingston merchant. Robert Mackenzie of Montreal, half-brother of Markland, induced young Anderson to accompany him in 1800 to the American post of Mackinac (on Mackinac Island, later in the state of Michigan) to trade with the Indians. For the next 14 years Anderson traded in the upper Mississippi valley in what is now the state of Wisconsin. He was usually based at Prairie du Chien on the Mississippi, a general depot for Mackinac traders, but also became familiar with such places as Milwaukee (where he sometimes wintered), when they were small pioneer settlements. The items he traded for buffalo and beaver furs included pots and pans and ball shot. He worked with Jacob Frank for a number of years and was an independent trader by 1810, gaining a reputation for honourable dealing among the Indian tribes of the region – Sauks, Winnebagos, and Potawatomis, and later principally the Santees.
In one of the first actions of the War of 1812 Mackinac was captured by the British. Anderson learned there that the Americans had captured Prairie du Chien and had built a fort. Anderson immediately raised a company of volunteers and, with the aid of the commanding officer at Mackinac, Robert McDouall*, hastened to Prairie du Chien and captured the fort. Until the end of the war he remained in charge of Fort McKay, so named for an old Norwester, William McKay*, who accompanied the expedition. In 1815, through McDouall's recommendation, Anderson was given employment at Mackinac in the Indian Department as storekeeper, interpreter, and clerk. The department remained under military jurisdiction from 1816 to 1830, and Anderson had the rank and allowance of captain.
By the time he returned to Mackinac in September 1815, however, it had been given up by the British to the Americans, and the garrison, still under McDouall, had moved to Drummond Island. Anderson followed and remained there nine years as agent. Another move was made late in 1828 when Drummond Island was transferred to American sovereignty and the Indian agency was moved to Penetanguishene, Upper Canada.
Anderson had married in 1820 Elizabeth Ann Hamilton, eldest daughter of Captain James Matthew Hamilton of the 5th regiment of foot, by whom he had seven children. One son, Gustavus Alexander, was ordained priest in the Church of England; like his father, he devoted much of his life to the welfare of the Indians and was for several years incumbent of the Mohawk Church at Tyendinaga in Hastings County.
Until 1830 the objectives of the Indian Department were mainly political; its policy was essentially to retain the friendship of the Indians because of their usefulness as military allies. A change towards a more humanitarian attitude was indicated in the winter of 1829–30 when Anderson was summoned to York (Toronto) by Sir John Colborne* and ordered to undertake the settlement and civilization of three tribes of Chippewa Indians under chiefs Yellowhead*, John Aisance, and Snake at Coldwater and The Narrows (now Orillia). At these places Anderson, with the title of superintendent, built mills, houses, and schools for the Indians. His activities were hampered by a shortage of funds and the two Indian settlements were eventually abandoned in 1837. The initial success of the settlements, however, had led to an expansion of the plan in 1833. After an extensive search for a suitable locality had been conducted by Anderson and the Reverend Adam Elliot, it was determined to form a general establishment on Manitoulin Island with a view to drawing there most of the Indians from the settled parts of the province.
The Anderson family remained on Manitoulin Island for nine years. Although Anderson was tireless in his efforts to promote the settlement and although there was this time no shortage of funds, his stay at Manitoulin was marked by failure. Few Indians came because of the remoteness of the island, and it was eventually opened, in 1862, to settlement by whites. In 1845, Anderson was transferred to Toronto where he succeeded Samuel Peters Jarvis* as chief superintendent and was also named visiting superintendent. He moved his office to Cobourg in 1847 and retained the government post, one which required much travelling, until his resignation, 30 June 1858. His wife died the same day. The rector of Cobourg, Archdeacon Alexander Neil Bethune, preached a memorial sermon, later privately printed, on the Sunday following her funeral. T. G. Anderson's later years were spent for the most part in Cobourg and Port Hope, with shorter periods of residence at Tyendinaga and Toronto. He died at Port Hope where his old friend of Manitoulin days, Frederick Augustus O'Meara*, was rector of St John's Church.
As trader and government employee, Anderson had close contact with Indians for 58 years. He was a shrewd judge of their character, was devoted to their interests, and was highly regarded by them. He wrote copious journals and reports, a number of which were printed after his death.
The Thomas G. Anderson papers at MTCL consist of copies of family papers in private hands. Material from this collection has been published by Sophia Rowe as "Anderson record, from 1699 to 1896," including "Reminiscences of Capt. Thomas Gummersall Anderson," in Ont. Hist., VI (1905), 109–35, as well as in Loyalist narratives from Upper Canada (Talman) and in the New Dominion Monthly (Montreal), November 1874. The State Historical Society of Wisconsin has a collection of Thomas G. Anderson papers (copies at PAO), part of which has been reproduced in the Wis. State Hist. Soc. Coll. as "Personal narrative of Capt. Thomas G. Anderson, early experiences in the North-West fur trade – British capture of Prairie du Chien," in IX (1880–82), 137–206; "Prairie du Chien documents, 1814–'15," in IX (1880–82), 262–81; and "Papers of Capt. T. G. Anderson, British Indian agent," in X (1883–85), 142–49. The society's journal also published "Capt. T. G. Anderson's journal, 1814; journal of the proceedings at Fort McKay, from the departure of Lieut. Col. McKay, for Mackinaw, comprehending the particulars of every occurring circumstance in and out of the fort within the vicinity of Prairie du Chien," Wis. State Hist. Soc. Coll., IX (1880–82), 207–61; the original of Anderson's journal is at PAC, MG 24, F19 (Thomas Gummersall Anderson papers).
See also: Fifth annual report of the Society, for Converting & Civilizing the Indians, and Propagating the Gospel, among Destitute Settlers in Upper Canada; for the year ending October, 1835 (Toronto, n.d.). The Stewart missions; a series of letters and journals, calculated to exhibit to British Christians, the spiritual destitution of the emigrants settled in the remote parts of Upper Canada . . . , ed. W. J. D. Waddilove (London, 1838), 42, 43, 49, 53, 75ff.
© 1972–2023 University of Toronto/Université Laval
Cite This Article
T. R. Millman, "ANDERSON, THOMAS GUMMERSALL," in Dictionary of Canadian Biography, vol. 10, University of Toronto/Université Laval, 2003–, accessed September 23, 2023, http://www.biographi.ca/en/bio/anderson_thomas_gummersall_10E.html.
The citation above shows the format for footnotes and endnotes according to the Chicago manual of style (16th edition). Information to be used in other citation formats:
| | |
| --- | --- |
| Permalink: | http://www.biographi.ca/en/bio/anderson_thomas_gummersall_10E.html |
| Author of Article: | T. R. Millman |
| Title of Article: | ANDERSON, THOMAS GUMMERSALL |
| Publication Name: | Dictionary of Canadian Biography, vol. 10 |
| Publisher: | University of Toronto/Université Laval |
| Year of publication: | 1972 |
| Year of revision: | 1972 |
| Access Date: | September 23, 2023 |