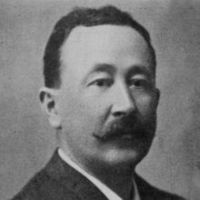 Source: Courtesy of Wikimedia Commons
NELSON, FRANCIS JOSEPH, sports organizer and journalist; b. 1 May 1860 in Hamilton, Upper Canada, son of Edward Nelson, a travelling salesman, and Ellen Campbell; m. there first 30 Sept. 1885 Kathleen Claudia Wright (d. June 1922), and they had two sons and one daughter; m. there secondly 7 April 1931 Mary Ellen Dolan, widow of his friend Michael A. Pigott; d. 14 April 1932 in Balboa (Panama City), Panama Canal Zone (Republic of Panama).
Francis Nelson was an influential figure in the development of sport for Canadian boys and men during the tumultuous years of the late 19th and early 20th centuries. He helped bring order to many of its governing institutions while promoting a vision of state-backed, pan-Canadian amateurism. After completing his local schooling, Nelson attended the Oblate-led College of Ottawa, where, according to archivist Michel Prévost, sports were put "to good use as an educational tool" and students played a major role in their administration. He earned a ba in 1880 and an ma in 1884, which he obtained by writing to the college. While he participated in many sports during his youth, Nelson shone as an organizer. In 1879 he formed the Nautilus Rowing Club, the members of which would win numerous Canadian and American titles. The highlight was an upset victory in the American senior fours championship race in 1885; rowing historian Robert S. Hunter records that after the team's triumph, "the nickname of the 'farmer crew from Hamilton' quickly disappeared along with a pile of money." Nelson proudly continued to wear a Nautilus tiepin long after leaving his hometown; the club had disbanded by 1895.
Nelson's athletic experience and writing ability enabled him to find a place in the emerging field of sports journalism, first in Hamilton at the Times, the Tribune, and the Spectator, and then at the Toronto Globe, where he was made sports editor in 1888 and became the first in Canada to write an opinion column, entitled "Jack at play." Other newspapers stressed the promotion of events and the outcomes of games (known as the exchange values of sports) but Nelson focused on the educational, moral, and health benefits (called the use values) of amateur participation. In his 1 Jan. 1915 column he declared that it was his responsibility "to encourage and extend the playing of all wholesome games … by paying attention and giving publicity to the doings of the countless teams of boys and men who are playing the game for sport." Against those who argued that he should devote more space to fast-expanding professional sports, he contended that such coverage would be "free advertising" for "promoters" and "parasites."
Nelson was a strong advocate of clear rules and strict enforcement, and he held decision-making positions in many organizations, including the Canadian Association of Amateur Oarsmen, the Canadian Baseball Association, and the Canadian Amateur Lacrosse Association. When John Ross Robertson*, publisher of the Toronto Evening Telegram, took over the Ontario Hockey Association in 1899 to rid the sport of rough play, under-the-table professionalism, impersonation, and other forms of cheating, Nelson became his disciplinarian. When the Canadian Amateur Hockey Association was created in 1914 he would assume the same role as its first vice-president.
Nelson was an architect of the victory of strict amateurism in the organizational conflict known as the "amateur war" that was fought between 1906 and 1909 [see Norton Hervey Crow*]. Canada's rapid urbanization and industrialization were helping spectator sport to flourish, as the increasing populations of cities and towns, rising standards of living, organized labour's successful battles for shorter working hours, and the undermining of traditional masculine identities all helped create new audiences for the exploits of the athletic male. The railroads enabled, and the mass media promoted, intercity rivalries, and an increasing number of urban boosters were prepared to pay athletes to join their home teams. This trend precipitated bitter debates among amateur clubs and within their national regulatory body, the Canadian Amateur Athletic Union (CAAU). In Montreal and Ottawa the majority of rule makers temporized by allowing amateurs to play with or against professionals, but in Toronto the opposition to this practice was fierce and firm. The two sides could not reach an agreement, and the Montreal and Ottawa clubs broke away from the CAAU to form a rival body, the Amateur Athletic Federation of Canada (AAFC).
For the next three years, partisans in each organization fought for the loyalty and membership of clubs and athletes. Nelson was the CAAU's chief ideologue, thundering in his columns against the immorality of professionalism and the "utter lack of dignified or authoritative control" of the "funny federation," as he called the AAFC on 4 Feb. 1907. When the Toronto side won by signing up hundreds of clubs, many of whose members no doubt read the Globe, he was made vice-president (and later a life member) of the Amateur Athletic Union of Canada (AAUC), a new body which amalgamated the AAFC and the CAAU on the latter's terms and drew a clear line between amateur and professional sports. Towards the end of World War I, during which his hockey-playing son Gregory Vincent was killed, Nelson became the convener of the AAUC's reconstruction committee, which set out a strategy of state-supported, pan-Canadian amateurism that would prove influential for decades to come. When the AAUC won its first victory by successfully lobbying the provincial government to establish the Ontario Athletic Commission (OAC) in 1920, Nelson was named the OAC's first chairman, but he chose to serve instead as head of its boxing board.
Nelson was drawn to horse racing, being attracted, as he wrote in the Canadian Magazine, by its classical antecedents and "the co-operation of the intellectual, the physical and the mechanical qualities of the horse," which he felt the sport exemplified. Because of his reputation for probity and consistency he was recruited as a judge and steward by the Ontario Jockey Club, and after his retirement from the Globe in 1918 he became a full-time steward, working tracks across the continent for the Canadian Racing Association. He ruled with an iron hand, showing no favourites, and once even suspended the owner of a racetrack where he was steward. It was while returning from a race in Agua Caliente (Tijuana), Mexico, that Nelson suffered a fatal heart attack. He was buried 27 April 1932 at Holy Sepulchre Cemetery in Burlington, Ont.
In 1947 Francis Nelson was elected into the Hockey Hall of Fame for his contributions to amateur hockey. At a time when most Canadian sports were poorly organized, played under different rules and conditions from place to place, and often plagued by violence and cheating, Nelson helped to provide them with uniformity, respectability, nationwide organization, and a spirit of fairness, all while fiercely extolling the benefits of accessible opportunities for amateur athletes. He can be considered one of the founding fathers of the Canadian sport system.
In addition to his newspaper columns, Francis Joseph Nelson is the author of "Horse racing in Canada," Canadian Magazine, 19 (May–October 1902): 230–37. A short biography of Nelson appears on the official site of the Hockey Hall of Fame, "Legends of hockey: builders: Francis Nelson: biography": www.hhof.com/LegendsOfHockey/jsp/LegendsMember.jsp?mem=B194703&type=Builder&page=bio&list=ByName (consulted 2 July 2015), but it incorrectly credits him with the "discovery" of the mesh goal net. For a more accurate assessment of his modest role in its development, see Paul Kitchen, "The early goal net: hockey innovation and the sporting page, 1896–1912," in Putting it on ice, ed. C. D. Howell (2v., Halifax, 2002), 1 (Hockey and cultural identities): 35–46.
Globe, 16, 28 April 1932. Hamilton Spectator, 15 April 1932. Toronto Daily Star, 15 April 1932. R. S. Hunter, Rowing in Canada since 1848 … (Hamilton, Ont., 1933). Bruce Kidd, The struggle for Canadian sport (Toronto, 1996). Don Morrow, "A case-study in amateur conflict: the athletic war in Canada, 1906–08," British Journal of Sports Hist. (London), 3 (1986): 173–90. Michel Prévost, The University of Ottawa since 1848 (Ottawa, 2008). S. F. Wise and Douglas Fisher, Canada's sporting heroes (Don Mills [Toronto], 1974). Scott Young, 100 years of dropping the puck: a history of the OHA (Toronto, 1989).
© 2017–2023 University of Toronto/Université Laval
Image Gallery

Cite This Article
Bruce Kidd, "NELSON, FRANCIS JOSEPH," in Dictionary of Canadian Biography, vol. 16, University of Toronto/Université Laval, 2003–, accessed September 28, 2023, http://www.biographi.ca/en/bio/nelson_francis_joseph_16E.html.
The citation above shows the format for footnotes and endnotes according to the Chicago manual of style (16th edition). Information to be used in other citation formats:
| | |
| --- | --- |
| Permalink: | http://www.biographi.ca/en/bio/nelson_francis_joseph_16E.html |
| Author of Article: | Bruce Kidd |
| Title of Article: | NELSON, FRANCIS JOSEPH |
| Publication Name: | Dictionary of Canadian Biography, vol. 16 |
| Publisher: | University of Toronto/Université Laval |
| Year of publication: | 2017 |
| Year of revision: | 2017 |
| Access Date: | September 28, 2023 |