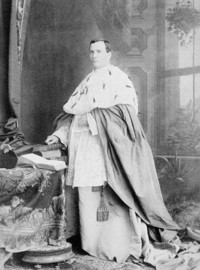 O'BRIEN, CORNELIUS, Roman Catholic priest, archbishop, and author; b. 4 May 1843 near New Glasgow, P.E.I, son of Terence O'Brien and Catherine O'Driscoll; d. 9 March 1906 in Halifax.
After working for a couple of years as a clerk in Summerside, P.E.I., Cornelius O'Brien was educated at St Dunstan's College in Charlottetown, and at the college of the Sacred Congregation of Propaganda (Urban College) in Rome. During the two years he spent at St Dunstan's (1862–64), he became the protégé of Bishop Peter McIntyre* of Charlottetown, who was probably instrumental in arranging for him to study at Rome. O'Brien remained at the Urban College from 1864 until 1871, eventually receiving doctoral degrees in both divinity and philosophy and earning a gold medal for academic excellence. His period of study there coincided with the last years of papal rule in Rome and with the meeting of the first Vatican Council, during which the dogma of papal infallibility was defined. Thus it afforded him an excellent opportunity to observe at first hand events that proved decisive in shaping modern Roman Catholicism. Some of his recollections of these turbulent times were later included in his book After weary years (Baltimore and New York, 1885), a highly partisan autobiographical novel.
O'Brien was ordained to the priesthood in 1871 and assigned to teach at St Dunstan's. After a brief period on the staff of the college, he served as parish priest at St Dunstan's Cathedral in Charlottetown and then at Indian River, P.E.I. The latter, relatively obscure posting was apparently the result of poor health. Nevertheless, O'Brien continued to impress his superiors. In 1879 the board of trustees of St Dunstan's College elected him rector, a position he declined. Three years later he was nominated to succeed Michael Hannan* as archbishop of Halifax. He was consecrated on 21 Jan. 1883, the first native-born Canadian to hold this office.
As archbishop of Halifax, O'Brien continued the process of institutional expansion that had taken place with varying degrees of success under his three immediate predecessors, William Walsh*, Thomas Louis Connolly*, and Hannan. As with most Roman Catholic prelates of his time, his policies tended toward the creation of an extensive and self-contained network of social and educational institutions through which the needs of the Catholic population could be met in relative isolation from Protestants. The major accomplishments of his episcopate included the founding or reopening of a diocesan seminary, a reformatory for boys, a refuge for delinquent girls, a surgical hospital, and a college for Catholic men.
Of all these projects, the revival of St Mary's College was perhaps the dearest to O'Brien's heart, as well as the most difficult to achieve. The idea of establishing a Catholic college in Halifax had originated with Edmund Burke* in 1802, but an interval of nearly 40 years had elapsed before St Mary's was formally established in 1840–41. The college then led an uncertain existence for another 40 years, until the cancellation of its annual grant from the provincial government forced it to close its doors. In 1881, however, the same year that the grant was cancelled, a wealthy Catholic merchant and politician in Halifax, Patrick Power*, bequeathed a substantial sum to the church, part of it to be used to bring Jesuit priests to the city. O'Brien began negotiations with the Jesuits with a view to their taking charge of St Mary's, but a disagreement between the archbishop and the order's superior in Canada resulted in the abandonment of this plan. O'Brien looked to other religious orders for assistance, still hoping to use Patrick Power's legacy to support St Mary's. New difficulties arose when Lawrence Geoffrey Power, the benefactor's son and a co-trustee of the estate, refused to allow the bequest to be used for the college unless the Jesuits were placed in charge. O'Brien successfully challenged this decision in the Nova Scotia courts, but their rulings in his favour were overturned by the Supreme Court of Canada in 1903. St Mary's was eventually reopened that year with a staff consisting mostly of laymen and without financial assistance from the Power estate.
O'Brien's episcopate coincided with the Acadian renaissance, during which the French-speaking inhabitants of the Maritimes worked to ensure the survival of their language and culture by gaining control of their own institutions, including ecclesiastical ones. The archbishop, who was himself bilingual, sharply increased the number of French-speaking clergy in his diocese and was instrumental in establishing the francophone Collège Sainte-Anne at Church Point, N.S., under the direction of Eudist priests [see Gustave Blanche*]. He was warmly commended for these efforts by Acadian politician Ambroise-Hilaire Comeau and historian Placide Gaudet*. The latter also praised him for his keen interest in and detailed knowledge of Acadian history. Admiration for O'Brien was not universal in the Acadian community, however, nor was he always responsive to its aspirations. In 1901 the leaders of the Société Nationale de l'Assomption, J.-Lucien Belliveau, Pierre-Amand Landry*, and Pascal Poirier*, appealed to him to support their demands for the creation of a French-speaking diocese of Moncton in New Brunswick. O'Brien declined to recommend their plan, on the grounds that it would have necessitated the dismemberment of the existing dioceses of Saint John and Chatham (both under the jurisdiction of Irish bishops). The first Acadian bishop, Édouard-Alfred Le Blanc* of Saint John, was appointed only in 1912, and the long-sought-after diocese of Moncton would not be created until 1936.
O'Brien was a man of above average intellectual gifts, who took a scholarly interest in an uncommonly broad range of topics. He was the author of numerous books, lectures, and poems on topics as diverse as the life of St Agnes and the voyages of John Cabot*. His best works, especially Philosophy of the Bible vindicated (Charlottetown, 1876), reflect a concern with the intellectual ferment of the age and with the threat posed to religious belief by contemporary rationalism and materialism. His defence of the Bible against the apparently destructive influence of modern criticism brought praise from spokesmen for other denominations, including the Baptist scholar Edward Manning Saunders*. O'Brien's literary and scholarly efforts also received sufficient national recognition for him to be elected president of the Royal Society of Canada for 1896–97. In retrospect, however, one cannot say that his writings contain anything that might be considered truly original, even by the standards of the time.
The archbishop took a keen interest in politics, where his opinions were shaped largely by his fervent Canadian patriotism and his attachment to the imperial connection. He was an officer of the Imperial Federation League and Nova Scotia president of the British Empire League. An open supporter of the Conservative party and its National Policy, he was outspoken in his opposition to Liberal proposals for unrestricted reciprocity with the United States, which he saw as a first step toward annexation. His support for Sir John A. Macdonald* and the Conservatives was reinforced by the emergence of the Manitoba school question and by the expectation that the Conservatives would take some form of remedial action on behalf of the Catholic minority in that province [see Thomas Greenway]. During the federal election campaign of 1891, he urged Catholics to vote against the Liberals on account of their free trade policy. He was criticized for his position by a group of Catholic laymen led by L. G. Power, who had already opposed him over St Mary's College and the Patrick Power estate, but he answered accusations of clerical interference in politics by insisting that a bishop had every right to "command his people to refrain from engaging in treasonable designs."
On a few occasions O'Brien also became embroiled in political controversy at the provincial level, challenging William Stevens Fielding*, the Nova Scotia premier, over social or educational policies that he considered prejudicial to Catholics. The most important dispute of this kind arose from a decision of the Halifax Board of School Commissioners concerning a new school on Russell Street in the city's north end. In 1865–66, following the unsuccessful attempts by O'Brien's predecessor Connolly to have the right to separate schools for Nova Scotia Catholics guaranteed by law, a "gentlemen's agreement" had been reached between the church and the government regarding education in Halifax, where virtually half the population was Catholic. According to this agreement, schools built by the Roman Catholic episcopal corporation would be leased to the Board of School Commissioners on the understanding that qualified Catholics would be appointed to teach in them. This arrangement had worked amicably until 1892, when it was proposed that the board should become the proprietor of the new Russell Street school.
Seeing this move as a threat to the separate education of Catholics, O'Brien declared that they would boycott the school. Catholic parents in the north end publicly supported O'Brien in this threatened boycott, and a delegation of influential Catholic businessmen and politicians, including L. G. Power, appealed to the government to adhere to the established arrangements for church-run schools. Premier Fielding nevertheless claimed in 1893 that a substantial body of Catholic opinion was opposed to O'Brien on this issue. There is insufficient evidence to determine whether there was any truth in this claim, although it was reliably reported that at least one Roman Catholic clergyman had openly questioned the archbishop's judgement. One thing is clear: O'Brien enjoyed the unqualified support of his episcopal colleague, John Cameron of Antigonish, who, together with some of his clergy, threatened to oppose the government publicly in the next election if it pressed ahead with the change in spite of O'Brien's protests. Meanwhile Wilfrid Laurier*, the federal Liberal leader, who was acutely aware of the difficulties posed by the Manitoba school question, advised Fielding to avoid a confrontation on educational issues. The Board of School Commissioners eventually relented and the Russell Street school, like other schools for Catholics, was vested in the episcopal corporation.
Archbishop O'Brien's career, although not characterized by startling new initiatives, was on balance successful. He strengthened and increased the range of ecclesiastical institutions in his diocese and added to the prestige of the Roman Catholic community in Nova Scotia through his modest scholarly achievements. His partisan support for the Conservatives and his inflexible stance on educational matters brought a measure of disapproval both inside and outside his flock. He was, however, an effective spokesman for Catholic rights as he understood them, and a respected figure in intellectual as well as ecclesiastical circles.
In addition to the items mentioned in the text, Cornelius O'Brien's published works include: The early stages of Christianity in England (Charlottetown, 1880); Mater admirabilis . . . (Montreal, 1882); St. Agnes, virgin and martyr (Halifax, 1887); Aminta, a modern life drama (New York, 1890); Memoirs of Rt. Rev. Edmund Burke, bishop of Zion, first vicar apostolic of Nova Scotia (Ottawa, 1894); and three articles in the RSC Trans.: "The supernatural in nature considered in the light of metaphysical science," 1st ser., 12 (1894), sect.ii: 135–49; "Presidential address on Cabot's landfall," 2nd ser., 3 (1897), sect.ii: cv-cxxxix; and "Cabot's landfall and chart: some criticisms answered," 2nd ser., 5 (1899), sect.ii: 427–55. His sermon at the January 1895 funeral of Sir John Sparrow David Thompson* appeared posthumously as Funeral sermon on Sir John Thompson (Halifax, 1906).
Arch. of the Archdiocese of Halifax, Edmund Burke papers, wardens' minute-book; Cornelius O'Brien papers, esp. I, nos.9–9a, 43–49; II, nos. 17, 19, 32, 38–42, 50;.III, no.135. Archivio Segreto Vaticano (Rome), Delegazione apostolica del Canadà, 13–14. PANS, RG 1, 303. L'Évangéline, 13 févr. 1896. Halifax Herald, 4, 7, 31 July 1893. Morning Herald (Halifax), 3 Feb. 1891. Beck, Politics of N.S. J. B. Hanington, Every popish person: the story of Roman Catholicism in Nova Scotia and the church of Halifax, 1604–1984 (Halifax, 1984). Katherine Hughes, Archbishop O'Brien: man and churchman (Ottawa, 1906). L. K. Shook, Catholic post-secondary education in English-speaking Canada: a history (Toronto and Buffalo, N.Y., 1971).
© 1994–2023 University of Toronto/Université Laval
Cite This Article
Terrence Murphy, "O'BRIEN, CORNELIUS," in Dictionary of Canadian Biography, vol. 13, University of Toronto/Université Laval, 2003–, accessed October 1, 2023, http://www.biographi.ca/en/bio/o_brien_cornelius_13E.html.
The citation above shows the format for footnotes and endnotes according to the Chicago manual of style (16th edition). Information to be used in other citation formats:
| | |
| --- | --- |
| Permalink: | http://www.biographi.ca/en/bio/o_brien_cornelius_13E.html |
| Author of Article: | Terrence Murphy |
| Title of Article: | O'BRIEN, CORNELIUS |
| Publication Name: | Dictionary of Canadian Biography, vol. 13 |
| Publisher: | University of Toronto/Université Laval |
| Year of publication: | 1994 |
| Year of revision: | 1994 |
| Access Date: | October 1, 2023 |