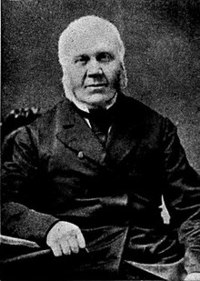 Source: Courtesy of Wikimedia Commons
ROSS, JAMES GIBB, merchant, capitalist, and senator; b. 18 April 1819 in Carluke (Strathclyde), Scotland; d. 1 Oct. 1888 in Quebec City.
The son of a merchant, James Gibb Ross came to Canada and settled in Quebec City at the age of 15. Entering the wholesale and retail grocery firm of his two uncles, James* and Thomas Gibb, Ross worked as a clerk without pay for the first year; for his second year of service he received a salary of $200, which was subsequently increased to $400. Under the name of James Gibb and Company, his two uncles, in partnership with Elisha Lane, were in business together until the end of 1843, when James Gibb retired from the firm to go in with John Ross, James Gibb Ross's elder brother. This new partnership, using the name of Gibb and Ross, conducted a similar wholesale-retail grocery trade, and James Gibb Ross was employed by the firm from its formation, becoming a partner by April 1858. Recognized as the most important importers of wine and groceries in the city of Quebec, Gibb and Ross did a large and profitable business.
Following the death of James Gibb in the fall of 1858 the two brothers John and James Gibb Ross formed a partnership under the style of Ross and Company and continued the business. Maintaining their position as the largest grocery importers in Quebec City, they soon sought out other avenues of investment for their growing capital, and by 1861 had begun trading in lumber. As commission and general merchants, the partnership continued until 1868 when John Ross retired to form another grocery firm, John Ross and Company, based in Montreal and Quebec. James Gibb Ross maintained Ross and Company on his own and carried on a rapidly diversifying business as a general and commission merchant dealing in iron, lumber, timber, and wholesale groceries, and as agent for various British and American steamship lines. During the 1870s and 1880s his trading activities took him into the commodity markets of New York, Chicago, and Milwaukee, Wis., where at times his investment in such goods as tea, sugar, and grain was reportedly in the millions of dollars. On one occasion a syndicate in which Ross was the principal investor apparently succeeded in cornering the market in pork at Milwaukee. His interest in the lumber and timber trade also expanded and he was soon recognized as a major owner of sawmills in Quebec and Ontario. One of his mills, located at Lakefield, Ont., which was destroyed by fire in 1880, was valued at $25,000. During the 1880s, with his partners Horace Jansen Beemer and Benjamin Alexander Scott, he operated extensive timber cutting and milling operations in the Lac Saint-Jean region under the style of Ross, Beemer and Company, and at the time of his death he was completing the construction of the largest mill in the region at Pointe Scott.
From the late 1850s Ross had taken an interest in shipbuilding. Beginning with advances to other shipbuilders, he soon turned to constructing his own vessels. As early as June 1859 his first ship, the 676-ton sailing vessel Leveu, left the dry docks at Quebec City and before the end of the year he had completed two more. In 1877 Ross and Company appeared in the city directories as shipbuilders, owners, and brokers, and at the peak of his shipping activities towards the end of the 1870s Ross was reported to have owned a worldwide fleet of 80 vessels.
As a capitalist Ross occupied an influential position in the business community of Quebec and his name was associated with those of many of Canada's leading businessmen. In 1861 he figured prominently with Isaac Buchanan, James Bell Forsyth*, and Jean-Baptiste Renaud in the group which formed the St Lawrence Navigation Company. With many of the same associates he formed the Quebec Marine Insurance Company in 1862 and the Quebec Elevator Company in 1863. Ross also had considerable investments in the Banque Nationale (75 shares), the Union Bank of Lower Canada ($12,000), and the Quebec Bank ($26,000), as declared in a government list of shareholders in Canadian chartered banks for 1868. Particularly active in the administration of the Quebec Bank, he served as vice-president from 1866 to 1869 and as president from 1869 until his death.
Ross also took an interest in railway development and in March 1873 advanced a considerable sum of money to the Levis and Kennebec Railway Company, saving the project from financial disaster. The following year he was appointed one of the trustees to oversee the management of a fund of $74,385 set aside by the company to guarantee the interest payments on bonds to be sold in London, England. In 1873 Ross was an active member of the group of capitalists who took control of the ailing North Shore Railway Company from Joseph-Édouard Cauchon. Elected a member of the board of directors on 20 May 1873, along with Jean-Baptiste Renaud, Élisée Beaudet, Andrew Thomson, Willis Russell, William Rhodes, Thomas McGreevy*, and John Burstall*, Ross was subsequently elected president of the company by his fellow directors. Unfortunately, the efforts of the new board to obtain sound financing were in vain and in 1875 the Quebec provincial government took control of the railway to form the publicly owned Quebec, Montreal, Ottawa and Occidental Railway. Ross was none the less still attracted by the prospects of this road, and, when it was put up for sale in 1882, he participated with Louis-Adélard Senécal, Thomas McGreevy, Mathew Hamilton Gault, Jean-Baptiste Renaud, Charles William Carrier, Victor Hudon*, and others in a syndicate which offered to lease the line with an option to purchase. After the government of Joseph-Adolphe Chapleau* sold the western section of the QMOO to the Canadian Pacific Railway, the syndicate revised its offer and, as the North Shore Railway Company, negotiated the purchase of the eastern section for $4 million; Ross sat as a founding member on the board of directors. In December 1882, however, control of the North Shore Railway was sold to the Grand Trunk Railway. During these years Ross also had a large investment in the Quebec and Lake St John Railway Company, serving as director in 1877 and then as president from 1878.
James Gibb Ross played an important role in many of Quebec City's commercial and social associations. Intermittently a member of the council of the board of trade from 1856 to 1871, he served as president in 1862–63, and in 1874 was appointed a member of the Quebec Harbour Commission. With a group of Quebec's most influential citizens, including ex-mayors Charles Joseph Alleyn and Sir Narcisse-Fortunat Belleau*, Joseph-Édouard Cauchon, James Bell Forsyth, and David Edward Price, Ross was a founding director of the Stadacona Club in 1861. Located at the corner of Rue Sainte-Anne and Rue d'Auteuil, the Stadacona Club was popular for many years among Quebec merchants and the officers stationed at the Citadel. In 1864 Ross participated in the incorporation of the Humane Society of Canada with Pierre Garneau*, Thomas D'Arcy McGee*, Jean-Baptiste Renaud, Georges-Honoré Simard*, and Isidore Thibaudeau*. This association was formed to reward acts of personal bravery in attempts to preserve human life and to bring to punishment acts of cruelty to animals.
In the 1872 federal general election Ross was an independent Conservative candidate in the constituency of Quebec Centre, seeking to represent the British Protestant minority of Quebec City. His contest with Cauchon, who was also running as an independent, quickly degenerated into a bitter campaign centred around racial and religious differences. On 5 August, the day of the election, a riot broke out between the supporters of each candidate and before calm was restored one of the rioters had been shot and killed. The veteran Cauchon won the seat, beating Ross by 330 votes. Running in the election of 1878, Ross was once again unable to carry the riding and lost to the independent Jacques Malouin. On 11 Jan. 1884 the Conservative government of Sir John A. Macdonald* appointed Ross to succeed the deceased David Edward Price as senator for the Laurentides division. Not a particularly active senator, Ross sat as a member of the upper house until his death four years later.
James Gibb Ross, a bachelor, died at the home of his brother, Francis*, on 1 Oct. 1888, leaving an estate variously estimated at between five and ten million dollars. In his will Ross bequeathed a total of $525,000 to a number of charities, for the most part connected with the English minority in Quebec, though a £10,000 trust was set aside for the relief of the Protestant poor in his native Carluke. On 4 October he was buried at Mount Hermon Cemetery in Sillery, near Quebec City.
In collaboration with Kenneth S. Mackenzie
Baker Library, R. G. Dun & Co. credit ledger, Canada, 5: 53, 241. BE, Québec, Reg. B, 51, no.20612; 53, no.21540; 54, no.22086; C, A1, nos.35, 120, 248. PAC, RG 68, 240: 349. Can., Parl., Sessional papers, 1867–68, VI, no.12. Can., Prov. of, Statutes, 1861, c.99, c.121; 1862, c.71; February–May 1863, c.23; 1864, c.146. Que., Statutes, 1882, c.20. C. A. Scott, The Levis and Kennebec Railway, and its difficulties: a brief history of Larochelle & Scott's connection with the line from its commencement to the present time (Quebec, 1877). Gazette (Montreal), 21, 29 May 1873. La Minerve, 3 oct. 1888. Quebec Daily Mercury, 2 Oct. 1888. Quebec Gazette, 12 Jan., 24 April 1844. Canada, an encyclopædia (Hopkins), I: 450. Canada directory, 1857–58. Canadian directory of parl. (J. K. Johnson), 508. Canadian men and women of the time (Morgan, 1898), 62–63, 1009. Canadian men and women of the time (Morgan, 1912), 1001. CPC, 1873: 295; 1878: 198; 1879: 241. Cyclopædia of Canadian biog. (Rose, 1888): 648–49. Dominion annual register, 1879: 248; 1880–81: 249; 1883: 234; 1885: 354; 1886: 154. Political appointments and judicial bench (N.-O. Coté), 170. Quebec directory, 1862–89. RPQ, 25. Rodolphe Gagnon, "Le chemin de fer de Québec au lac Saint-Jean (1854–1900)" (thèse de des, univ. Laval, Québec, 1967). Gervais, "L'expansion du réseau ferroviaire québécois." Rossel Vien, Histoire de Roberval, cœur du Lac-Saint-Jean ([Chicoutimi, Qué., 1955]). F. W. Wallace, Wooden ships and iron men: the story of the square-rigged merchant marine of British North America, the ships, their builders and owners, and the men who sailed them (New York, [1924]). "Les disparus," BRH, 33 (1927): 311.
© 1982–2023 University of Toronto/Université Laval
Image Gallery

Cite This Article
In collaboration with Kenneth S. Mackenzie, "ROSS, JAMES GIBB," in Dictionary of Canadian Biography, vol. 11, University of Toronto/Université Laval, 2003–, accessed October 1, 2023, http://www.biographi.ca/en/bio/ross_james_gibb_11E.html.
The citation above shows the format for footnotes and endnotes according to the Chicago manual of style (16th edition). Information to be used in other citation formats:
| | |
| --- | --- |
| Permalink: | http://www.biographi.ca/en/bio/ross_james_gibb_11E.html |
| Author of Article: | In collaboration with Kenneth S. Mackenzie |
| Title of Article: | ROSS, JAMES GIBB |
| Publication Name: | Dictionary of Canadian Biography, vol. 11 |
| Publisher: | University of Toronto/Université Laval |
| Year of publication: | 1982 |
| Year of revision: | 1982 |
| Access Date: | October 1, 2023 |