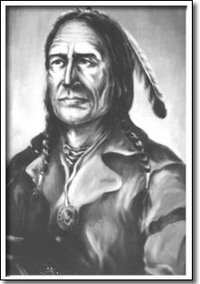 Source: Link
PEGUIS, (Be-gou-ais, Be-gwa-is, Pegeois, Pegouisse, Pegowis, Pegqas, Pigewis, Pigwys; also known as the Destroyer and Little Chip, and baptized William King), Saulteaux Indian chief; b. c. 1774 near Sault Ste Marie (Ont.); d. 28 Sept. 1864 at Red River.
Born in the Great Lakes area, Peguis was among the Saulteaux, or Ojibwa, who migrated west with the fur trade in the late 1790s, settling on Netley Creek, a branch of the Red River south of Lake Winnipeg. He welcomed the first settlers brought to the Red River area by Lord Selkirk [Douglas*] in 1812 and is given credit for aiding and defending them during their difficult years. When the main group of settlers arrived in 1814 to find none of the promised gardens planted or houses built, Peguis guided them to Fort Daer (Pembina, N.D.) to hunt buffalo. The children, weak from the journey, were carried on ponies provided by the Indians. The Saulteaux showed the settlers how to hunt and brought them along on their annual trek to buffalo country.
Peguis sided with the Hudson's Bay Company during its dispute with the North West Company, and after the Selkirk settlers had been attacked at Seven Oaks on 19 June 1816 [see Robert Semple*] he offered assistance to the survivors. The future grandmother of Louis Riel*, the first white woman resident in the West, Marie-Anne Gaboury*, whose husband was away when the Nor'Westers occupied Fort Douglas, was rescued by Peguis, and she and her children were kept safely in his camp for several weeks. Before the other settlers fled north to Norway House, they were befriended and fed by Peguis.
On 18 July 1817 Peguis was one of five Saulteaux and Cree chiefs who signed a treaty with Lord Selkirk to provide an area for settlement purposes. This included a strip of land two miles wide on each side of the Red and Assiniboine rivers, beginning at their confluence within the present city of Winnipeg and extending up the Red to what is now Grand Forks (N.D.) and up the Assiniboine to Rat Creek. Plots of land reaching six miles in each direction from Fort Douglas, Fort Daer, and Grand Forks were also included. In exchange, each tribe was to receive annual payments of 100 lbs of tobacco. This land treaty was the first to be signed in western Canada.
Colin Inkster, a Manitoba politician, writing in 1909 remembered Peguis as "short in stature, with a strong, well-knit frame, and the voice of an orator." He was "clad in a cotton shirt, breech clout, red cloth leggings and over all a blanket wrapped loosely about him, his hair hung in two long plaits studded with brass ornaments, his breast decorated with medals." One of the latter was a medal presented to him by Lord Selkirk as a confirmation of the agreement of 1817. Peguis' appearance, however, was disfigured as part of his nose had been bitten off during a tribal quarrel in about 1802. As a result, he was known to some settlers as "The Cut-Nosed Chief."
Peguis and his followers, who in 1816 numbered 65 men, lived by raising corn, potatoes, barley, and other grain at their village on Netley Creek, as well as by hunting. Peguis was met at this village by Anglican missionary John West* in 1820 and later he supported missionary work among his followers [see William Cockran]. In 1836 St Peter's mission was built nearby to serve the Christian Indians, and on 7 Oct. 1840 Peguis gave up three of his four wives so that he could be baptized by the Reverend John Smithurst. He and his remaining wife took the names William and Victoria King, and their children later adopted the surname of Prince.
Peguis was recognized and honoured by the HBC throughout his life, and in 1835 Governor George Simpson* gave him an annuity of £5 a year in recognition of his contributions. Peguis also carried with him a testimonial from Lord Selkirk which stated that he was "one of the principal chiefs of the Chipeways, or Saulteaux of Red River, has been a steady friend of the settlement ever since its first establishment, and has never deserted its cause in its greatest reverses."
Peguis was a welcome visitor to the Red River Settlement and, even after the threat of native hostilities had passed, his earlier support was remembered. However, in 1860 Peguis became dissatisfied with the white settlers when they began using lands not surrendered by his tribe, and he made a formal protest to the Aborigines' Protection Society. He also stated that the tobacco payment instituted in 1817 had been simply a goodwill token and that arrangements for the formal surrender of the land had never taken place. In addition, he questioned the right of the governor and Council of Assiniboia to make any laws which affected the unsurrendered area until after a further treaty was made. No action was taken by the authorities to rectify the situation until after the area was transferred to the Dominion of Canada in 1870; then Treaty No.1 was negotiated by Peguis' son, Mis-koo-kee-new, known as Red Eagle or Henry Prince, in August 1871.
Peguis did not live to see the treaty; he died in September 1864, and was buried in the graveyard of St Peter's Church. In 1924 a monument honouring the chief was erected in Kildonan Park, Winnipeg.
Morris, Treaties of Can. with Indians, 13–15, 298–300, 313–16. [John Tanner], A narrative of the captivity and adventures of John Tanner (U.S. interpreter at the Sault de Ste-Marie) during thirty years of residence among the Indians in the interior of North America (Minneapolis, Minn., 1956), 154. John West, The substance of a journal during a residence at the Red River colony, British North America; and frequent excursions among the North-West American Indians, in the years 1820, 1821, 1822, 1823 (London, 1824; repr. [East Ardsley, Eng., and New York], 1966), 102–4. A. S. Morton, History of the Canadian west. W. L. Morton, Man.: a history (1957). A. E. Thompson, Chief Peguis and his descendants (Winnipeg, 1973). Colin Inkster, "Noble chief Peguis," Manitoba Free Press (Winnipeg), 17 April 1909. Betty Woods, "Peguis," Western Producer (Saskatoon, Sask.), 18 Aug. 1966.
© 1976–2023 University of Toronto/Université Laval
Image Gallery

Cite This Article
Hugh A. Dempsey, "PEGUIS," in Dictionary of Canadian Biography, vol. 9, University of Toronto/Université Laval, 2003–, accessed September 27, 2023, http://www.biographi.ca/en/bio/peguis_9E.html.
The citation above shows the format for footnotes and endnotes according to the Chicago manual of style (16th edition). Information to be used in other citation formats:
| | |
| --- | --- |
| Permalink: | http://www.biographi.ca/en/bio/peguis_9E.html |
| Author of Article: | Hugh A. Dempsey |
| Title of Article: | PEGUIS |
| Publication Name: | Dictionary of Canadian Biography, vol. 9 |
| Publisher: | University of Toronto/Université Laval |
| Year of publication: | 1976 |
| Year of revision: | 1976 |
| Access Date: | September 27, 2023 |