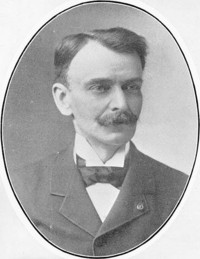 BEAUGRAND, HONORÉ (baptized Marie-Louis-Honoré), soldier, journalist, newspaper owner, politician, and author; b. 24 March 1848 in Saint-Joseph-de-Lanoraie (Lanoraie), Lower Canada, son of Louis Beaugrand, dit Champagne, a mariner, and Marie-Josephte (Joséphine) Marion; m. 5 Oct. 1873 Eliza Walker (1854–1934) in St Paul's Methodist Church, Fall River, Mass., and they had one daughter, Estelle (1881–1918); d. 7 Oct. 1906 in Westmount, Que.
Honoré Beaugrand studied briefly at the Collège Joliette in Joliette, Lower Canada, and spent a few months as a novice with the Clerics of St Viator before taking a short training course at the School of Military Instruction of Montreal. At the age of 17 he left Canada and he did not come back for good until 13 years later. He went first to Mexico, where he fought for 18 months in the Emperor Maximilian's army. When the war ended in 1867, he followed the troops to France and stayed there for a time. He then lived in the United States and Mexico, working at various trades.
By 1871 Beaugrand was in Fall River and he soon became a leading figure among the immigrants from Quebec. He organized patriotic and cultural societies and represented his fellow citizens at the 1874 Saint-Jean-Baptiste celebrations in Montreal [see Ferdinand Gagnon*], at which he gave a paper published under the title Rapport sur la population canadienne française de Fall River, Mass. His most important step was to launch a newspaper, L'Écho du Canada, in which he took up the cause of Franco-Americans and displayed increasingly liberal views. After it was sold, he spent the summer of 1875 in the province of Quebec on the editorial staff of Le Courrier de Montréal, published by Laurent-Olivier David* and Cléophas Beausoleil. He left in the fall, however, and founded La République, a newspaper he moved from Boston to Fall River, to St Louis, Mo., and back to Fall River. Beaugrand had become a freemason in 1873, and it was in its pages that the radicalism of this period in his life was most pronounced. He openly declared himself anticlerical, deist, and republican. During his years in New England, Beaugrand published a great many articles and a few stories, including "Le fantôme de l'avare" and "Anita: souvenirs de la campagne du Mexique." His most important work was the novel Jeanne la fileuse: épisode de l'émigration, franco-canadienne aux États-Unis, which came out in Fall River in the spring of 1878. As much a pamphlet as a work of fiction, it was intended to document the causes of emigration and the living conditions of the emigrants. Despite many infelicities, it stands out in the literary output of the day because of its character as a social novel, its resolutely secular viewpoint, and its commitment.
A new phase had opened in Beaugrand's life. Taking advantage of the fact that the Liberals were in power in Ottawa, he moved there and established Le Fédéral, which lasted until September 1878. A month later Beaugrand was in Montreal. There he launched first a satirical weekly, Le Farceur, and then in February 1879 La Patrie, founded at the request of the Liberal party. A daily with a brilliant future, La Patrie would remain in his hands until 1897.
For the next 10 or 12 years, Beaugrand concentrated on politics and on managing his newspaper. Politically, he championed the purest liberal tradition, a stand that brought him into vigorous conflict with the Conservatives and the clergy. It also set him in opposition to more moderate Liberals, such as Honoré Mercier*, whose coalition with the National Conservatives he denounced, and Wilfrid Laurier*, who distrusted him and would soon push him aside. More fortunate in municipal politics, Beaugrand was twice elected mayor of Montreal (1885–87) [see Jean-Louis Beaudry*]; he distinguished himself by his speeches in favour of compulsory vaccination during a smallpox epidemic [see Alphonse-Barnabé Larocque* de Rochbrune]. As for business, things were going well. La Patrie was a great commercial success, an unusual achievement for that time; its editor had realized that a militant newspaper cannot survive unless it becomes financially independent of political parties, and therefore unless it reaches the largest possible readership.
Beginning in the early 1890s, Beaugrand progressively withdrew from the political scene because of his frail health. A man of substantial wealth, decorated with the Legion of Honour, he would spend the last 15 years of his life travelling and writing. He was also involved during this period in various cultural organizations (the Alliance Française, the Société des Traditions Populaires, and the Canadian Folklore Society). Partly for the sake of his lungs and partly out of curiosity as an amateur ethnologist and geographer, he travelled through the Mediterranean basin (1888–89), the American southwest (1889–90), and the Far East (1892–93), and stayed for considerable periods of time in the United States and Europe. He penned accounts of these travels in letters to La Patrie, some of which were collected in book form: Lettres de voyage: France-ltalie-Sicile-Malte-Tunisie-Algérie-Espagne (Montreal, 1889); and Six mois dans les Montagnes-Rocheuses: Colorado, Utah, Nouveau-Mexique (Montreal, 1890).
Beaugrand's work as a man of letters included some lectures which he brought out at Montreal in 1888 under the title Mélanges; trois conférences. But his main literary output consisted of a great many short tales and a few studies based either on forest and village customs or on his readings in ethnology and science. They appeared in French in La Patrie (1891–92) and various periodicals, and in English in Toronto and New York magazines. In 1900 the author himself prepared a magnificent limited edition of two collections of his writings from this period. The first, entitled La chasse galerie: légendes canadiennes, includes "La chasse-galerie," "Le loup-garou," "La bête à grand'queue," "Macloune," and "Le père Louison." The other, entitled La chasse galerie and other Canadian stories, contains a translation of "La chasse-galerie" and two English stories, "The werwolves" and "La quête de l'Enfant Jésus." Four years later a third collection in the same vein was published, again in Montreal, under the title New studies of Canadian folk lore.
Throughout his career as a journalist, Beaugrand constantly expressed ideas and adopted stands that created scandal or conflict. Even his death gave rise to controversy. Some – his friend Joseph-Israël Tarte, for one – maintained that he repented and was converted on his deathbed. Others – including his widow – categorically denied these rumours. What is certain is that during the last years of his life Beaugrand continued to flaunt his free-thinking views. In 1897 he helped found a radically inclined masonic lodge in Montreal, L'Émancipation, and he subsequently maintained close contact with anticlerical groups. He was cremated at Mount Royal Cemetery in Outremont (Montreal), where his remains lie.
During his lifetime, Honoré Beaugrand was attacked or admired mainly for his ideas and his political activities. However, he is now of interest chiefly as a writer. More and more he is seen as one of the most engaging figures of the late 19th century, not so much because of the aesthetic quality of his writing as for certain aspects of his life and career. A voluntary exile in youth, a man of culture in maturity, he was passionately devoted to liberty and to new ideas. In the ideological and cultural fabric of his time, he embodied in his own way a modernity that critics and historians have until now tended to ignore or to misjudge.
In regard to the works of Honoré Beaugrand mentioned in this biography, the Rapport sur la population . . . was probably published in 1874 and is held in the Salle Gagnon of the Bibliothèque de la Ville de Montréal; his Jeanne la fileuse went through a second edition (Montréal, 1888) and an edition prepared by Roger LeMoine (Montreal, 1980); new editions of La chasse-galerie: légendes canadiennes were issued in Montreal in 1973 and 1979, and this work also appears in François Ricard's critical edition of all Beaugrand's short tales under the title La chasse-galerie et autres récits (Montréal, 1989); and the three lectures published in Mélanges . . . are entitled "De Montréal à Victoria," "Le journal: son origine et son histoire," and "Anita: souvenirs d'un contre-guérillas." Beaugrand's publications also include Catalogue de la bibliothèque de H. Beaugrand; a copy of the first edition (Montréal, 1884) is in the Thomas Fisher Rare Book Library at the Univ. of Toronto, and the second edition (Montréal, 1884) may be found in the Lande Coll. at McGill Univ. Libraries, Dept. of Rare Books and Special Coll., Montreal.
Collections of the two newspapers founded by Beaugrand in the United States, L'Écho du Canada (Fall River, Mass.; Boston) and La Republique (Boston; Fall River; St Louis, Mo.), are held by the Salle Gagnon and by the American Antiquarian Soc. (Worcester, Mass.).
Apart from some 30 letters in collections at the NA, no document in Beaugrand's hand has been found. It seems that his papers as well as his collections of books, works of art, and furnishings were broken up.
ANQ-M, CE5-4, 24 mars 1848. NA, MG 26, G; MG 29, D27; D40. L'Album universel (Montréal), 20 oct. 1906. Le Canada, 8 oct. 1906. Le Courrier du Canada, 31 déc. 1896. Le Journal de Françoise (Montréal), 19 oct. 1907. La Patrie, 4 janv. 1897, 8 oct. 1906, 27 oct. 1957. Pierre Bance, "Beaugrand et son temps" (thèse de phd, univ. d'Ottawa, 1964). Aurélien Boivin, "Chronologie et bibliographie," Honoré Beaugrand, La chasse-galerie (Montréal, 1979). Charles ab der Halden, Études de littérature canadienne-française, introd. de Louis Herbette (Paris, 1904). Maurice Poteet, "Notre premier roman bourgeois?" Voix et images (Montréal), 6 (1980–81): 327–32. Léon Trépanier, "Figures de maires," Cahiers des Dix, 20 (1955): 160–65.
Revisions based on:
Ancestry.com, "Massachusetts, Marriage Records, 1840–1915": www.ancestry.com (consulted 12 Feb. 2018). Montreal Weekly Witness and Canadian Homestead, 9 Oct. 1906. La Patrie (Montréal), 9 oct. 1906. Directory, Montreal, 1906–7.
© 1994–2023 University of Toronto/Université Laval
Cite This Article
François Ricard, "BEAUGRAND, HONORÉ (baptized Marie-Louis-Honoré)," in Dictionary of Canadian Biography, vol. 13, University of Toronto/Université Laval, 2003–, accessed December 5, 2023, http://www.biographi.ca/en/bio/beaugrand_honore_13E.html.
The citation above shows the format for footnotes and endnotes according to the Chicago manual of style (16th edition). Information to be used in other citation formats:
| | |
| --- | --- |
| Permalink: | http://www.biographi.ca/en/bio/beaugrand_honore_13E.html |
| Author of Article: | François Ricard |
| Title of Article: | BEAUGRAND, HONORÉ (baptized Marie-Louis-Honoré) |
| Publication Name: | Dictionary of Canadian Biography, vol. 13 |
| Publisher: | University of Toronto/Université Laval |
| Year of publication: | 1994 |
| Year of revision: | 2018 |
| Access Date: | December 5, 2023 |