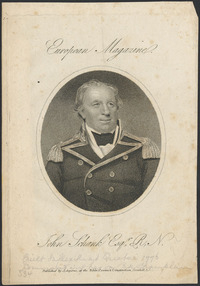 SCHANK (Schanck, Shank), JOHN, naval officer; b. c. 1740 in Scotland, son of Alexander Schank of Castlerig, Fifeshire, and Mary Burnet (Burnett); m. first Mrs Fitzgerald, a widow, and they had a daughter; m. secondly Margaret Grant, sister of Sir William Grant; d. 6 Feb. 1823 in Dawlish, England.
John Schank entered the Royal Navy as an able seaman on the store-ship Duke in 1757 after the onset of the Seven Years' War, having sailed as a boy and young man in the merchant service. He next spent four years in the newly built Shrewsbury (74 guns) under Captain Hugh Palliser*. Rated a midshipman in 1761, he served under Captain Charles Douglas* as a midshipman and master's mate in the Tweed (32 guns) and later the Emerald (32 guns), and then went to the Princess Amelia (80 guns) and the Asia (64 guns). Schank passed the examination for lieutenant on 10 Jan. 1766 but did not win promotion until 2 Jan. 1776. Four months later he took charge of the Canceaux and sailed to Quebec, where he was attached to the squadron under Douglas that had just raised the siege of the town by the Americans [see Benedict Arnold*; Richard Montgomery*].
The rivers and lakes of the province of Quebec played a vital role in military operations. In 1775 Montgomery had advanced by way of Lake Champlain and the Richelieu and St Lawrence rivers, not only threatening Quebec but also blocking the only practical route for supplying posts such as Niagara (near Youngstown, N.Y.), Detroit, and Michilimackinac (Mackinaw City, Mich.) on the Great Lakes. Governor Guy Carleton* drove the invaders back in 1776 and created a British naval presence on Lake Champlain, having recaptured he aux Noix on the Richelieu and established a dockyard there. Schank's "infinite merit" earned him command of that establishment, where he supervised the unprecedentedly speedy construction of a flotilla which included the 300-ton ship Inflexible. Schank then commanded Inflexible in the British force under Commander Thomas Pringle that destroyed the American squadron led by Benedict Arnold.
In 1777 Schank built several floating bridges for John Burgoyne*'s ill-fated expedition and then at Carleton's request stayed in North America to become commissioner of the lakes. Normally such a position would have been filled by a post-captain, appointed by the Admiralty and reporting directly to the Navy Board in London. Carleton, however, insisted that the Admiralty's jurisdiction did not extend to inland waters. He needed professional support to administer his growing, and vastly dispersed, naval force, but wanted no interference from the British naval establishment. Not surprisingly, because the Royal Navy was very thinly spread when France formed an alliance with the Americans early in 1778, the Admiralty offered no objection to the secondment of an officer of lieutenant's rank to Carleton's marine department.
Schank's commission, signed by Carleton on 28 June 1778, was unequivocal in its delegation of authority, appointing him "Commissioner of all His Majesty's Naval Yards or Docks upon the Lakes, with power to controul and direct the construction repair and equipment of all vessels in the yards and docks aforesaid." Schank evidently insisted on these terms to protect and enhance his career. "I will esteem your Commissions," he told Carleton, "the same as if they were from the Lords of Admiralty," and he entrusted future preferment to his powerful new patron. When Captain Lord John Augustus Hervey, commanding naval forces at Quebec in 1779, asked for Schank's release, Carleton's successor, Frederick Haldimand*, replied, "It would not be reasonable to deprive him of the chance of succeeding in his Profession, expressly reserved to him, and for which he has been recommended to me by the First Lord of the Admiralty."
Haldimand permitted Schank to run the marine department, so far as circumstances permitted, along Admiralty lines. With three separate commands, on Lake Champlain, Lake Ontario, and lakes Erie, Huron, and Michigan, Haldimand and Schank leaned heavily on the Royal Navy for seamen, but for the most part depended on provincials to serve as shipwrights, artificers, and ships' officers. An effort was made to give a share of responsibility to Canadians, and several of them, including Jean-Baptiste Bouchette* in 1777, were awarded commissions and served on Lake Ontario. This framework of operations, consolidated under Schank's direction, governed the system by which the Provincial Marine would defend and develop inland navigation until the War of 1812. Schank's devotion to duty and his innovative adaptation of armed vessels for lake service was recognized when Haldimand exerted the necessary influence in the Admiralty to secure promotion for his protégé, to commander on 4 April 1780 and post-captain on 15 Aug. 1783.
Schank went home in 1784 and was placed on half pay. He directed his energies to an invention he had experimented with in 1774, a sliding keel that operated on the principle of a modern centre-board. The Navy Board in 1791 approved the construction of some vessels with this device, and it became standard on many small warships, including the survey brig Lady Nelson, which sailed around the world. In 1794 John Graves Simcoe* asked for Schank's services in Upper Canada, but he was in demand elsewhere as an agent of transports. From 1795 to 1801 he served as one of the commissioners of the Transport Board and, profiting from his experience in the province of Quebec, superintended great improvements to coast defences in England.
Failing eyesight forced Schank out of active employment in 1802, but he rose steadily in the flag list, being promoted rear-admiral of the blue on 9 Nov. 1805 and admiral of the blue on 19 July 1821. He died at his home in Dawlish, Devon, on 6 Feb. 1823 and was survived by his wife. His daughter, Margaret, who had married Schank's cousin and protégé Captain John Wight, had died in 1812. A fellow of the Royal Society, Schank was known as "Old Purchase" from his invention of a cot which could be raised and lowered by its occupant with ropes and pulleys.
In 1786 Schank had received the freedom of the city of Edinburgh "in testimony of the good services done to his King and Country as Captain and Senior Officer and Commissioner of H.M. Fleet on the lakes and rivers in Canada." By the end of his days, as one epitaph declares, he had "by his ability zeal and integrity raised himself to the highest rank in his profession and closed an honourable life after a service of sixty years."
BL, Add. mss 21712, 21720, 21745, 21800–3, 21805 (mfm. at PAC). Can., Parks Canada, Hist. Research Division (Ottawa), Carol MacLeod, "The tap of the garrison drum: the Marine Service in British North America, 1775–1813" (1983). McCord Museum, John Schank, letter-book, 1778–80. MTL, James Andrews corr., 1779. NMM, Pitcairn Jones, notes on sea officers; MID/1/164 (Schank to Middleton, 26 Feb. 1791); PNS/4 (letters relating to building of HMS Wolverine, sloop); RUSI/NM/13 ("A list of HM armed vessels upon the Canadian Lakes, St Lawrence & Provincial Service," 1780); RUSI/NM/86 (1) ("Description of a model of a frigate with three sliding keels, suggested by Captain Schank to the Duke of Northumberland," n.d.). PAC, MG 23, HI, 1, ser.3 (transcripts); RG 8, I (C ser.), 722A. PRO, ADM 1/2486; ADM 12/55/59. Corr. of Lieut. Governor Simcoe (Cruikshank). Naval documents of the American revolution, ed. W. B. Clarke and W. J. Morgan (8v. to date, Washington, 1964– ), 6–8. Biographie universelle (Michaud et Desplaces). DNB. Genealogical memoranda, relating to the family of Schank, or Shank of Casterig, in the county of Fife, N.B. (London, 1885). G.B., Admiralty, The commissioned sea officers of the Royal Navy, 1660–1815, [ed. D. B. Smith et al.] (3v., n.p., [1954]). John Marshall, Royal naval biography . . . (4v. in 6 and 2v. supp., London, 1823–35), 1: 324–32. [Secondary sources make very few references to Schank. The items mentioned here, except for my article, are simply standard works covering events connected with his life. w.a.b.d.] G. A. Cuthbertson, Freshwater: a history and a narrative of the Great Lakes (Toronto, 1931). R. McC. Hatch, Thrust for Canada: the American attempt on Quebec in 1775–1776 (Boston, 1979). Neatby, Quebec. W. M. Wallace, Traitorous hero; the life and fortunes of Benedict Arnold (New York, [1954]). C. [L.] Ward, The war of the revolution, ed. J. R. Alden (2v., New York, 1952). W. A. B. Douglas, "The anatomy of naval incompetence: the Provincial Marine in defence of Upper Canada before 1813," OH, 71 (1979): 3–25.
© 1987–2023 University of Toronto/Université Laval
Image Gallery

Cite This Article
W. A. B. Douglas, "SCHANK (Schanck, Shank), JOHN," in Dictionary of Canadian Biography, vol. 6, University of Toronto/Université Laval, 2003–, accessed September 27, 2023, http://www.biographi.ca/en/bio/schank_john_6E.html.
The citation above shows the format for footnotes and endnotes according to the Chicago manual of style (16th edition). Information to be used in other citation formats:
| | |
| --- | --- |
| Permalink: | http://www.biographi.ca/en/bio/schank_john_6E.html |
| Author of Article: | W. A. B. Douglas |
| Title of Article: | SCHANK (Schanck, Shank), JOHN |
| Publication Name: | Dictionary of Canadian Biography, vol. 6 |
| Publisher: | University of Toronto/Université Laval |
| Year of publication: | 1987 |
| Year of revision: | 1987 |
| Access Date: | September 27, 2023 |