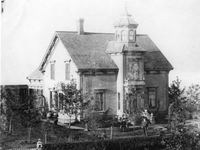 Source: Link
McMURRAY, THOMAS, author, journalist, temperance worker, and settler; b. 7 May 1831 at Paisley, Scotland, the son of a weaver from County Armagh (Northern Ireland) and Jane Baxter from Alloa, Scotland; m. 10 June 1850 his second cousin, Elizabeth, in Drumcree, County Armagh, and they had at least nine children; d. 16 Aug. 1900 in Yarmouth, N.S.
Thomas McMurray, following his father's occupation, began work as a draw-boy when he was 7, and at 11 became a weaver. Not satisfied with this trade, he served a three-year apprenticeship to a butter and egg merchant and obtained a limited education in night school. At 15 he determined to be a sailor, but on his first voyage he abandoned ship in New York and worked for a time on the New York and Erie Railroad. After his return home in 1848 he was employed first as a salesman in Glasgow and then operated a business of his own in Paisley. He followed that with nine years in Belfast, seven of them as a commercial traveller. In May 1861 McMurray, hoping to provide better for his large family, immigrated with his wife and children to the Muskoka district of Canada West, where he became one of the first settlers in Draper Township (included at that time in Victoria County). He purchased and farmed 400 acres of land on the south branch of the Muskoka River, about two miles east of the village of Muskoka Falls, and on the incorporation of the united townships of Draper, Macaulay, Stephenson, and Ryde in 1867, he became the first reeve.
In Parry Sound on 14 Sept. 1869 he began publication of the Northern Advocate, the first newspaper issued in the Muskoka–Parry Sound area. He moved the paper in September 1870 to Bracebridge, where he also opened a general store and real estate business and built a large residence known as The Grove. Unfortunately, he overextended himself financially, and when the depression of 1873 in the United States spread to Canada, he was forced into bankruptcy in July 1874. He returned to Parry Sound, where he founded another newspaper, the North Star, and on 17 Aug. 1875 he became crown lands agent for part of Parry Sound District, established in 1870. In March 1879 he sold the paper, and later that year, on 30 June, he resigned his crown lands position and relocated near Parkdale (now part of Toronto) to carry on temperance work.
McMurray was continuously active in public life. He was a trustee of the Bracebridge Wesleyan Methodist Church, the first such church in Muskoka, and for a time was county master of the Orange order. Two objectives, however, dominated McMurray's life: the settlement of the Muskoka–Parry Sound area and the total suppression of the liquor traffic. In support of the former he published The free grant lands of Canada (1871), and of the latter Temperance lectures (1873). He extolled the advantages of the free grant area in speeches, correspondence, and newspaper articles; he also promoted the improvement of roads and bridges as well as the building of churches, schools, and, above all, a railway in the Muskoka–Parry Sound region. As were many others at the time, McMurray was greatly moved by the suffering of the poor in the British Isles as well as in Canadian towns and cities. He believed that the free grant lands (opened in 1868) offered fertile soil, a suitable climate for agriculture, and waiting markets; he did not observe that much of that fertile soil was but a thin cover over rock and would soon be exhausted when the protecting forests were removed, nor did he foresee the menace to the small farm arising both from mechanization and the settlement of the west.
McMurray had first become connected with the temperance movement in Paisley when, at 14, he joined a total abstinence society; he became identified with the Irish Temperance League in Belfast in 1858. In Muskoka and Parry Sound he worked actively for prohibition, which was becoming a leading issue in Canadian life. When he left Parry Sound in 1879, the Canada Temperance Act of 1878, commonly called the Scott Act, had just been passed, extending a form of local option to every province and thus encouraging temperance societies and church groups to continue the fight for total prohibition. The Sons of Temperance, of which McMurray was a provincial deputy grand worthy patriarch, had taken a leading role in 1875 in establishing the Dominion Alliance for the Total Suppression of the Liquor Traffic, an organization formed to coordinate the efforts of the numerous existing societies. Under the auspices of the Sons of Temperance and the Dominion Alliance, McMurray spent a number of years organizing new divisions and lecturing in Ontario centres such as Brighton, Brampton, Trenton, Kingston, and Perth. His words, both spoken and written, epitomized temperance thought of the time: "I believe in Prohibition, total Prohibition. Nothing less will do."
Little is known of McMurray's later life. In February 1884 he was working in the Eastern Townships under the Grand Division of Quebec of the Sons of Temperance. He died in Yarmouth in 1900.
Thomas McMurray was the author of The free grant lands of Canada, from practical experience of bush farming in the free grant districts of Muskoka and Parry Sound (Bracebridge, Ont., 1871) and Temperance lectures; with autobiography (Toronto, 1873), reprinted under the title Temperance talks; with autobiography (Toronto, 1887).
Muskoka and Haliburton, 1615–1875; a collection of documents, ed. F. B. Murray (Toronto, 1963). Canada Citizen and Temperance Herald (Toronto), 5, 19 Oct., 14 Dec. 1883. Christian Guardian, 24 Sept., 29 Oct. 1879; 4 April, 3 Oct. 1883; 27 Feb. 1884. North Star (Parry Sound, Ont.), 18 July 1879. [W. E. Hamilton et al.], Guide book & atlas of Muskoka and Parry Sound districts (Toronto, 1879; repr. Port Elgin, Ont., 1971). Geraldine Coombe, Muskoka past and present (Toronto, 1976).
Revisions based on:
Ancestry.com, "Ireland, select marriages, 1619–1898," Thomas McMurray and Elizabeth McMurray, 10 June 1850: www.ancestry.ca (consulted 6 Sept. 2019). Globe, 16 Aug. 1900. North Star (Parry Sound, Ont.), 23 Aug. 1900. Find a Grave, "Memorial no.113181192": www.findagrave.com (consulted 6 Sept. 2019).
© 1982–2023 University of Toronto/Université Laval
Cite This Article
Florence B. Murray, "McMURRAY, THOMAS," in Dictionary of Canadian Biography, vol. 11, University of Toronto/Université Laval, 2003–, accessed November 29, 2023, http://www.biographi.ca/en/bio/mcmurray_thomas_11E.html.
The citation above shows the format for footnotes and endnotes according to the Chicago manual of style (16th edition). Information to be used in other citation formats:
| | |
| --- | --- |
| Permalink: | http://www.biographi.ca/en/bio/mcmurray_thomas_11E.html |
| Author of Article: | Florence B. Murray |
| Title of Article: | McMURRAY, THOMAS |
| Publication Name: | Dictionary of Canadian Biography, vol. 11 |
| Publisher: | University of Toronto/Université Laval |
| Year of publication: | 1982 |
| Year of revision: | 2021 |
| Access Date: | November 29, 2023 |