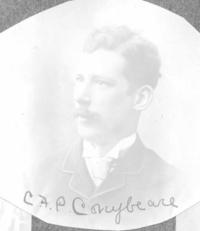 Source: Link
CONYBEARE, CHARLES FREDERICK PRINGLE, lawyer, office holder, businessman, and author; b. 19 May 1860 at Little Sutton House, Chiswick (London), England, son of Henry Conybeare and Anne Newport Moore; m. 24 June 1890 Letitia Ida Attwood (d. 1941) in St Paul, Minn., and they had a son and two daughters; d. 30 July 1927 in Lethbridge, Alta.
Charles F. P. Conybeare came from a well-educated family; his grandfather William Daniel Conybeare was a noted geologist and cleric and his father was a civil engineer. After attending Westminster School in London in 1868–69 and 1873–74 and then Christ Church, Oxford, he joined the British merchant marine in 1875. Discharged for near-sightedness, he came to Canada, where he tried to farm, without success. He landed in Winnipeg in June 1880 and was articled to a law firm. In December 1885 he founded his own practice in the fast-growing settlement of Lethbridge; he was admitted to the bar of the North-West Territories that year and appointed a notary in 1886. He served as a crown prosecutor from 1888 to 1897. Appointed qc in 1894, he was elected a bencher of the Law Society of the North-West Territories in 1899 and founding vice-president of the Law Society of Alberta in 1907.
Conybeare's many partners included William Alfred Galliher (1888–97) and William Carlos Ives (1901–6), who both became judges. According to local lore, he had difficulty retaining apprentices and partners until his later years because he kept three or four of his chow dogs, some of which smelled, in his office. He was the solicitor for the municipality of Lethbridge, the Bank of Montreal, the Canadian Pacific Railway, Alberta Railway and Coal, North-Western Coal and Navigation, and Canadian North-West Irrigation; other clients numbered the cattle companies of William G. Conrad. Interested in irrigation [see William Pearce], he was a member of the South Western Territorial Irrigation League in 1894. As Lethbridge's major lawyer, he handled a wide range of civil and criminal matters, including a steady flow of wills and inheritances. Assiduous in his work, he enjoyed the courtroom, where he maintained a gentlemanly presence. He was particularly adept in thorny questions involving the law of contract across jurisdictions. Among his more controversial interventions was one to support the readmission of a local solicitor disbarred for retaining clients' money. At sittings of the Supreme Court of Alberta in Lethbridge, he often acted for the CPR in cases of negligence. In the 1920s he returned to crown prosecutions. In one notable case of carnal knowledge before the Supreme Court in 1925 (The King v. Arnold Baines), he persuaded it to hear the testimonies of seven- and eight-year-old girls, which generally were non-admissible.
Conybeare was a major figure in the social, cultural, and economic life of Lethbridge. A member of the Sons of England, the Overseas Club, and the Cricket Club and the Turf Association in Lethbridge, he was a founder there of the Chinook Club and, in 1894, of the Pemmican Club, an association of territorial old-timers initiated by Dr Frank Hamilton Mewburn. In 1890 he had served on the committee that pioneered the Great Falls and Canada Railway, and he participated in the early years of the Alberta Railway and Coal and the Canadian North-West Irrigation companies. A promoter of the Bank of Winnipeg, he was involved in starting Lethbridge Brewing and Malting, British Canadian Trust in 1901, and Lethbridge Brick and Terra Cotta in 1903. He chaired the public school board in 1890–93 and served as president of the Lethbridge Board of Trade and Civic Committee in 1893 and 1907–8 as well as founding president of the Southern Alberta Boards of Trade in 1907. His wife would join him in his public endeavours in 1911, as treasurer of the newly formed Women's Civic Club of the Board of Trade. Despite his prominence, his only foray into politics was a bid for the Council of the North-West Territories in 1887, which he lost to Frederick William Gordon Haultain*.
His marriage in St Paul in 1890 had been a curious event: his fiancée died just before his arrival, so he asked her sister, who, it was said, agreed because she "was so acutely overcome by his anguish." Their home, Riverview (originally built by Charles Alexander Magrath*), featured stained-glass windows overlooking a courtyard and a large and famous library. The Conybeares also developed a seven-acre garden; its lawns and English-style maze were considered exceptional. Charles started all the trees, hedges, and shrubs from seeds and slips obtained from England.
An avid patron of the arts, Conybeare belonged to the Knights of Pythias – he was its chancellor as well – and the Dramatic Order of the Knights of Khorassan. In addition to producing libretti for unidentified musical comedies performed in Lethbridge and throughout the west, he wrote two books of poetry: Vahnfried (London, 1903) and Lyrics from the west (Toronto, 1907). The latter reveals his staunch attachment to both Canada and the British empire. "Canada's flag," for example, asks
​What spell from the storm-lashed Atlantic extending
To where the Pacific its blue water rolls;
Each province in concord and unity blending,
Can make for each other such love in their souls?
In "Britons all to-day" he was equally prosaic about Canadian support for the empire in the South African War: "Unfurl the Union banner, – let it wave across the seas; . . . Britons all to-day – linked across the sea, / Pealing out with joyous shout the chorus of the free." His romantic side is revealed in "For my wife," which ends "My heart-strings throb with a joy that reveals / The songs that can never be sung." He would receive honorary dcls from Bishop's College in Lennoxville, Que., in 1907 and the University of Alberta in 1908 (ad eundem). A stalwart of the Church of England, he had paid half the cost of building St Augustine's Church in Lethbridge in 1886–87. Archdeacon Cecil Swanson later considered this mild and unassuming man the rock of the parish. Appointed solicitor of the diocese of Calgary in 1900, he became its first chancellor in 1904, a position he would maintain until 1916. As a member of synod, he never missed a meeting, and he sat on the committee that edited a new hymnal in 1908. In matters of temperance, he did not take a hard line. Elected president of the Moderation League of Alberta in 1919 and 1923, he headed efforts to urge the province to repeal its Prohibition legislation and assume full control of liquor sales.
Charles F. P. Conybeare died on 30 July 1927. His funeral was held on the lawn of his home, his casket under an elm he had planted from seed. The service, at which Bishop Louis Ralph Sherman officiated, was accompanied by a choir and a portable organ.
Charles Frederick Pringle Conybeare's major reported cases appear in Alberta Law Reports (Toronto), 1908–20. Photographs of him in his law office (with one of his chows) (P19694784000) and of his home (Riverview) (P19841005002) are in the Sir Alexander Galt Museum and Arch. (Lethbridge, Alta). The GA holds a headshot of Conybeare (NA-4082-3).
GA, M 1931. GRO, Reg. of births, Chiswick (London), 19 May 1860. Legal Arch. Soc. of Alta (Calgary), fonds 5, vol.60, file 923-vol.68, file 946 (Law Soc. of Alta, minutes of convocation, 1907-27); fonds 30 (Conybeare, Church, McArthur, and Davidson coll.). PAA, GR1978.235. Lethbridge Herald, 31 July 1927, 18 June 1985. Lethbridge News, 11 Dec. 1885; 8, 29 Dec. 1886; 30 March, 5, 13 April, 24 Aug., 19 Oct. 1887; 18 June, 2, 16 July 1890; 5 April, 12 Dec. 1894; 17 March 1897; 26 Jan. 1899. Canadian annual rev., 1921: 830. Canadian men and women of the time (Morgan; 1898 and 1912). Alex Johnston, Lethbridge, from coal town to commercial centre: a business history, ed. Irma Dogterom and L. G. Ellis (Lethbridge, 1997). L. A. Knafla, "From oral to written memory: the common law tradition in western Canada," in Law & justice in a new land: essays in western Canadian legal history, ed. L. A. Knafla (Toronto, 1986), 31-77; "Report on the legal careers of Conybeare, Macleod and Scott" (paper prepared for Alta Culture, Historic Sites Service, Edmonton, 1985). M.-L. Loescher, "Dr. C. F. P. Conybeare, Lethbridge's pioneer lawyer," Whoop-Up Country Chapter, Hist. Soc. of Alta, Newsletter (Lethbridge), no.1 (January 1990): [3-4]; "Dr. Conybeare 'was the church'" (1966) (copy in the Sir Alexander Galt Museum and Arch.). A. O. MacRae, History of the province of Alberta (2v., [Calgary], 1912). The record of old Westminsters: a biographical list . . . , comp. G. F. R. Barker and A. H. Stenning (London, 1928). Who's who and why, 1919/20. Who was who . . . : a companion to "Who's who," containing the biographies of those who died during the period [1897-2000] (10v. and an index to date, London, 1920-?), 2 (1916-28).
Revisions based on:
Church of Jesus Christ of Latter-day Saints, "Minnesota, county marriages, 1860–1949," Charles F. P. Conybeare and Letitia I. Attwood, 24 June 1890: www.familysearch.org (consulted 2 Feb. 2019). Lethbridge Herald (Lethbridge, Alta), 27 Oct. 1941. Saint Paul Daily Globe (St Paul, Minn.), 29 June 1890.
© 2005–2023 University of Toronto/Université Laval
Cite This Article
Louis A. Knafla, "CONYBEARE, CHARLES FREDERICK PRINGLE," in Dictionary of Canadian Biography, vol. 15, University of Toronto/Université Laval, 2003–, accessed November 28, 2023, http://www.biographi.ca/en/bio/conybeare_charles_frederick_pringle_15E.html.
The citation above shows the format for footnotes and endnotes according to the Chicago manual of style (16th edition). Information to be used in other citation formats:
| | |
| --- | --- |
| Permalink: | http://www.biographi.ca/en/bio/conybeare_charles_frederick_pringle_15E.html |
| Author of Article: | Louis A. Knafla |
| Title of Article: | CONYBEARE, CHARLES FREDERICK PRINGLE |
| Publication Name: | Dictionary of Canadian Biography, vol. 15 |
| Publisher: | University of Toronto/Université Laval |
| Year of publication: | 2005 |
| Year of revision: | 2019 |
| Access Date: | November 28, 2023 |