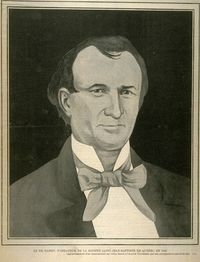 Source: Courtesy of Bibliothèque et Archives Nationales du Québec / 52327/2072707
BARDY, PIERRE-MARTIAL, teacher, doctor, and politician; b. 30 Nov. 1797 at Quebec, son of Pierre Bardy, a wig maker, and Louise Cochy, dit Lacouture; d. 7 Nov. 1869 at Quebec.
Mathieu Bardy, Pierre Martial's grandfather, was descended from a family of Italian origin that settled at Brest, France, and he came to Canada early in the 18th century. In 1811 Pierre-Martial entered the Petit Séminaire de Québec, where he received a classical education. He was a brilliant pupil, and with his friend Elzéar Bédard* was considered the best student in the philosophy class. Both began theological studies and were admitted to holy orders at the same time by Bishop Joseph-Octave Plessis*. While continuing to study theology at the Grand Séminaire de Québec, Bardy taught the belles-lettres and rhetoric classes at the Petit Séminaire for two years. In 1821 he renounced his orders, and on 5 Feb. 1822 married Marie-Marguerite Archambault, of the parish of La Présentation, near Saint-Hyacinthe. Of their seven children only one reached adult age.
After leaving the Séminaire de Québec, Bardy turned to teaching: in 1825 he taught the basic elements of classics at Boucherville. He also tried his hand at poetry, and composed songs, such as one which has turned up, saying farewell to his friend Dr John Dies Nelson, brother of Robert* and Wolfred. Bardy kept his interest in education, holding the office of school inspector from 1842 to 1868.
By 1824 he had also become interested in medicine: he studied with Dr William Robertson* of Montreal and received his diploma on 13 Nov. 1829. He practised first in Saint-Jacques, then in Saint-Athanase-d'Iberville, and finally settled in the faubourg Saint-Roch in Quebec in 1839. He practised with his colleague Édouard Rousseau among the working class, and was known for his great devotion and charity. From 1848 to 1854 Bardy was secretary of the École de Médecine de Québec which he, Joseph Morrin, Charles-Jacques Frémont, and others founded. He gave courses there on the institutes of medicine and surgery, in medical jurisprudence, and botany. When the faculty of medicine of Université Laval was created [see Louis-Jacques Casault], he did not become a member of the professorial body. Around 1854 he became a supporter of homeopathy, a system popularized by Samuel Hahnemann, a German who practised medicine in Paris from 1835 to 1843. Bardy had heated exchanges with Dr Joseph Painchaud* on the subject in the Quebec press, and his ideas seem to have discredited him somewhat in the medical profession.
A close friend of Louis-Joseph Papineau* and an ardent Patriote, Bardy ran in the 1834 election in the county of Rouville. He easily defeated the Bureaucrat party's candidate, and sat in the assembly from 1834 to 1838. He then lost interest in politics for a time. On 9 Oct. 1840 he took as his second wife Marie-Soulange Lefebvre. They had two daughters; Marie-Virginie-Célina, the sole survivor of this family, was an occasional writer, and the wife of Pierre-Vincent Valin*, a Quebec businessman.
On 19 June 1842, following the Act of Union, conceived as a measure designed to destroy the French Canadian nationality, a large meeting was held at Saint-Roch. The Société Saint-Jean-Baptiste of Quebec was founded on that occasion, modelled on the society at Montreal, which dated from 1834 [see Jean-François-Marie-Joseph MacDonell]. Bardy, one of the most enthusiastic advocates of the project, was elected president. Napoléon Aubin* became vice-president, and James Huston* and Jacques-Philippe Rhéaume secretaries. On 24 June, in his presidential address on Saint-Jean-Baptiste day, Bardy stressed the importance of industrial development, "a necessary objective towards which we must direct all our energy. . . . Our products," he declared, "will be able in part to meet our pressing needs; let us safeguard them, let us manufacture them." As president of the society from 1859 to 1861, his name was associated with the erection of the Monument des Braves for the heroes of 1760. When there were insufficient funds to complete the monument in 1860, Bardy launched repeated appeals in the press and throughout the province. His wife organized a fair with the ladies of Saint-Roch and Saint-Jean. It was not until 19 Oct. 1863 that the governor general of Canada, Charles Stanley Monck*, unveiled the column. The monument, still not paid for, was declared public property in 1864; the promoters thus escaped their debts. This difficult affair, which compromised the society's finances, somewhat tarnished Bardy's reputation as an administrator. Later, in 1880, his daughter claimed that the society had unjustly forgotten her father, and she endeavoured to ensure that his memory was honoured.
In 1843 Bardy was among those who sought Papineau's return. In 1849, with Napoléon Aubin, Jacques-Philippe Rhéaume, Joseph Légaré*, Antoine Plamondon*, and other aggressive anti-unionists, he committed himself to annexationism. He chaired the meeting of 27 Oct. 1849 in Quebec and assumed the leadership of an annexation movement which gathered 600 signatures; he soon withdrew to give his full attention to his "professional affairs," although he did not change his opinion.
Contemporaries of Bardy praised his literary gifts and talent as a speaker. He died on 7 Nov. 1869 at Saint-Roch, and received the honour of being buried in the crypt of the Quebec Basilica. A street in Quebec commemorates his name, as does the house where the offices of the Société Saint-Jean-Baptiste of Quebec are located.
PAC, MG 30, D62, 3, pp.253–57. Daily Evening Mercury (Quebec), 21 Jan. 1880. L'Opinion publique (Montréal), 13 mai 1880. P.-G. Roy, Fils de Québec, III, 89–91. H.-J.-J.-B. Chouinard, Fête nationale des canadiens-français . . . (4v., Québec, 1881–1903), IV, 315–16. Le docteur Pierre Martial Bardy; sa vie, ses œuvres et sa mémoire, F.-X. Burque, compil. (Québec, 1907). Sylvio Leblond, "Le Dr Pierre-Martial Bardy (1797–1869)," Trois siècles de médecine québécoise (Québec, 1970), 75–82. Monet, Last cannon shot. P.-G. Roy, Les petites choses de notre histoire (7 sér., Lévis, Qué., 1919–44), 6e sér. Benjamin Sulte, Histoire des Canadiens-français, 1608–1880 . . . (8v., Montréal, 1882–84), VIII, 130. Victor Morin, "Une chanson du Dr Bardy," BRH, XLVI (1940), 332–37. Damase Potvin, "Un petit roman d'amour a valu à Québec le fondateur de la Société St-Jean-Baptiste . . . ," L'Information médicale et paramédicale (Montréal), 19 janv. 1954, 8–9.
© 1976–2023 University of Toronto/Université Laval
Cite This Article
Pierre Savard, "BARDY, PIERRE-MARTIAL," in Dictionary of Canadian Biography, vol. 9, University of Toronto/Université Laval, 2003–, accessed November 29, 2023, http://www.biographi.ca/en/bio/bardy_pierre_martial_9E.html.
The citation above shows the format for footnotes and endnotes according to the Chicago manual of style (16th edition). Information to be used in other citation formats:
| | |
| --- | --- |
| Permalink: | http://www.biographi.ca/en/bio/bardy_pierre_martial_9E.html |
| Author of Article: | Pierre Savard |
| Title of Article: | BARDY, PIERRE-MARTIAL |
| Publication Name: | Dictionary of Canadian Biography, vol. 9 |
| Publisher: | University of Toronto/Université Laval |
| Year of publication: | 1976 |
| Year of revision: | 1976 |
| Access Date: | November 29, 2023 |