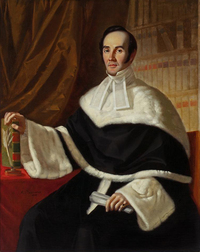 Source: Courtesy of Wikimedia Commons
BÉDARD, ELZÉAR, lawyer, politician, and judge; b. 24 July 1799 at Quebec, second son of Pierre-Stanislas Bédard*, a lawyer and member of the House of Assembly, and Luce Lajus, daughter of François Lajus*, a Quebec doctor; m. there 15 May 1827 Julie-Henriette Marett, daughter of James Lamprière Marett, a merchant, and they had a daughter who died in infancy; d. 11 Aug. 1849 in Montreal.
Elzéar Bédard did his classical studies at the Séminaire de Nicolet from 1812 to 1814, and then at the Petit Séminaire de Québec. His studies completed in 1818, he took holy orders and, with his friend Pierre-Martial Bardy*, was tonsured by Bishop Joseph-Octave Plessis*. He afterwards abandoned this vocation and in 1819 articled with Andrew Stuart, a prominent Quebec lawyer. He was called to the bar on 17 Aug. 1824.
Like many of his colleagues, Bédard soon went into provincial politics. In the 1830 general election he and Pierre Marcoux ran together in Kamouraska, but they were soundly beaten by Amable Dionne* and Charles-Eusèbe Casgrain. That year, along with Étienne Parent*, René-Édouard Caron*, Jean-Baptiste Fréchette, and Hector-Simon Huot, he collected the funds to start up Le Canadien for the fourth time. The revived newspaper, published first on 7 May 1831, had offices at the "political centre of the Quebec district" on Rue de la Montagne (Côte de la Montagne) and represented the interests of the moderate group in the town. Bédard was returned by acclamation in a by-election on 31 July 1832 for Montmorency, a riding left vacant by the appointment of Philippe Panet* as a judge in the Court of King's Bench. He retained his seat in the 1832 general election.
Bédard joined the ranks of Louis-Joseph Papineau*'s party in the assembly, and on 17 Feb. 1834 he introduced the famous 92 Resolutions. Historians, however, have minimized his role in the development of the Patriote party's program. Thomas Chapais* asserted that the resolutions, which had been worked out at Bédard's home by Papineau, Augustin-Norbert Morin*, Louis Bourdages*, and Bédard himself, were largely inspired by Papineau and drawn up by Morin. According to François-Xavier Garneau*, the text of the resolutions was even modified to gain the support of Bédard, who was already showing a lack of enthusiasm. And on that matter Chapais added, "As there was a desire to please M. Bédard, who was somewhat vain, he was entrusted with moving them."
Having stressed the loyalty of Canadians to Britain, the 92 Resolutions mounted a thoroughgoing attack on the existing political system. They criticized the workings of the Legislative Council, which they thought should be elective, and they demanded institutions that were more popular and more in conformity with the wishes and customs of the inhabitants of Lower Canada. They denounced the working of the legal system, the exclusion of Canadians from the government, and the legislation passed by the British parliament on land tenure. In addition, they condemned the government's entire financial administration and demanded that the House of Assembly have the same powers, privileges, and immunities as did the British parliament. Finally, they requested the recall of Governor Lord Aylmer [Whitworth-Aylmer].
Papineau vigorously defended the 92 Resolutions in the assembly, but, as Michel Bibaud* observed, Bédard "could scarcely say a word in support of them . . . only M. Papineau seemed to have a sound knowledge of what was in them." Whatever the case, the resolutions were passed on 21 Feb. 1834, after five days of debate, by 56 votes to 23. It should be added that in December Bédard was still serving as secretary of the Quebec committee of correspondence, a body dealing with the Canadian grievances as set forth in the 92 Resolutions.
It was especially in the 1835–36 session that Bédard played a more important political role. He was regarded within the Patriote party as the leader of the moderate wing called the Quebec party, which also included René-Édouard Caron and George Vanfelson*. Bédard, who went along with the Patriote majority only reluctantly, increasingly kept his distance from Papineau. The Quebec "moderates" openly reproached Papineau for his intransigence and took a much more conciliatory approach to the new governor, Lord Gosford [Acheson]. On the occasion of a grand ball held on 25 Nov. 1835 to mark St Catherine's Day, Lord Gosford had been particularly attentive to Mme Bédard, hoping to show his desire to establish closer relations with Bédard and his followers. Unfortunately, when on 22 Feb. 1836 he named Bédard a judge of the Court of King's Bench to replace James Kerr, Bédard's adversaries, the radicals in the Patriote party, fully exploited this too-obvious appointment, considering it bribery. They derisively called Bédard and his friends, whom they thought more eager to serve their own interests than their country, the "petite famille."
Bédard had meanwhile also become concerned with municipal politics. In the first elections in the city of Quebec, held on 25 April 1833, he had been acclaimed to the council for Saint-Louis ward. On 1 May the council chose him as the first mayor over Caron by 12 votes to 8. Under Bédard's guidance the council decided how to run its affairs, adopted rules on the duties of the mayor, members of council, and secretary, and defined the responsibilities of future municipal employees. In addition the mayor and council had to deal with organizing the city's police, sanitation, and finances. In municipal elections held on 25 March 1834 Bédard retained his seat on council, but six days later he lost the mayoralty to Caron by one vote. The Quebec Gazette and the Quebec Mercury ascribed his defeat to his political conduct at the time of the debate on the 92 Resolutions. Narcisse-Eutrope Dionne* was later to comment, "It was alleged . . . that keeping a mayor in office for more than one year would have set a bad precedent." Bédard quit municipal politics on 3 April 1835.
Nor was his career as a judge free of ups and downs. On 21 Nov. 1838, during the rebellion, Bédard and Philippe Panet assented to requests for a writ of habeas corpus on behalf of John Teed, a Quebec tailor. In taking this action the two judges disregarded ordinances of the Special Council that suspended the legal provision for habeas corpus made in 1784. On 10 December Bédard and Panet were suspended from office by Sir John Colborne*.
Bédard left New York for England on 26 Dec. 1838 to defend his case. It is not known what ensued, but on 8 Aug. 1840 he and Panet were reinstated by Governor Charles Edward Poulett Thomson. Bédard sat on the bench at Quebec until 1848. Then he went to Montreal, where he had a dispute over precedence with his junior colleague, Charles Dewey Day*, which was taken to the judicial committee of the Privy Council in London. Bédard was on his deathbed when he learned through Louis-Hippolyte La Fontaine*, the premier of the Province of Canada, that the committee had ruled in his favour. Bédard died before his time on 11 Aug. 1849 in Montreal, at age 50, during a cholera epidemic.
A leading figure of his era, who had attained high office, Elzéar Bédard had an eventful life. Whether as private individual, assemblyman, mayor, or judge, he seems to have been hounded by misfortune. This adversity can be explained partly by the fact that during the troubled period from 1834 to 1839, when exasperation and extremism prevailed, Bédard displayed moderation in the face of Papineau and his supporters, and he maintained his integrity when confronted with the decrees issued by Colborne and the Special Council. Historians have, however, played down his role in the development of the 92 Resolutions. As for the mayoralty of Quebec, it slipped out of his hands after less than a year. His appointment to the bench was greeted with derision; suspended from office, then reinstated, he died following a final quarrel over precedence. Even his death seems the final twist of fate: he was carried off by the last cholera epidemic in Lower Canada, without issue or wealth. He left his wife and an adopted daughter Hélène (born Ellen McEnes), who had married Joseph-Amable Berthelot, a lawyer and later a judge, in April 1849.
AAQ, 12 A, H: 213v. ANQ-M, CE1-51, 13 août 1849. ANQ-Q, CE1-1, 24 juill. 1799, 15 mai 1827; P-144. ASQ, Fichier des anciens. PAC, MG 30, D1, 4: 1–3; RG 4, B8: 7764–70; RG 68, General index, 1651–1841. Le Canadien, 17 août 1849. La Minerve, 13 août 1849. F.-J. Audet, "Les législateurs du Bas-Canada." F.-J. Audet et Fabre Surveyer, Les députés au premier Parl. du Bas-Canada, 36. Desjardins, Guide parl. Fauteux, Patriotes, 379–80. Le Jeune, Dictionnaire, 1: 145; 2: 318. P.-G. Roy, Les avocats de la région de Québec; Fils de Québec, 3: 100–1; Les juges de la prov. de Québec. Wallace, Macmillan dict. Michel Bibaud, Histoire du Canada et des Canadiens, sous la domination anglaise [1830–37], J.-G. Bibaud, édit. (Montréal, 1878). Chapais, Cours d'hist. du Canada, 4: 15–20, 72–85, 115, 193, 225. F.-X. Chouinard et al., La ville de Québec, histoire municipale (4v., Québec, 1963–83), 3: 136. L.-M. Côté et al., Les maires de la vieille capitale (Québec, 1980), 1–3, 5. N.-E. Dionne, Pierre Bédard et ses fils (Québec, 1909), 161–217; Les trois comédies du 'statu quo,' 1834 (Québec, 1909), 46–47. Douville, Hist. du collège-séminaire de Nicolet. Alfred Duclos De Celles, Papineau, 1786–1871 (Montréal, 1905), 93–119. F.-X. Garneau, Histoire du Canada depuis sa découverte jusqu'à nos jours, Hector Garneau, édit. (8e éd., 9v., Montréal, 1944–46), 8: 180; 9: 20–21, 32, 38, 109. Marcel Plouffe, "Quelques particularités sociales et politiques de la charte, du système administratif et du personnel politique de la cité de Québec, 1833–1867" (thèse de ma, univ. Laval, Québec, 1971), 113. F.-J. Audet, "Les maires de Québec," BRH, 2 (1896): 13. Monique Duval, "Premier maire de Québec – Elzéar Bédard, digne fils du patriote Pierre Bédard," Le Soleil (Québec), 2 juill. 1983: E-3. Antonio Perrault, "Le Conseil spécial, 1838–1841; son œuvre législative," La Rev. du Barreau (Montréal), 3 (1943): 213–15. "Le premier Conseil municipal de Québec," BRH, 69 (1967): 37–39. "Le premier maire de Québec," BRH, 69: 37. Antoine Roy, "Les patriotes de la région de Québec pendant la rébellion de 1837–1838," Cahiers des Dix, 24 (1959): 241–54.
© 1988–2023 University of Toronto/Université Laval
Image Gallery

Cite This Article
Claude Vachon, "BÉDARD, ELZÉAR," in Dictionary of Canadian Biography, vol. 7, University of Toronto/Université Laval, 2003–, accessed October 2, 2023, http://www.biographi.ca/en/bio/bedard_elzear_7E.html.
The citation above shows the format for footnotes and endnotes according to the Chicago manual of style (16th edition). Information to be used in other citation formats:
| | |
| --- | --- |
| Permalink: | http://www.biographi.ca/en/bio/bedard_elzear_7E.html |
| Author of Article: | Claude Vachon |
| Title of Article: | BÉDARD, ELZÉAR |
| Publication Name: | Dictionary of Canadian Biography, vol. 7 |
| Publisher: | University of Toronto/Université Laval |
| Year of publication: | 1988 |
| Year of revision: | 1988 |
| Access Date: | October 2, 2023 |