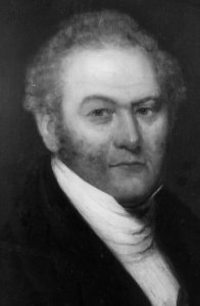 Source: Link
CODNER, SAMUEL, ship's captain, businessman, and philanthropist; baptized 16 Feb. 1776 in Kingskerswell, England, son of Daniel Codner and Joan ——; d. 5 Aug. 1858 in Dartmouth, England.
Although Samuel Codner was born in Weston-super-Mare on the west coast of England, his family came from Kingskerswell, Devon, in a region with a long-standing tradition of involvement in the Newfoundland cod fishery. Not surprisingly, at the age of either 12 or 13 he began a seafaring career by joining his father, uncle, and two brothers at St John's. At this time his family owned three ships: a 92-ton brigantine and a 118-ton brig used in the fishery, and a 46-ton vessel employed in transporting passengers to Newfoundland as well as in fishing occasionally on the Grand Banks. Samuel rose quickly to the rank of ship's captain and by 1794 he was acting as agent in St John's for Daniel Codner and Company.
After his father's death in 1799, the firm continued as Daniel Codner and Company until Samuel's mother died in 1811. At that time the administration of the estate and the management of the firm fell to Samuel, who returned to England where he was to set up his permanent residence. His sea captains and various partners, including Robert Alsop of Newton Abbot, England, and William Bond, assumed direction of the company in Newfoundland. For the next eight years the firm was variously styled Samuel Codner and Company and Codner, Alsop and Company, with some of Samuel's relatives and colleagues such as Alsop as principal shareholders. In 1819, however, Codner began to conduct trade on his own account, initially from Teignmouth and then, after 1828, from Dartmouth.
The early stages of Codner's career had been marked by extreme fluctuations in trade. The price of cod, which had collapsed in 1790–92, recovered somewhat during the French revolutionary wars, a period when Codner made two significant adjustments in his Newfoundland ventures. First, he followed the lead of several other prominent firms, such as John Slade and Company and Noble and Pinson, by setting up a fishery on the Labrador coast and, secondly, he took advantage of the increasing resident population of Newfoundland by becoming a major importer of provisions, clothing, and fishing gear. Despite various set-backs, such as the loss of nine ocean-going vessels between 1806 and 1815, Codner sustained his interest in Newfoundland trade, including the cod and salmon fishery in Labrador, until 1844. From 1815 to 1844 his main commercial activities were centred in St John's from whence his ships carried salt fish to Spain, Portugal, and the West Indies, and brought salt and coal from England and wheat, bread, and biscuits from Germany. From the 1820s, however, Codner specialized in importing "Bridport goods," sailcloth, ropes, nets, and twines from west Dorset, and cloth goods from Devon. While building this lucrative business in St John's, Codner retained his share of the Teignmouth coastal trade.
Even though Codner's firm was one of St John's leading mercantile establishments for more than three decades, he made his mark in Newfoundland history by founding the Newfoundland School Society, an institution which had a profound effect on the island's educational and cultural development. Undoubtedly his experience as a resident of St John's from 1801 to 1811 gave Codner a clear understanding of the need for schools and cultural institutions; in 1804 he had contributed to the support of the St John's Charity School [see Sir Erasmus Gower*]. Apart from the charity schools, and a few establishments supported by the Society for the Propagation of the Gospel in some of the larger outports, the growing number of resident islanders had no opportunity to acquire the rudiments of a formal education. An explanation for Codner's interest in promoting schools in Newfoundland comes from a story about an experience he had in crossing the Atlantic to England: his ship encountered a violent storm and Codner is said to have vowed to devote himself to humanitarian work if he were safely delivered. Certainly religious conviction played a part. He was a supporter of the evangelical movement within the Church of England and was a member of the British and Foreign Bible Society. Another explanation of his concern for schools has it that at a meeting of the bible society in London in 1822 he was inspired by an address by Lord Liverpool, the prime minister, who reminded his audience of its obligation to circulate the Scriptures among Britain's "extensive colonies and foreign possessions."
Codner immediately set about organizing support and collecting subscriptions for schools in Newfoundland and over the next few years exerted unflagging energy to establish and diffuse the school movement. He circulated a leaflet entitled Schools in Newfoundland, which asserted that a large proportion of the 70,000 inhabitants were without access to instruction. He gained the support of several prominent merchants in the England–Newfoundland trade, including Marmaduke Hart*, as well as of evangelicals within the Church of England.
In 1823 Codner set up a provisional committee and issued a prospectus which stressed the strategic and commercial importance of Newfoundland to British interests and at the same time deplored the lack of moral culture among its inhabitants. Liverpool approved the objectives of the proposed Newfoundland Society for Educating the Poor at an inaugural meeting in London on 30 June and agreed to act as vice-patron. The colonial secretary, Lord Bathurst, became president, with Codner taking the office of secretary. Codner immediately petitioned the British government for land grants for buildings, free passage on naval ships for teachers, and assistance from the government in St John's for the construction of schoolhouses. Despite the opposition of Newfoundland's governor, Sir Charles Hamilton*, who held that the level of education provided by the charity and SPG schools was adequate and also maintained that the low church evangelicals were sectarian enemies operating within the Church of England, the requests were granted. In 1824 the British government gave £500 for the construction of a central school in St John's and £100 for the salary of a schoolmaster. Codner then made a second circuit of the most important towns and cities in England, Ireland, and Scotland, evidently at his own expense, to solicit both donations and the assistance of political and ecclesiastical leaders in founding branch societies. Through private subscription in 1825–26 he raised £1,871, and secured the patronage of such persons as Sir John Gladstone in Liverpool and the archbishop of Dublin.
After his association with the school society during its formative years, Codner's participation is difficult to assess. He held the office of honorary secretary until the 1830s, by which time the movement was well established. Apparently he did not visit Newfoundland in connection with the society but rather confined his efforts to the British Isles. Nevertheless, his business agent in St John's, William Bond, acted on his behalf and Codner himself maintained a personal interest in the society until his death.
The first school opened in St John's in September 1824 with an enrolment of 75. Two years later it had moved to a larger building to accommodate 450 students. By 1829 eight principal schools, located in the larger settlements, were in operation; they were staffed by society teachers, recruited and trained in England. There were also 15 branch schools in smaller communities. Following the principles of the Bell or Madras systems, the classes were conducted by monitors who were directed by teachers in the principal schools. By 1836 the society had expanded into most of the main settlements. Its 46 schools were located as far north as Twillingate, along the south coast, and up the west shore to St George's Bay. The society claimed to have provided instruction for approximately 16,500 students, both children and adults, which equalled slightly less than 25 per cent of the total population.
Commonly known as the Newfoundland School Society, the organization underwent several official name changes through the years; when first established it was known as the Newfoundland Society for Educating the Poor (1823), then the Newfoundland and British North America Society for the Education of the Poor (1829), the Church of England Society of the Poor of Newfoundland and the Colonies (1846), the Colonial Church and School Society (1851), and the Colonial and Continental Society (1861). The latter name was retained until 1958 when the organization became known throughout the world as the Commonwealth and Continental Church Society.
Although originally interdenominational, the schools run by the Newfoundland School Society became increasingly identified with the Church of England, and in 1923 they were merged into a denominational school system known as the Church of England schools. The existence of the society, indeed, was one of the influences in the evolution of a denominational school system in Newfoundland. The teachers sent out in the society's early years were well trained and highly regarded as leaders within the communities in which they lived, and they usually served as catechists or lay readers as well. A considerable number later elected to become ordained as Anglican priests and furnished the Newfoundland church with one of its main sources of clerics during the 19th century. Regarding themselves as missionaries as well as pedagogues, they strove to inculcate the virtues of hard work, regular habits, sobriety, and the observance of Sunday as a day of rest.
Codner certainly possessed some personal qualities which helped ensure the success of the movement. He was clearly a persuasive speaker and a good organizer, and he held strong convictions. He was also a highly respected member of both the mercantile community and the Church of England evangelicals, and thus was well placed to gain support from both groups. Codner was able to sway the merchants by arguing that a more literate population in Newfoundland would also be a more moral population. Merchants, like himself, who did not reside in Newfoundland but conducted trade through agents, would then have less need to fear for the safety of their property from "fraudulent and improper practices."
The idea of social control through education was equally palatable to the evangelicals and the British government. To the evangelicals, Newfoundland was, or was about to become, one of the heathen areas needing conversion and redemption, and the British government was forced to face the fact that by the 1820s it could no longer be regarded as a transient station for British fishermen. Indeed, the government had already committed itself to some improvements, and the support of schools aimed at making the indigenous population "industrious" and "moral" complemented their policy of cautious reform [see Sir Richard Goodwin Keats*]. In this respect Codner's school movement can be seen as one of a series of reforms which led to the granting of colonial status and representative government to Newfoundland in 1832.
On 6 Dec. 1820 Codner had married Selina Cave Browne, daughter of John Cave Browne of Stretton, England. The social connections of his spouse probably aided the school mission project he would begin two years later. When he retired from the Newfoundland trade in 1844 at the age of nearly 70, he sold his St John's premises to the firm of Wilson and Meynell. Codner died in Dartmouth and was interred in St Petrox Church. A memorial erected there in his honour bears the inscription: "Newfoundland Merchant who in 1823 founded the Society which became the Colonial and Continental Church Society."
Was Codner a "self-sacrificing, humanitarian" as Frederick William Rowe describes him, or was he an agent of cultural imperialists, acting on behalf of the vested interests of the groups who promoted the school movement, as he has been portrayed by Phillip McCann? If the former, he stands in marked contrast to the mercantile community, which has been represented as the root of every evil afflicting Newfoundland's development and the main obstacle to every cultural improvement. If he was indeed elected by fate and circumstances to instigate social reform, he must be regarded as a wise choice and as an individual who promoted positive change in Newfoundland's social, cultural, and educational life.
Centre for Nfld. Studies, Memorial Univ. of Nfld. Library (St John's), "D'Alberti papers" (transcripts of corr. between the Colonial Office and the governor's office of Newfoundland, 1780–1825, from various PRO, CO files), comp. Amalia and Leonora D'Alberti (34v., typescript). Devon Record Office (Exeter, Eng.), 53/6 (Kingskerswell parish, docs. relating to land), box 34, will of Daniel Codner, 1798; assignment of Joan Codner and children of houses, lands, and shares in 5 vessels, 1798; administration of estate of Joan Codner, 1811; box 53, marriage settlement of Samuel Codner and Selina Cave Browne, 6 Dec. 1820; 1528 A (St Nicholas, Shaldon, parish records); 3119 A/PR1 (Kingskerswell parish, reg. of baptisms, marriages, and burials), 16 Feb. 1776; 3289 S/1–6 (Exeter shipping reg., 1786–1847). Hunt, Roope & Company (London), Hunt, Newman, Roope & Company, Oporto, letter-books, letter of Samuel Codner, 29 May 1833 (mfm. at MHGA). MHGA, Codner, William; Codner, Samuel, name files. PANL, GN 5/2; P4/17, Misc., box 17, file 10. PRO, CO 194/44. Phillip McCann, "The Newfoundland School Society, 1823–1836: missionary enterprise or culture imperialism?" (lecture to the Nfld. Hist. Soc., St John's, 1976). W. Pilot, "The Church of England in Newfoundland," in Prowse, Hist. of Nfld. (1895), supp., 7–9. F. W. Rowe, The development of education in Newfoundland (Toronto, 1964), 40–50.
© 1985–2023 University of Toronto/Université Laval
Image Gallery

Cite This Article
W. Gordon Handcock, "CODNER, SAMUEL," in Dictionary of Canadian Biography, vol. 8, University of Toronto/Université Laval, 2003–, accessed June 8, 2023, http://www.biographi.ca/en/bio/codner_samuel_8E.html.
The citation above shows the format for footnotes and endnotes according to the Chicago manual of style (16th edition). Information to be used in other citation formats:
| | |
| --- | --- |
| Permalink: | http://www.biographi.ca/en/bio/codner_samuel_8E.html |
| Author of Article: | W. Gordon Handcock |
| Title of Article: | CODNER, SAMUEL |
| Publication Name: | Dictionary of Canadian Biography, vol. 8 |
| Publisher: | University of Toronto/Université Laval |
| Year of publication: | 1985 |
| Year of revision: | 1985 |
| Access Date: | June 8, 2023 |